Coca-Cola is the most popular beverage brand in Vietnam with 51% of the carbonated beverage market share according to Kantar Worldpanel's 2020 report. To get to its current position, Coca-Cola has implemented strategies Marketing ranges from creative advertising campaigns, to diversifying products and creating unique experiences for consumers.
This article will detail  Coca-Cola's marketing strategies  in Vietnam and how to help this brand become one of the favorite brands in the Vietnamese beverage market.
Part I: Overview of Coca Cola Vietnam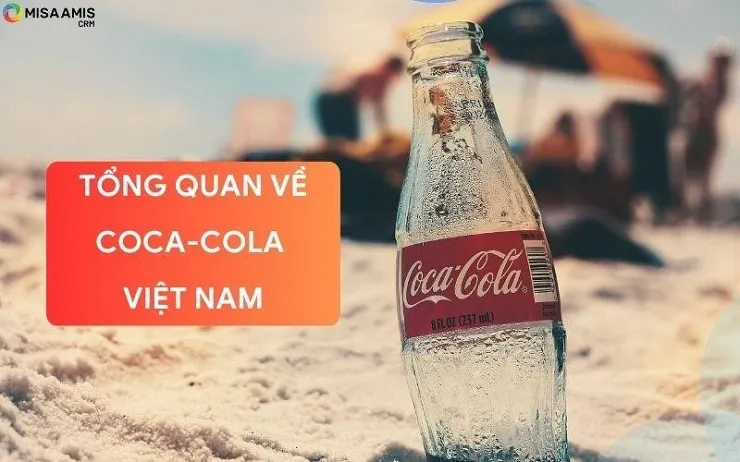 Coca Cola is one of the most famous beverage brands worldwide and has been present in Vietnam since the 1960s. However, in the first years, Coca-Cola was only present in supermarkets and hotels. in big cities like Hanoi and Saigon.
Since 1994, Coca-Cola officially invested in the Vietnamese market with the establishment of Coca-Cola Vietnam Company Limited and began producing and distributing its products. To date, Coca-Cola is present in most provinces and cities in Vietnam and is one of the most popular beverage brands.
During the development process in Vietnam, Coca-Cola has developed 8 main beverage groups and continuously launched new products suitable to the tastes of Vietnamese consumers such as Coca-Cola Lemona, Fanta Sarsi, Fanta peach, Aquarius and Minute Maid. In addition, Coca-Cola also carries out a series of resonant brand love activities to increase love for the brand such as "Share a coke with" or annual Tet campaigns.
Analyzing Coca-Cola's international business strategy

Positioning Coca Cola's target market in Vietnam

Distribution strategy of Coca Cola in Vietnam
Part II

 :  

Analyze the overall marketing strategy of  

Coca-Cola in Vietnam 
Coca-Cola's overall marketing strategy is unified and closely linked from market segmentation, target market identification, brand positioning to product portfolio development, pricing, and channel building. distribute and implement marketing and promotion programs.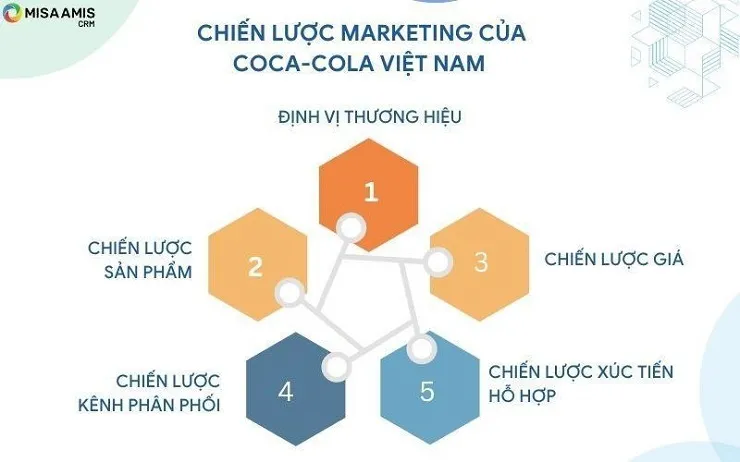 1. Coca-Cola's brand positioning strategy 
1.1 Market segmentation 
Just like how Coca-Cola covers the global market, in Vietnam, the brand has targeted many customer groups. The company's segmentation process focuses on two main criteria, which are geographic area and demographics
Geographically,  Coca-Cola Vietnam has established a dense distribution network across the country, from urban areas to rural areas, from plains to mountainous areas and from South to North. Products are widely sold in bars, supermarkets, grocery stores and even on streets and alleys, helping Coca-Cola reach customers in many different geographical locations.
Demographically , Coca-Cola targets different customer groups, including children, youth, middle-aged people, and the elderly. To attract each customer group, this brand applies different marketing tactics such as developing appropriate product lines or using diverse and unique advertising campaigns.
Coca-Cola's market segmentation strategy has allowed the brand to penetrate different market segments and satisfy diverse customer preferences and needs. The ability to create a positive brand image for each segment has helped Coca-Cola maintain its position as one of the leading beverage brands in Vietnam.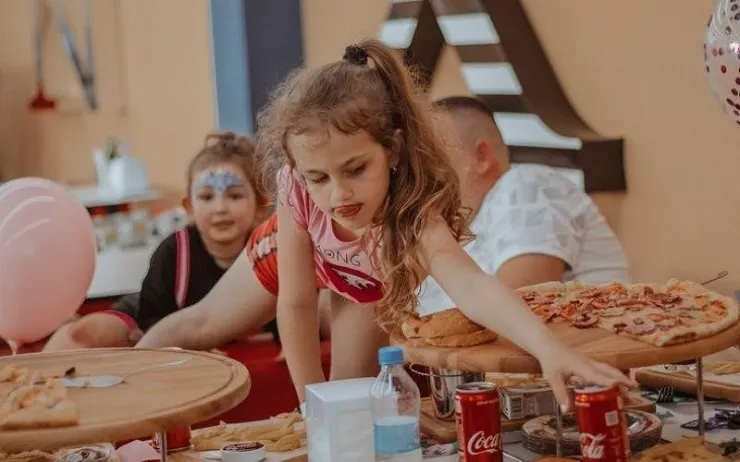 1.2 Select target market

 
Before expanding operations into the Vietnamese market, Coca-Cola focused on market segments with high demand and high population density. This brand was very wise to focus on big cities like Hanoi, Da Nang and Ho Chi Minh City. After  researching the market , Coca-Cola determined that these cities have very high consumption of their products.
Besides the population density factor when choosing target markets, Coca-Cola Vietnam also focuses on population characteristics, especially young people with high product demand.
Thanks to this smart target market selection, Coca-Cola has been able to reach different market segments and meet the diverse needs and preferences of customers. The company has built a positive brand image in each market segment and helped maintain its position as one of the leading beverage brands in Vietnam.
1.3 Brand positioning
About 94% of the population worldwide knows the red and white logo of Coca-Cola and "Coca-Cola" is the second most widely understood word in the United States, after the word "OK" (according to Forbes research). . When mentioning carbonated drinks, people often think of Coca-Cola. Coca-Cola is considered one of the leaders of the industry.
Coca-Cola's commitment is to bring benefit and refreshment to all customers with the slogan: "Our customers around the world deserve to enjoy the best quality drinks." ".
Coca-Cola's brand positioning is based on a number of core values ​​such as fun, connection and diversity. The brand always wants to convey to customers a positive message and connection between generations. This core value has been inherited and promoted by Coca Cola in Vietnam to suit the selected diverse target market.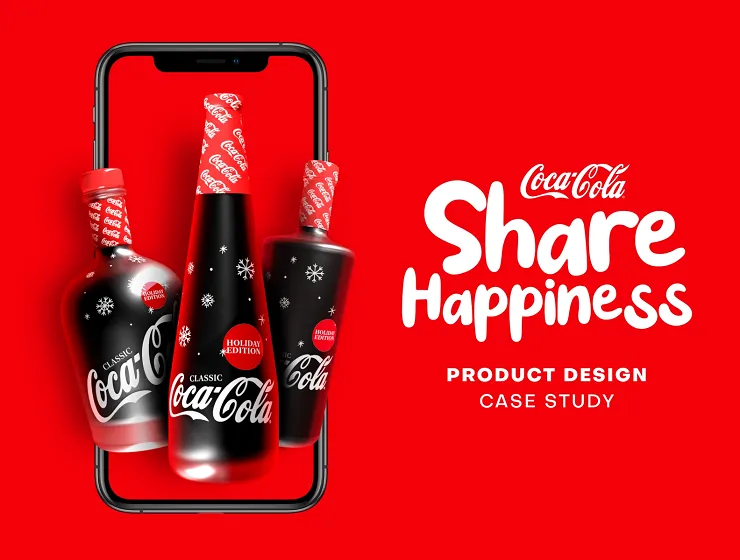 2. Product strategy 
According to the market coverage strategy, Coca-Cola builds a product strategy that is diverse in both types and sizes, meeting the needs of many  target customer groups .
2.1 Product list 
Currently, the Coca-Cola brand in Vietnam provides many different types of products, including carbonated beverages, carbonated juices, non-carbonated water, and energy products.
According to data from Coca-Cola Vietnam, this brand currently has about 40 different SKUs. This is a fairly large number and shows the diversity of Coca-Cola's product portfolio in Vietnam.
Coca-Cola constantly develops its product portfolio to meet customer needs. The brand always researches and tests new products to provide the best options for consumers. For example, Coca-Cola has launched new products such as Coca-Cola Zero Sugar, Coca with pure coffee or Fanta Lemon.
Regarding carbonated beverages, brands such as Coca-Cola Classic, Sprite and Fanta are very popular with Vietnamese consumers, especially young people. Non-carbonated beverages such as Minute Maid and Aquarius are targeted at health-conscious customers who prefer low-calorie drinks. The brand's energy drink is Burn, which is marketed to people who love sports and being active.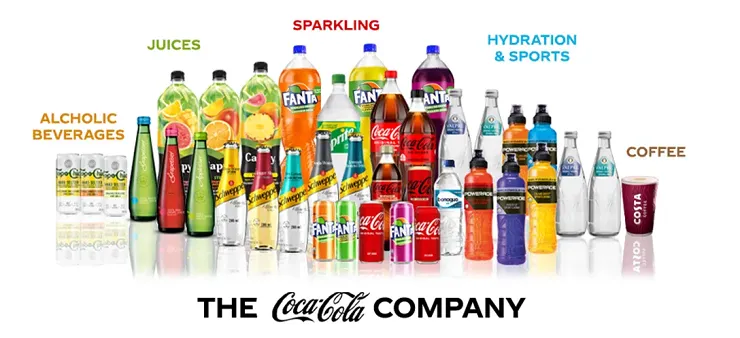 2.2 Packaging
Coca-Cola in Vietnam not only focuses on product types but also on packaging. The product's style and design have flexible and creative changes.
The brand offers a variety of packaging sizes from 250ml to 2.25 liters to suit a variety of customer needs. The small bottles are great for on-the-go use, while the large bottles are ideal for family gatherings and parties.
Coca-Cola bottle packaging is also designed to be diverse and flexible, with creative logo designs that change according to special occasions. Coca-Cola is always improving and creating more unique and convenient designs. The brand also received the Platinum Pentaward 2009 award for its beautiful and unique packaging design.
An example of Coca-Cola's creativity in packaging design is the use of the "swallow" image in many products including boxes of 24 cans of Coca-Cola, Sprite, Fanta, pairs of two Coca-Cola PET bottles of type 1 .25 liter and set of 6 cans of Coca-Cola during Tet. Because the swallow is the symbol of spring.
With creatively designed, diverse and convenient products, Coca-Cola has attracted a large number of customers and increased brand recognition.
3. Pricing strategy
Coca-Cola Vietnam uses a combined pricing strategy to achieve maximum value for its products. Coca-Cola Vietnam's pricing strategy includes differential pricing, psychological pricing, distribution channel pricing and promotional pricing.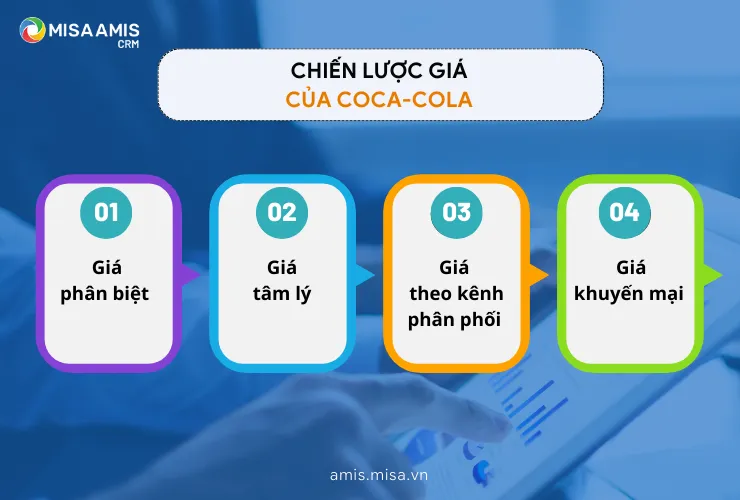 3.1 Price discrimination

 
#1: Differentiation by product line : Coca Cola applies different prices for different products. For example, the price of a limited collection will be higher than that of regular products. At the same time, the price of Coca Cola also depends on the type of product packaging, including plastic bottles, glass bottles, aluminum cans, etc. Each type of packaging will have an appropriate price to meet the needs and income of customers. row.
#2: Geographic differentiation:  Different geographical regions have different consumer characteristics and market penetration strategies. Therefore, Coca Cola's product prices will be adjusted to suit the market. For example, the price of Coca Cola products in rural areas will be lower than in big cities.
>> See more: Detailed analysis of Coca Cola's pricing strategy
3.2 Psychological price
Coca Cola Vietnam also uses a psychological pricing strategy by setting retail prices and providing different price options depending on the quantity purchased. Customers are offered lower prices per unit when purchasing in bulk, such as by the case or box, versus purchasing individual bottles or cans. This pricing strategy targets the needs of customers who want the best value for their money and encourages them to buy more products.
By offering lower prices per unit when purchased in bulk, Coca Cola Vietnam can tap into the needs of customers who want to save money and optimize their costs. This strategy also encourages customers to consume more Coca Cola products. This can increase customer loyalty and lead to future repeat purchases.
Additionally, this pricing strategy can also be effective in increasing Coca Cola Vietnam's sales, as customers tend to buy large quantities of products at lower prices per unit. This can help maximize Coca Cola Vietnam's revenue while providing greater value to customers.
3.3 Price by distribution channel

 
The pricing strategy by distribution channel is applied by Coca-Cola to suit the different characteristics and distribution operating costs of each channel. Coca-Cola Vietnam has a wide and diverse distribution channel system including supermarkets, hypermarkets, restaurants and grocery stores…
Retail prices at hypermarkets, supermarkets and restaurants will be higher than retail prices at grocery stores or traditional points of sale. This is because the distribution operating costs of these channels are higher than other retail channels.
In addition, Coca Cola's distribution channel pricing strategy also helps create a distinct product image, bringing higher value to customers when using the product in high-quality sales channels.
3.4 Promotional price 
Promotional pricing strategy is an indispensable part of Coca-Cola Vietnam's pricing. The brand deploys many sales discount programs   to encourage customers to buy in large quantities or pay ahead of time. This helps customers save on purchasing costs, while also motivating them to buy more Coca-Cola products.
For example, Coca-Cola Vietnam has launched the "Buy 1 Get 1 Free" promotion when purchasing any product at retail stores, supermarkets or on the Grab application. This program not only creates attraction for customers to shop, but also helps Coca-Cola increase sales and retain familiar customers.
In addition, Coca-Cola Vietnam also launches promotional programs on special occasions such as Tet, Christmas, National Day, etc. These programs often include giving gifts or free gifts when customers Buy Coca-Cola products. This is a good strategy to stimulate shopping demand and create trust with Coca-Cola customers.
4. Distribution channel strategy 
4.1 Designing distribution channels 
Coca-Cola Vietnam has a clear consistency between the goal of market coverage and the strategy of building distribution channels. Therefore, this brand has designed a wide and diverse distribution channel model to ensure products reach every corner of the market.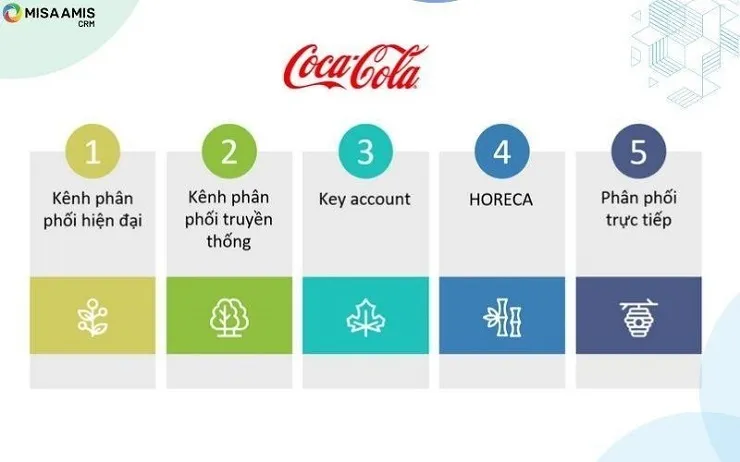 Coca-Cola's distribution channel system includes the following channel groups:
Modern distribution channel (MT)

 : Including hypermarkets, supermarkets, mini supermarkets, convenience store systems, etc. Here, Coca-Cola Vietnam uses the strategy of combining sales between Coca-Cola and retail partners, such as Big C, Lotte Mart, Aeon Mall, Circle K, VinMart, MiniStop… This is the widest distribution channel and accounts for a large proportion of Coca-Cola's sales.

Traditional distribution channels (GT):

  Includes grocery stores, restaurants, bakeries, pharmacy stores, bread shops, etc. Here, Coca-Cola Vietnam focuses on developing small products as compact as cans, 500ml PET bottles, 300ml glass bottles… to suit customer needs in traditional distribution channels.

Key account (important customers)

 : Focus on providing Coca-Cola products to organizations, schools, hospitals, events… Coca-Cola Vietnam has a preferential price policy for key customers account and marketing support to promote product usage.

HORECA 

:

  This is a special distribution system for restaurants, hotels and bars. Coca-Cola Vietnam's partners in this channel are often exclusive distributors. To develop the HORECA channel, Coca-Cola Vietnam provides promotional programs and financial solutions to help distribution partners improve business efficiency.

Direct distribution

 : Coca-Cola Vietnam has deployed online distribution channels through e-commerce sites such as Lazada mall and shopee mall. Customers can order online and have it delivered to their door through this third-party sales platform.
4.2 Develop distribution channels

 
Coca-Cola Vietnam always focuses on developing its distribution channel system through special policies and incentives.
One of Coca-Cola Vietnam's policies is to offer special promotions and discounts for agents and distributors who buy in large quantities. In addition, the company also focuses on training and supporting distributors to improve capacity and quality of distribution services, while also supporting sales tools such as signs and POSM.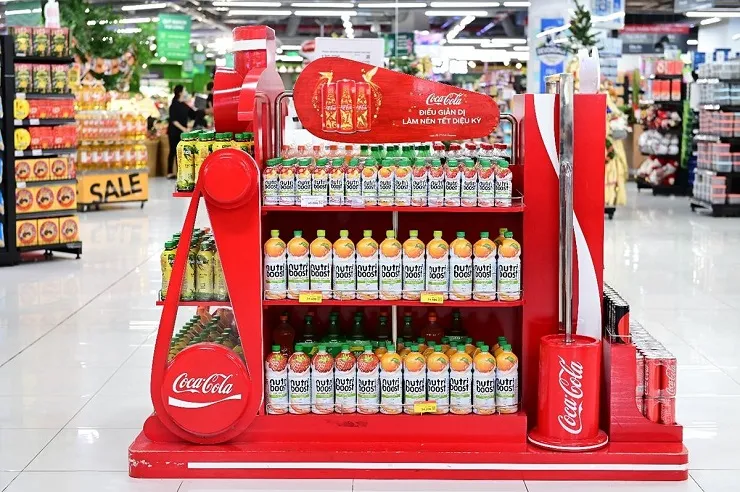 A specific example of Coca-Cola Vietnam's distribution channel development is cooperating with local distributors to expand distribution channels in rural areas. By collaborating with local partners, Coca-Cola Vietnam has been able to reach customers in previously remote and difficult-to-reach areas. This is a very effective strategy to expand the market and increase sales of Coca-Cola.
5. Mixed Promotion Strategy (Promotion) 
Coca-Cola is one of the few businesses that spends an amount of money equivalent to production costs on advertising and polishing its brand name since its inception.
In Vietnam, Coca-Cola always invests in its product advertising strategies. Brand marketing and Trade marketing activities are always closely linked to bring high efficiency. Programs at retail locations are always accompanied by a specific brand communication campaign.
5.1 Brand marketing activities
5.1.1 Marketing communication channels
Coca-Cola Vietnam uses many marketing communication channels to promote products and increase brand awareness including:
Television advertising

 : Coca-Cola Vietnam often advertises on popular television channels such as VTV, HTV, VTC, THVL,… with short films, advertising clips or special promotional campaigns.

OOH

 advertising  : Coca-Cola Vietnam often places signs and light boxes in prime, crowded locations such as on Le Duan street, East-West avenue, Ton Duc Thang, on market streets and roads. walk.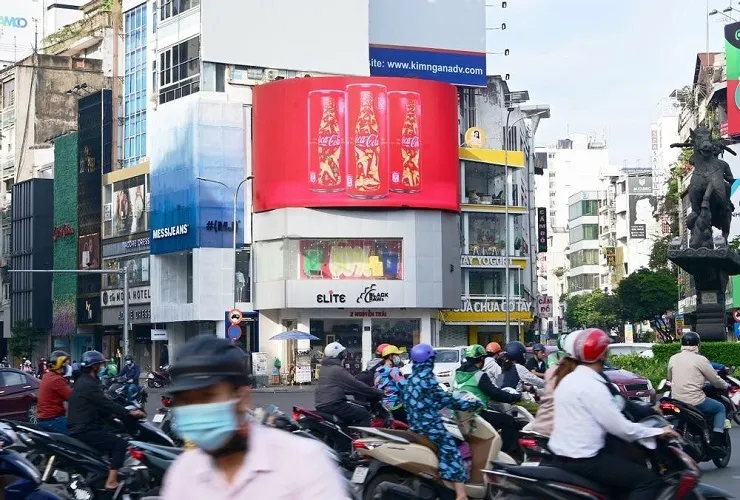 Advertising on social networks:

  Brands also use social networks such as Facebook, Instagram, YouTube to promote products through clips, articles or online contests.

Events:

  organize events such as the Coke Studio music festival, the activity program "Joyful Tet Journey", the program "Have fun with Coca-Cola" at shopping centers and restaurants , hotel…
"Share a coke" is a successful campaign of Coca-Cola Vietnam because it has tapped into consumer psychology, understood what they need and personalized the product to bring consumers new and exciting experiences. the best.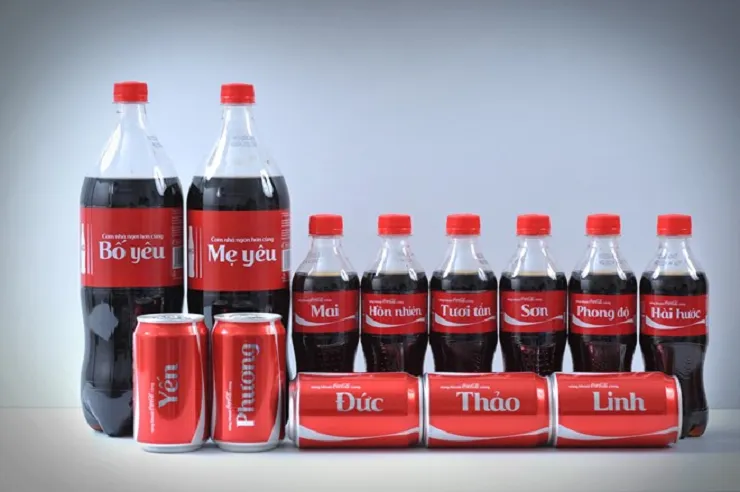 Campaign context:  With the development of social networks, Coca-Cola has taken advantage of  social media marketing trends  to interact with customers and young people. The "Share a Coke" campaign was launched in the summer of 2011 to encourage users to interact with the Coca-Cola brand and share images of Coca-Cola bottles printed with users' names on social networks.
Marketing goals:  When implementing the "Share a Coke" campaign, Coca-Cola has the following two main goals:
Marketing Objective

 : Coca-Cola needs to bring about interaction on both online and offline channels. The campaign needs to encourage target customers under the age of 24 to pay attention and talk about soft drink bottles, thereby boosting sales to reach peak summer sales.

Goal of increasing brand recognition

 : Coca-Cola wants customers to share Coca bottles with each other and post photos of those Coca bottles on social networks to increase brand recognition widely.
Big idea : Through the "Share a Coke with" campaign, Coca-Cola wants to connect with customers through printing their names on Coca-Cola bottles, creating a unique and personalized interactive experience for consumers.
Implementation process : Coca-Cola produced Coca-Cola bottles with popular Vietnamese names, and called on customers to share their feelings when receiving bottles with their name through social media and advertising channels. television report.
The main message of the campaign is: "Connect, reunite and share comfortable moments together with Coca." This message focuses mainly on groups of young people who regularly use social networks and post photos on social networks.
When the campaign started, customers were very excited and flocked to stores to hunt for their favorite bottles of Coca-Cola. Customers are also excited to share their results with friends, family and relatives on social networks. Every day there are tens of thousands of shares on different social networking platforms. Coca-Cola also arranged new Kiosks for sales and invited customers to share products on social networks.
Campaign results : The "Share a coke" campaign in Vietnam was a resounding success. More than 500,000 images with the hashtag #ShareaCoke have been shared. As of September 2015, there were more than 6 million photos shared by its customers. In addition, through this campaign, Coca-Cola has gained nearly 25 million followers on Facebook. The company successfully sold 250 million bottles of Coca-Cola in just one summer.
5.2 Trade marketing (Marketing at point of sale)
Coca Cola Vietnam has deployed many trade marketing activities to increase interaction and promote sales at retail locations.
5.2.1 Consumer promotion (program for final consumers) 
Coca Cola regularly deploys promotions and gifts for end consumers when running media campaigns or on special occasions such as Tet holidays. We can mention the program "Enjoy the summer atmosphere, receive instant gifts" with attractive gifts such as Coca Cola ceramic cups, crossbody bags, beach balls, paper clips,…
5.2.2 Customer engagement (program for distributors and retailers)
A series of Trade marketing forms are offered by the Coca-Cola team to build relationships and develop Customers such as:
Discounts:

  Coca Cola creates attractive discount policies for distributors and retailers to attract them to sell Coca Cola products such as direct discounts based on quantity, product combos…

POSM (Point-of-sale materials)

 : Coca Cola provides a variety of advertising materials such as signs, billboards, product display shelves… to decorate and promote at retail locations.

Distributor travel bonus:

  The program rewards distributors with high sales volume, and rewards retailers with sales growth over a specific period.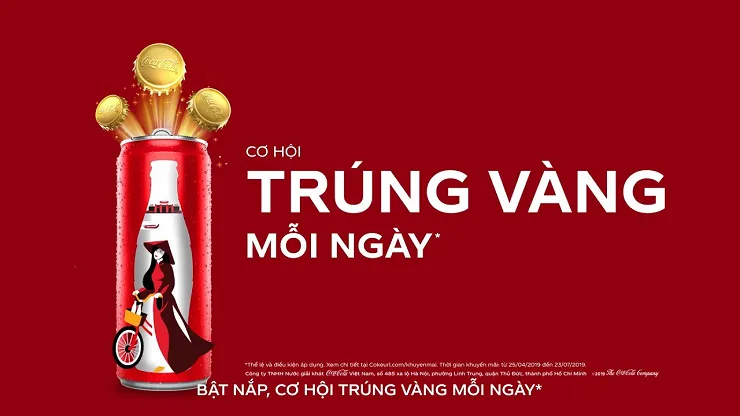 For example, Coca Cola launched the "Every Cup Has a Chance" promotion in 2021, with T-shirt giveaways and the chance to win lucky draw prizes. At the same time, during the program, Coca Cola also provides POSM and attractive discount incentives and organizes a reward program for distributors and retailers who achieve high sales.
6. Secrets to building a successful marketing strategy for Coca Cola Vietnam and lessons learned for Vietnamese FMCG businesses
Coca-Cola Vietnam has succeeded in building a leading brand position in the market thanks to its consistent and methodical marketing strategy:
Building brand identity

 : Coca-Cola becomes a cultural and lifestyle symbol of Vietnamese youth through creative advertising campaigns, such as "Taste the Feeling" and "Share a Coke". These are campaigns that bring the core value "Happiness" into the user experience, promoting emotions and interaction, contributing to building a close relationship between customers and brands.

Continuous change and diversification

 : Coca-Cola continuously researches and launches new product lines to meet the changing needs of customers and are suitable for Vietnamese culture such as Tet packaging.

Market coverage

 : Develop a dense distribution network, increase interaction and support partners, agents, and distributors to increase Coca-Cola's presence in the market.
Lessons learned from Coca-Cola Vietnam's marketing strategy for Vietnamese FMCG businesses is to focus on building a strong brand and sustainable growth through consistent, focused, creative marketing strategies. creative and effective. Along with brand building is the development of the distribution network according to the initial positioning strategy.
Conclude
Coca-Cola's marketing strategy  is proof of the success of a famous global brand when applied in Vietnam. By incorporating brand identity into creative advertising campaigns, diversifying products and developing distribution channels, Coca-Cola has achieved a solid position in the hearts of Vietnamese consumers. This will be a typical case study for Vietnamese FMCG businesses to learn and apply.