Vinamilk is one of the brands providing dairy foods with the largest market share in Vietnam. To achieve the above achievements, Vinamilk has had a correct and methodical operating strategy. Let's learn and analyze Vinamilk's business strategy in detail in the article below.
Overview of Vietnam Dairy Products Joint Stock Company (Vinamilk)
Vinamilk's official name is Vietnam Dairy Products Joint Stock Company. Vinamilk is a company that produces and sells milk and dairy products as well as related machinery and equipment in Vietnam.
According to  Wikipedia , Vinamilk is the leading enterprise in the milk processing industry in Vietnam, accounting for more than 54.5% of the liquid milk market share, 40.6% of the powdered milk market share, and 33.9% of the yogurt market share . drink, 84.5% market share of yogurt and 79.7% market share of condensed milk nationwide.
Vinamilk's main business activities include processing, producing and trading fresh milk, canned milk, powdered milk, nutritional powder, yogurt, condensed milk, soy milk, soft drinks and products from other milk.
Vinamilk's products are also exported to a number of countries such as Cambodia, Philippines, Australia and some Middle Eastern countries. Export revenue accounts for 13% of the company's total revenue. In 2011, Vinamilk expanded production, shifting to the fruit and vegetable segment. Not long after the new product segment, the product line achieved success with 25% market share in the supermarket retail channel. In February 2012, the company expanded production to juice products for children.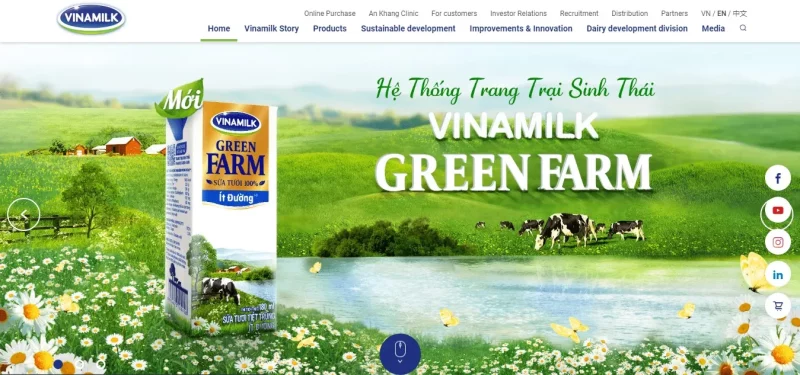 After more than 40 years of launching to consumers, up to now Vinamilk has built 14 manufacturing factories, 2 logistics factories, 3 sales office branches, a milk factory in Cambodia (Angkormilk) and an office. representative in Thailand. In 2018, Vinamilk was one of the companies in the Top 200 companies with revenue over $1 billion in Asia Pacific (Best over a billion).
To become a dairy enterprise with a leading domestic and export market share and trusted by consumers, Vinamilk always adheres to the motto: Do ​​business honestly, products ensure food safety and hygiene, according to standards. internationally suitable for consumers' budgets
Vietnam and always apply the world's newest and most advanced technologies in production.
The largest distribution system in the country with a network of 240 distributors and over 140,000 sales points covering 64/64 provinces. Sales through all Supermarket systems nationwide. Vinamilk products are also exported to many countries such as Australia, Cambodia, Iraq, the Philippines and the US.
After nearly 40 years of launching to consumers, up to now Vinamilk has built 8 factories, 1 enterprise and is building 3 new factories. With a variety of products, Vinamilk currently has over 200 milk products and dairy products.
Regarding vision and mission, Vinamilk wishes to become Vietnam's leading symbol of trust in nutritional and health products serving human life. Vinamilk is committed to providing the community with top quality nutrition and quality through its respect, love and high responsibility to human life and society.
Vinamilk always brings customers the most quality, nutritious and delicious health products with a wide range of product, flavor and packaging options. There will be no worries when using Vinamilk products because Vinamilk is suitable for all ages and subjects.
Analyze Vinamilk's SWOT model
The SWOT model is a famous tool known and applied by many businesses because of its usefulness in helping managers analyze important factors inside and outside the business from which to establish strategies. appropriate strategy and business plan.
SWOT stands for 4 words: Strengths, Weaknesses, Opportunities and Threats – is a famous model that helps businesses analyze and build your business strategy effectively.
Among the 4 elements of the SWOT model, strengths and weaknesses are two factors for internal assessment of the business. For these two factors, businesses can control and change. Often these factors are related to company operations, assets belonging to the business, product development, etc.
Besides, the remaining two factors, opportunities and challenges, are external factors that are often related to the market and are macroeconomic in nature. Businesses may not be able to control these two external factors. Businesses can fully seize opportunities, but they must also pay attention and be wary of external challenges that can occur at any time.
Read more details about the SWOT model in the article:  What is the SWOT model  & 7 steps of SWOT analysis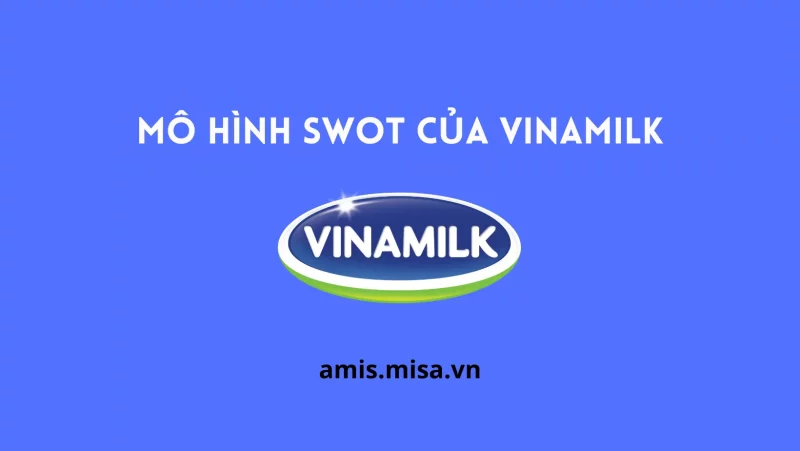 For Vinamilk, the strengths, weaknesses, opportunities and challenges of this brand can be analyzed as follows.
Strengths
Regarding the strengths in Vinamilk's SWOT model, this brand has some outstanding strengths below.
Famous brand

 : The Vinamilk brand has been used since the company was first established and is currently a widely known milk brand in Vietnam. Vinamilk dominates the market thanks to focusing on advertising, marketing, constantly innovating products and improving quality.

Effective Marketing Strategy

 : With a multi-channel product advertising strategy, coverage has helped Vinamilk successfully deploy the business's Marketing campaigns.
Read more about Vinamilk's Marketing strategy in the article: Top 4   successful Vinamilk marketing strategies in Vietnam
Diverse product portfolio

 : Vinamilk provides a variety of dairy products with over 200 dairy products and dairy items, serving a wide range of consumers.
Weaknesses
Besides its strengths, Vinamilk also has weaknesses that need to be overcome.
Some of the main weaknesses in Vinamilk's SWOT model can be mentioned as follows: 
Not being autonomous in raw material sources

 : Not being independent in raw material sources, depending on imported raw materials is one of Vinamilk's weaknesses.
The market share of powdered milk is not high: 

 Currently, users tend to use imported powdered milk rather than domestically produced powdered milk. In addition, the market is seeing more and more foreign milk brands imported from Europe, so Vinamilk's powdered milk market share, which holds a monopoly position, is tending to decline.
Opportunities
To take advantage of strengths and overcome weaknesses, Vinamilk can seize a number of beneficial opportunities to develop its brand and increase sales as follows:
High number of potential customers and great demand

 : Vietnam is still a country with a high number of potential customers and great demand for milk that Vinamilk can take advantage of.

Vietnamese people's demand for milk consumption is increasing

 : Most Vietnamese people have a need to use dairy products. Besides nutritional supplements, many people also use dairy products for beauty or cooking.
Threats
Besides opportunities, Vinamilk also needs to face some challenges. The main challenges in Vinamilk's SWOT analysis can be listed as follows:
Many competitors enter the market

 : The dairy market is also a highly competitive market. Therefore, this is a challenge that Vinamilk must face.

Unstable source of input materials

 : Despite owning international standard dairy farms, Vinamilk still depends on imports for raw materials.

Vietnamese customers tend to prefer foreign milk

 : For health-related products, customers tend to prefer foreign products.
>>Read more details about Vinamilk's SWOT analysis in the article: [Latest] Detailed SWOT analysis of Vinamilk
SWOT analysis table of Vinamilk
Strength 

Weakness

Opportunity

Challenge 

Vinamilk brand is a long-standing and famous brand

Effective Marketing Strategy

Diverse product portfolio

Wide distribution network

Not yet independent of raw material sources

The market share of powdered milk is not high

The number of potential customers is high and there is great demand

Vietnamese people's demand for milk consumption is increasing

Many competitors entered the market

Input raw material sources are unstable

Vietnamese customers tend to prefer foreign milk
Detailed analysis of Vinamilk's business strategy
To become one of the leading dairy brands in Vietnam, Vinamilk has extremely effective business strategies. So what is Vinamilk's business strategy?
Vinamilk's business philosophy
According to  Vinamilk Vietnam , Vinamilk wishes to become a favorite product in every region and territory. Therefore, we believe that quality and creativity are Vinamilk's companions. Vinamilk views customers as the center and is committed to meeting all customer needs.
In addition, Vinamilk is always satisfied and responsible with customers by constantly improving and diversifying products and services, ensuring quality, food safety and hygiene with competitive prices and respect. Business ethics and legal compliance.
Vinamilk's business strategy goals
Regarding Vinamilk's strategic business goals, the Vinamilk Board of Directors determines a long-term strategic vision to orient production and business activities. Continuing to maintain the No. 1 position in the Vietnamese market and moving towards the goal of becoming one of the Top 30 largest Dairy Companies in the world in terms of revenue, Vinamilk determines a development strategy with 3 main pillars to be implemented. , include:
Leading in innovation and high applicability: 

 Focusing on the dairy industry and milk-related products, which is the core business that creates the Vinamilk brand.

Consolidate the leading position in Vietnam's dairy industry

 : Promote focus on the high-end product segment with lots of added value, especially in urban areas.

Becoming the dairy company that creates the most value in Southeast Asia

 : Continuing to penetrate new export markets with the strategy of converting the traditional export model of goods to forms of deep cooperation with distribution partners. distribution in new key markets.
Read more: Analysis of Vinamilk's market penetration strategy
Vinamilk's competitive advantage
Regarding Vinamilk's competitive advantage, this brand has a number of advantages compared to competitors as follows
Modern production technology
In any era, at any time, the decisive factor in the survival of a brand is product quality.
Understanding that, Vinamilk has constantly innovated technology and invested in modern machinery lines. The company's milk and nutritional powder production technology is the most modern and advanced, based on technology from leading countries in the world, to ensure food quality, hygiene and safety. Therefore, possessing modern production techniques is an important competitive advantage for Vinamilk.
Access to international markets consistent with company resources
Normally, businesses will not have enough financial potential to lead in all areas, so they need to focus resources on certain areas and lead in that area.
Vinamilk chose the positioning of "international quality" to emphasize to international consumers that products under the Vinamilk brand have quality that meets international standards, and can completely compete with other brands. leading milk in the world.
This competitive advantage of Vinamilk contributes very actively to promoting and introducing Vinamilk branded products worldwide. The Vinamilk brand in the minds of consumers is considered "Vietnamese products of international quality".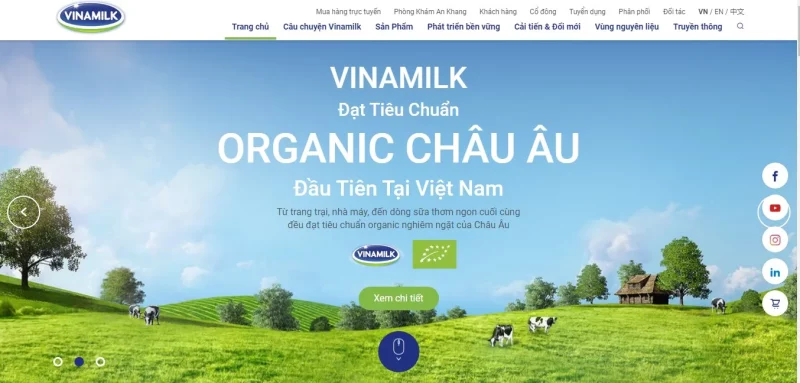 Long-standing and famous brand 
Since starting operations in 1976, Vinamilk has built a strong brand for dairy products in the Vietnamese market. The Vinamilk brand has been used since the company was first established and is currently a widely known milk brand in Vietnam.
Besides, with nearly 40 years of history in the Vietnamese market, Vinamilk has experience and understanding of consumer trends and tastes, which helps the company focus and make efforts to identify and perfect new products. product characteristics.
Scope of Vinamilk's business strategy
To be competitive, the scope of Vinamilk's business strategy is the  market segments  that this brand targets. In particular, Vinamilk focuses on customers and regions and geographies where products will be provided. From determining the strategic scope, the company will carry out appropriate packaging design as well as research and develop products that suit customers' tastes and needs.
With a diverse number of products, Vinamilk's market segments are determined based on the following 3 ways.
Market segmentation by geography

 : Based on population density and product consumption ability, Vinamilk has identified its two main market segments: urban and rural. In particular, Vinamilk focuses mainly on the customer segment living in big cities.

Market segmentation by demographics

 : Vinamilk relies on age to divide into different market segments: children, adults and the elderly.

Market segmentation according to customer buying behavior

 : Based on the health status of customers, Vinamilk has segmented the market according to the buying behavior of normal, malnourished and obese customers. diabetes.
Read more about market segments of other famous brands in the article:   What is market segmentation ? 4 common types of market segmentation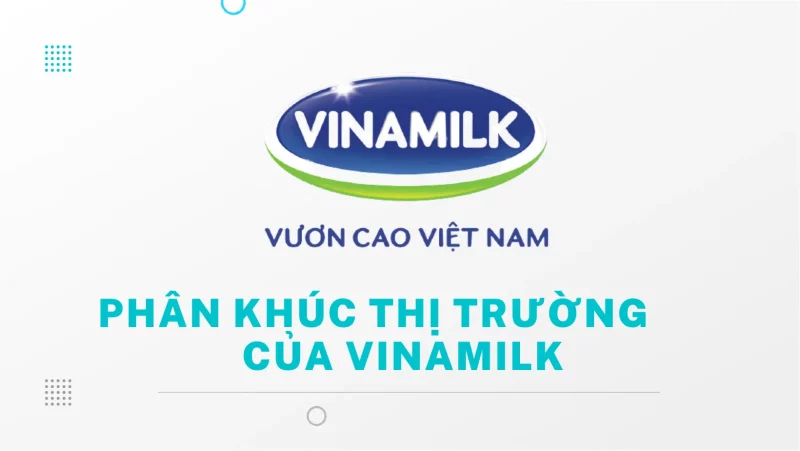 Vinamilk's business strategy activities
Regarding Vinamilk's strategic business activities, this brand has focused on developing and improving the following activities.
Research and development
After nearly 40 years of continuous innovation and development, the Vinamilk brand has become familiar to domestic and foreign consumers. Not stopping there, currently, Vinamilk is continuing to assert itself with the spirit of constant improvement and creativity not only in production technology but also in product types. Vinamilk's products always meet top quality according to international standards and meet the preferences of each user group.
Vinamilk's research and product development team always updates the latest knowledge about technology, as well as closely researches domestic and foreign markets to find opportunities and ideas for product development.
Nowadays, the trend of using herbs derived from nature, good for health and beauty, is the top choice of consumers. Understanding that need, Vinamilk has launched a drink product from Ganoderma combined with honey filtered from natural essence, convenient for customers in health care.
In addition, Vinamilk also develops natural beverage products such as apple juice combined with fresh aloe vera, soaked apricot juice that retains traditional Vietnamese flavors,…

Understanding that most children refuse to eat many fruits and vegetables in their daily diet, Vinamilk has successfully researched and launched three types of fruit juice products: Orange, Strawberry and vegetable juice (including 13 types of fruits and vegetables), supplementing Vitamin A, C, D3, fiber… necessary for the comprehensive development of children.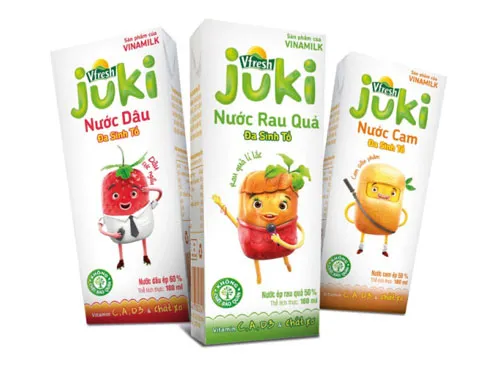 In particular, to escape the path of traditional products, Vinamilk has launched a line of fresh milk products to support the immune system, supplemented with Vitamin D, A, C and a number of nutrients to help support the immune system. , increase the ability to fight diseases; soy milk supplemented with Calcium and Vitamin D; Probi probiotic yogurt with 2 new flavors: strawberry and melon…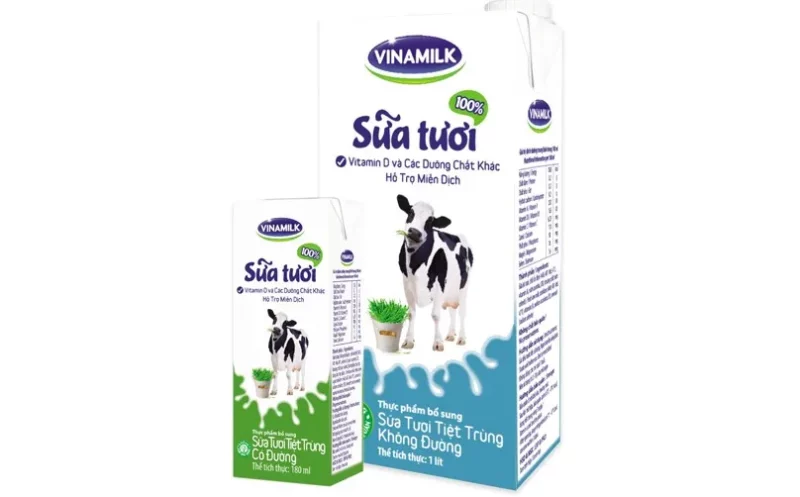 Technology
Regarding technology, Vinamilk's business strategy is to produce sterilized fresh milk with modern equipment and advanced production technology.
Vinamilk's dairy factory is equipped with a sterilized fresh milk production line with modern equipment and today's leading advanced production technology. The factory operates on an automatic, closed line, from input materials to product output.
Fresh milk, after being checked for quality and passed through measuring and filtering equipment, will be entered into the cold tank system (150 m3/tank).

The advanced sterilization system heats milk up to 140 degrees Celsius, then the milk is quickly cooled down to 25 degrees Celsius, preserving the product's natural flavor and nutritional ingredients, vitamins & minerals. The milk is transferred to a sterilization tank awaiting sterile filling into sterilized packages.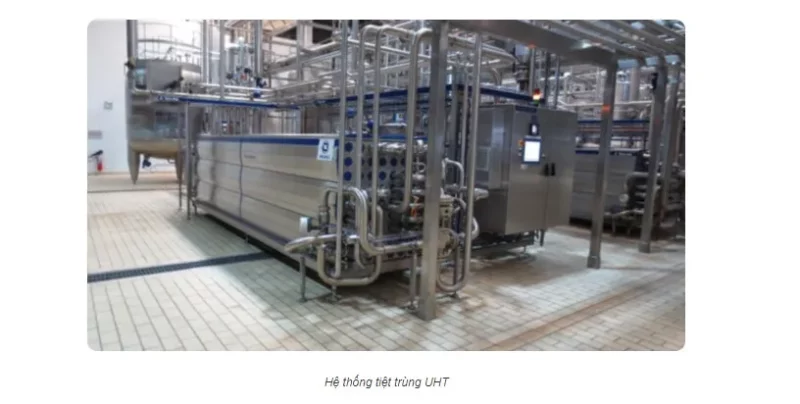 In addition, Vinamilk also changed product quality management technology according to product objects to quality management according to scientific systems such as: ISO 9000-2000, HACCP (hazard analysis and control points). critical).
Currently, all Vinamilk member units have applied ISO 9000-2000, HACCP and are investing in building a modern, synchronous wastewater treatment system, meeting Vietnam's environmental targets on BOD. , COD, TSS…
Human resources management
Focusing on training and improving human resource quality is also an activity in Vinamilk's business strategy.
Vinamilk's growth and success throughout its development journey is the result of the efforts and dedication of all members of the company, under the guidance and wise leadership of key personnel. – talented, brave people who are always dedicated to the common cause of Vinamilk.
To recruit suitable personnel, Vinamilk has linked with universities to find bright candidates. Vinamilk is committed to cooperating with organizations that interview and recruit young people who wish to work at farm facilities after graduation for those studying to be veterinarians or livestock engineers.
In addition, Vinamilk has signed a long-term contract with Moscow University of Applied Biotechnology in the Russian Federation to send children of officials and employees to study in the fields of dairy technology and dairy products. milk; automate technological and production processes; food production machinery and equipment; management in the dairy industry.
Regarding the working environment, Vinamilk always respects and appreciates the contributions and opinions of employees. Therefore, Vinamilk employees are always respected, listened to and shared. Vinamilk does not have a leadership style that imposes and forces employees to follow a path. Employees can freely give their ideas and contributions to make the company more complete.
Marketing manager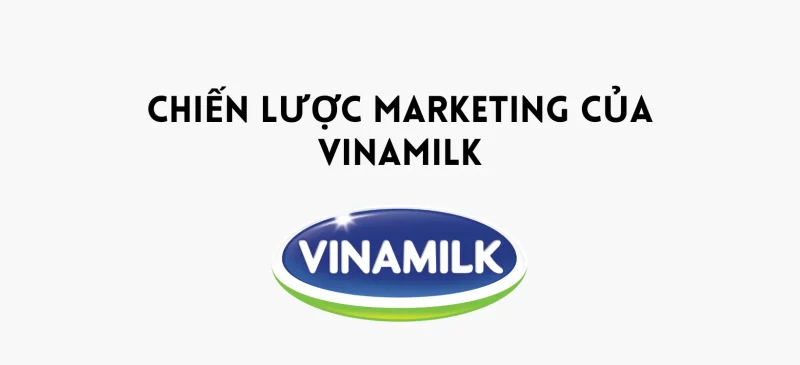 Regarding Marketing management in Vinamilk's business strategy, this brand has deployed  its  Marketing strategies according to the  Marketing Mix 4P model .
Product
When it comes to Vinamilk products, from inception to development, Vinamilk always makes great efforts to expand the product portfolio with the goal of bringing clean, natural milk and meeting diverse desires. types of consumers, from children, adults to the elderly, as well as the desire to bring them the cleanest and most natural milk.
With a diverse and healthy product portfolio as well as meeting the needs of all ages and customers, the Vinamilk brand has always been remembered and trusted by customers, making Vinamilk one of the leading brands in the world. Vietnam's most famous milk brand.
Price
Regarding its pricing strategy, although Vinamilk's products all meet international standards, their prices are much lower than imported milk lines. For example, Vinamilk's powdered milk for children is only one-third the price of other milk lines on the market.
With a high level of competition in the dairy market, if Vinamilk raises its price to half that of other brands, the business's market share will be negatively affected. Besides, Vinamilk also believes that increasing product prices will reduce consumers' purchasing power because Vietnam's per capita income is still low compared to other countries.
Distribution system (Place)
Vinamilk's distribution system spreads across the country in all three forms of distribution: wholesale, retail (240,000 retail points) and direct distribution stores (575 stores). Vinamilk products are also present in nearly 1,500 large and small supermarkets and nearly 600 convenience stores nationwide and on the e-commerce channel  www.giacmosuaviet.com .
In addition to a diverse distribution channel system, Vinamilk has also applied an online sales management system (DMS One) for distributors, retailers and sales staff across the country since the end of February 2013. Each salesperson has been equipped with a tablet connected to 3G and GPS, and relevant information about goods will be updated regularly.
Promotion mix (Promotion)
To increase brand recognition and attract customers, Vinamilk has conducted multi-channel product advertising such as advertising on fanpage, advertising on television, outdoor advertising, developing videos on YouTube,… In addition, it is necessary to regularly change and refresh advertising content and forms to attract attention from consumers.
Read more details about Vinamilk's 4P Marketing Mix strategy in the article :  Detailed analysis of Vinamilk's Marketing Mix strategy 
Financial management
According to Vinamilk's fourth quarter 2020 financial report, the net cash balance as of December 31, 2020 was VND 12,142 billion, equivalent to 1/4 of total assets and an increase of 23.6% compared to the beginning of the year. . As of December 31, 2020, Vinamilk shares closed at 108,800 VND, corresponding to the most recent 12-month P/E ratio at 22.6x (Vinamilk estimates). At this price, Vinamilk shares have recorded an increase of 12.9% since the beginning of the year.
Foreign net revenue reached 8,794 billion VND, of which direct exports contributed 5,561 billion VND and foreign branches contributed 3,233 billion VND. With a revenue growth of 7.4% compared to 2019, Vinamilk's export activities in 2020 have made many impressions in the context of general difficulties, positively contributing to the country's dairy industry.
In parallel with continuing to promote strong export products to traditional markets, Vinamilk continuously recorded positive news about exports to countries such as Korea, China, Singapore and many other countries. in Southeast Asia as well as developing new markets in Africa… Thus, since the start of export (1997) until now, Vinamilk products have been present in 56 countries and territories. with a total turnover of more than 2.4 billion USD.