Born in mid-1996 – Trung Nguyen was once a young coffee brand in Vietnam, but has quickly built a reputation and become the most familiar coffee brand to consumers both at home and abroad. water. To achieve this success, Trung Nguyen has implemented effective marketing strategies. Let's analyze and learn about Trung Nguyen's Marketing strategy in the article below.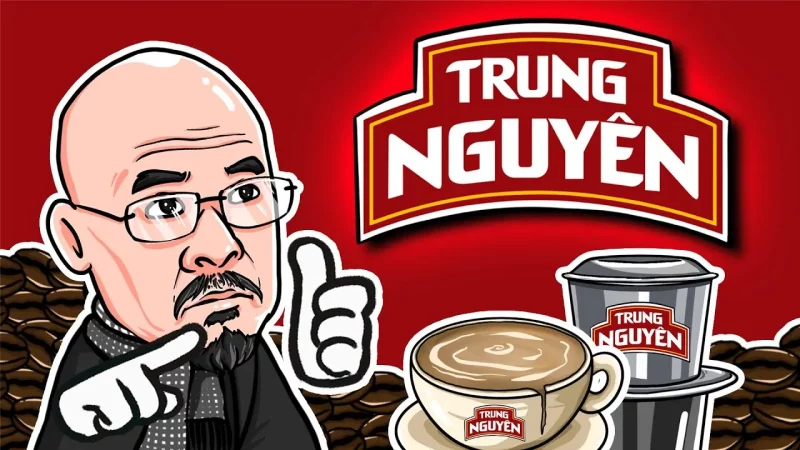 Overview of Trung Nguyen coffee brand
According to  Wikipedia , Trung Nguyen Group Joint Stock Company originated as a small coffee shop founded by Mr. Dang Le Nguyen Vu in Buon Ma Thuot – the coffee capital of Vietnam. Trung Nguyen's main activities are in the fields of: coffee production, processing, trading and franchising the Trung Nguyen coffee brand. Trung Nguyen Coffee is one of the leading famous brands in Vietnam.
In the field of coffee production, processing and trading, the Group has typical products such as: premium Trung Nguyen coffee (Weasel weasel coffee, Legendee weasel coffee, creative 8), roasted and ground coffee , pure coffee beans, G7 instant coffee, fresh coffee. To date, Trung Nguyen's products have been exported to more than 60 countries globally, typically: USA, Canada, Russia, UK, Germany, Japan…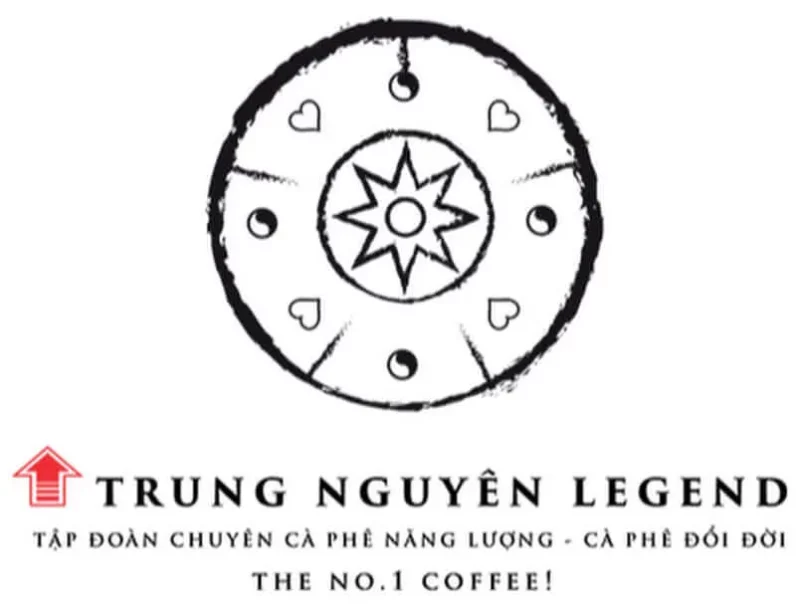 In the field of franchising, Trung Nguyen Franchising Joint Stock Company was established in 2011 to manage the Trung Nguyen coffee space chain. To date, the Group has successfully franchised two extremely developed markets: Japan and Singapore.
Regarding production scale, the Group currently has 3 factories: 1 coffee factory in Saigon, 2 Trung Nguyen instant coffee factories in Binh Duong and Bac Giang along with modern machinery and equipment. can provide the market with the highest quality, most delicious coffee products, worthy of the Vietnamese coffee brand name.
Trung Nguyen's journey from start-up to now has always been a journey of serving the community and this commitment is being strongly promoted through the "Great Willing Journey – Starting a National Building for Vietnamese Youth" to Bringing to the community not only the perfect cup of energy coffee but also the formula for success for each individual, family, organization, and community through valuable, life-changing books.
Analyzing the Marketing strategy of Trung Nguyen coffee
With the desire to conquer the world and enhance the value of Vietnamese coffee beans globally, Trung Nguyen Group continuously creates and perfects a comprehensive, different, special and unique coffee ecosystem, from product – model – project system, along with social service programs during 24 years of development.
To achieve the above successes, Trung Nguyen has built and implemented effective Marketing Mix strategies according to the 4P model. So what is Trung Nguyen's Marketing strategy? How did Trung Nguyen implement the Marketing Mix strategy?
Marketing strategy of Trung Nguyen coffee in terms of product (Product)
Products are always the core of every business, and a good product needs to meet the needs and desires of customers, otherwise competitors will lose market share or even be eliminated from the market.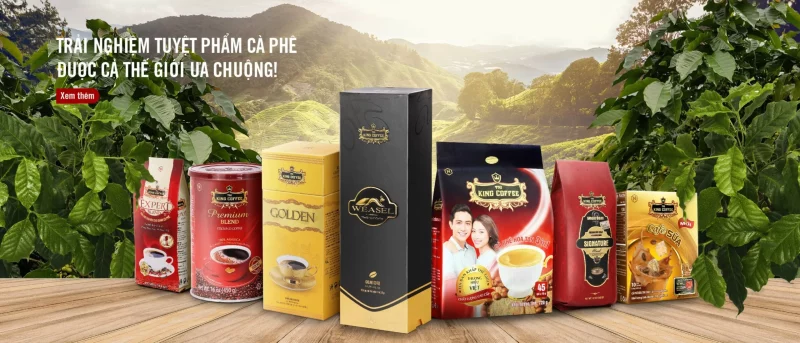 Currently, Trung Nguyen Coffee's product portfolio is very diverse and rich because the brand's goal is to reach all customer segments, meeting all their needs from high-end products to popular products. pine. Some outstanding products include: G7 instant coffee, filter coffee, S Coffee, Legend Coffee… These products all have affordable prices, thereby conquering all customers. row.
Besides, Trung Nguyen also produces premium coffee products such as: Weasel coffee, the most expensive and rarest type of coffee in the world. This sophisticated, classy product is a special gift only for true coffee connoisseurs, leaders, and future creators of the world. This is also the product chosen by the Ministry of Foreign Affairs as a gift for heads of state and as cultural diplomacy ambassadors.
Not only focusing on diversifying the product portfolio, Trung Nguyen always cares about the quality and taste of coffee. From carefully selecting each coffee bean to equipping state-of-the-art grinding equipment with unique roasting and drying methods, we create a unique flavor for each cup of Trung Nguyen's coffee.
In addition, Trung Nguyen has applied the "personalization" strategy by letting customers learn about the differences of each different type of coffee: Robusta Coffee, Arabica Coffee, Weasel Coffee,… Or product lines. G7 Passiona product is exclusively for women with low caffeine content, collagen supplements, anti-aging agents, along with some Oriental herbs and dietary sugar.
Marketing strategy of Trung Nguyen coffee in terms of price (Price)
Price is one of four important components in the marketing mix. It plays a decisive role in consumer purchases, and for companies, price plays a decisive role in competition in the market. Introducing a pricing strategy in marketing is important for businesses because it directly affects the sales and profits of the business.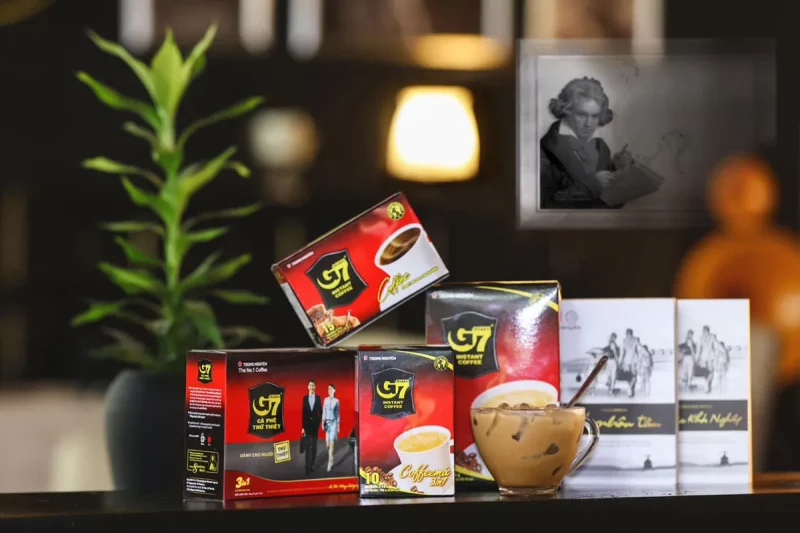 According to McKinsey, just improving the price factor by 1% will increase profits by 6%. That has more impact than a 1% reduction in variable costs (which increases profits by 3.8%) or a 1% reduction in fixed costs (which increases profits by 1.1%).
Read more : What is product pricing? 10 common product pricing strategies in marketing 
It can be seen that the prices of Trung Nguyen's products are very diverse. Depending on the type of product and market segment, as well as the target customers of that product type, prices also vary to create conditions suitable for the spending ability of many customer groups.
For only about 7,000 to 14,000 VND, everyone can enjoy a cup of Trung Nguyen coffee at this branded coffee shop. Or if customers like G7 instant coffee products, they can also easily buy their favorite products at extremely affordable prices (21,000 – 200,000 VND).
Therefore, Trung Nguyen coffee's pricing strategy has a competitive advantage over other product lines such as Nescafe, Vinacafe,…
Marketing strategy of Trung Nguyen coffee regarding distribution system (Place)
Through using the right distribution system, a company can increase sales and maintain positive figures over a longer period of time. This means a larger market share and increased sales and profits.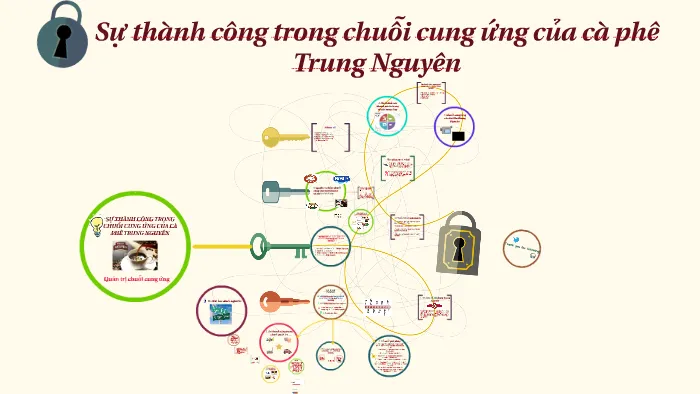 Precise positioning is an important activity that is focused on reaching the right target customers at the right time.
Currently with 10 member companies, Trung Nguyen has the ambition to become a major supplier and distributor in Vietnam. With the main product being coffee, Trung Nguyen has taken advantage of both traditional and modern forms of distribution to achieve its goals.
To ensure the distribution system works most effectively, Trung Nguyen has established 5 branches in most major cities in Vietnam including: Hanoi, Ho Chi Minh City, Da Nang, Lam Dong, Can Tho. Poem.
Regarding distribution channels, this brand currently has 3 main distribution channels: Traditional channels, modern channels and franchise system.
For traditional channels
In the channel there are 3 levels to bring products to consumers: wholesalers (distributors), retailers (points of sale and retail stores such as grocery stores) and consumers. Numbers updated to 2010, Trung Nguyen has 4 roasted coffee factories, 2 instant coffee processing factories throughout Vietnam, a network of 600 coffee shops in Vietnam, 121 exclusive distributors , 7,000 points of sale and 59,000 product retail stores.
In traditional channels, Trung Nguyen Coffee mainly distributes medium and mass coffees, because these products are most welcomed by consumers, along with moderate prices that are easily accessible to the majority of customers. row.
For modern channels (G7 Mart system)
G7 Mart is the first franchised retail system in Vietnam, with 200 suppliers for the entire G7 store chain across the country. According to Trung Nguyen's vision, the G7 Mart system was born to meet the retail shopping habits of Vietnamese people. With the habit of shopping close to home, G7 Mart is often a small-scale store like a grocery store or convenience store chain. With this system, Trung Nguyen distributes all types of coffee, in addition to other products.
Therefore, G7 Mart overcomes the remaining shortcomings in the traditional distribution form of grocery stores by setting low, uniform prices, ensuring the same as a supermarket and applying technology in the process. manager. The establishment of the G7 mart system demonstrates the strategic vision and ambition to gain a strong position in the distribution system in the Vietnamese market.
For franchise systems (coffee shops)
Trung Nguyen is the first Vietnamese brand to apply the domestic and international franchising business model since 1998, just two years after appearing on the market. In just a short time, Trung Nguyen has had about 1,000 franchised coffee shops across the country and 8 abroad such as: USA, Japan, Singapore, Thailand, China, Cambodia, Poland, Ukraine.
The customer base of this system is aimed at those who want to enjoy the taste and feel the value of coffee. Therefore, these shops only serve the best quality coffee with state-of-the-art technology and a service team that is trained and thoroughly knowledgeable about coffee. From there, it shows the quintessential value of coffee, not only providing coffee but also providing satisfaction and spiritual value of coffee.
>> Read more:  Trung Nguyen's distribution strategy – Bringing the Vietnamese coffee brand to the world
Marketing strategy of Trung Nguyen coffee on mixed promotion (Promotion)
Promotion is a necessary business activity to keep pace with the consumer market. Although it is a big brand, Trung Nguyen does not pay too much attention and promote communication campaigns or advertising activities on social networking platforms. Some outstanding programs of this brand include: Buy 1 thermos and get 10 cups of energy coffee, or organize mini games on October 20…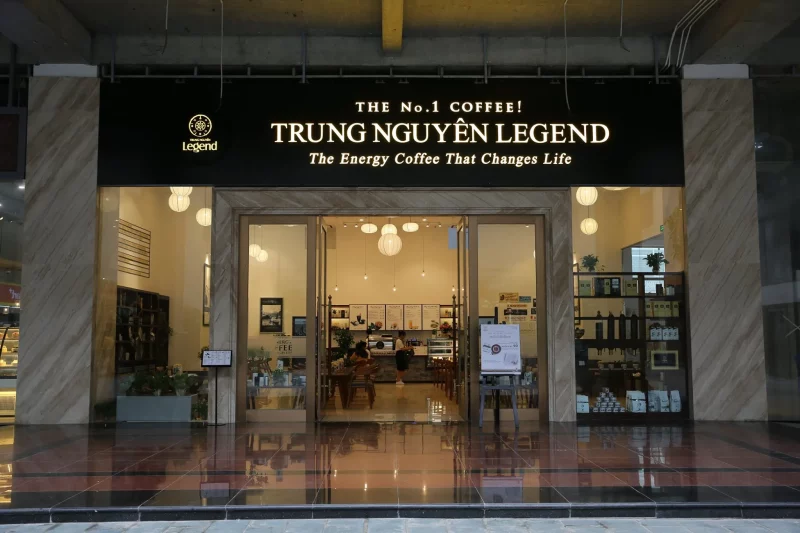 In addition, Trung Nguyen also cooperates with payment services such as Moca to launch a 50% promotion when paying through this platform.
In addition, Trung Nguyen is also a brand that diligently invests and carries out advertising TVCs. These clips are often shown during prime time on channels belonging to national television stations such as VTV1, VTV3…
Because it pushes too hard on advertising campaigns and programs, Trung Nguyen mainly focuses on PR activities. It can be said that today's success is largely due to the results of "communication and promotion" activities.
Trung Nguyen has breathed national soul into its logo and slogan, promoting national pride in each product. Compared to the long old slogan, Trung Nguyen has replaced it with a new slogan "Unleashing creativity" that is easy to remember and impresses everyone.
Summary 
Born in mid-1996 – Trung Nguyen is a young coffee brand in Vietnam, but has quickly built a reputation and become the most familiar coffee brand for consumers both at home and abroad. . To achieve this success, Trung Nguyen has implemented effective marketing strategies.
Check out some other great content:
Marketing Strategy of Highlands Coffee