Thermal transfer printing technology is a fairly popular technology chosen by many businesses. For small businesses that want to print with this technology themselves, here's what you need to know about thermal transfer printers.
What is heat transfer printing?
Thermal Transfer Printing is one of the most commonly used printing methods today. This printing technology comes from Japan, created by SATO Group. Thermal transfer printing is also considered a digital printing method, because it prints images directly on the product without the need to make molds or prepare prints.
Thermal transfer printing technology is found in many printing devices today, especially in thermal transfer printers. The thermal transfer printer will print on paper or other materials such as fabric, metal, etc. by melting the surface (outer coating) of the Ribbon. Thermal transfer printers work in contrast to direct thermal printing without the ribbons appearing during the printing process.
Here are some of the most popular types of thermal transfer printers today:
Flatbed heat transfer printer: Used to print fabric, shirt, glass, wood, mica, ceramic tile…

Thermal transfer printer on cups: Used to press glass, porcelain, plastic cups…

On-disk thermal transfer printer: Used to print dishes and have only a certain mold.

Thermal transfer printer on hats: Used to print cloth hats, caps, and helmets.
Construction of some thermal transfer printers
ALPS MicroDry . Printer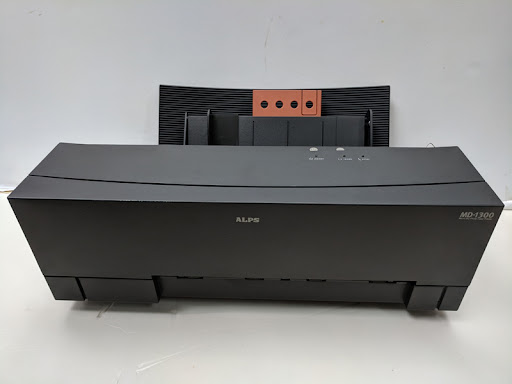 MicroDry is a barcode printer system developed by the Japanese company ALPS. It is a plastic-transfer system using individual color cartridges with thermal ribbon, and can print in the process using cyan, magenta, yellow, and black ink cartridges, as well as spot color cartridges. White as metallic silver, and metallic gold, on a variety of paper and transparent stock.
Some MicroDry printers can also operate in dye sublimation mode, using special ink and paper cartridges.
3D Thermal Transfer Printer
3D thermal transfer printer is formed from the principle of heat-emitting roller combined with vacuum. The machine is used for convex, 3D, angular surfaces of the product. One-time heat transfer to form the product, with high stability and low failure rate.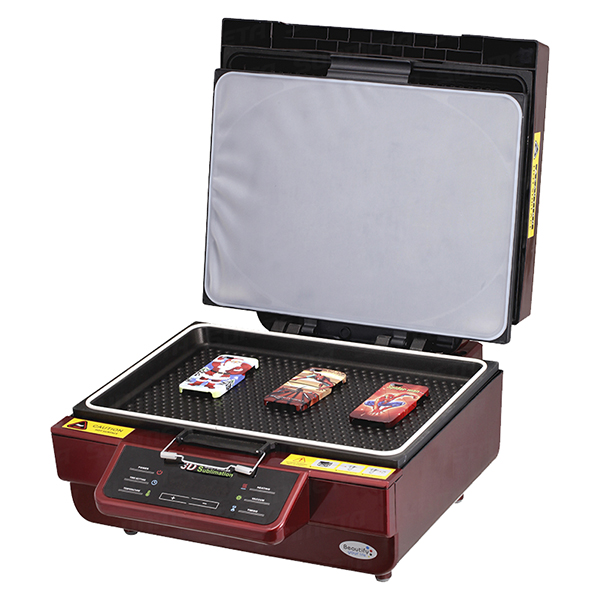 3D heat press machine cover design, can transfer printing to cover the entire surface of materials. Combined with PVC film can expand the printing ability to round, angled and concave corners, no cracks and wrinkles occur. The product after processing has a smooth, bright surface, marks, stretched images, etc.
3D heat press machine, vacuum 3D thermal transfer printer with photoelectric sensor is completely used imported high quality, stable performance, temperature and time displayed by high-definition digital clock and High accuracy, easy to use.
Working principle of thermal transfer printer
The principle of operation of thermal transfer printing is to transfer the printed image on the paper through the surface of the material by a heat press machine, the type of paper used for thermal transfer printing is covered with a layer of heat transfer glue so that the image can be transferred from the paper to the surface. material to be printed through high pressure and temperature.
The printer's thermal transfer printing technology usually works in two simple stages:
Stage 1: Print the image on paper
At this stage, the ink particles will sublimate when encountering high temperatures and stick to the thermal transfer paper. Thermal transfer paper is a type of paper with a surface impregnated with a very hot chemical layer, it is a mixture of LEUCO Flouran (dye) and Ctadecylphosphonic Acid. When this type of paper is pressed with high temperature, the dye will start to melt, transferring the printed image on the paper to the surface of the printed material. After the ink cools, the images on the paper also dry and harden.
(Note that when using thermal transfer printing technology, a specialized ink called thermal transfer ink is used, not ordinary ink. If you want to be successful for thermal transfer printing, good ink will make the image you need to print sharper, more vivid, and more durable. Thermal transfer inks can convert from solid to gaseous form without liquefying. Thanks to a special coating, the ink easily penetrates the surface of the material, making the image brighter, more vivid and realistic.)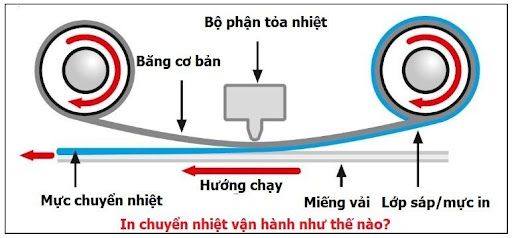 Stage 2: Thermal printing of images from paper onto the material to be printed
After creating high-quality images on thermal transfer paper, in this next step you need to use a heat press device to transfer those images onto the material to be printed. Common printing materials that users often use are materials such as porcelain, glass, fabric, wood, ceramic tiles, plastic …
Advantages and disadvantages of heat transfer printing method
Advantage:
Simple printing technique: With thermal transfer printing, it is simple to print images directly on the product without having to mix colors or make a printing mold.

High durability: The heat transfer print on the product is very durable, very little fading and durable over time.

Print complex images: Thermal transfer printing method can be used to print complex images, textures, and patterns on the material to be printed as easily as printing on photo paper.

Flexibility in printing: Thermal transfer printing can be printed on many types of materials such as: Clothes, shoes, bags, dishes, cups, furniture, canned goods, plastic boxes, packaging…

User-friendly: The heat transfer print is absorbed directly on the product, no color, no stickiness, no ink smudges, so it is very user-friendly.
Defect:
The heat transfer printing method is only applicable to common products such as cloth, cups, glasses, ceramics, etc. And only suitable for small, low-automation models.

Although printing technology is modern, it still depends on the operator to have experience and skill to create the best quality finished product.

Substance restrictions 

:

 High temperature printing may affect the quality of some poorly heat resistant materials.
Application of heat transfer printing technology
Due to the ability to print on many different materials, thermal transfer printing technology will certainly be widely applied in business. Companies often use heat transfer printing technology to differentiate their products as well as meet the individualized needs of each customer. Here are some businesses that use heat transfer printing technology:
Heat transfer printing technology on glass: Printing on glass vases, plates, bowls, ..

Heat transfer printing technology on porcelain: Print on porcelain cups, cups, bowls, …

Heat transfer printing technology on fabrics: Printing on sportswear, uniforms, hats, pillows, shoes, etc.

Heat transfer printing technology on wood: Print on wood paintings, wooden objects, …

Thermal transfer printing technology on plastic: Print on keychains, badges, plastic items, etc.

Heat transfer printing technology on ceramic tiles: printing on tiles,…
Thermal transfer printing technology is a superior technology and has many advantages. Businesses can refer to applying this technology to suitable products.