Oil-based ink is one of the most popular printing inks today because of its versatility and colorfastness. However, oil-based inks have disadvantages that printers must overcome so as not to affect print quality.
1. What is oil-based ink?
Oil-based printing ink  is a type of ink that is prepared from petroleum. Therefore, it has an oily smell, a strong smell depending on the type, but usually UV or Plastisol ink, eco-solvent usually has a lighter smell and is named separately because it has been improved and has different characteristics of intermediate processing. .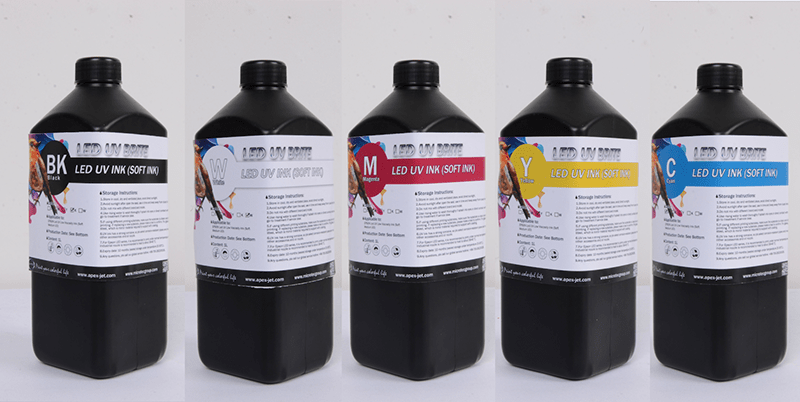 Depending on the oil content, it has a strong or light smell. This is also the simplest identification feature, you smell the oil is oil-based ink.
Some oil-based inks are commonly used today: UV Pigment Ink, Ultra Pigment Ink…
2. Characteristics of oil-based printing ink
The characteristic of oil ink is that it adheres better than water, but the toxicity rate is higher than that of water. In the printing industry, there are often toxic classifications from Lead Free (Lead Free), No Heavy Metal (Nonmetal), No Phthalate (Phthalate free) or No Formaldehyde (Formaldehyde free)… Depending on different countries, there are standards. different levels of toxicity to protect consumers.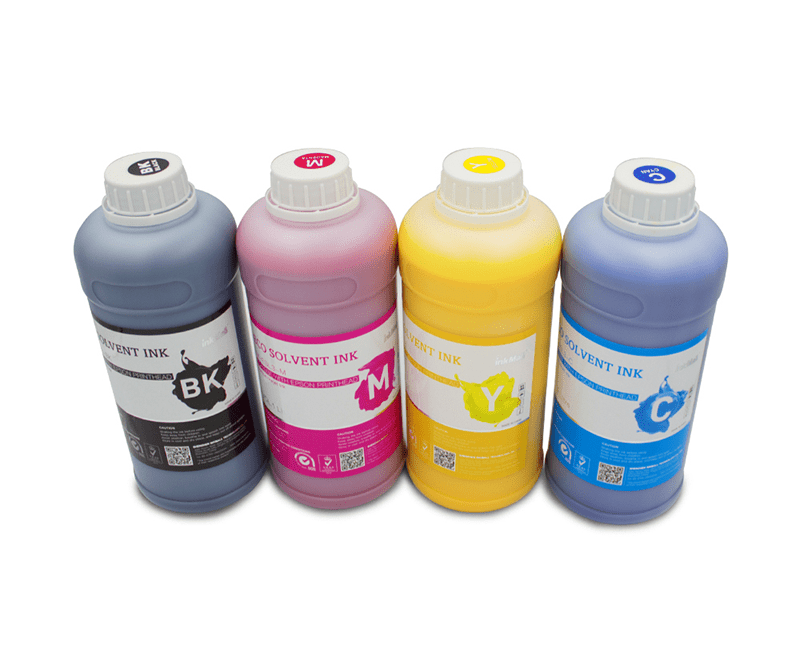 Advantage
Oil-based ink has good adhesion.

The product produces sharper subtle colors than  

water-based inks

 , but oil-based inks also have a higher rate of toxicity.

Suitable for printing on products such as bag printing, backpack screen printing, silk screen printing on umbrellas, foam slippers silkscreen printing, silk screen printing on glass cups, silk screen printing on non-woven fabrics, silk screen printing on glass, silk screen printing on needles type…
Defect
Because oil-based ink is very diverse and difficult to distinguish, the way to mix silk-screen ink often encounters many difficulties, mixing silk-screen printing ink requires technical and experienced people, otherwise the color will not be uniform and not beautiful. .
3. Some types of oil-based printing inks on the market today
Oil-based inks have many types, the oil-based inks differ mainly in the intermediate treatment.
Plastisol ink (light oil based)
Plastisol ink  is often difficult to identify oil-based when smelling, but when cleaning the plate or using solvents, it is revealed that it is oil-based. This ink has the characteristics of creating a beautiful surface, better grip than water, more glossy than water in nature and can be blurred at will.
However, Plastisol ink must be heat treated after printing at a temperature of 160 degrees or more for at least 10 seconds depending on the thickness. If not heat treated, the squid will fall apart like sweet potatoes.
Pigment UV ink
Pigment UV ink  belongs to the oil-based water-resistant ink system. This ink is enhanced with UV to create color fastness against ultraviolet rays, making printed images durable and long-lasting. Pigment UV ink has 6 colors: 4 basic colors and 2 light colors are Black, Cyan, Magenta, Light Cyan, Light Magenta, Yellow.
Pigment UV has the advantages of color fastness, long fading, beautiful and sharp images, printing on many paper materials, good ink conductivity, no damage to the nozzle.
Thanks to the advantages of long-lasting, durable, and less affected by weather effects, oil-based inks are often used to create images that are pasted on cars, billboards, outdoor banners or printed decals, labels, etc.
Pigment UV ink has high color fastness, so it is the best choice for customers when printing important documents. Pigment UV ink is compatible with Epson nozzles such as: T50, T60, A50, R1390, P50, A1430, R1400, … and large models, limited to 4-color machines such as: Epson SX125, T13, T11…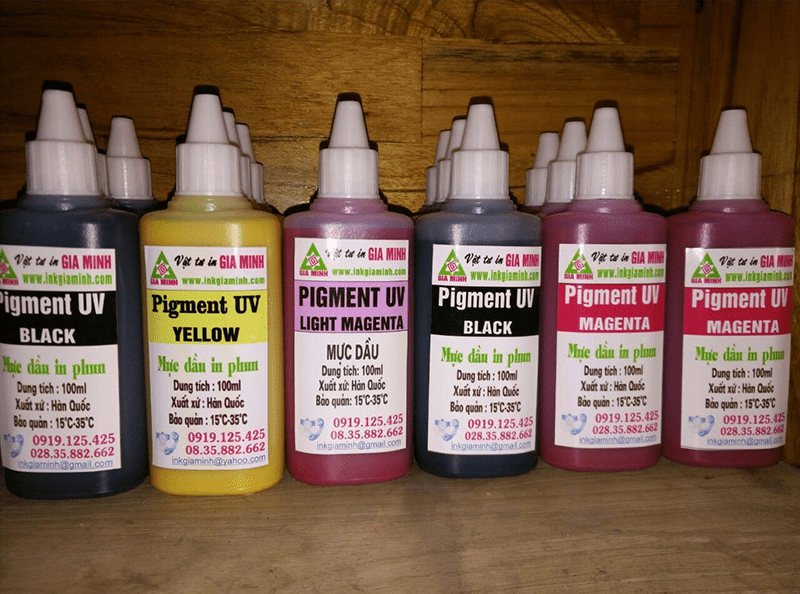 4. Which printing technology is suitable for oil-based ink?
Oil-based ink is compatible with many modern printing technologies: digital inkjet printing, flexographic printing, offset printing
Digital inkjet printing:

  Digital printing is a modern printing method using inkjet printers and laser printers, digital images are analyzed and put into direct printing of the images to produce products. instant products in large quantity and high quality.

Flexo printing

 : Flexo printing is an embossed printing technique. Printed elements such as images, letters, etc., on the printing die are located higher than the non-printed elements. When printing, the image on the printing plate is inverted, is supplied with ink by the anilox shaft, and then transfers ink directly to the printed material through the printing press process.

Offset printing

 :

  Offset printing is a printing technique in which ink-stick images are pressed onto rubber sheets (also known as offset plates) first and then pressed from this rubber pad onto paper. When used with lithography, this technique avoids getting water onto the paper with the ink.
5. How to overcome the disadvantages of oil-based ink
During use, you can cover the ink tank with a thin layer of cloth to avoid dust or impurities from affecting the ink system.

Print regularly so that the ink flows evenly and does not dry out, if the printing demand is less, about 1-2 days, the customer can test 1 color print to avoid clogged ink nozzles.

On average, about once every 6 months, the printer needs to be cleaned and replaced with the ink supply system to prevent ink deposits from blocking the printer nozzles.
Please learn more: