Decal paper is a type of material used for decal printing. The most commonly used decal paper today is normal AL decal paper and glossy AL decal paper.
1. What is decal paper?
Decal concept and decal paper
Decal is a type of self-adhesive label that is pre-coated with adhesive and has a protective paper layer that can stick under pressure. Unlike other types of labels, decals use an adhesive layer by wetting and drying, or by heat effect, the adhesive layer after peeling off the protective layer will stick to the material to be adhered to by a light pressure.
Decal is composed of 4 layers:
Surface layer: can be made of a variety of paper, plastic, cloth or metal materials and has a thin film to prevent moisture and dust.

Glue layer: is the glue layer that is applied to the bottom of the surface layer.

Adhesive barrier layer: is the layer that separates the glue layer so that it does not stick to the dike layer.

Base layer: is the layer that protects the glue layer, to stick when needed. When you need to paste the decal, just peel off this layer.
Basic decal types include: paper decal, plastic decal, metal decal, film decal.
Decal paper is actually a type of decal. They also share these characteristics of decals. The difference is that decal paper has a surface made of paper and other types of decals such as plastic decal, metal decal, … have a surface made of plastic or metal.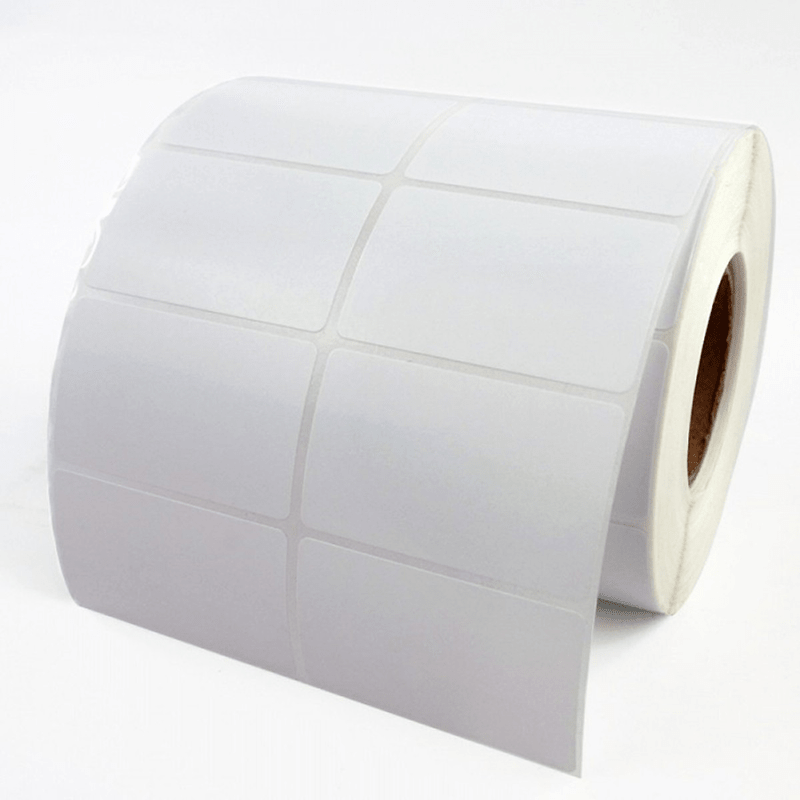 2. Popular types of decal paper
There are many different types of decal paper on the market, but currently there are two types of decal paper most used to print decal paper, normal AL decal and glossy AL decal.
What is normal AL decal paper?
AL decal paper is usually a decal whose surface layer is made of paper and the material that makes it up is Fascoat Plus. This type of decal is characterized by a basic white color, smooth surface and only slightly glossy.
Compatible
AL decal paper is usually well compatible with Wax, Wax/Resin ink.
AL decal paper is often used to print with Offset printing technology.
Size
Common decal printing sizes:
In decal logo: 5x10cm, 10x10cm,…

Print decal labels: 9×5.5cm, 21×29.7cm, …
Advantage:
Has basic white color, easy to apply in printing labels, logos, …

Smooth, glossy surface for beautiful print quality

Has high adhesion

Popular, cheap price
Defect:
Easy to tear paper, peel off

Easy to blur information

Can't store for a long time
What is glossy AL decal paper?
Glossy AL decal paper is High Gloss Paper material, white color, smooth surface, can be easily torn by hand. Compatible and same size as regular Al decal paper.
Advantage:
Smooth surface, very good ink absorption.

Sharp print quality, bright color images

Colors are accurately represented
Defect:
The paper is quite thin, so it is easy to crumple, peel, and easily tear by hand

The color fastness is poor, so it is easy to smudge the ink in a certain period of time.
In addition, you can also refer to some other types of decal paper such as:
| | | | | | |
| --- | --- | --- | --- | --- | --- |
| STT | Type of decal paper | Material | Characteristic | Compatible Ink | Application |
| first | Decal Vellum | Vellum Elite | Matte white paper, slightly rough surface | Good use with Wax, Wax/Resin ink for beautiful print quality, high grip | Suitable for use in the fashion and garment industries, bookstores, transportation … |
| 2 | Semi-thermal decal | Premium Transtherm | Paper is slightly translucent white, smooth surface | In the component with built-in ink, when combined with Wax, Wax/Resin ink, the print quality is beautiful, showing good contrast and high adhesion. | Suitable for use in all industries, especially for products that need to be stored for a long time or stored outdoors (such as cartons, etc.) |
| 3 | Direct heat sensitive decal | Multitherm Plus | White paper is slightly translucent, smooth surface, dark color when affected by heat. | Print directly with the heat of the printhead without going through the ribbon | Use in a variety of industries where products need to be stored for long periods of time or in harsh conditions, only for direct thermal printers. |
| 4 | Couche paper | | White, smooth, no glue, perforated or not perforated | Good use for Wax, Wax/Resin inks | Used to print transportation, garment (print tickets, labels, hang tags …) |
For surface coated decal paper, the quality of the decal is more assured than the uncoated paper, which of course is also more expensive.
3. Common technologies used to print decal paper
Currently, paper decal printing is mainly applied offset printing and flexo printing technology. Both of these printing technologies have different advantages and disadvantages:
For offset printing technology:  ink and images will be pressed onto offset plates (also known as rubber sheets). Then, from the offset plate pressed onto the surface to be printed.
Advantages:

  Produces prints with beautiful image quality, sharp, durable and long-lasting because of the ink; The applicability of printing to different surfaces from paper, wood, fabric to metal.

Cons:

  Not suitable for small quantity orders because input costs are high and product prices will be pushed up; Unable to print products with strange shapes or products made of difficult-to-print materials; The color has a certain deviation.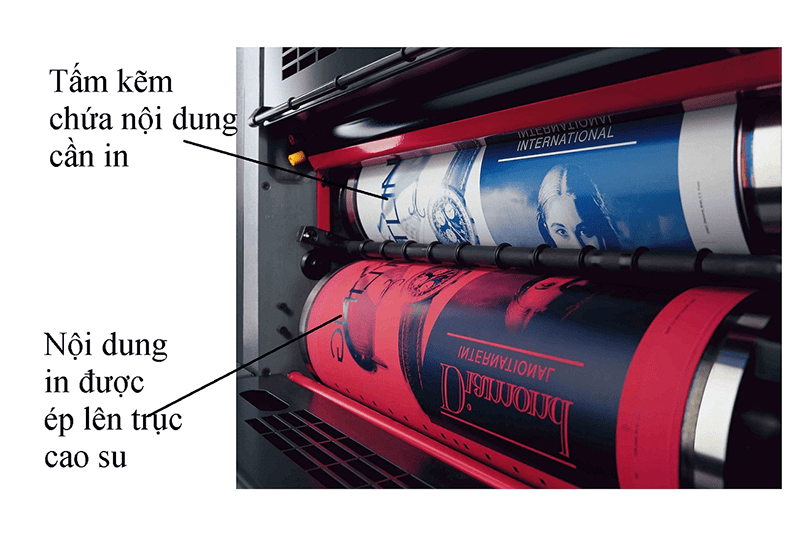 For flexo printing technology : Flexo printing is a direct printing technology or embossing technology, the ink is transferred from the ink trough through the "rollers" and finally applied to the surface of the printed material.
Pros

 : Very good ink adhesion. The ink dries very quickly and does not smudge or smudge. The important thing is that you can print on any and all different materials. In particular, printing in extremely large quantities and costs is cheaper than offset printing.

Cons

 : Initially, this printing technique will take longer due to the time it takes to create prints. On the other hand, the cost of a photopolymer is usually quite high. In addition, it is only suitable for printing very large quantities, so for small quantities, you should not use this printing method.
Currently, the printing of labels mainly uses the   flexo roll stamping method. The reason is that the roll stamp is compatible with the automatic labeling system of businesses. Instead of having to use the manual method of gluing time and effort, now the stamping is completely automatic, ensuring fast, accurate and high aesthetics.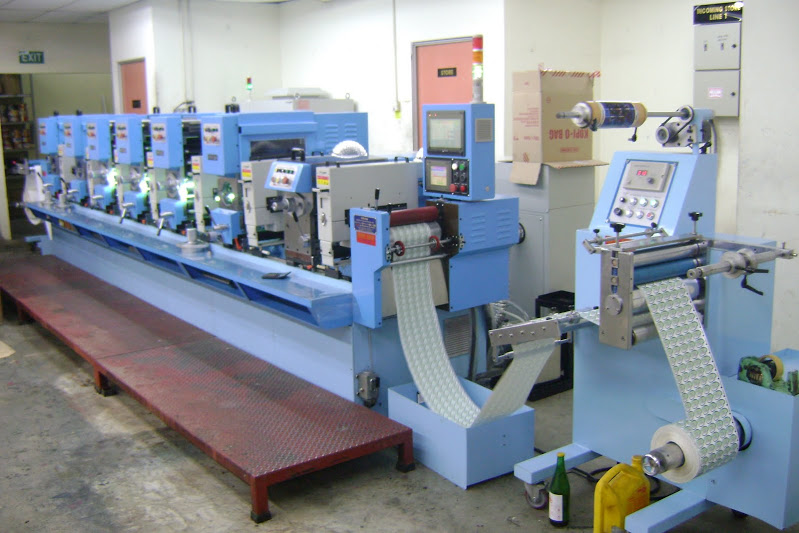 4. Application of decal paper
Decal is one of the most popular items in any field. Therefore, decal paper materials are also very diverse and rich in applications.
Print product labels
Decal paper is the most used in label printing.
Labels are an indispensable element of goods. Different products will have different labels. It just tells people what the product is; what is the origin; is the product of any production unit; how to use it; what is the use; manufacture date expiry date,…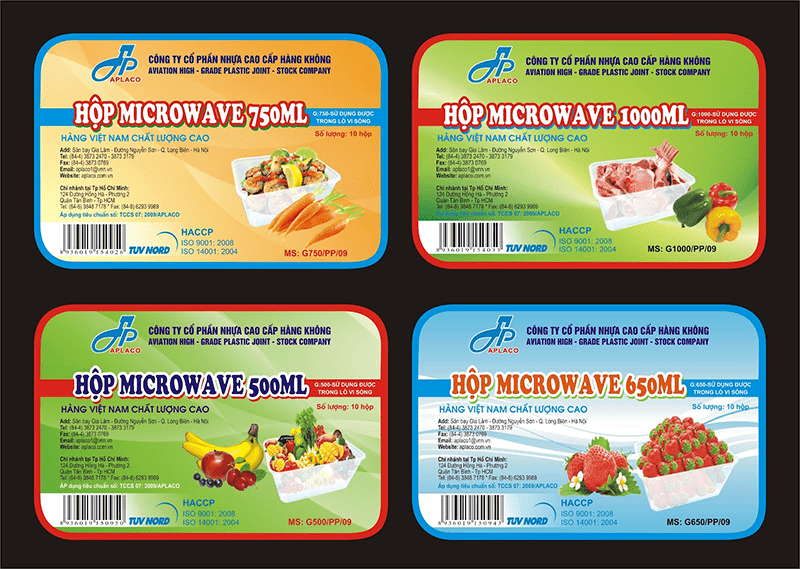 Paper decal is still the first choice for printing goods labels. Even holding the dominant position. There are products, units from start to finish still just want to use this product because of the satisfaction with it.
Print error stickers
Error stickers are stamps used in industrial chains to help distinguish defective and unqualified products. For each error, different stamps will be used to distinguish them.
Print product extra stamps
Product sub-stamp is a type of stamp used to provide additional information for the product, helping users get more information about the product as well as know how to use the product. Items that often need product stamps include: food, pharmaceuticals, cosmetics, electronics, refrigeration, etc. In particular, product stamps are a mandatory requirement for imported products.
Print product price stamps
Product price stamps are often printed in large quantities, helping consumers quickly understand the price of the product
In the QC theme
QC stamps are quality inspection stamps used in industrial lines. This is also a type of stamp that is often printed in large quantities.
In logo, sticker,…
Decal paper is also used in printing brand logos, group logos, stickers, stationery products such as colored handmade paper, toys, decorations, etc.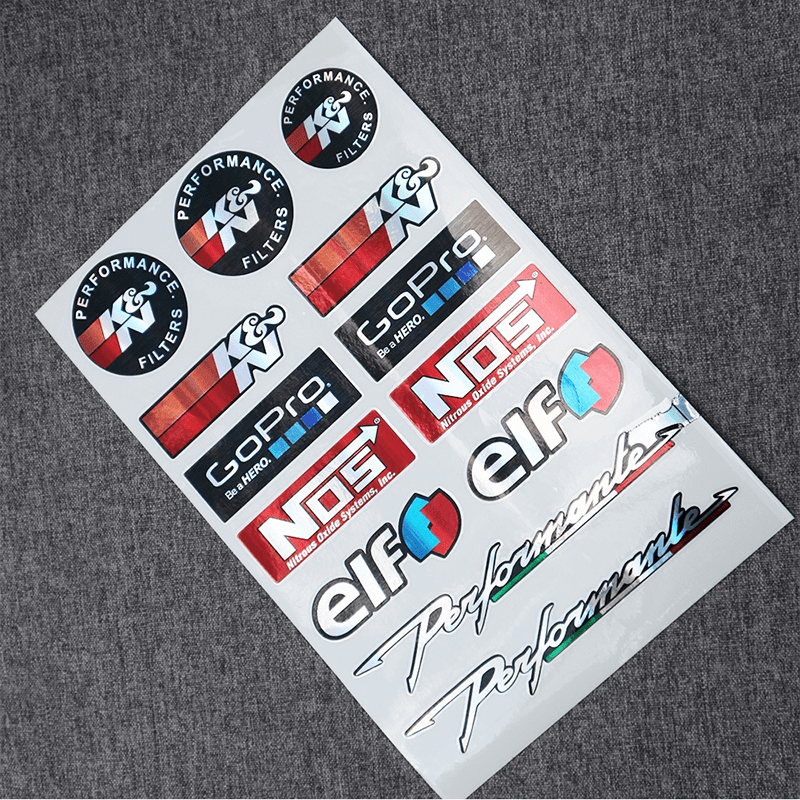 Decal paper is very diverse in types as well as characteristics, properties and applications. Therefore, businesses and consumers need to consider and learn carefully before deciding which material to use to make decals for their products.