Offset printing

  can be used with most types of printing paper. 

Businesses need to rely on the printing needs of customers to choose the type of paper with appropriate characteristics.
Paper Ivory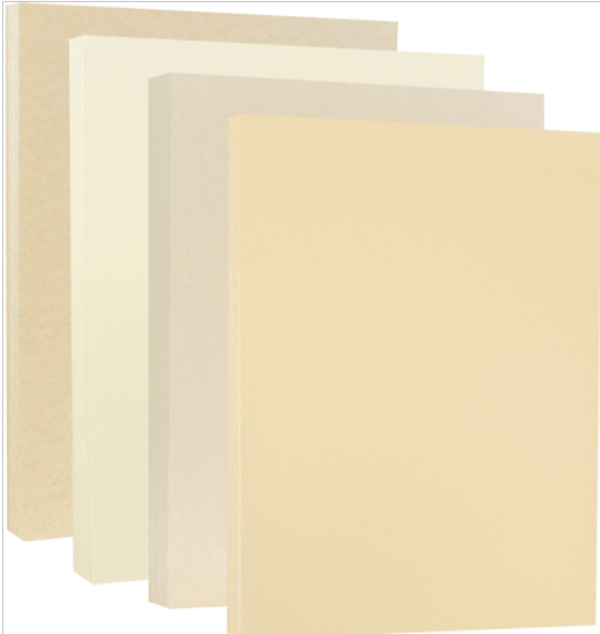 The paper is white (light tone), thick, hard, one side is sub-coated and smooth, the other side is rough, white or ivory. When torn in half, the core is also ivory white. Ivory paper has a higher thickness and stiffness than Bristol paper.
Ivory paper is used to print packaging, bags, cigarette boxes, medicine boxes, cosmetic boxes, pharmaceuticals, perfume boxes, cake boxes, fast food boxes, tea boxes, coffee boxes, booklet & book covers, folder,… The weight of this paper is about 210 – 350 gsm.
GSM paper weight is an abbreviated English term "Grams per Square Meter" which means grams per square meter, the higher the gsm number of the paper, the heavier it is = means the thicker the paper.
In addition, there is a thicker and stiffer Ivory paper called Ivory Kraft. This type of paper also has 1 smooth coated side, the other side is rough and hard like Kraft paper.
>>> Learn more about Ivory paper
Couche paper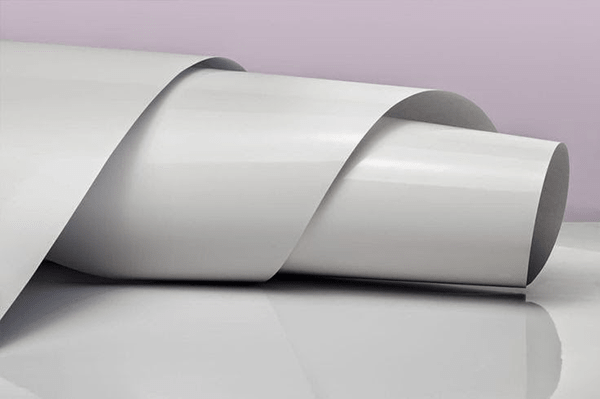 Couche paper is white, the surface is coated with kaolin tape (or some similar special material) so the paper surface is very flat, glossy and smooth.
Couche paper price ranges from 45,000 VND – 60,000 VND/head (about 50 sheets) and the more you buy, the lower the price. Therefore, companies should consider ordering in bulk to reduce printing costs.
Pictures printed on Couche paper are beautiful, sharp, bright colors. Therefore, if businesses need to print business cards, book covers, menus, magazines or advertising leaflets that need high aesthetics, elegance, and courtesy, this is the right type of paper.
Currently, you can easily buy Ivory paper at many addresses, buy it directly or buy it online, the paper price ranges from 30,000 VND – over 200,000 / sheet depending on the paper size, type and quantity.
>>> Learn more about Couche paper
Bristol Paper
Bristol paper is a white coated paper on both sides. In which, one surface is smoother than Ivory, the other is rough. When torn off the inner core is white, not yellow like Ivory paper. This paper consists of many thin layers together under compression, so it is quite hard and thick. Therefore, they are often used as product boxes.
In addition, thin Bristol paper is often used for printing catalogs, envelopes, documents, product brochures, shop visiting cards, food menus…, calendar printing, wedding invitations or printing. Print packaging, product paper boxes because of the high quality, light and beautiful white paper that brings sharp and durable visual effects and ink.
>>> Learn more about Bristol paper
Ford Paper
Ford paper (or Fort paper) is an uncoated paper, so the two sides are rough, white, non-glare, good ink adhesion. This is the type of office paper we see every day, about 70 – 80gsm.
Ford paper is used a lot in offices and schools, used as writing paper, made into student notebooks, notebooks, text printing paper, photocopies, etc. White paper notebooks with Bai Bang paper (58 – 70gsm) ) or Tan Mai that students often use is made from ford paper with a whiteness of over 60%.
With offset printing technology, fort paper is often used to print invitations, flyers, thin paper bags, etc. in large quantities. When using envelope printing, the amount of ford paper used is 100-200gsm.
>>> Learn more about Ford paper
AL paper
AL paper includes 2 main types:
AL decal paper is usually made of Fascoat Plus.

High Gloss Paper for Al decal paper
Normal AL decal paper and glossy AL decal paper are almost the same in all characteristics, both white, good ink adhesion, easy to tear, only the gloss of the paper is different. This type of paper is most commonly used for printing labels: sub-labels, sticker stamps, etc.
Learn more about  AL decal paper
Duplex Paper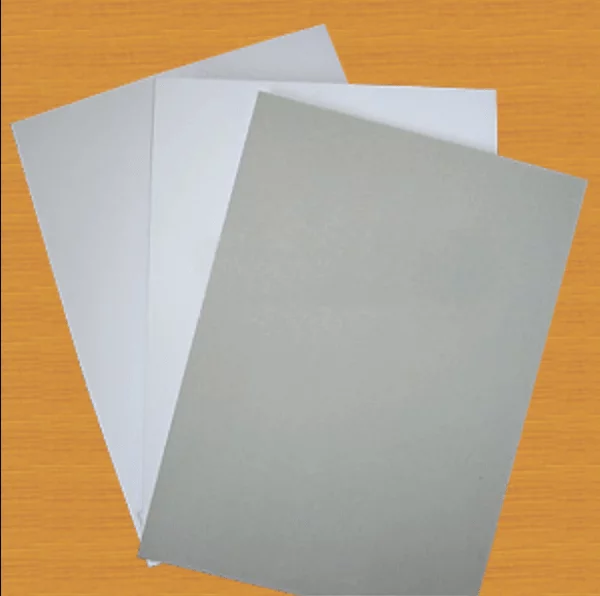 Duplex paper is a high-grade paper, it is coated on one side with glossy coating and the other side without gloss, white rough surface, quite thick and hard. When torn off the inside of the gray core. If you buy 400gsm Duplex paper individually, the price is about 180,000 VND / 100 sheets.
Because of such characteristics, this type of paper is often used for products that require high hardness, firmness or large-sized paper boxes: Printed candy boxes, gift boxes, etc. use duplex paper for printing or any other candy box.
In the confectionery industry, people who print large boxes always use Offset printing to save printing costs and achieve the highest efficiency.
>>> Learn more about Duplex paper
7 color decal paper
7-color decal paper is widely used to print warranty stamps, sealing stamps, anti-counterfeiting stamps. The 7 colors of the rainbow on the 7-color decal are easy to destroy when removed. This is also the reason why the stamp is used as a product seal, making it easy for businesses to verify whether the product has been arbitrarily disassembled and repaired by the customer.
The 7-color stamp ensures aesthetics with 7 sparkling colors, highlighting the information related to the brand or the delicate patterns on the stamp.
Service reference: Cheapest price 7 color decal printing
Kraft paper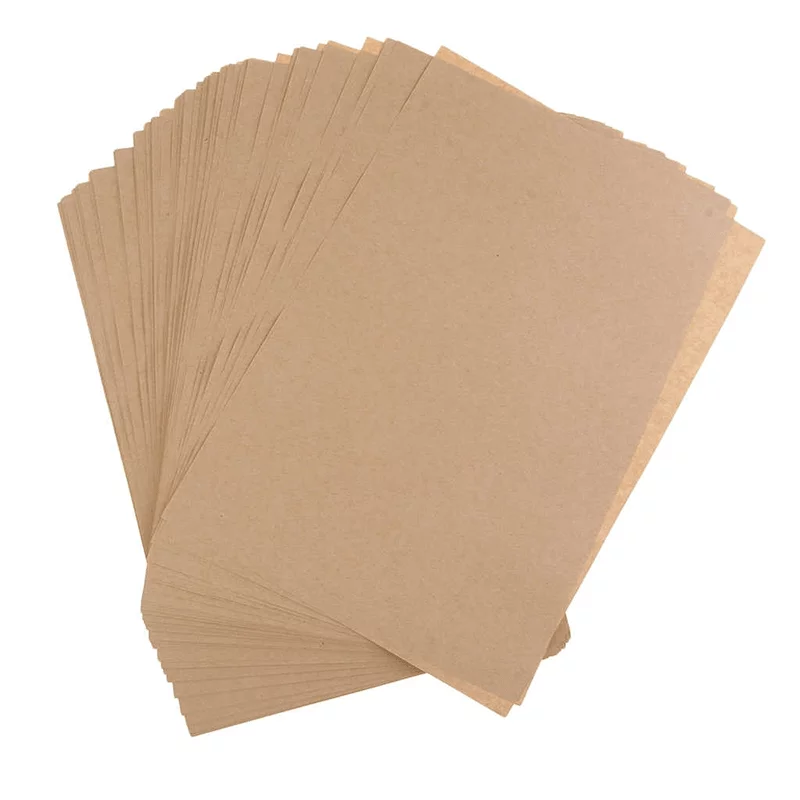 Kraft paper is also known as recycled paper, the color of which varies from dark yellow to brown. This is the paper of cartons, cement bags, yellowish paper bags for fast food, etc. they are double-sided and have different thicknesses depending on the number of layers of paper.
The most common application of this type of paper is cartons. When making cartons, kraft paper usually has 3 layers, hollow in the middle and has wavy details in the shape of U, E, V. At the same time, there are layers on the outside so it looks quite thick. In addition, there are many units that use Kraft paper to print paper labels. The brown color of the paper is very suitable for printing paper labels for food groups, vintage vintage items, handmade cosmetics…
Kraft paper is very porous (low molecular density), so if you use printing technologies such as thermal transfer printing (so that the ink adheres to the paper molecules), it will cause ink smearing, the print quality is not clear. Therefore, one can only use the printing method for the ink to adhere to the surface: Offset printing.
>>> Learn more about Kraft paper
Paper Metalize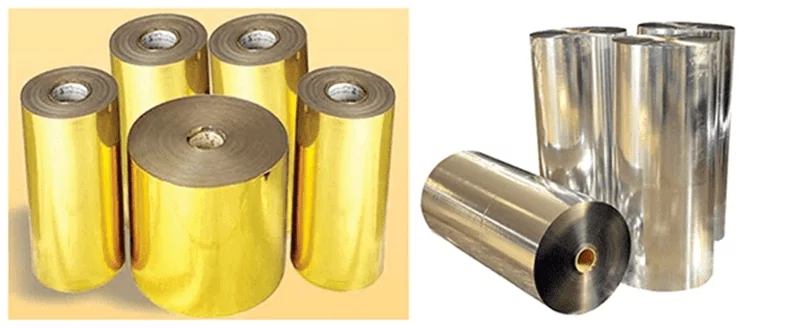 This type of paper is bristol paper inside, with aluminum film outside. Its most prominent feature is glossy, creating a luxurious, polite look. This type of paper is often used for offset printing technology.
Metalize paper is applied as packaging and boxes of high-quality products because the effect that this paper creates is very beautiful, increasing the value of the product. Metalize paper is often used as packaging for cosmetics, drugs, clothing bags, food packaging, toothpaste boxes, wine boxes, gift wrapping paper, etc.
>>> Learn more about Metalize paper
Liquid packaging printing paper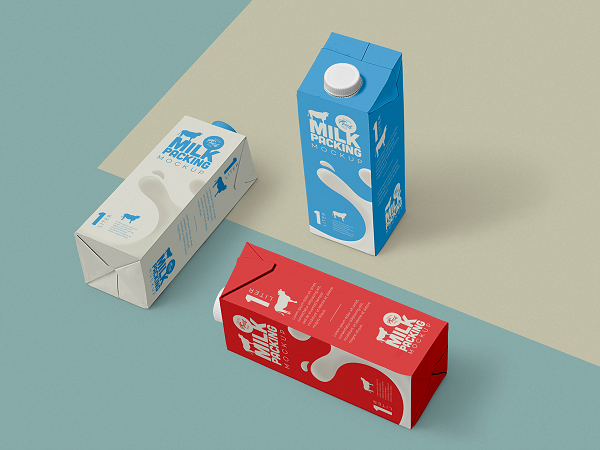 This is a paper model that is laminated, the innermost layer is a waterproof and safe aluminum layer. The outermost layer is white paper (usually couche paper), the innermost layer is coated with a thin aluminum layer.
This type of paper is often used to print liquid foods such as: milk cartons, milk bags, etc. They are waterproof, safer than glass bottles, and at the same time, the cost is cheaper. No harm to the environment compared to using bottles.
Nearly all types of printing paper can be used for offset printing, applications in many different fields. Offset printing allows printing of large prints, fast printing speed and low cost per print.
However, when printing Offset, it is necessary to make a printing plate with different prints. This takes a lot of time and money. Therefore, offset printing is only cheap when printing in large quantities. If printing small quantities, the cost per print will be high.
In addition to printing on paper, Offset printing technique also applies to printing on fabric, plastic and silver. Therefore, this printing technology is applied to print many different products, including decal labels.
In addition, you can also learn some more issues related to Offset printing such as:

Offset printing application