Offset printing  is the most popular printing technique today with many applications. Regardless of the need to print any publication, whether it is an office publication, packaging or advertising media, offset printing can be used. To learn more about this printing technique and its practical application, read the basics of offset printing below.
What is offset printing concept?
Offset printing is a printing technique that uses rubber sheets (also known as offset plates) that have been rolled through ink to print on paper. The ink layers will overlap each layer to form the complete ink color.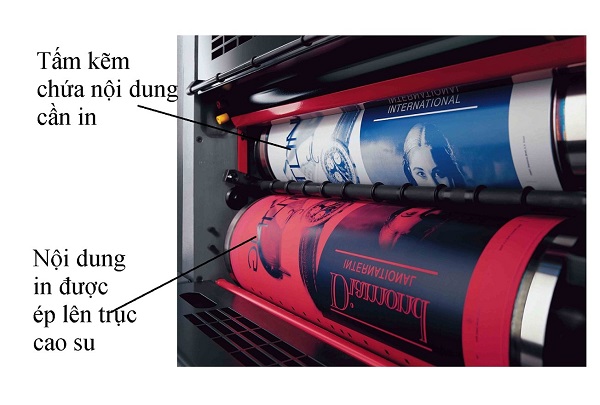 Offset printing technique
Currently, offset printing has become the most popular printing technique in the commercial business printing industry to create products with eye-catching and attractive colors and designs. With this printing method, the products are always of the highest quality with standard, sharp colors, minimizing printing errors, mottled ink, smudged printing or non-standard design colors …
Factors that affect offset printing:
Ink layer thickness on paper

Magnitude of the point

Ink overlap (closely tied to the order of color overlap)
When printing offset, special attention should be paid to the order of color overlap to have a correct print. Usually, there will be a difference when printing color on white paper or printing on colored paper.
Principle of offset printing
Offset printing is an indirect printing process. Because during the printing process, there will be a cylinder placed between the printing plate and the paper, on this cylinder is covered with a rubber sheet. This is the reason why the print quality of the offset printing method is uniform, the next printing times are still as good as the first time. These printing processes are largely automated, outperforming the lithography process.
The principle of offset printing is a flat printing method, the image information is displayed on the photochemical print to create ink-capturing elements and non-printing elements that will catch water. Offset printing uses a forward image, which means that the image on the printing plate will be the same dimension as the printed sheet.
How does offset printing work?
As mentioned, offset printing is an indirect printing process. This means that during the printing process, a cylinder is covered with a rubber sheet placed between the printing plate and the paper. At this time, the ink is transferred indirectly on the printed sheet. This ensures an even print, the same print quality can be produced in subsequent prints. Unlike the lithography process, in offset printing the processes are largely automated.
Step 1: Design a graphic print
To get a quality Offset print, without errors, you must first create a standard printout on a computer, or it can be understood as a standard print design file. Prints need to ensure harmony in layout, color, size …
Step 2: Output film (export film)
After the graphic print design is completed, the next step is to proceed to publish for outfilm. For prints with images, the film will be out into four sheets representing the four color layers C (Cyan), M (Magenta), Y (Yellow), K (Black).
To better understand, we will learn a little about the 4 color layers in the Offset process: The color system used in Offset printing is CMYK, and all the colors needed to be printed into the product can be printed. mix from these 4 colors. For example:
>Blue Blue (purple) is a combination of two colors C (Cyan/light blue) and M (Magenta/pink)

Red is a combination of color Y (Yellow/yellow) and color M (Magenta/pink).

And many more colors can be created by the combination of 2, 3 or 4 colors in the CMYK color system.
Step 3: Expose the zinc plate
After having 4 films, expose them one by one to the zinc plate. It can be understood in a simpler way is to take pictures of each film on each zinc plate with a zinc exposure machine.
Step 4: Offset Printing
During the Offset printing process, the technician will print each color one by one, the order of each color type will depend on the technique and experience of the technician.
First, the printing technician will choose one of 4 colors to install on the Offset printer batch. In the ink input part of the machine, the technician will also give the corresponding ink. For example, C color zinc plate (Cyan), the technician also gives C ink and proceeds to print. The roll that rotates over the paper will knock the printing element onto the printing paper.
Rules for the order of overlapping colors in Offset printing:
Print 4 colors: wet overlap black -> blue -> magenta red -> yellow

Print 2 colors: wet stack wet and wet stack dry Cyan blue – magenta red -> black -> yellow

Print 1 color: wet overlap dry cyan blue -> magenta red -> yellow -> black
After running all the printed quantities, the technician will remove the zinc, clean all the old ink, install the new zinc, put the new color printed paper in and continue the old process. The process proceeds sequentially until all 4 colors are exhausted, those 4 colors are printed on top of each other to produce the final print.
Note:  One thing to keep in mind at this step is that during printing, pre-testing is required. Initially, will only try to print about 50 prints of each color to see if the colors printed are stable or not? In total, about 200 test copies were required.
So when printing, people often calculate excess paper for this step (also known as paper loss compensation). After you feel that the printed color is beautiful and stable, you can start the Offset printing process to get the required quantity.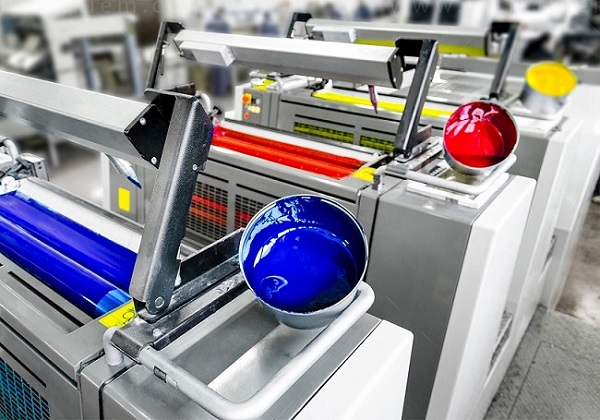 Step 5: Post-printing processing
After offset printing, the final step to finish the print is post-print processing: matt lamination and glossy lamination. In which, matt lamination will create a smooth and soft surface. Polishing will give the surface a glossy finish. The matt lamination and glossy lamination will help the finished product to be more beautiful and durable. Next is the trimming stage: Normally when printing, people will leave a large sheet of paper (suitable for the machine size) to print; After printing is finished, the cutter will be used to trim the finished product to the desired size.
To ensure that the Offset printing process does not have errors and must be reprinted, the printing technician must be really meticulous in the steps, to create quality prints.
Things to prepare before Offset Printing
Print design
The first step in the offset printing process is to design the pre-production of the product to be printed on a computer. This step is quite important, you need to carefully and fully design the information that needs to be included in the product. How you want the product to be printed, the design on the computer must be like that. Remember to align it beautifully to get a complete cheap offset print.
Requirements for print design:
Big size

Sharp print

Save in a format suitable for print:

.AI

 : Adobe Illustrator vector graphics or drawings

.EPS

 : Image file created using Adobe Illustrator, designed for high resolution printing. Standard file for import and export for other graphics software.

.CDR: Corel Draw Vector

.Tiff

 : Preferred bitmap graphics format for high resolution printing

.Jpg / .Jpeg

 : Standard photographic image compression format

.Psd

 : Bitmap file created using Adobe Photoshop

.Indd

 : InDesign software from Adobe

.PDF

 : Created from Adobe Acrobat software
Determine size, material and print quantity
These are the basics you need to determine before printing. Because these factors will greatly affect the cost of printing.
About size:
The size of the rectangular warranty stamp is 1x 1.5, 1x 2, 1x 2.5, 1x 3, 1.5 x , 2×4 cm. Usually, rectangular labels will be glued on flat surfaces, without many corners. To prevent the warranty stamp from being broken when pasting.

The diameter size of the circular warranty stamp is 0.8; first; 1.5; 2; 2.2cm. Used to paste on small places with a round shape, creating a uniform, eye-catching shape.

The size of the elliptical warranty stamp is 0.8 x 1.3; 1 x 1.5; 1 x 2 and 1.2 x 1.8 cm. And glued on the curved shapes.

Standard decal sizes are designed with standards of 2cm x 3cm, 3cm x 4.5cm, 4cm x 6cm, 5cm x 8cm, etc.

And with common round sticker sizes are 1x1cm, 1.5×1.5cm, 2x2cm, 2.5×2.5cm, 3x3cm, 3.5×3.5cm, 4x4cm, 4.5×4.5cm, 5x5cm, 5.5×5.5cm…
About the material: The materials that you can choose from are
Paper stamp printing: can choose glossy lamination to improve print quality

Print plastic stamps: you can choose to print milk plastic stamps or clear plastic stamps

Print silver stamps

7 color stamp printing

Print broken stamps
About the number of prints: Basically, the larger the print volume, the more details you will save. Take an example for you to understand easily through the above price list: If you print 200 rectangular paper decal price stamps with size 2x3cm, each stamp = 600 VND, when you increase the printing quantity to 1000 stamps, each stamp now costs = 190 VND (3 times cheaper than the printing price of 200 stamps); especially when printing 5000 stamps, each stamp now costs only = 80 VND (nearly 8 times cheaper than the price of 200 stamps).
Advantages and disadvantages of offset printing
Advantage: 
Finished product quality after printing is high

The time to complete the prints is fast, so it can be printed in large quantities

 Save a lot of costs if you print in large quantities, suitable for commercial printing
Defect:
The preparation time before printing is quite long

The design must be checked very carefully before printing, because when it is finished printing, it will have to be destroyed in large quantities, causing waste.

If printing in small quantities, it will be very expensive because of the effort and cost of preparing the mold.
Application of offset printing
Offset printing technique can be applied to print on many different paper materials such as couche paper, ivory paper, kraft paper, even art paper, plastic paper, etc.
In addition, offset printing technology is often used to print publications such as:
Office publications: name cards, envelopes, letterheads, file clips

Packaging publications: decal, paper bags, printed paper boxes…

Publications, events: leaflets, brochures, printed catalogs, invitations

New Year publications: calendar, lucky money, greeting cards
This is all the most basic information to answer the question of what offset printing technology is and its application in commercial printing.
Don't forget when you have a need for design and printing, please contact Malu Design immediately with a team of creative design staff, a rich and diverse graphic warehouse, we are always ready to serve customers across the country.