Plastisol ink is a light oil-based ink, specialized for printing on fabrics, with better adhesion than conventional silkscreen inks.
1. What is Plastisol ink?
Plastisol ink  is the name of a high-grade ink specialized for printing on fabrics, plastisol is an ink extracted from petroleum ( oil-based ink ) with higher adhesion than conventional silkscreen printing ink.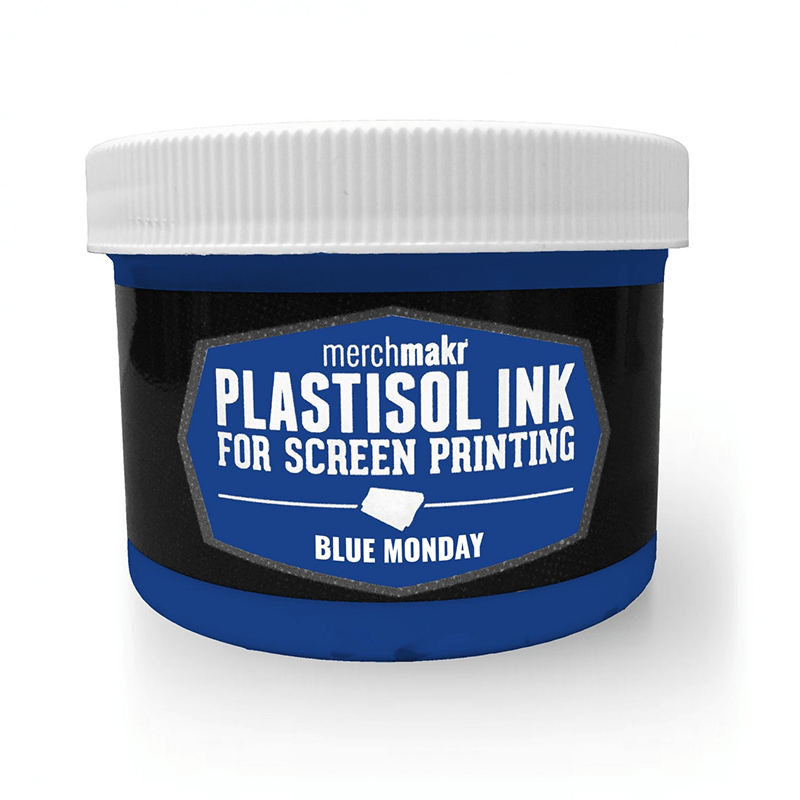 The recognizable feature of this ink is that this ink does not dry under normal conditions but dries when dried at a temperature of about 130o – 160o. Because of this feature, it can be used for tram printing (printing images by silkscreen printing on fabrics), good for automatic printers or for printing a variety of special effects on high-end products…
Plastisol ink can be printed on fabrics such as:
T-shirt fabric 100% Cotton.

T-shirt fabric 65% Cotton 35% Polyester.

Spandex fabric.

Denim fabric.

Drying temperature: 100oC to 130oC.

Wash Test: Limited but still ensures durability for long-term consumers.

Heat resistance: Not high (lower than 140 oC), do not use iron, iron directly on the printed image because high temperature from 160oC to 200oC will damage the print on the product.

Special Effects: Popular now include Flat Print, Metallic, Clear Gel, Foil and Glitter.
2. Characteristics of Plastisol . ink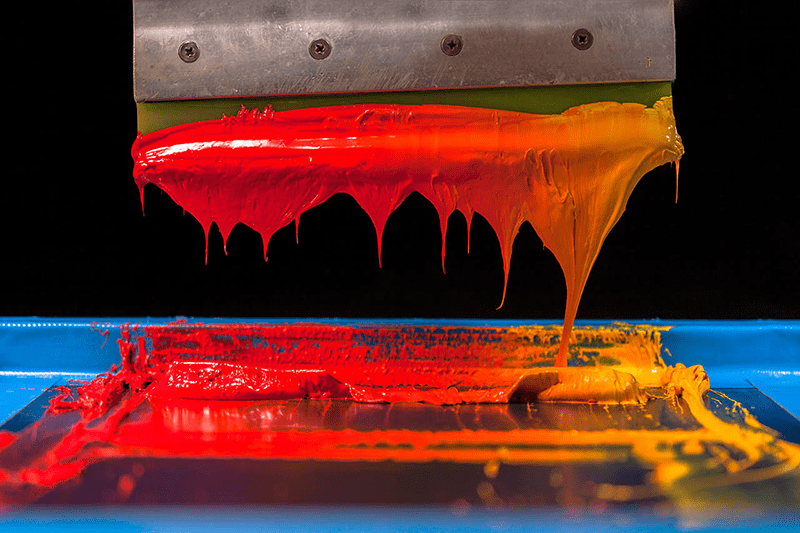 As an oil-based ink, the printing ability of this ink is very good. Advanced Plastisol oil-based ink is capable of overcoming most of the limitations   left by other oil-based and water-based inks .
In the composition of the ink does not contain lead so it is really safe to use. Especially those with sensitive skin or baby skin do not cause irritation. It fully meets the standards set forth for an export ink. And when printing with this type of ink will still have certain advantages and limitations.
Advantage
Can be used to print on all kinds of fabrics, different materials with stable quality

The surface of the ink color is quite glossy, bright and naturally beautiful

Can be used to create various types of special visual effects

The ink doesn't dry easily so it can be easily applied to create the effect afterwards

Has great grip

Usually used for high-end printing products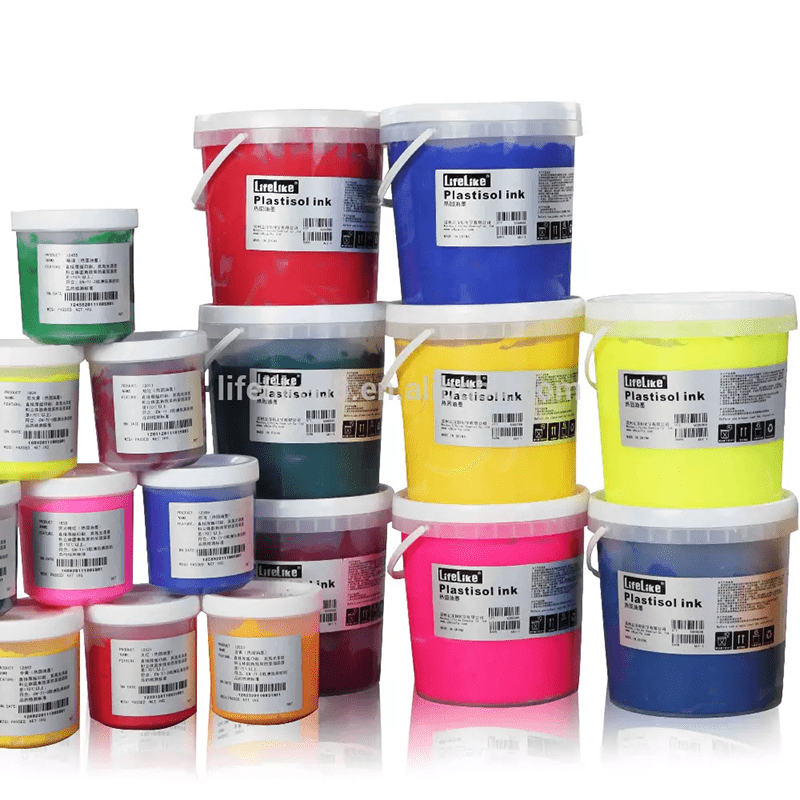 Besides using Plastisol ink to print textures on shirts, fabrics, etc., this ink is also used to print fabric decals (fabric labels). Fabric labels are stamps attached to products that have the effect of recording size, brand name, usage …
Limit
Squid has a strong smell

Although the ink is difficult to dry is an advantage, this is also a limitation. Because only at high temperatures above 130 degrees Celsius can the ink dry. The rest in normal, no

When printing, the ink sticks quite a lot on the fabric, so it feels heavy

Ink has a very sensitive stickiness, so the flatness of the printing surface is often uneven

Ink is often stuck to the glue grid when silkscreen printing is processed.
3. Technical process of silkscreen printing with Plastisol ink
Regarding the printing process, it must go through the same steps as normal silkscreen printing, but the difference here is that in the step of using ink, the ink used here is Plastisol.
In terms of printing technique, it is not difficult, but it is important to pay attention that you can make quality products because Plastisol ink can print on most fabrics, fabrics, … for beautiful natural bright ink colors. possible. Can be processed to print a wide variety of effects in the fashion industry.
Find out more details in the article  Silkscreen printing process by hand .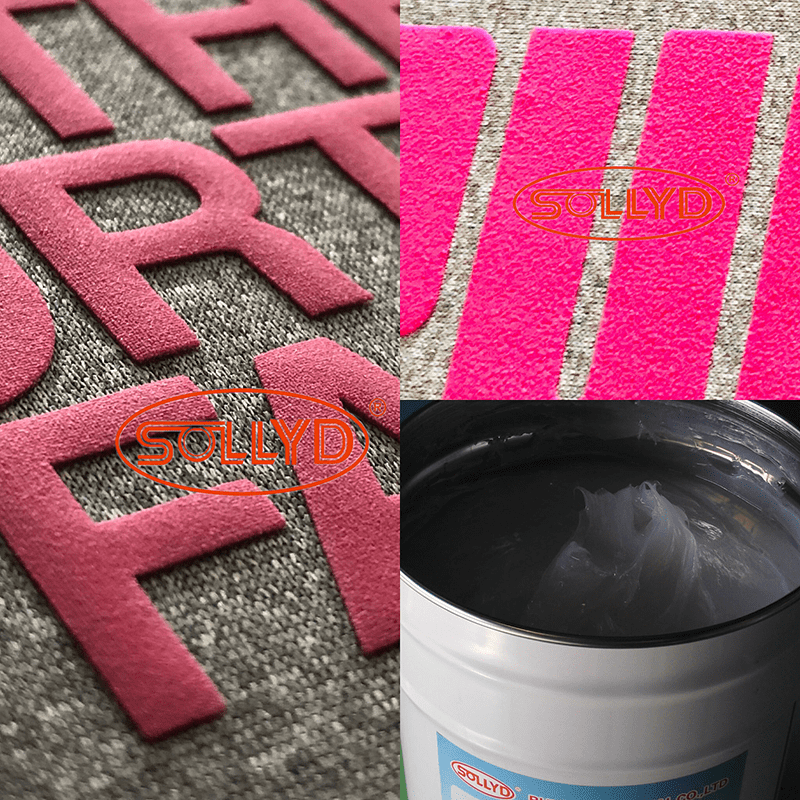 4. Notes when using Plastisol ink
This type of ink has the characteristics of structure, substance composition as well as different characteristics, so when printing, it is necessary to pay attention to some points as follows:
Printable with Plastisol ink in all weather conditions

After printing and drying the ink, it is necessary to use a desk dryer or an automatic drying device with a large amount of heat to be able to kill and dry Plastisol ink.

The smell of ink is quite strong when using, you must pay attention to ventilating a bit for the gas to escape more easily.
In addition, we invite you to learn more: