Ribbon ink is actually a type of printing ink in the form of a ribbon, a specialized ink for barcode printers.
1. What is Ribbon Ink?
Ribbon ink  is a specialized ink for barcode label printers. They are considered a must-have accessory for barcode printers, can withstand some mild chemicals, withstand short-term outdoor environments. The ink is usually curled in the form of a ribbon. The English name is Thermal transfer ribbon.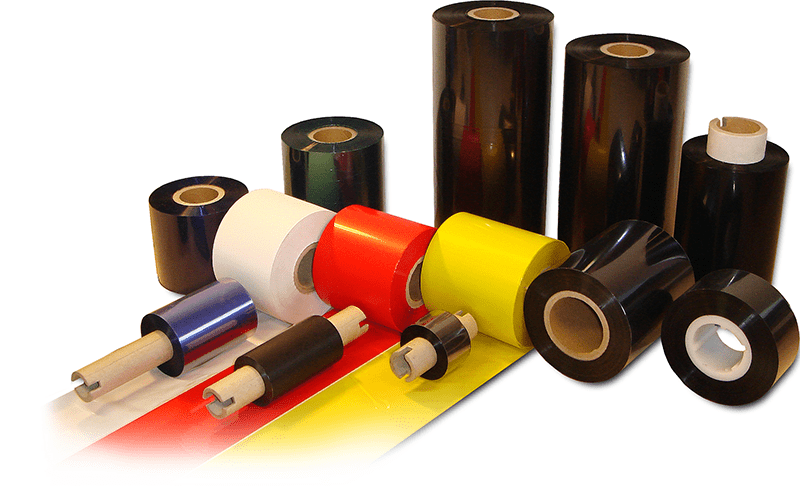 2. Structure of Ribbon ink
Background ribbon layer:

  is a kind of polyester lm, good thermal conductivity, resistant to tension. The background tape thickness is usually 4.5 ± 1.0μm. Size 110mm x 300m (width x length) of good quality, resistant to outdoor environments, office environments, difficult to dissolve in water, long soluble in solvents such as gasoline, alcohol, grease…

Ink layer:

  Coated on one side of the backing tape. If the ink adheres to the outside (outside), the ink roll is called Face out (outer surface ink), whereas if the ink adheres to the inside (inside), it is Face in (inner surface ink). Depending on the type of barcode printer, the appropriate ribbon ink type will be the inner ribbon or the outer ribbon. The ink side is in contact with the printing material (Thermal printer)

Protective Coating:

  Coated on the other side of the base tape. This side is in direct contact with the print head to absorb heat which ignites and melts the ink on the other side, creating a print on the printed product. Thermal paper: atm printing paper, bill printing paper, electricity and water number paper, fax machine, barcode stamp printing …
The protective coating is usually smooth, good heat transfer, is the main part in the ink to help protect the print head, against print head wear. Therefore, when buying ribbon ink, users should pay attention to choose reputable ribbon manufacturers in the market to protect the printhead, not because of the "cheap price" that harms your print head. Some reputable ribbon ink brands on the market today such as: Toshiba Tec (Japan), Zebra (USA), Union (Japan), Ricoh (Japan), Dynic (Japan), ITW (USA) , Armor (France)…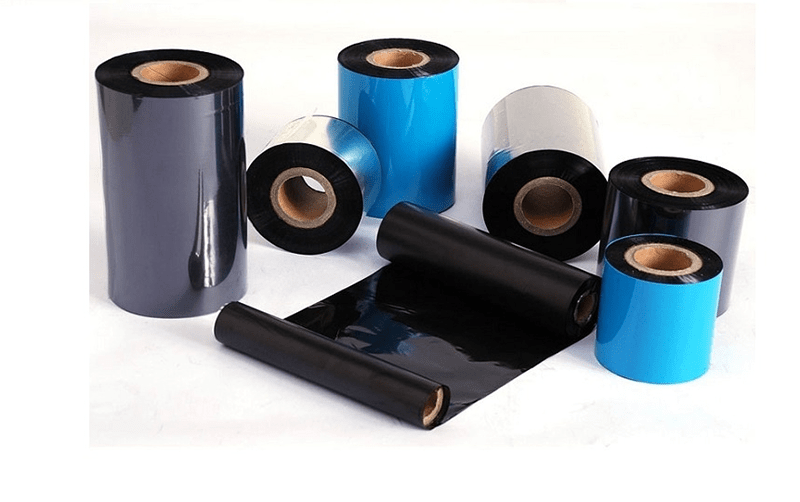 3. Classification
Wax ribbon ink
Wax barcode ink is a low-cost choice of barcode label ink for users. This is the type of barcode printing ink that is chosen by many customers, perhaps because of its reasonable price, meeting the requirements of customers. It can be said that Wax barcode ink can be used with any customer. Some characteristics of Wax barcode ink
Wax barcode ink: medium quality, low-melting ink that does little damage to the printhead.

High adhesion on the surface of the label after printing.

The back stamp is sharp, the information is clear

Scratch resistant, medium solvent chemical resistance.

Low melting point.

Low temperature melting, medium adhesion to printing materials.

Competitive price.

Suitable for printing on paper decal labels such as 0339, 0331 and other paper decal materials.

Suitable for the following models: Zebra, Sewo, Toshiba, Datamax, Toshiba….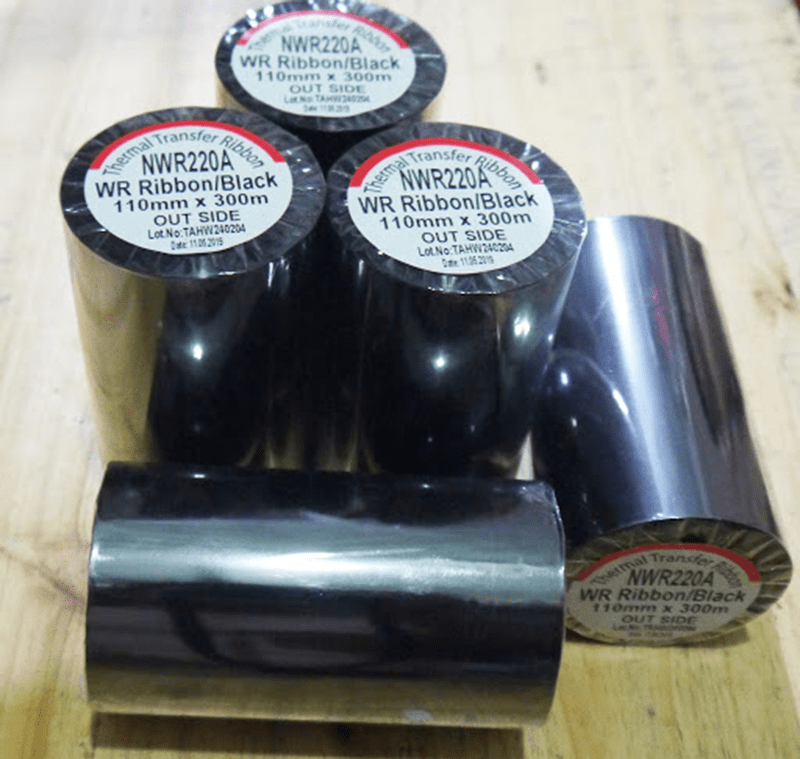 Wax/Resin ribbon ink
One of the commonly used barcode inks is Wax/Resin barcode ink. Wax resin barcode ink is a mid-range ink product of barcode printing ink. It is added a little resin. This barcode ink is often used for the purpose of printing high quality labels.
With the combination of wax and resin with the perfect ratio, quality Wax/Resin barcodes are produced. Wax/Resin barcode printing ink with extremely competitive price and perfect quality should be favored and used by many customers.
Wax/Resin barcode ink has extremely good scratch resistance.

Heat resistant.

This barcode ink is intended for labels that come into contact with water or humid air because it cannot be dissolved in water.

Stamps labels after high sharp printing.

Competitive price.

Print at low printing temperature, print at high speed.
Wax/Resin barcode ink is not as picky about its intended use as Resin ink, its quality is better than wax ink, so Wax/Resin barcode ink can be said to be the best ink, worth using.
Ribbon Resin
Resin barcode ink has a high amount of resin, so it has high adhesion, so it is applied to barcode decal printing with high requirements for endurance in environments with high temperature, low humidity or frozen environments… and it is used directly in an industry such as: garment, fabric processing, silver decal, pvc decal, frozen products.
Resin barcode ink is an ink with 100% resin concentration, so the ink quality is very durable and extremely clear.

This Resin barcode ink is resistant to environmental impacts, insoluble in water and solvents.

Resin ink has the highest melting point among the three current barcode printing inks. Therefore, the barcode printhead will have to operate at high heat, so the printhead of the barcode printer will be damaged very quickly.

For barcode printing ink Resin has high resistance to scratches and solvents.

The back stamp is sharp and clear.

Very good adhesion on printing materials
Thus, Ribbon ink is very diverse and is used in barcode printing. Each ribbon ink has its own pros and cons for printers to choose from in each case.
Please learn more: