Selling on Shopee is currently being interested and applied by many people. Before the actual success of the forerunners, you should also try to make your business grow more. Follow this article by Malu to learn all about how to sell on Shopee from A to Z!
First, to be able to introduce the most detailed ways of selling on Shopee, the first thing you must understand is what Shopee is? What do you need to sell on Shopee? What is the most effective way to sell on Shopee?
See more articles about online business:
–  Summary of Online Selling Tips
–  Instructions for registering to sell on Sendo
–  Experience in registering to sell on Lazada
–  Instructions for registering Foody – Now
–  Instructions for registering to sell Shop on Zalo
–  Get Rich From Affiliate Marketing – Affiliate Marketing
What is Shopee?
Shopee is an e-commerce exchange owned by SEA Group (formerly Garena). After first being introduced in Singapore in 2015, so far this e-commerce platform has been a name mentioned a lot in the e-commerce system and is currently present in 7 countries: Singapore, Malaysia, Thailand, Taiwan, Indonesia, Vietnam and the Philippines.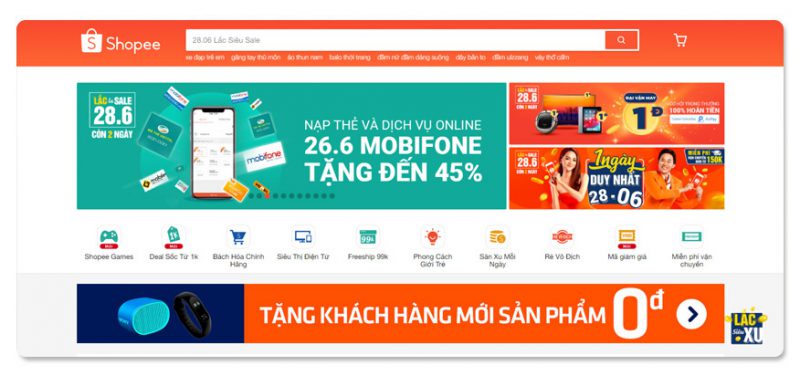 Shopee was officially launched in Vietnam at the beginning of August 2016. With the orientation of being an e-commerce platform developed mainly on mobile devices, Shopee operates as a social network specializing in serving the needs of all people. anytime and anywhere. All purchases and sales on Shopee take place entirely online.
In most of these transactions, Shopee does not act as a buyer or seller, much less an advisor or carrier.
Integrating the operation, delivery and payment support system, Shopee is an intermediary sales channel, supporting sellers to post information about products and services and help buyers access this information. intuitive, convenient way instead of having to go directly to the usual shops.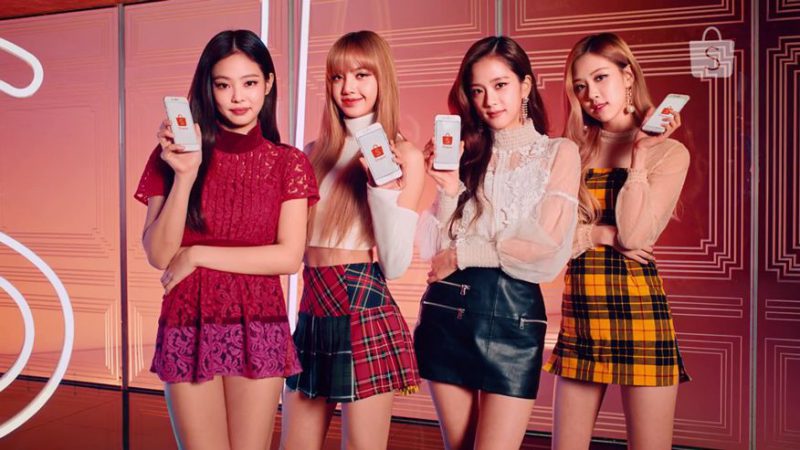 In particular, Shopee Vietnam exclusively provides a safe purchase policy with the name "Shopee Guarantee" that only pays the seller when the buyer has successfully received the goods. This increases Shopee's trust and reputation among users.
With the above advantages, as of 2017 Shopee has collected huge numbers: 80 million app downloads, over 5 million in Vietnam; 4 million suppliers with more than 180 million products; total product value reached 1.6 billion USD, up 206% compared to 2016.
>>>  A Guide To Building The Most Standard Sales Process
4 steps to register to sell on Shopee 
To be able to join the Shopee e-commerce platform and become a seller, you need to go through the following steps:
Step 1: Sign up for a Shopee account
You go to Shopee.vn website  , click the  Register button  in the top right bar. Here will appear a right to create a table account (as shown below). You must fill in all the information that Shopee requires.
Then click on the "Register" button to complete the account registration step. Upon successful registration, the system will display a congratulatory message.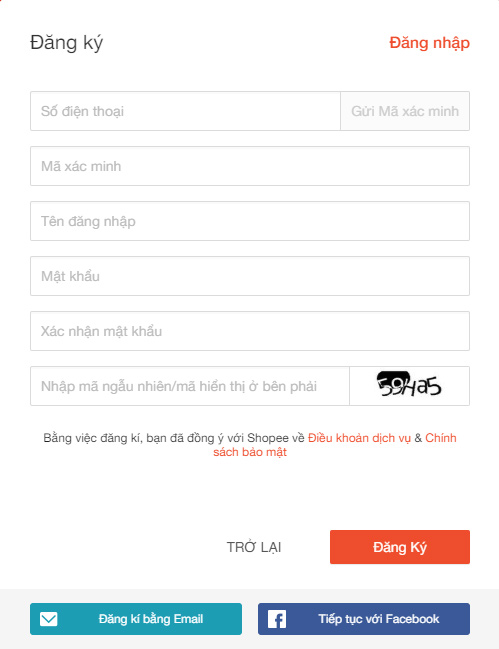 Note : You need to enter  your phone number  first and then press  the Send verification code button  so that the system will send a confirmation code to your phone. Username from 6 to 36 characters, does not contain spaces or special characters, does not coincide with the previously registered name. When Shopee no longer reports the error, then your username will be accepted.
Step 2: Steps to open a shop on Shopee
Setting up information for a sales account on Shopee is very important. This will be what customers see and know about you, also the step for customers to decide to buy or not.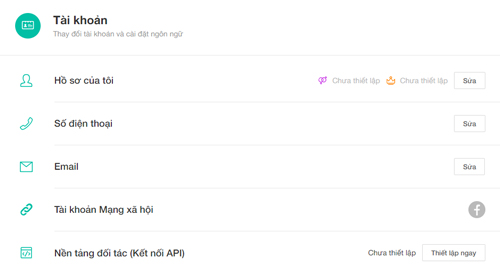 So you need to pay attention, the image must be specific and clear. Accompanied by clear information to meet the minimum requirements to increase customer confidence.
#first. Set up a booth
After successfully registering an account, go back to the Shopee homepage and click the  Seller Channel button  (located right on the Shopee.vn logo).
In the Shop Setup section,   the screen will display the information to be filled in such as: Shop name, profile picture, description, etc.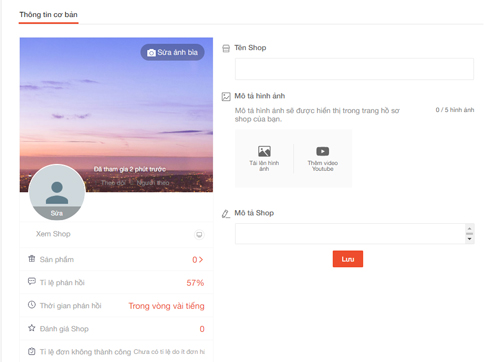 #2. Set up shipping
Before setting up shipping, you will go to Shop Address to enter a pickup address before you can enable shipping channels. You click  Shop address  ->  Add new address , enter your name and phone number for the shipper to come and pick up the goods. Finally, tick  Set as pickup address , check the information and press Save.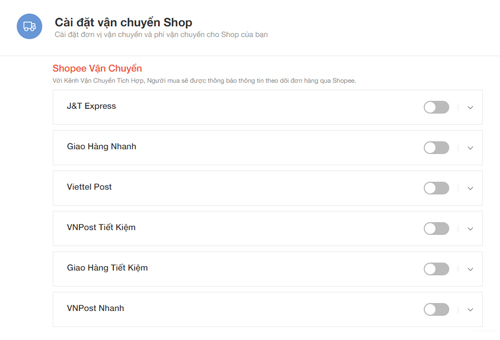 Next, click on  Set up shipping  to choose shipping methods for your shop. Currently, Shopee has a number of main shipping partners that are Economical Delivery, Giaohangnhanh, Viettel Post, … Select a shipping unit by turning on the switch on the right side of each unit.
#3. Set up payment
Select  Shopee Wallet,  then enter the phone number and wait for the confirmation PIN to be sent. This will be the place where Shopee will transfer money to you when the sales units sell successfully.
So you have completed the basic profile setting of the shop and can sell on Shopee already.
Step 3: How to post a sale on Shopee
How to post a sale on Shopee is also very easy. First, you look at the square icon in the upper corner of the screen, select  Products  ->  Add 1 new product  ->  Find images , select an image from your computer.
After finishing, the screen will display information about the product to fill in such as product name, product description, catalog, price … After finishing 1 product, you press Save and then continue to upload other  products  . Remember that you can post multiple images for one product.

There are many of you wondering:  Is there a fee to sell on Shopee?  then the answer is  ABSOLUTELY NO . According to the current policy of Shopee Vietnam, neither the buyer nor the seller has to pay any costs when using the Shopee website and mobile app.
So, you can be sure to post your products and sell them on here because there is no extra cost.
Step 4: How to withdraw money after a successful sale on Shopee
When the product is sold, the money will be transferred to your Shopee Wallet. So how to withdraw money from Shopee wallet? You can get money in 2 ways:
#first. How to pay automatically
You go to the settings in Shopee Wallet, turn on the automatic withdrawal setting and choose the option. Shopee will automatically transfer money from your Wallet to your bank account every week or month.
After the setup is complete, depending on the setup time but usually every Tuesday or the 15th of every month, all the money in the Shopee wallet will be transferred to your personal account completely free of charge.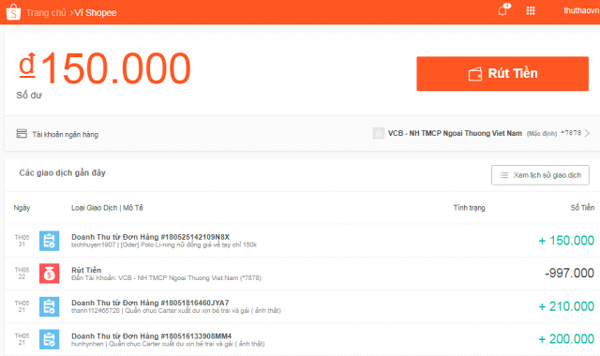 #2. Manual withdrawal
With this way, you can choose the time and amount you want to withdraw with a withdrawal fee of 11,000 VND/time. However, the withdrawal fee is only charged from the 2nd withdrawal in a week, and the first withdrawal in a week will be free. Maximum 1 day you can withdraw 3 times.
How to create a manual withdrawal:
On Shopee app, go to  Me  ->  Shopee Wallet  ->  Withdrawal .
At the Withdrawal page, select the bank account you want, then enter the amount you want to withdraw and click  OK .
>>>  The Best Selling Groups Facebook
How to attract customers on Shopee
Selling on Shopee is currently being applied by many people. Therefore, the competition between shops is very high. So how can your Shopee store still get noticed? If you are wondering about this, please find out the 5 tips below:
#first. Product selection and business strategy
With sales on Shopee, it is possible to divide into 2 product groups, namely:  popular products  and  niche products .
Popular products  are ordinary products such as fashion,  cosmetics , home appliances, etc. When choosing this item, you must determine in advance that you will face other competitors, especially in terms of price. . Therefore, the profit will not be much, but in return, it will be sold in large quantities.
With  niche products , those are products with fewer sellers, because this product only focuses on certain customer groups such as home appliances specializing in baking, performing arts costumes, etc.

Contrary to  popular products ,  niche products  will not sell in large quantities. But because there are few people doing business, you will be able to control the price as well as get a good "performance ground".
In business, whoever understands the customer better than that person wins. So to choose a good business product, sell a lot of goods, you need to answer the following questions:
What is the market demand?

Do your competitors have many?

Are business items trending?

What business strategy do you have with that product?
>>>  The Best Sources of Wholesale Clothing
#2. Product photos on Shopee must be beautiful
When selling online, the first thing that attracts customers is the image of the product. Reality has proven that: "a beautiful photo is worth a thousand words of advertising, the more beautiful and unique the photo, the more impressed shoppers will be with your store".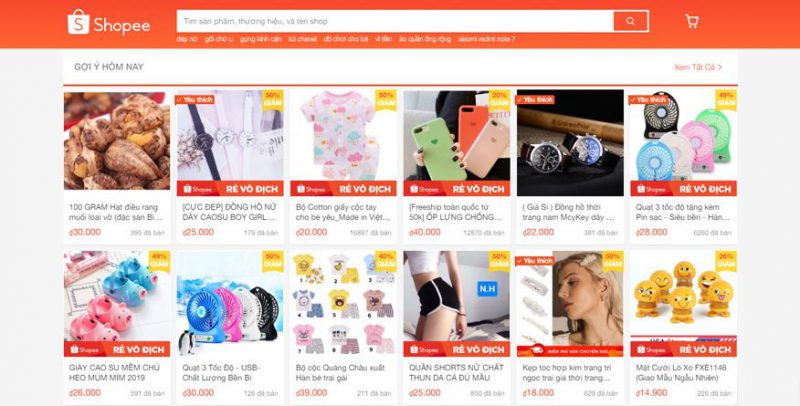 So, don't be fooled without investing to get the most accurate and careful photos.
#3. Please describe the product in detail and attractive
To prevent your beautiful photos from becoming empty and unrealistic, use your writing skills to present your products in the most attractive way.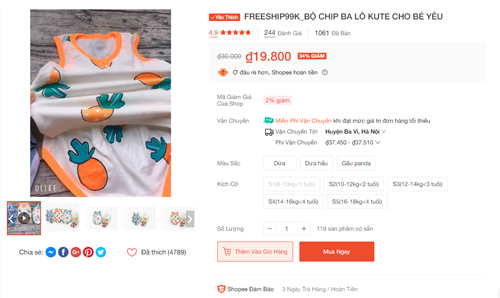 The purpose of product description is to create authenticity and trust of customers. There is no need to be too fancy, you should just focus on providing clear and concise information about the product.
#4. Promotions on Shopee
For the purpose of supporting sellers, Shopee also often opens promotions, Flash Sale, etc. You should check at  Sales Channel  ->  Marketing Channel  to update Shopee's upcoming promotions.

When there is a notification about a promotion program, if you find it suitable for your store, quickly register now to make the product easier to reach customers, increase the shop's interaction with shoppers.
#5. Tight inventory management on Shopee
When selling on Shopee as well as other e-commerce platforms, the rate of order cancellation and unsuccessful delivery greatly affects the business performance as well as the reputation of the Shop. One of the reasons that rate is so high is that while customers can still place orders, in reality, there are no goods delivered to customers.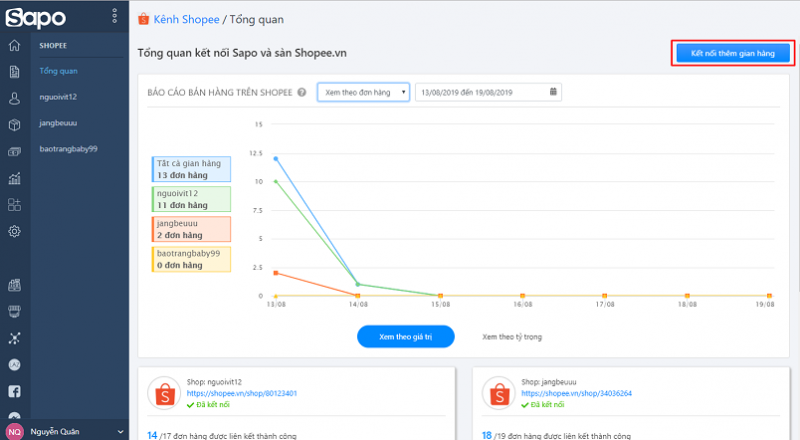 Above are all the most basic things to guide you how to sell on Shopee from A to Z. We hope that the above sharing will help you in selling professionally and effectively. more on Shopee.
>>>  Instructions for building a customer care process from AZ
Shopee is considered a fertile land, a large and safe e-commerce platform for online businesses. So do not ignore this option. Good luck!