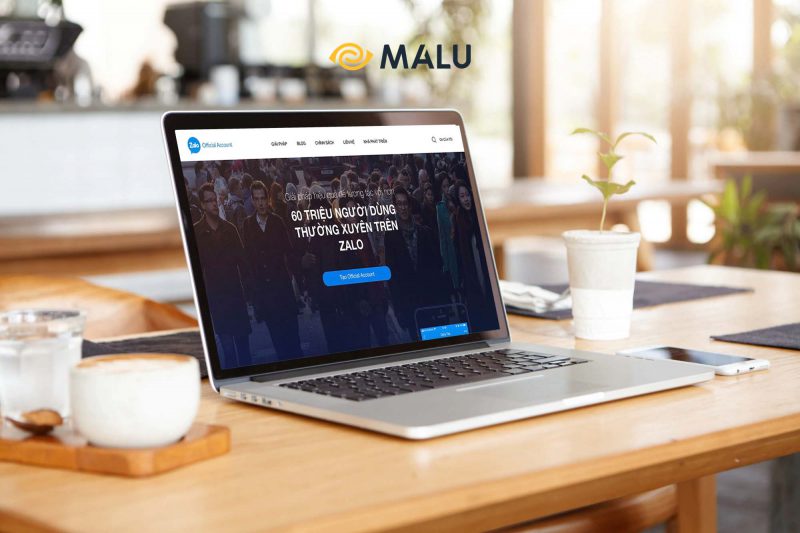 Zalo  has emerged as one of the leading communication and messaging applications in Vietnam, with  more than 100 users (as of 2022). But did you know, Zalo is also a great platform for online business and sales?
Realizing the potential from the market, Zalo has officially allowed individual accounts to open Zalo Shop stores through Official Account. So what is the procedure for setting up a Zalo Shop account? What is Official Account? How to sell on Zalo? What are the benefits of selling online on Zalo? Zalo Shop account free or paid?…
Let Malu reveal to you how to sell products on Zalo  effectively, which is completely free!
See more related articles:
1. What is Zalo Shop account?
Since its inception (in 2012), Zalo has made many notable improvements to be able to compete with other major social networking applications in the world. One of the notable updates is the launch of the Official Account, and allows individual users to  set up a Zalo Shop sales account .
So what is the function of Official Account and Zalo Shop?
To put it simply, Zalo Official Account ( Zalo OA ) is the official information page of organizations, businesses, and business households, with the purpose of interacting, connecting and performing commercial activities with users. Zalo application.
We can think of the Official Account as the equivalent of a fanpage on Facebook, an Instagram Business account on Instagram.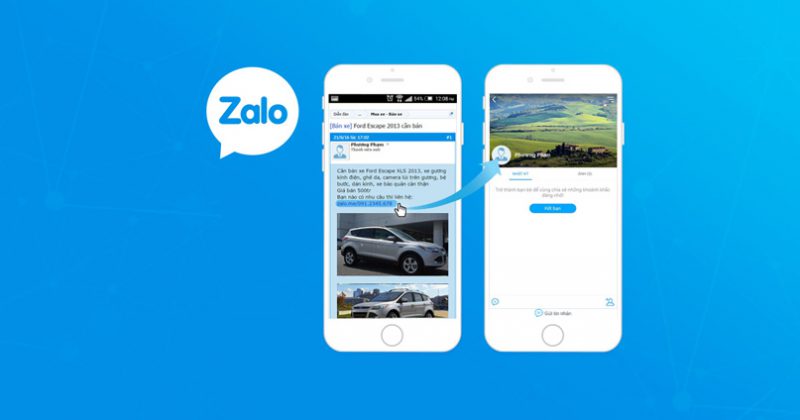 In the Official Account, besides the account to develop content and promote the brand, you can also create a Zalo Shop for the purpose of selling online. A special feature, you can completely register to sell, create a booth on Zalo completely  free .
2. Register to sell on Zalo
Use Zalo Shop account to sell goods
Here's how to register for a Zalo Shop account to sell on Zalo:
#1: Create Zalo OA
First, to set up an Official Account (Zalo OA), you need to register an account on the website:  https://oa.zaloapp.com/manage , click on  register now .
At the new window asking to register Zalo OA appears: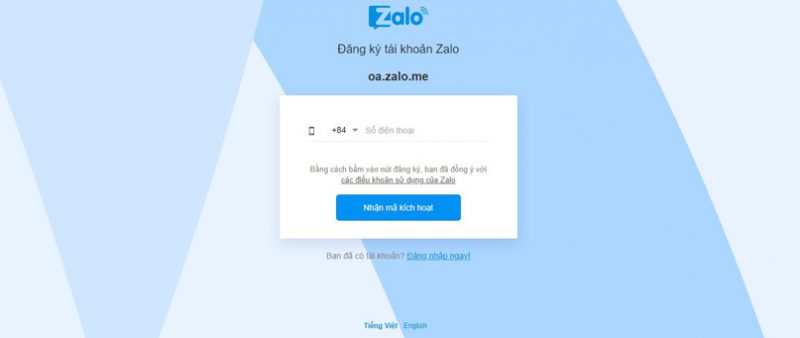 When you first log in, you have to go through a 3-step process: Enter your personal phone number, click the Capcha image, and select the 3 most recent interactions.

#2: Register for a Zalo Shop account
Click the  Create New Official Account button  in the top right corner of the screen:

The new account registration window appears. You have 3 choices:
Sign up for a Content

 account  , suitable for content development sites, online exchanges and interactions with users (such as Newspaper, VTV Go, …).

Register for a  

Store

 account  (Zalo Shop), suitable for sales and service activities.

Register another account: For brands and brands that want to develop Brand Awareness.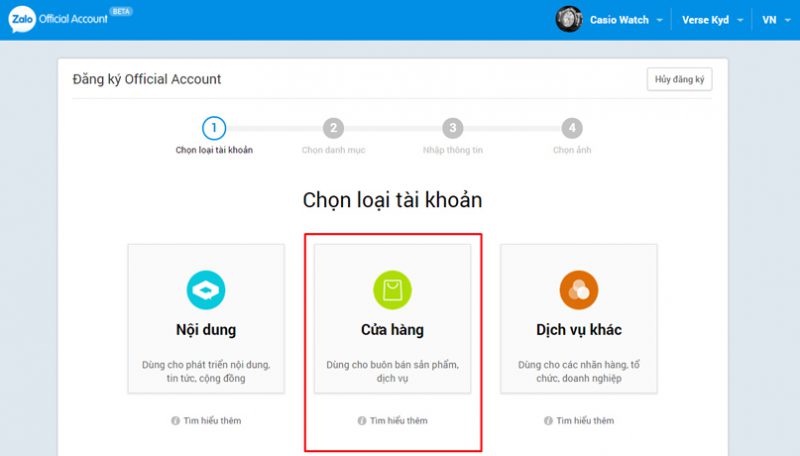 For the purpose of selling goods on Zalo, you choose to register for a  Store account .
#3: Choose a sales category
Next, you choose the appropriate sales category: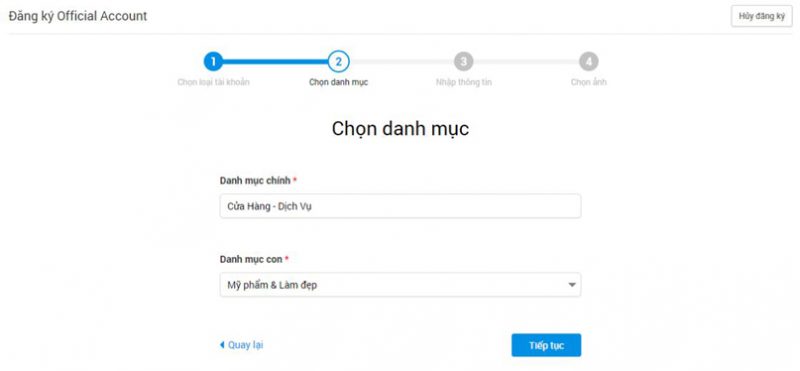 #4: Enter information and choose a profile picture
You enter all information about your stall on Zalo, including store name, description, full name and phone number of the store owner.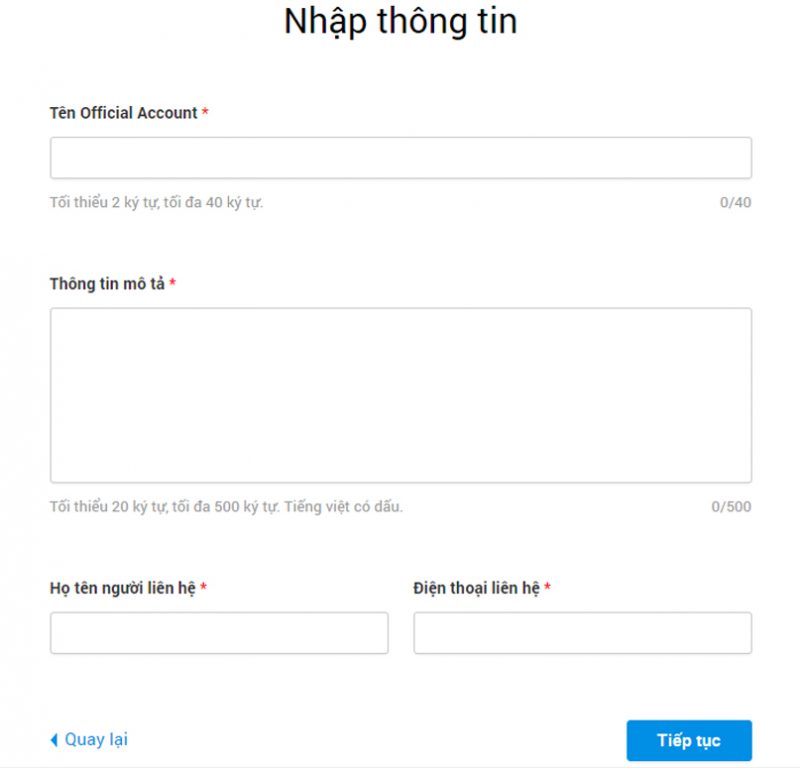 Next, you choose the image to represent the booth. Note:
The profile picture  is 150 x 150 px in size, not exceeding 1MB in size, in png or jpeg format.
Cover photo  must not exceed 320 x 350 px, size must be less than 1MB, png or jpeg format.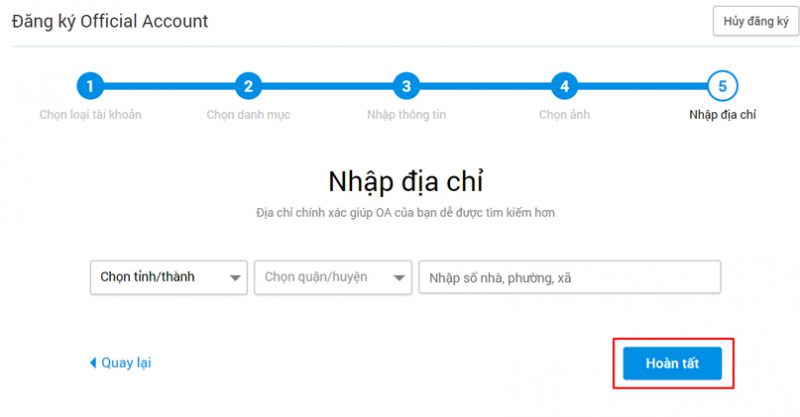 The last step, you enter the store address and complete the registration procedure for Zalo Shop account. Zalo system will automatically browse your Zalo Shop account.
Usually the account will be approved quickly and you can use it immediately. However, there will be some problems that arise. Zalo will handle the problem up to 7 working days (from the date of receiving the request from the user). You can contact directly via Zalo's hotline: 1900 561 558
Direct sales on personal Zalo account
In addition, you can also use your personal Zalo account directly to sell. Posting and product images are similar to when you post status on Zalo.
This way is simpler, you do not have to set up an account Zalo Shop or Zalo OA, but you will not be able to use the superior features of Zalo Shop, such as messaging many people at the same time, managing sales. and products.
3. Instructions for selling, creating a booth on Zalo
First, the display interface of the Zalo Shop account homepage will look like the image below:

In it, Zalo has accurate statistics of active Zalo Shop accounts, and accounts are locked.
Zalo OA's navigation ladder includes: Broadcast, Chat, Content Management, Statistics, Store and Advertising.
Create a booth on Zalo
In the  Store section,  click on the  Products section . Here, select  Add product  to add a new product.

Enter complete product information, including:
Product name (no more than 200 characters).

Product price, enter the correct price. Ex: 200000

Product image (with the size of 500 x 500 px, no more than 1MB in size, in jpeg format).

Category: Click the "Add" button to add the category name, product status.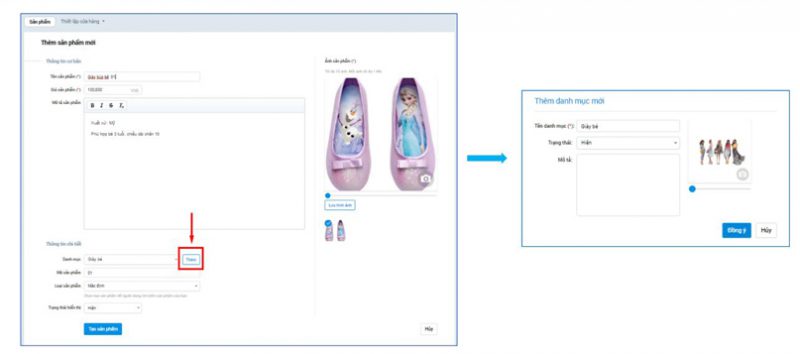 Then, post the product using the " Create Product " button. Approval time is 4 working days (from the date of product posting).
More promotions for products
You click on the  Promotion item  in the "Shop" window, select "Add". However, each product only has 1 promotion at a certain time.

A new window appears, you fill in the details of the promotion information of that item.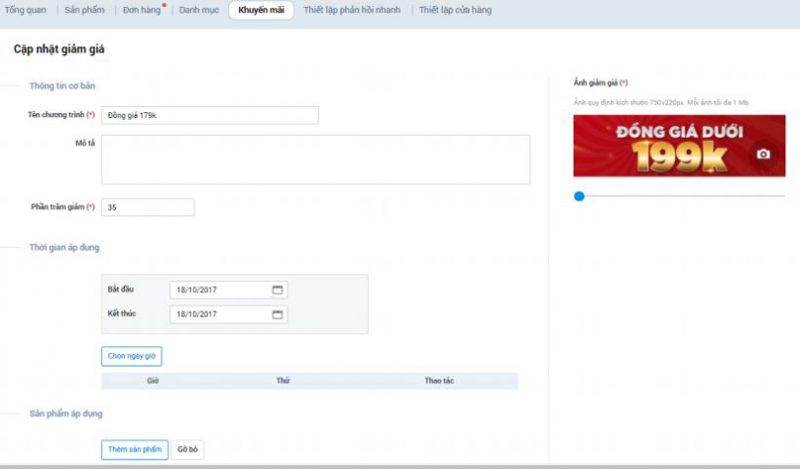 In addition, you can also delete the promotion for the above item. When deleted, the item's selling price reverts to its normal level.
Set up store structure
In the  store setup section , include items such as:
Store interface: Banner, hot products, recommended products.

Delivery policy: The store's shipping and delivery policies.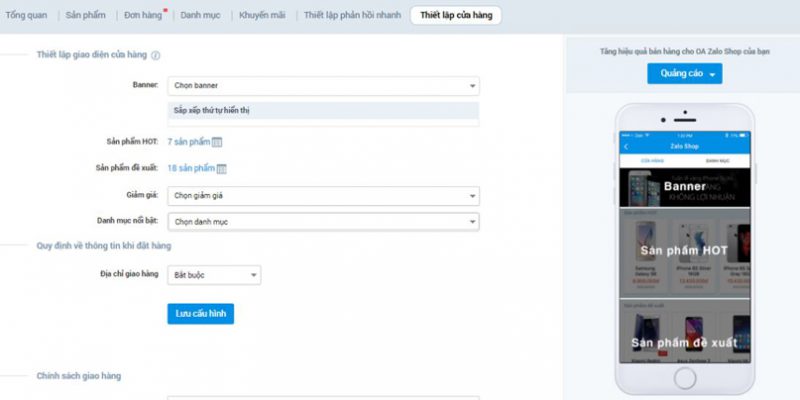 New order notification
You can check the new order list in the  Orders section  in  the Shop section . Shop owners can receive order notifications via Zalo Chat, or through notifications from the order manager of the Zalo Shop window itself.

For customers, they can access the Store page through the profile interface of Zalo OA, through the  Shop button  in Zalo Chat, the link that leads when the shop owner shares products through articles, broadcast messages.
Broadcast Messages
Broadcast messages, roughly understood as communication messages of stores for Zalo users who are interested in Zalo Shop accounts. This can be considered as a unique form of advertising for stores.
However, with Zalo Shop accounts, Zalo limits broadcast messages to  4 messages/month , only 1 message per day can be sent  .
You can create a broadcast message in the  Content Management section ,  select  the post  and click the  Compose New Post button .

In the compose new article section, you can add the title, citation, and body of the article. In the article, you can insert photos (maximum size 500 x 320 px, size no more than 1 MB for 1 image), or video (size no more than 50 Mb).
In addition, when sending broadcast messages, you also have the option of sending objects according to gender, age, location, carrier, sending time, etc.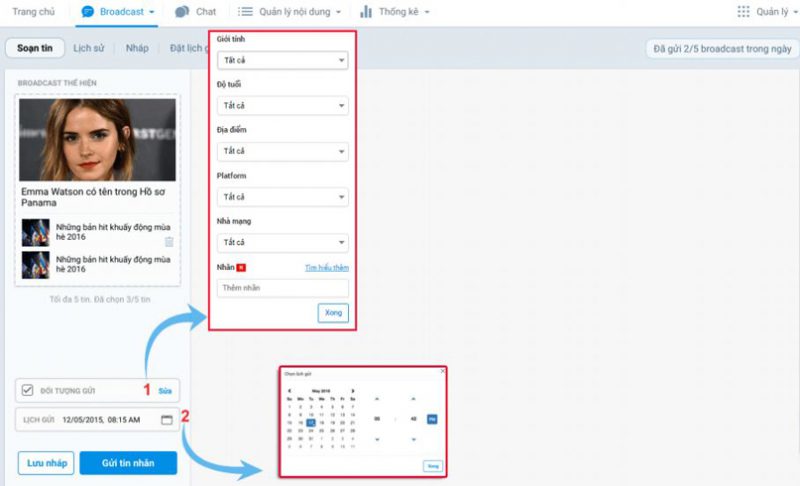 4. Benefits when selling on Zalo
When choosing Zalo as an online sales channel, you can access the following benefits:
Users on Zalo are all real users. Because Zalo has the principle of requiring users to log in with the phone number they are using. This helps you a lot in research and data collection and customer outreach.

The Zalo user audience is more widespread than other social networking platforms. Anyone with a phone can use Zalo. And in fact, middle-aged users (between the ages of 35 and up) all use Zalo for the purpose of making calls and communicating with relatives.

Currently, you can use your Zalo Shop account to reach potential customers and manage online sales for  

free

 . In addition, you can optimize sales by using the service of running ads on Zalo Ads.
5. Tips to increase sales quickly when selling on Zalo
Do not ignore the 4 extremely effective tips to increase sales on Zalo below:
Invite more friends who are interested in the shop
To make the store on Zalo more known, you can use the function to invite friends in the contacts of interest in the  Management option.  You can invite up to 20 friends who are interested in your booth per day.
Follow this strategy, your booth will surely be known by more people. From there, sales will also be much improved.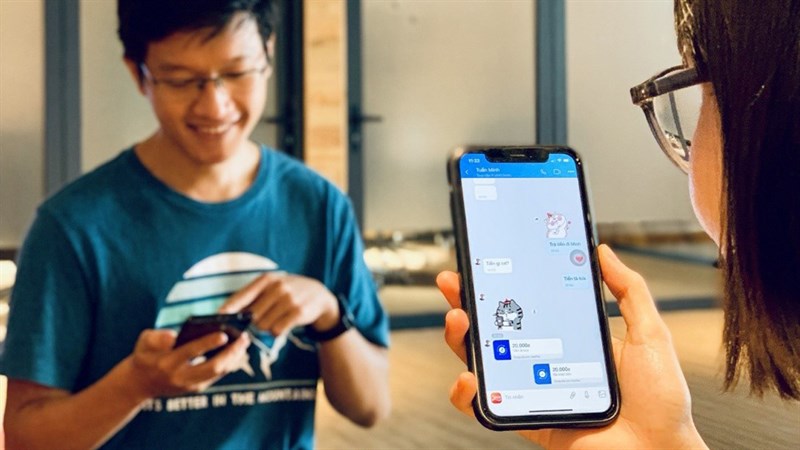 Using Broadcast message sending function
If there is a free Brand Awareness extension on Zalo, you can use the Broadcast message function. This is a function of promoting the brand that cannot be better that Zalo designed specifically for Zalo Shop accounts. You even have the right to customize the audience (by age, gender, geographical location, …).
Add product and service names to your Zalo Shop account name
Try taking an example like this, if you name your shop on Zalo under the name " ABC"  , for example, are you sure customers will reach you when searching on Zalo?
The efficiency of store search will be greatly enhanced, if you attach the product or service name to your account. Like, customers will easily find you if you name it " ABC Footwear"  instead of " ABC" .
Use Zalo Ads
Another way to optimize sales activities on Zalo is to use the Advertising feature – Zalo Ads . Instead of having to spend a lot of effort thinking up a quality Broadcast message, naming the booth so that it sounds both loud and convenient for searching, you just need to spend a certain amount of money to be able to reach customers. unlimited airline.
Hopefully the recent information will give you a more specific view of selling on Zalo completely free. Good luck!
Read more about Malu's business articles  .