The Coworking Space model began to appear in Germany in the 90s. Then it spread to many countries around the world, especially the countries of Southeast Asia. In recent years, the Coworking Space model has started to explode in Vietnam.
So what does Coworking Space mean? Where has this model been built in Vietnam? What are the top Coworking Spaces in the 2 largest cities in the country, Hanoi and Ho Chi Minh City? Readers, please follow the article below to get the most detailed answer!
What is Coworking Space?
Coworking Space, also known as a shared office, is actually a form of office space for rent. However, the difference here is that everyone shares a common space. Companies and individuals working independently at Coworking Space often come from many different industries.
They share the same workspace with the accompanying office services. In short, this model is formed through 2 core elements: community and utility. From this model, exchanges between communities can be developed, encouraging ideal cooperation opportunities for both sides.
Benefits of renting an office at Coworking Space
The Coworking Space model is mainly aimed at customers who are small companies from 2-4 people, freelancers or tech start-ups. In Vietnam, Coworking Space does not charge according to the area of ​​operation, but offers different service packages according to the requirements of customers such as: fixed monthly seats, private rooms or combos used for several days.
If renting an office and starting to decorate the interior and facilities, the cost is really huge, especially for startups. But with Coworking Space, you can save quite a lot. When using this service, you are completely free of charge Internet, electricity, water, parking, etc. Even if you need tools such as printers, scanners or photocopiers, you will also receive free support.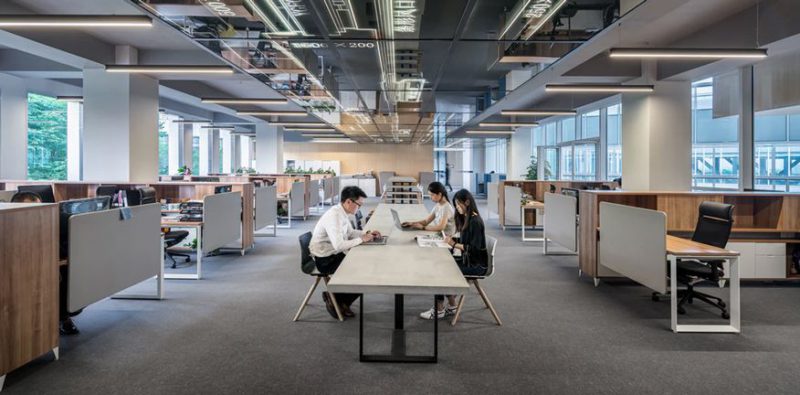 Coworking Space is a place where many dynamic young people gather, a place where creativity originates because of an extremely comfortable coworking space. Helps to strengthen the close bonds between individuals. They share the same passion for creativity and breakthroughs, thereby creating many interesting ideas, helping to solve difficulties.
In Vietnam, the Coworking Space model has developed in Ho Chi Minh City. Ho Chi Minh City was about ten years ago but has only started to appear in Hanoi since mid-2015.
Let's explore a round of the best Coworking Space rental locations for the startup community.
>>>  10 Business Models For Startups 
Top Top Coworking Spaces in Hanoi
1. Toong – The largest Coworking Space chain in Hanoi
Talking about Coworking Space in Vietnam, it is impossible not to mention Toong – the pioneering Coworking Space chain that started in Hanoi. Toong is the acronym for "Honeycomb" – a place for professionals and passionate about work.
This is also the Coworking Space chain that owns the largest network in Vietnam with 3 locations in Hanoi, 2 locations in Ho Chi Minh and 1 location in Da Nang.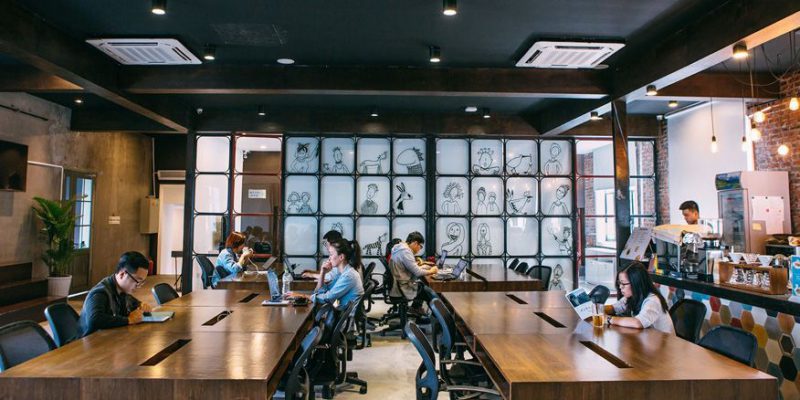 Here, you can order "subscription" packages at a variety of prices from low to high with a variety of options in terms of time, comfort and seating. For example, packages of Tourist, Minister, Virtual Office, etc. Each Toong location has a fancy and inspiring design.
From ancient colors, rooted in traditional culture such as the image of Vietnamese lotus, the old town to modern and modern decorated spaces. Meet the needs of a wide range of customers.
Website: https://toong.asia/vi
3 Address of Toong Coworking Space in Hanoi:
3,4.8 Trang Thi, Hang Trong Ward, Hoan Kiem District, Hanoi

98, To Ngoc Van, Quang An Ward, Tay Ho District, Hanoi

2nd floor, 25T2 Hoang Dao Thuy, Cau Giay District, Hanoi
2. VSV Corner
VSV Corner, formerly Hatch! Nest Coworking – Space, also known as TEA 14, is a creative workspace – a social enterprise operating in the field of supporting and incubating startups in Vietnam. Featured with open space, natural green and airy.
This address is located right in the middle of the cultural and historical area, along with a few monuments and museums, so even though it's in the middle of the street, the space is very quiet. This stimulates everyone's focus on work. In addition, there are also some cafes and fast food restaurants nearby, so you can work without worrying about getting hungry.
VSV Corner is an address that has attracted many businesses, freelancers and young entrepreneurs in recent years in the heart of Hanoi.
Address : 24 – 26 Ly Thuong Kiet, Hoan Kiem, Hanoi
3. DESKA – Coworking Space Hai Ba Trung District
The perfect blend of creatively stimulating turquoise and simple yet friendly interiors. This is a familiar model and is ideal for those who go to work but do not like the office.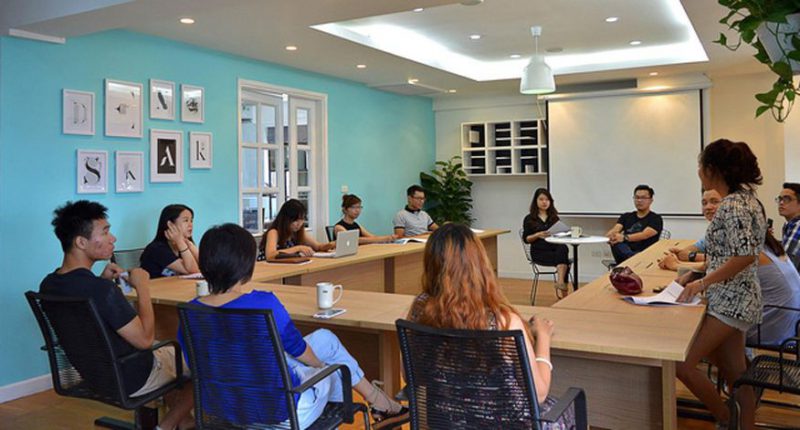 The space at DESKA Coworking Space is scientifically designed with 3 separate zones:
Common room

 : Open space for events, accommodating about 20-40 people.

Private room

 : The office consists of desks with partitions.

Meeting room

 : Private space, with support for writing boards and projectors.
There is also a separate corner for the reception and the pantry to serve free tea and coffee. It is one of the best places to work today.
Address of DESKA Coworking Sapce : 16th Floor, 10 Hoa Lu, Ward Le Dai Hanh, Hai Ba Trung District, Hanoi
4. HanoiHub – Coworking area Ba Dinh, Dong Da
Considered as a place of " liked at first sight " , Hanoihub is famous for its modern design space, blending with nature, helping to reduce stress when working under stressful conditions.
Regardless of who you are? As an individual, a business owner or a startup company, HanoiHub is still the right place for you to promote your creativity, association and imagination to sublimate in your work.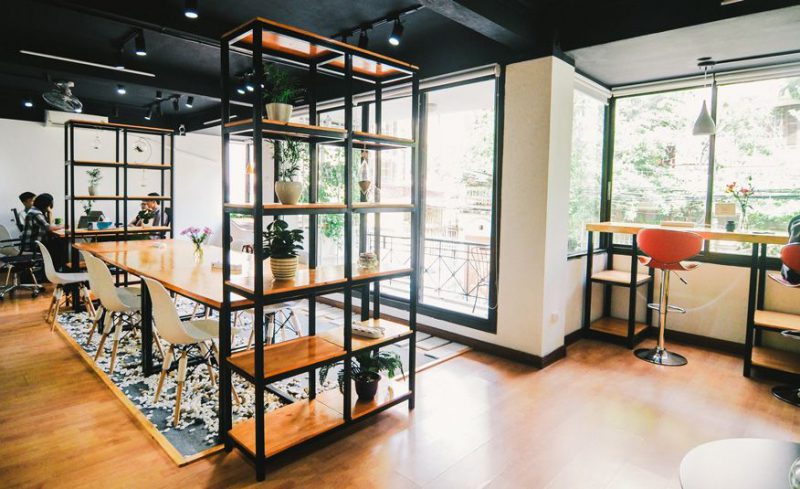 Although the price here is a bit higher than other coworking places, the price is from 150,000 VND/day. But because of the comfort and beautiful space, HanoiHub still does not reduce HOT.
Website: http://hanoihub.vn/
Address of Coworking Space Hanoihub:
No. 1, lane 59, D. Lang Ha, Ba Dinh District, Hanoi

No. 64, lane 49, DD. Huynh Thuc Khang, Dong Da District, Hanoi
5. The Vuon – Coworking Space
The Vuon – Asia's best coworking space officially appeared in Hanoi in December 2016.
Divided into two zones, one is Western Garden in modern style; One area is the East Garden with the Vietnamese classical style of communal houses and wells. This uniqueness creates a balanced Yin and Yang structure.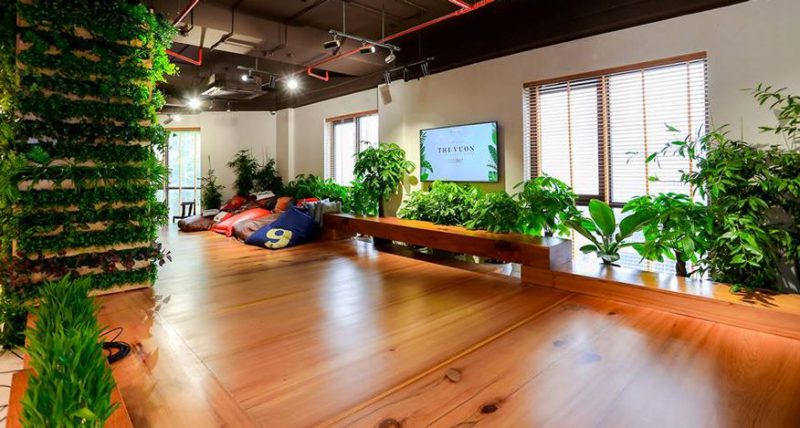 It is expected that in the coming years The Vuon will be even more beautiful because it is continuing to improve and add 5-star facilities.
Website: http://thevuon.vn/
The Vuon's address:  3rd floor – Tower A, D2 Giang Vo building, Ba Dinh district. Hanoi
6. Cogo – Coworking Space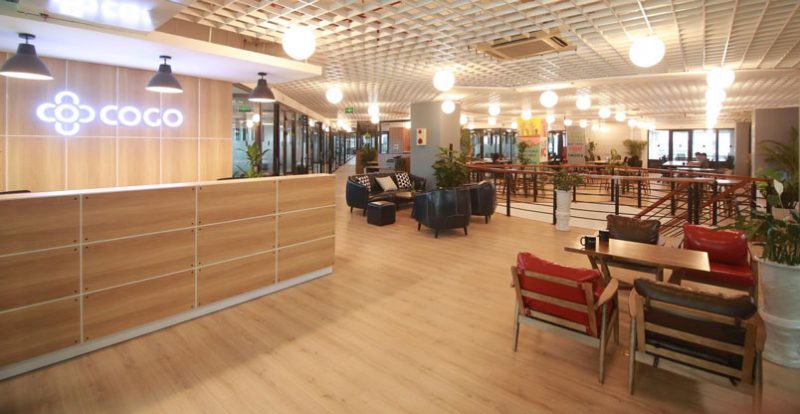 Website: https://cogo.vn/
5 Address of Cogo Coworking Space in Hanoi:
Viet Tower – 01 Thai Ha, Dong Da, Hanoi – 0984 133 434

 TNR Tower – 54A Nguyen Chi Thanh, Dong Da, Hanoi – 0912 149 747

 Sword Lake Plaza -102 Tran Phu, Ha Dong, Hanoi – 0982 207 186

 SUN Ancora – 03 Luong Yen, Hai Ba Trung, Hanoi – 0904 056 780

 FLC Twin Towers – 265 Cau Giay, Cau Giay, Hanoi (Expected to open QI-2020)
7. Kicoworking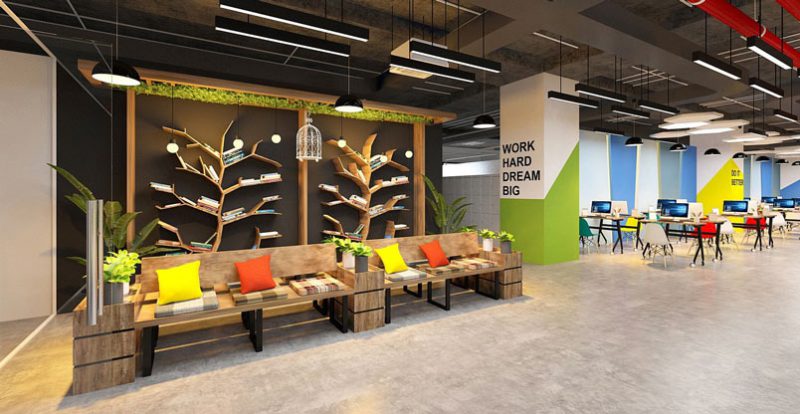 Website: http://kicoworking.com/
Address of Kicoworking:  4th Floor Times Tower – 35 Le Van Luong street – Thanh Xuan – Hanoi
8. Up Co-working Space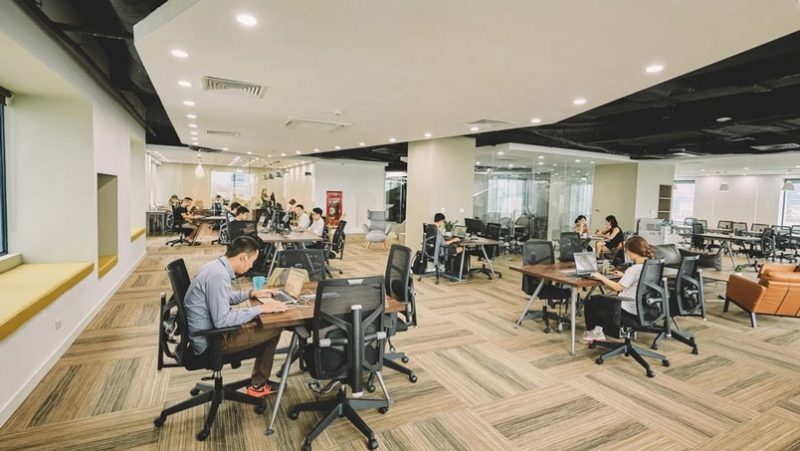 Website: https://www.up-co.vn/
Up's address in Hanoi:
Floors 6 – 8, No. 1 Luong Yen, Hai Ba Trung, Hanoi

3rd floor, A17 Building, 17 Ta Quang Buu, Hai Ba Trung, Hanoi

Floor 21-22, VPBank Tower, 89 Lang Ha, Dong Da, Hanoi

5th floor, VIT Tower, 519 Kim Ma, Ba Dinh, Hanoi
9. Y-Nest Coworking Space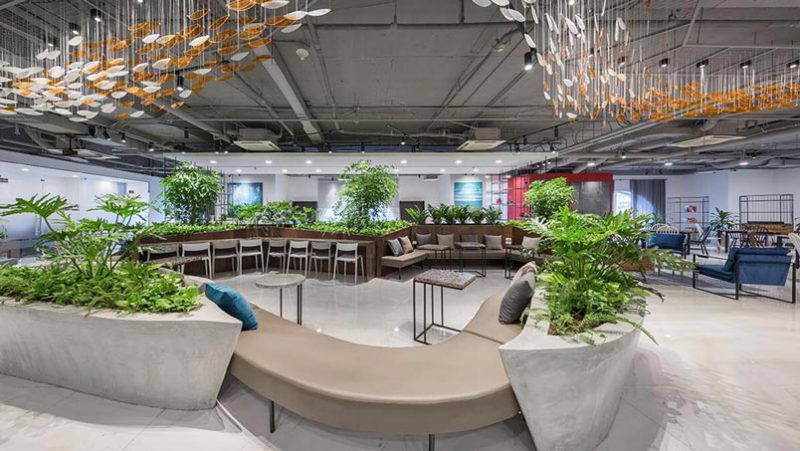 Website: http://y-nest.vn/
Address:  4th floor, Hoa Binh Green City building, 505 Minh Khai, Hai Ba Trung, Hanoi
Top of the largest Coworking Spaces in Ho Chi Minh City
1. Work Saigon – Coworking Space District 3
Work Saigon is one of the first Coworking Spaces in Ho Chi Minh City. HCM. Founded by two people working in the field of design, with an area of ​​​​about 400 m2 including 2 floors built on an old villa in French style. The common space of Work Saigon is charcoal-colored walls creating a cozy and classic space.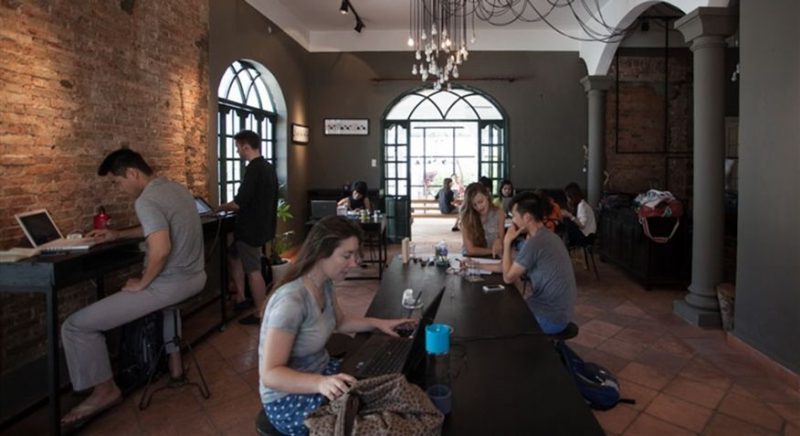 Work Saigon is not only a place to work, it is also a space to exchange, exchange and learn together. A dynamic environment that stimulates young people to always integrate and innovate.
Address of Work Saigon:  267/2 Dien Bien Phu, District 3, City. Ho Chi Minh
2. Saigon Coworking – Working location in Phu Nhuan District
Saigon Coworking's workspace consists of 4 floors. In particular, the ground floor is the office of the founding team of Saigon Coworking, the first and second floors are office areas for customers.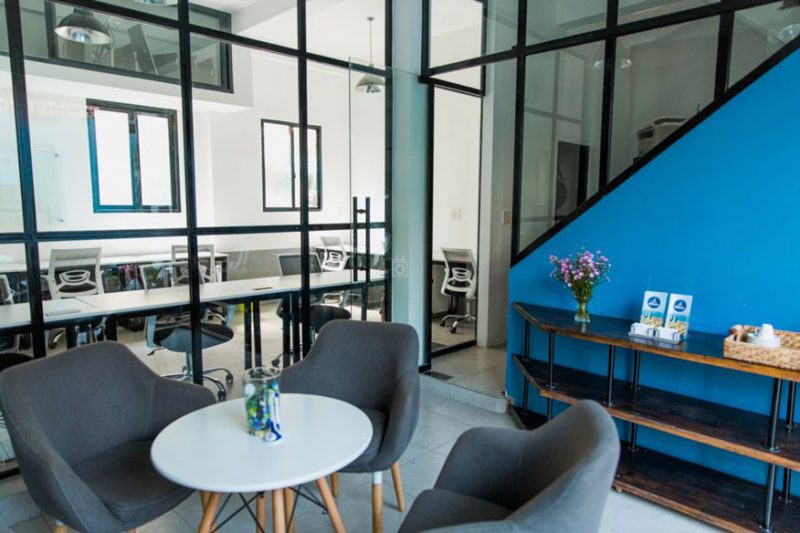 As for the meeting rooms, the garden and relaxing coffee are the area on the 3rd floor. The price is also very reasonable, with 1 month of using the service, it only costs from 1 million VND for free chairs and 2 million VND for free seats. with fixed seat.
Website: https://saigoncoworking.com/
Address of Saigon Coworking:  101 Cu Lao Street, Ward 2, Phu Nhuan District, City. Ho Chi Minh City
3. Dreamplex – Coworking Space in the heart of District 1
Dreamplex values ​​inspiration and collaboration. This is also reflected in the aesthetics of the workspace itself. The area here is very large, the design is quite creative and due to the high floor, the atmosphere is airy and comfortable.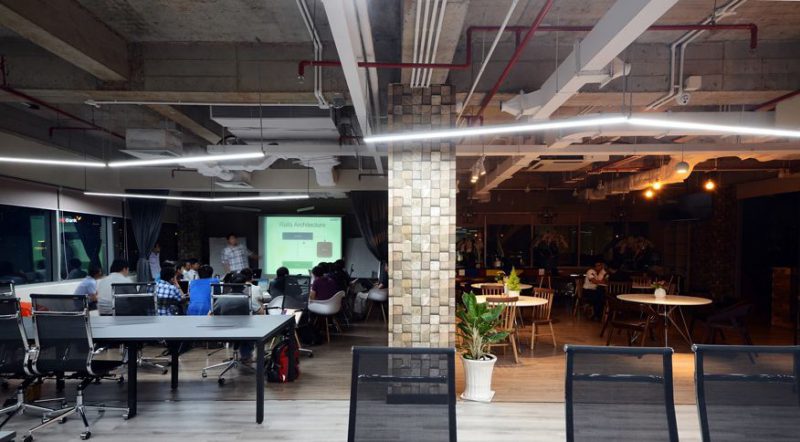 Dreamplex is proud of its customer base spanning many fields from technology, design to business, real estate,…
Website: https://dreamplex.co/vi/
Address of Dreamplex Coworking Space:  Floor 9-10-11, 21 Nguyen Trung Ngan, District 1, City. Ho Chi Minh City
4. CirCO – Coworking Space in District 1 and District 4
Located in the heart of Ho Chi Minh City, CirCO is a vibrant cultural community in which the main part is young people who are aspiring and determined to start a business.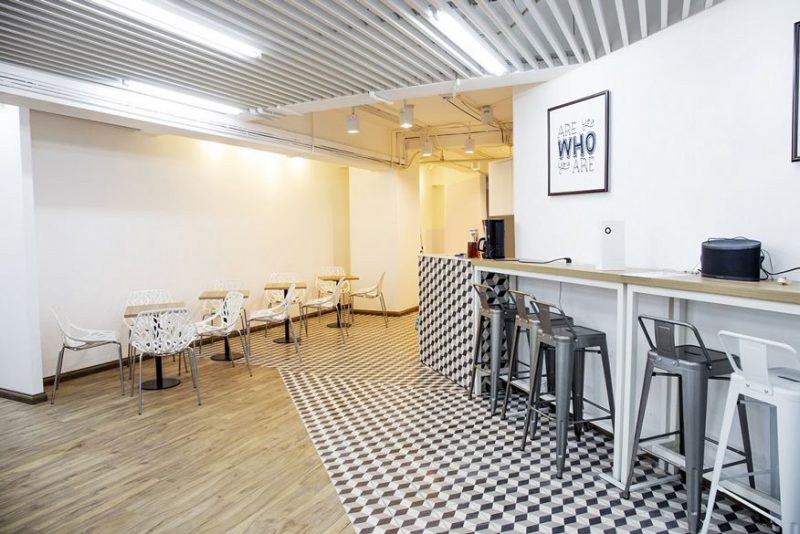 CirCO can well meet all your working needs. An interesting point of Coworking Spaces in general and CirCO in particular is that they have created a dynamic, creative and natural environment for young people to freely express themselves.
Website: https://circo.co/
Address of CirCO Coworking Space:
Floor 3, 9 Nguyen Trai, District 1, City. Ho Chi Minh City

Floor 1, 384 Hoang Dieu, District 4, City. Ho Chi Minh City
5. Start Saigon – The perfect workspace in the heart of District 1
Start Coworking Campus is a coworking and living space in Saigon designed specifically for young tech entrepreneurs and startups. Many customers have commented that this is a great place to work.
You may not have the best facilities, but you will be guaranteed a great service that you have never experienced anywhere. In addition, Start also promotes the growth of Developers in both hard and soft skills – a decisive factor for Startup and a strong product development team.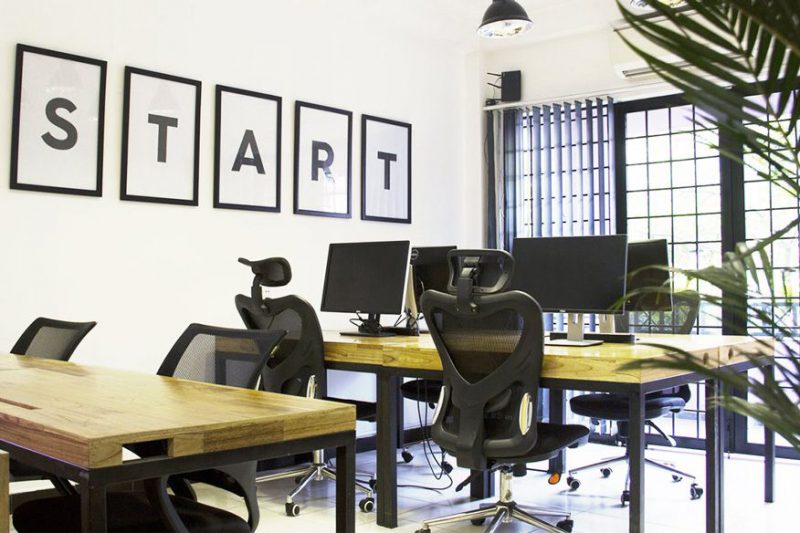 Website: http://start-saigon.com/
Start Saigon's address:  18B/14 Nguyen Thi Minh Khai, District 1, City. Ho Chi Minh
6. The Hive – Thao Dien Coworking Space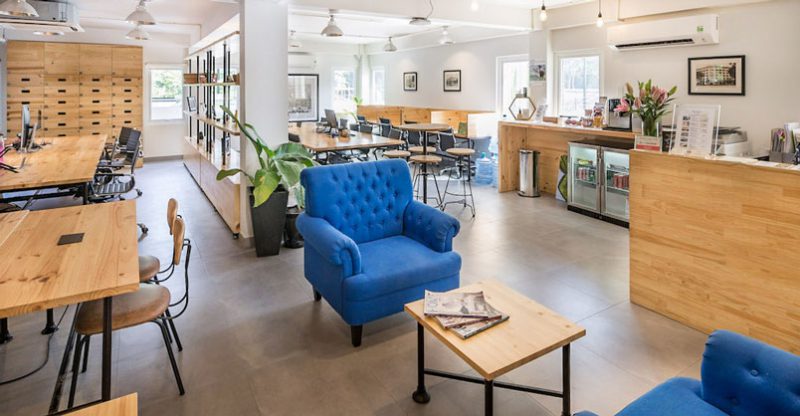 Website: https://thehive.com.vn/
Address:  15/1, 10th street, Binh An ward, District 2, TP. Ho Chi Minh
7. Publik Office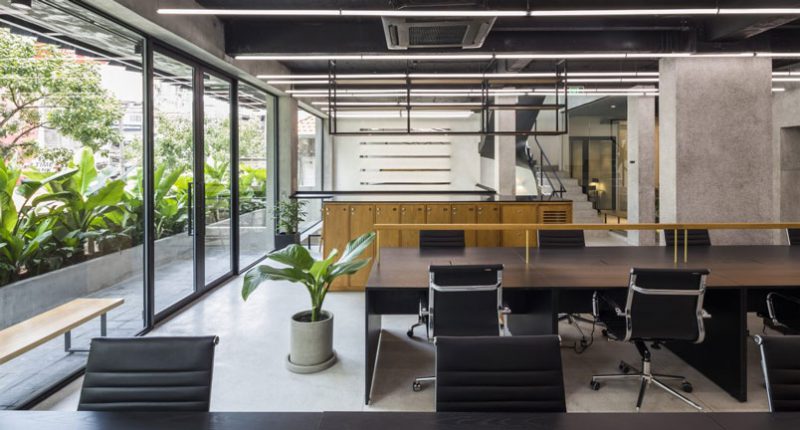 Website: https://publikoffice.com
Address:  38A Nguyen Thi Dieu, Ward 6, District 3, Ho Chi Minh City
Coworking Space is where you work under one roof with like-minded people. Your inspiration becomes an inspiration to those around you and, in turn, creates a special energy for members of that community. These are definitely great places that you cannot miss.
And with the suggestions of the best Coworking Spaces for startups above that Malu has brought, hope you will find yourself a suitable place to be able to unleash your creativity, learn and sublimate. In the work.
>>> Learn more:  10 Great Business Models For Beginners