Although considered a "latecomer" in the online food delivery market, Baemin has still achieved much success in improving its brand recognition and attracting customers. To achieve those successes, Baemin has implemented effective marketing strategies. Please learn and analyze Baemin's 5 most prominent Marketing strategies in the article below.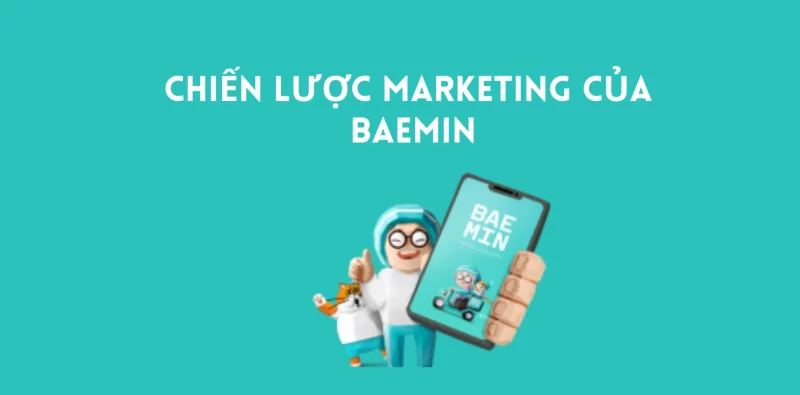 Overview of Baemin company
Launched in 2019, Baemin company immediately resonated with consumers with a beautiful, friendly and modern image, understanding customer psychology.
According to  Wikipedia , Baemin was built and developed by Woowa Brothers – the leading provider of Baedal Minjok food delivery service in Korea. Woowa Brothers acquired Vietnammm at the end of February and officially changed the entire system to Baemin.
Woowa Brothers launched the application "Bae-dal-e-min-jok" (abbreviated as BAEMIN) in Korea with the vision of "Using the power of Information Technology to develop the delivery industry". The birth of this application has created an online food delivery experience with 2-way interaction, bringing innovation to the food delivery industry.
Woowa Brothers has gained interest and attention, won many investments after establishing Baedal Minjok and is considered a "unicorn" in Korea, when it is just a startup company that can call for investment. to millions of US dollars. Currently, the company is aiming to promote and develop the "food-tech" field by applying advanced technologies such as artificial intelligence (AI) and "self-driving robot" technology.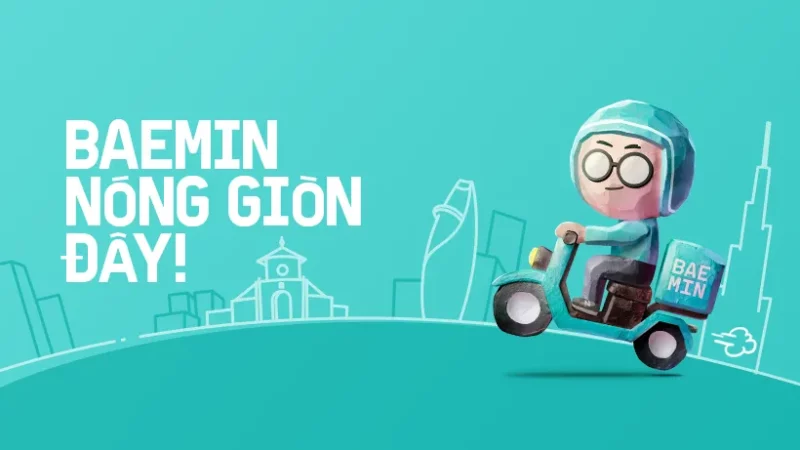 Carrying on the mission "Enjoy your favorite dishes wherever you want", Baemin company not only aims at the simple goal of pick-up and delivery, but they also want to build a complete experience for customers. client. Not only is the food guaranteed to be hot, delicious, and complete in appearance, Baemin company also wants to build an ecosystem with Baemin rider, Baemin kitchen… to develop further.
Baemin is currently the leading food delivery application in the Korean market, launched by Woowa Brothers in 2010. After Woowa Brothers acquired Vietnammm, it officially launched the Baemin application version in the Vietnamese market in May 14, 2019.
Baemin provides services in the food delivery industry operated by Vietnam MM Co., Ltd. Baemin will be primarily responsible for managing operations. The Baemin application helps connect food suppliers, delivery service providers and people who need to use food delivery services.
The main feature of the Baemin application is to order food online using a phone application similar to GrabFood, Now, Go-Food services. Baemin will link up with restaurant partners so that sellers can upload products, food, and drinks to the app so customers can choose dishes and order for delivery to their door.
Baemin also owns its own team of food delivery shippers and does not use intermediary delivery services. Baemin food delivery service officially operates in the Vietnamese market from May 14, 2019 in Ho Chi Minh City.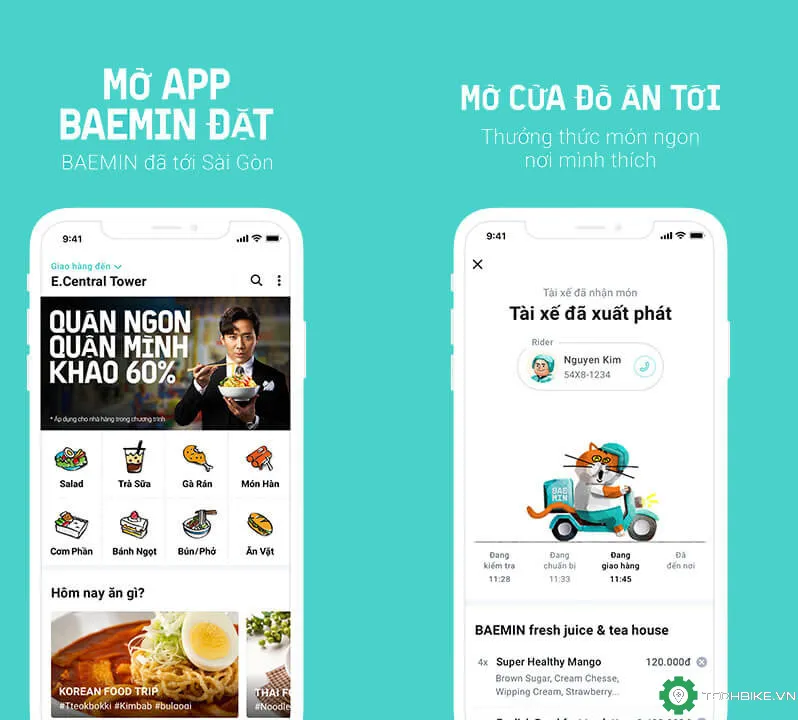 Baemin's 5 most effective and successful marketing strategies
Officially joining Vietnam in June 2019, Baemin is considered a "latecomer" in the online food delivery market. At the time of launch, many people doubted the ability of a new food delivery application to succeed in the context of the market "piece of cake" being divided by giants such as Now, GrabFood, and GoFood. .
However, after nearly 2 years of operation, "mint green army" has become the leading food delivery application in terms of downloads on Google Play and App Store (as of April 2021). In addition, according to Q&Me's 2020 food delivery market survey, Baemin is also the food delivery application leading the market in terms of customer satisfaction.
To achieve these successes, Baemin has built and implemented its Marketing strategies effectively. So what is Baemin's Marketing strategy? How did Baemin build its Marketing strategy?
Basically, Baemin's Marketing strategy includes 5 main strategies as follows.
Focus on improving brand recognition
Focusing on improving brand awareness is a Marketing strategy of Baemin.
To improve and enhance brand recognition, Baemin has created an extremely impressive brand identity that attracts its target customers .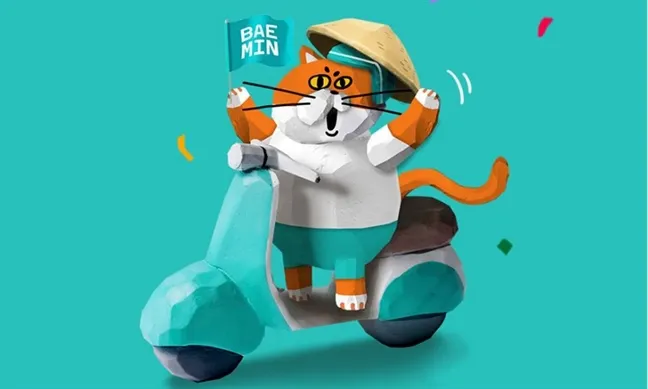 Baemin's outstanding brand identity includes:
Logo

 : The Baemin application is designed with a distinctive blue logo and the company name written prominently, making an immediate and easily recognizable impression. When entering the app, you will immediately see colorful images and vivid drawings that stand out on a white background

Own mascot image

 : Baemin company's image is also designed with the main mascot being a yellow-haired cat, riding a motorbike, wearing a helmet… which are funny, cute, simple, and close images. with customers, especially young people.

Font

 : Baemin also uses its own font that matches the colors and image of its mascot. The font that Baemin is using is called BM Daniel, a product of Rice Creative designed specifically for Baemin Vietnam. BM Daniel's characteristic is to "squeeze" the accents and capitals of the letters into a pre-limited height, making the text much more vivid. Looking at the text written by this font will make you feel like you are hearing a real sentence, not just a line of words standing still on paper.
Take advantage of Influencer Marketing to attract public opinion
Taking advantage of Influencer Marketing is also an effective marketing strategy for Baemin to attract public opinion.
When taking advantage of  Influencer Marketing  effectively, businesses can improve brand recognition, win customer trust as well as advertise products to a large number of customers easily.
Influencer Marketing is one form of marketing through social networks. Influencer Marketing takes advantage of influencers on major social networking sites such as Facebook, Youtube, Instagram to influence consumers' purchasing decisions as well as to advertise businesses' products/services.
Influencer Marketing will focus on identifying individuals who have influence over potential customer groups and orienting marketing activities around those influencers.
Through Influencer Marketing campaigns, businesses will send advertising messages to customers and convince customers to use their products/services by taking advantage of the reputation and influence of Influencers. Through the campaign, Influencers will also be paid a commission according to the agreement.
>>Read more : What is Influencer Marketing? Role & 5 steps to implement Influencer Marketing 
For Baemin's Marketing strategy, when choosing the face to represent the Delicious Dishes in My District campaign, Baemin chose artist Tran Thanh and no one else, in the image of a man wearing a black suit, walking away. again and continuously speak related to the topic of Safe Love or Interesting Love.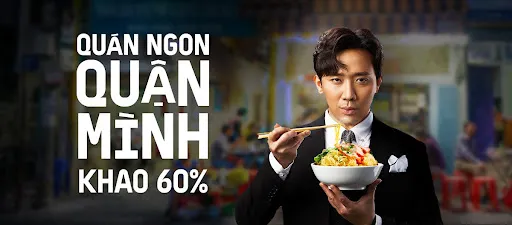 Obviously, Tran Thanh is not a very elite representative in the culinary field in particular. But when put into the context of a famous man who often attracts attention with his statements, Tran Thanh is extremely suitable.
At this time, Tran Thanh is very famous in the eyes of women when participating in the program: "Who is that person?" With inspirational quotes and experience in love, Tran Thanh is trusted by women as a "love master". Understanding that, Baemin collaborated with this famous male MC and released the clip: "Should women love safely or interestingly".
Tran Thanh x Baemin have come up with a unique approach by comparing choosing a lover to choosing a restaurant: safe love is when you are faithful to the restaurant near your home, while interesting love is like an adventure to discover new things. delicious food in far away places.
Playing the role of "love advisor", Tran Thanh convinced the "sister group" to choose someone who is both safe but also interesting, as well as choosing Baemin to eat food that is both delicious and close to home.
The results of the campaign were very successful and improved Baemin's brand awareness. The campaign has received 11,410 discussions, and is in the top 7/10 outstanding campaigns on social networks in May 2020 (according to Buzzmetrics report).
Impressive outdoor (OOH) advertising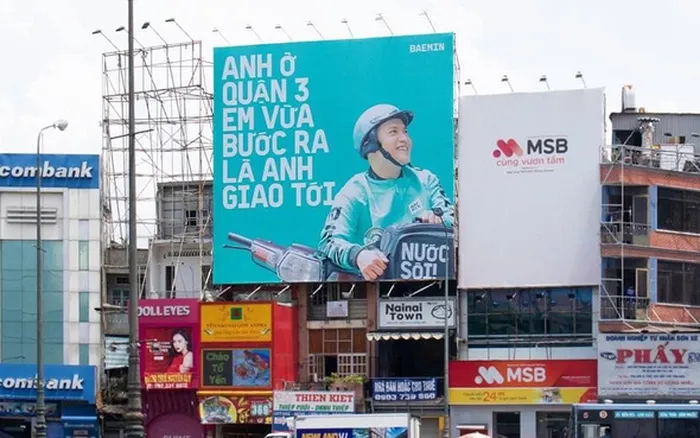 Another effective marketing strategy of Baemin is to create impressive outdoor advertising (OOH) billboards.
Baemin chose to display humorous, short, concise and local invitations on outdoor advertising media in accordance with the original market approach orientation of the Kim Chi brand. For example, "That's my house in Tan Binh, order it and I'll deliver it", "I'm in District 3, as soon as you step out I'll deliver it", "I know Go Vap by heart, if you're willing I'll deliver it" or "Hoan Kiem I know clearly, we still deliver in the alley."
With trendy, familiar slogans on outdoor advertising signs, Baemin has understood the tastes of its target customers, young people, and effectively attracted them.
Use Music Marketing 
Music Marketing is also a Marketing strategy of Baemin.
Baemin's famous Music Marketing campaigns include two campaigns: "Baby" – Amee x Karik x Baemin and "Ngot" – Justatee x Rhymastic.
With the "Baby" campaign, understanding the trend of healthy eating and caring for women's health, Baemin realized that no matter how strong and independent women are, they still want to be "babies". " in the eyes of the person you love. Therefore, the brand encourages women to take care of themselves and pursue a healthy lifestyle in accordance with Baemin's communication theme.
The MV made its mark thanks to the choice of KOLs that fit the character's personality: her lover Amee with a cute and gentle personality makes the "loving" guy Karik want to pamper, love and treat her like a "baby". ". Eye-catching images; catchy lyrics; As well as the message of capturing the right insights of the "sister association" helped "Baby" reach the top 3 YouTube Trending after only 72 hours of release.
As for the "Sweet" campaign, the main message of this campaign is "to make every day a sweet day". Baemin also targets women and wants to express women's feelings, that no amount of sweetness is ever enough. Therefore, loving words and gestures do not need to wait for an important occasion, just like cakes, which can be eaten anytime you like.
The campaign message is expressed even more clearly through the lyrics written by two powerful male judges of Rap Viet – JustaTee and Rhymastic. In addition, the first appearance of the Justatee family is also a factor that attracts the audience. The sweet moments that Baemin wants to convey become more realistic and intimate than ever.
Thanks to the careful attention to both image and sound, the MV reached nearly 3 million views and ranked top 8 on YouTube Trending after 72 hours of release.
Build an impressive Food Collection 
Baemin's outstanding marketing strategy is to build an impressive Food Collection.
To find a solution to the problem that eating nearby is not good and eating well is not close, Baemin launched the collection "Delicious restaurants in our district" with suggestions for restaurants and eateries near where customers live. . On the application, the category "Delicious restaurants in my district" arranges stores in a reasonable order: delicious dishes in Binh Thanh, delicious dishes in District 1,… through which users can easily choose food based on location. his reason.
Besides, understanding the current trend of healthy eating, Baemin has also launched the second food collection – the "Try a little healthy" collection. "Try a little healthy" is divided into specific categories such as: Salad, brown rice poke, smoothie juice, vegetarian dishes, making it easy for users to use.
Baemin also has a "Sweet" collection which is the top selection of pastry shops. When eating, sweet is one of the taste sensations. In life, sweet is an adjective that indicates the feeling of being loved, cared for, and giving beautiful things to each other. Therefore, Baemin wants to spread the "sweetness" to customers through this collection.
Summary
Although Baemin entered the market late, with its effective marketing strategies such as taking advantage of Influencer Marketing, focusing on improving brand awareness as well as using Music Marketing and outdoor advertising, Baemin has achieved remarkable results. certain success in attracting customers effectively. Baemin's Marketing Strategy is worth learning and analyzing.
Check out some other good articles:
Analyze the effective marketing strategy of TH True Milk

Analyze Shopee's marketing strategy worth learning