In recent times, it is easy to see milk tea shops with prominent red signs using the words "Mixue since 1997 tea & ice cream" or the mascot Tuyet Vuong is making waves on online platforms. because of the humor, muddled by no one equal to Mixue's. Although there is no need to promote widely, this ice cream and tea brand has gained a huge number of loyal customers, and at the same time turned itself into a "national brand" with nearly 22,000 franchised stores worldwide and In the Vietnamese market, the number has reached 600. Let's take  a look at Malu case study on the marketing strategy of this emerging milk tea empire Mixue to see why they can be so successful!
About Mixue
To explain the overview of the brand that makes people crazy not only because of the price of the "chestnut" product, the lovely mascot, Mixue (pronounced 'misyu') is a brand originating from China. Zhang Hongchao, CEO of Mixue, is the man behind the brand's success to date. Initially, Mixue was just a small bingsu (shaved ice) shop in Zhengzhou County, Henan Province.
In 2006, thanks to the effect of the Beijing Olympics, the price of ice cream cones began to increase. Taking advantage of that opportunity, Zhang opened an ice cream shop with the price of only 2 yuan (6,000 dong)/piece. Business was extremely successful with long lines of customers waiting in line to buy ice cream.
In 2007, Zhang Hongchao decided to open a franchise. In just one year, dozens of Mixue stores have appeared in Henan province – the company's headquarters.
In 2008, Mixue Bingcheng company was established, the number of franchised stores also exceeded 180.
In 2010, Mixue Bingcheng cooperated with Zhengzhou Baodao Trading Co., Ltd. with the ambition to expand the franchise throughout China. Two years later, Mixue Bingchen continues to perfect its franchise support systems. Includes R&D center, central factory, warehousing and logistics center for self-supply and transportation of products.
After the success in the country of billions of people, Mixue continues to develop in the international market. In 2018, Mixue set up its first store outside of China, in Hanoi, and quickly expanded to other Southeast Asian countries. Currently, the Mixue brand is present in more than 30 countries on many continents.
Background
Vietnam is one of the Southeast Asian countries that spend a lot on milk tea. According to a report by Momentum Works – qlub, Vietnam ranks third, just behind Indonesia and Thailand in terms of milk tea revenue each year. Revenue in Vietnam market is estimated at 326 million USD, equivalent to 8,470 billion VND. Moreover, milk tea brands in Vietnam are extremely diverse.
On the other hand, in Vietnam, the ice cream market is estimated at VND 4.3 trillion. Kido Group, Vinamilk and Unilever are the three units with the largest market share. In Vietnam market, take-home ice cream products account for the largest market share. Unpackaged ice cream products have a relatively small market share and are mainly foreign brands.
Mixue has been introduced to the Vietnamese market since about 2018, but has not been able to compete with big brands that have been "rooted" for a long time in the Vietnamese market. From the survey on the two areas of ice cream and milk tea above, it can be seen that Mixue needs to innovate and increase brand awareness to peak when it wants to target a large young audience here.
Target
With the mission of "bringing high quality and affordable products to everyone in the world", Mixue aims to reach the milestone of opening more than 30,000 franchised branches. To be able to do that, their immediate goals are:
Attracting users' attention, turning Mixue into "national milk tea brand"
Expand brand awareness to increase franchise brand value
Encourage consumers to buy products and services
Insight of Mixue
Mixue's main business items are ice cream, milk tea, and fruit tea, so its customers are quite wide. Mixue's target customers are mainly those with sweet tastes such as women and teenagers and children. Moreover, nowadays young people in Vietnam are tending to find new things that are easy to catch the trend.
"Scratching the right itch" of this target customer group, plus a little luck "to stop it in time", quickly caught the Bing Chilling trend with the slogan "Here we sell bing chilling". Suddenly, the wave of buying bing chilling in Mixue has become a phenomenon that young people are racing to follow in stores. Then take a video to catch the trend and post it on the TikTok platform as a trophy.
Sticking to the FOMO effect (fear of missing out) Mixue continuously offers programs to stimulate the curiosity of its customers, creating a trend wave that has no end, such as releasing a separate song for the brand. , buy milk tea for the lucky mascot, …
Mixue's marketing strategy implementation activities
Social Media
On the Vietnamese market side, Mixue does not organize aggressive promotional campaigns. Mainly focus on reaching customers on social networking platforms. Mixue has a main Facebook page with over 28,000 followers. In addition, each branch store also has a separate page for self-publishing information.
TikTok Marketing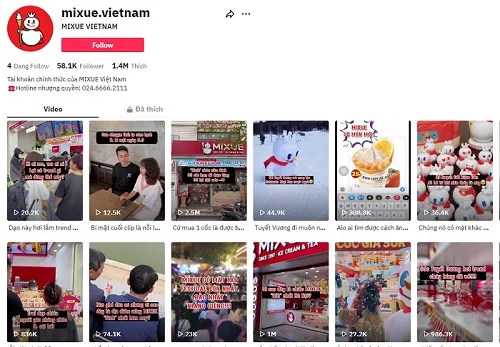 The Mixue brand also created a TikTok account in Vietnam that also reached the threshold of 58 thousand followers to connect more closely with young people. It is no exaggeration to say that this platform is the best method to shorten the brand gap with consumers and increase revenue for Mixue in Vietnam.
Brand Mascot
In addition, in  Mixue's marketing strategy  , brand mascot is applied throughout all markets. Mixue's mascot appears in stores, signs, and on beverage packaging. This creates a cheerful and approachable atmosphere that helps Mixue make a mark in the hearts of customers.
Mascots can be temporarily understood as symbolic animals for an individual organization, or an event. Mascots of brands are often designed to be associated with the meaning, or characteristics of that brand. In Mixue's marketing strategy, the mascot image has been built and used very successfully.
The emerging milk tea empire also knows how to take advantage of its mascot when creating the mastcot Snow King – a snowman wearing a cape and holding a staff, with red and white tones and chubby appearance, funny personality, marshy. Sometimes he even brings his mascot to collab with the famous Frog Mother, famous for his "clown" no less than the heat brush. If you want to know how "inanimate" they are but how good they are, watch the video below!
Watch the first Snow King Mixue here:
Watch Snow King Mixue and mother frog "fight" here:
On the other hand, around June 2022, the online community suddenly stirred with the image of the Mixue mascot turning black. The ice cream brand gave only one answer: sunburn. This sparked a heated debate with hundreds of millions of discussions. Turns out this was a mulberry tea launch campaign with the full answer being "Snow King gets sunburned while picking strawberries".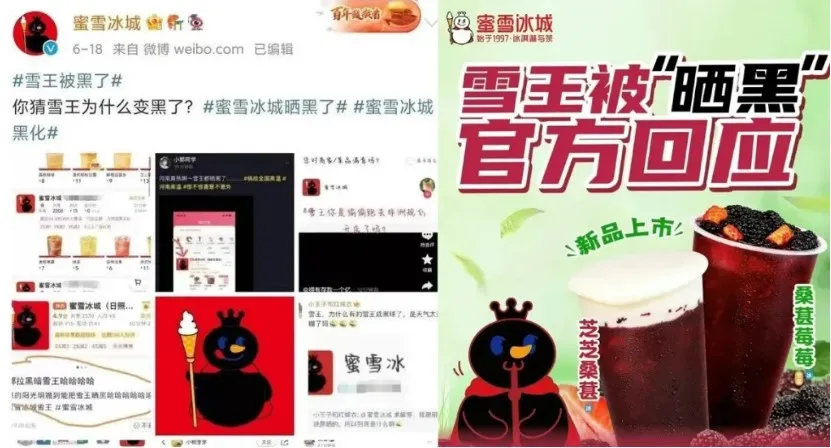 Mixue's Music Marketing Strategy
In the Chinese market, Mixue stepped up its music marketing strategy by creating a brand's own song on the soundtrack of a children's song. The song only has two sentences: "I love you, you love me. Mixue ice cream and milk tea" over and over. As soon as it was broadcast on TV and in stores, the song with its catchy melody and easy-to-remember lyrics spread quickly and brought about positive effects. As a result, Mixue has received more than 500,000 million discussions on China's Weibo social network.
The popularity of this song spread strongly to the Vietnamese market, even being loved by the online community and "made" into a Vietnamese lyrics and created a Mixue dance on the TikTok platform.
Banner
Mixue does not invest much in billboards. The brand uses its own store and products to support marketing. Firstly, thanks to a dense store system, spread in many areas, it helps customers easily mark the brand. All store signs are unified with an eye-catching red color. Along with the words "Mixue since 1997 tea & ice cream". The outside of the store is often decorated with a giant ice cream simulating Mixue's outstanding products.
On Mixue's products, there is always a brand image. For example, on the lid of the cup, there will be a mascot with cute poses, the cup body will appear with a large logo and brand name. Even on the cone there is Mixue's logo and even small tools such as straws and spoons are designed specifically with the brand's mark. This is something that many high-end beverage brands such as Phuc Long, Highland, etc. have not been able to do.
Open for sale Goods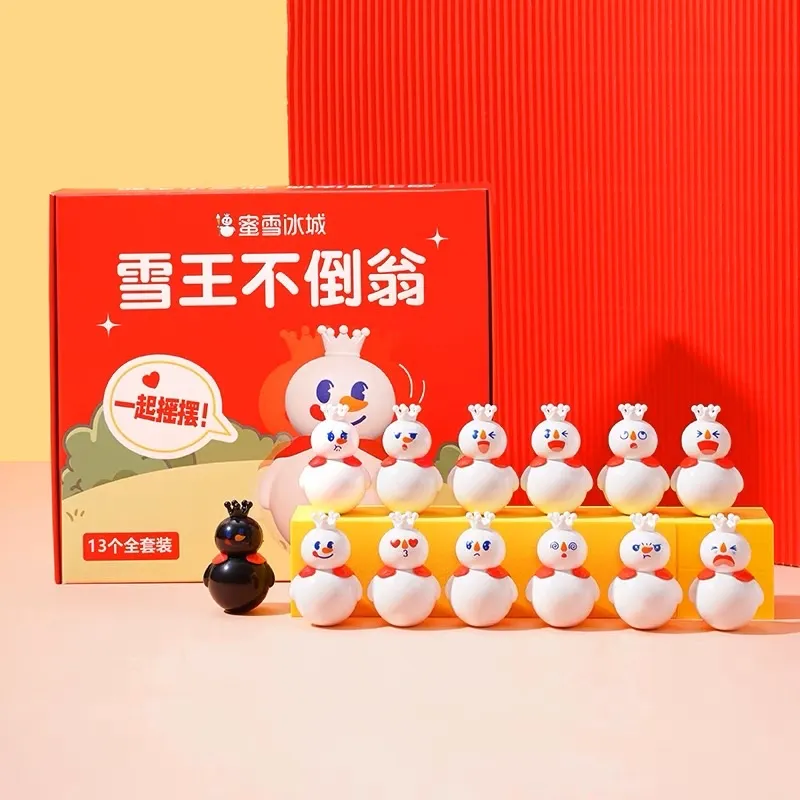 After the "Here we sell Bing chilling" campaign, Mixue smartly continued to launch a set of 13 mascots, the special thing is that you have to buy a drink to be able to receive lovely squishy dogs. This. And of course, to be able to harvest all 13 items is extremely difficult and requires luck, including money. This is definitely a top selling trick, stimulating the curiosity and belligerence of those who want to collect all 13 flippers in the whole set. As a result, these mascots are constantly reporting horribly sold out because of their hot hits.
Not letting the set of 13 mascots cool down, Mixue quickly came up with an upgrade that is a swashbuckler that can glow.
Also revolving around the mascot theme, Mixue has launched a water bottle with the mascot image. When holding different types of drinks, different images will appear. This water bottle created a craze with more than 10,000 products sold in a month.
When Mixue's trademark song is hitting the music market strongly, the brand quickly produces music boxes at an expensive price. But with people willing to play, what's the problem?
Results of marketing strategy of Mixue
Mixue's revenue results
Currently, Mixue Bingcheng is one of the most successful ice cream and milk tea brands in the world. In the period 2016-2021, Mixue has reached 2,500, 5,000, 10,000, and 15,000 stores respectively. As recorded at the end of March 2022, Mixue owns 21,582 stores and is in the top 5 food chain brands with the largest number of stores in the world. In 2021 alone, Mixue has expanded by 7643 stores.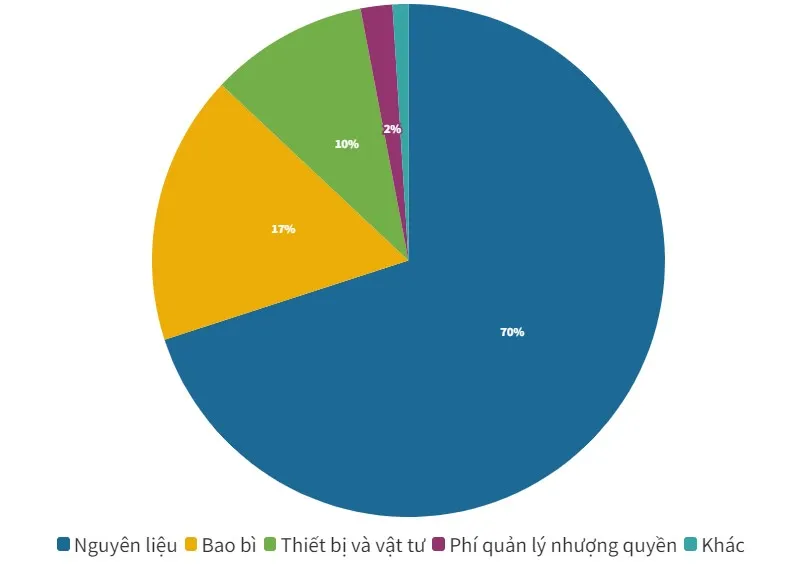 In 2021, Mixue Ice Cream & Tea achieved sales of 10.35 billion yuan. In which, selling solid syrup drinks, jams, tea and other ingredients to franchise partners. reached 7.23 billion yuan, accounting for 70%. Sales of packaging to franchisors reached 1.78 billion yuan, accounting for 17%. Sales of equipment and operating supplies reached 1.05 billion yuan, accounting for about 10%. Franchise management fee is only about 2%.
Mixue's media results
Mixue's "terrible" achievements on platforms as well as brand indexes increased rapidly in a short time:
Hashtag #mixuevietnam reaches 68 million viewers
Thanks to the music marketing strategy, Mixue received more than 500,000 million discussions on China's Weibo social network.
Mixue's official account on TikTok reaches 58.1 thousand followers, more than 1.4 million likes and tens of millions of videos trending
The official Facebook account also reached a significant number when there were 45,000 likes and 50,000 followers
Mixue's music marketing song reaches 4 million views on TikTok platform
Conclude
Mixue is a brand that has come to successful results today with just 4000 yuan (12 million dong). And so far this number has increased 5 million times. This strong growth is the result of the success of Mixue's marketing strategy. With good quality products, low prices, and a suitable franchise model, Mixue is expected to continue to grow strongly, especially in the Southeast Asian market. This is a case study that brands in the same field should learn to develop their brands further.