In Vietnam, when mentioning the famous "technology motorbike taxi" brand, we cannot help but mention Grab – a convenient, fast, and easy online ride-hailing application. To achieve today's success in Vietnam, Grab has built and deployed effective marketing strategies according to the 4P Marketing Mix model. Let's learn about Grab's Marketing strategy according to the 4P model in the article below.
l. Overview of Grab
According to  Wikipedia , Grab (formerly known as GrabTaxi) is a technology company headquartered in Singapore that specializes in providing car transportation and travel services in Singapore and other Southeast Asian countries such as Malaysia and Indonesia. , Philippines, Vietnam, Thailand, Myanmar and Cambodia.
It can be said that Grab appears as a new breeze in transportation in Southeast Asian countries. Customers can travel faster than taxis due to the application of technology in calling a ride, but it is extremely secure compared to traditional motorbike taxis.
Grab is currently experiencing strong growth in 8 countries and 195 cities within Southeast Asia. This technology car booking mobile application is estimated to have up to 90 million users. Every day there are more than five million users. More than 2 million drivers to date. And accounts for 95% of the technology motorbike taxi market worldwide.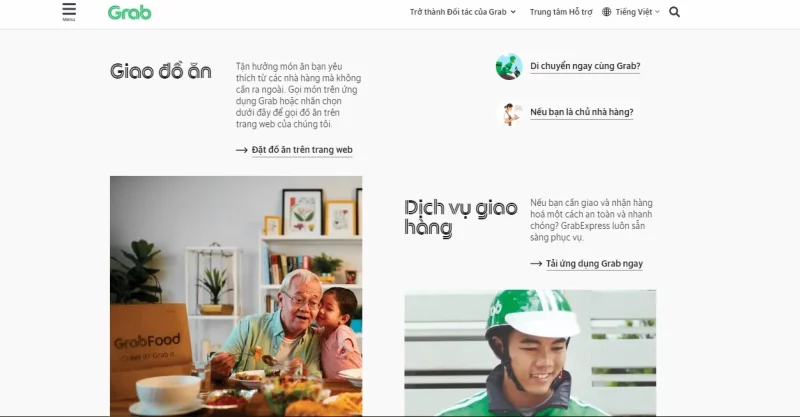 Grab performs its transportation service on an application provided by the company itself. Riders can use this application to order a ride (motorbike, car, taxi, delivery, food). Just enter the pick-up point and destination, the app will automatically calculate the distance. The next step is simply to book the car and wait for the driver to pick you up.
Grab will be a bridge for driver partners who have free cars and want to earn extra income with customers who want to use technology motorbike taxi services. This will be the best way to meet the needs and profits of both parties. At the same time, it solves the problems of crowded traffic in Vietnam.
Grab provides all services on the mobile application platform. This brand aims to help customers travel more conveniently. And over time, Grab also expanded its services, creating convenience and speed for customers.
Initially, when it first entered the Vietnamese market, Grab only had basic services such as: GrabBike, GrabCar, GrabTaxi… Since 2017, new services were born as a way to compete with Go competitors. Viet, Bee… can be mentioned as Grab to province, GrabExpress, GrabFood and recently GrabHour.
ll. Analyzing Grab's Marketing Mix strategy in Vietnam
In Vietnam, when mentioning the famous "technology motorbike taxi" brand, we cannot help but mention Grab – a convenient, fast, and easy online ride-hailing application. Grab Grab users can save not only car fares, but also their precious time.
It's not an exaggeration to say: Grab has pioneered creating a new way of traveling in Southeast Asia. Focusing on solving customers' problems and pain points , Grab has grown from a small company in Malaysia into a company with operations in many Southeast Asian countries.
To achieve today's success in Vietnam, Grab has built and deployed effective marketing strategies according to the  4P Marketing Mix model . So  what is Grab's Marketing strategy  in Vietnam? How did Grab build its Marketing Mix strategy according to the 4P model?
1. Grab's Marketing Strategy for Products
For Grab's marketing strategy for products, Grab has used the strategy of diversifying and improving the quality of its products and services.
Grab products and services are very diverse: from GrabTaxi, GrabBike, GrabCar, GrabExpress and recently GrabShare is now available in Vietnam. Grab's products have been certified with ISO 9001:2015 quality. The Grab brand always develops its products to achieve the best quality, closely following the needs and desires of customers. GrabExpress (delivery service) is Grab's product that Uber does not have.
Grab often puts customers at the center of its service development process. Grab always tries to develop products by listening to its customers as well as  thoroughly researching the market  before entering new markets.
Grab's famous services can be mentioned as:
GrabCar: Private car booking service, helping customers travel conveniently and comfortably with pre-determined fares. Customers can choose from a 4-seat GrabCar or a 7-seat GrabCar depending on their travel needs.

GrabShare: GrabShare car sharing service allows customers to share a car with other passengers going in the same direction, saving costs up to 30% compared to regular GrabCar service.

GrabBike: Motorbike booking service, helping customers move quickly and safely. Currently, GrabBike also has GrabBike Premium service – booking high-end motorbikes with many high-end models.

GrabTaxi: Taxi booking service (4 or 7 seats depending on need), GrabTaxi fare is calculated according to the meter on the car.

GrabExpress:: Grab's motorbike delivery service. GrabExpress is present in Hanoi and Ho Chi Minh City, helping customers deliver and receive goods easily and conveniently.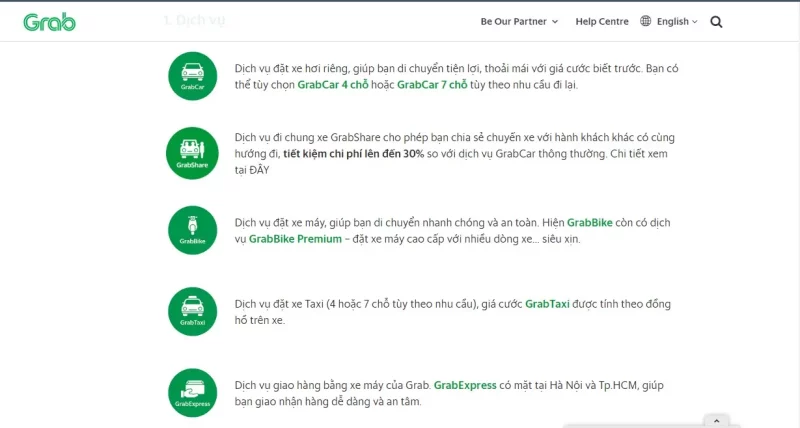 In addition, Grab also provides a variety of payment services such as:
Cash

GrabPay: Trip payment method by International Credit or Debit card. Customers only need to enter card information once and travel comfortably with many attractive incentives.

GrabPay Credits: Method to add fees to your account on the Grab application (similar to the form of recharging a phone card), helping to optimize payment for customers who do not have a credit card and do not need to use cash.

Grab is constantly researching and bringing new services to meet customer needs. Currently, services such as Grabfood – online food delivery or GrabExpress – nationwide delivery service also receive support and popularity from a large number of Vietnamese people, proving the influence of this brand.
2. Grab's Marketing Strategy on Price
Regarding Grab's marketing strategy regarding price, instead of like taxi companies when serving customers, customers are not proactive about the price, Grab lets customers know in advance the price to pay for the service before use.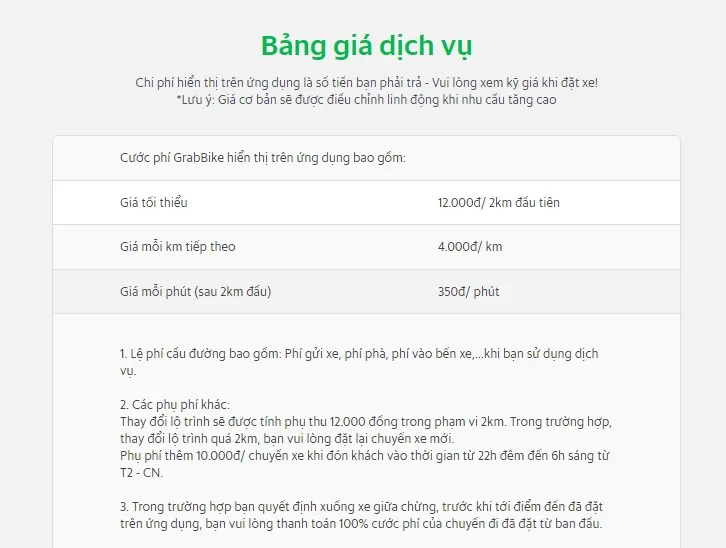 In addition, the  product pricing  is reasonable with a high level of stability with the aim of targeting customers in all segments from students to civil servants or the upper class.
As for Grab's competitors like Uber, Grab has a flexible strategy in which customers can pay service fees in cash. This is completely consistent with the habits of Southeast Asians, especially Vietnamese people.
In addition, Grab also has promotions to accumulate member points for customer appreciation programs. These programs help Grab increasingly attract a large number of loyal customers and more and more new customers trust Grab's services.

Grab's pricing goal for its service is to attract the target market with useful features, providing quick trips at a reasonable cost. Therefore, Grab has applied a dynamic pricing strategy for its ride-hailing service based on possessing special features that create a competitive advantage over competitors.
Dynamic pricing can be understood as on-demand pricing or time-based pricing. This is a flexible pricing strategy in which selling prices fluctuate based on the market and customer demand.
The decision-making process behind this dynamic pricing strategy goes like this: Algorithms developed based on machine-learning will help businesses develop new algorithmic models based on market needs and competitors' strategies. This data-driven process allows businesses to seamlessly adjust their product prices within seconds.
Therefore, based on market demand and competitors' strategies, Grab has successfully attracted customers thanks to its dynamic pricing strategy, suitable for the customers Grab is targeting.
Read more :  Top 10 popular product pricing strategies in marketing
3. Grab's Marketing Strategy on distribution system (Place)
Grab's marketing strategy regarding the distribution system is to build a widespread and diverse distribution system.
Grab has a quite diverse distribution system, including both direct and indirect forms.
For the direct distribution system, customers only need to have a phone connected to the internet to be able to comfortably use all Grab services without wasting much time. Customers can easily and quickly use it. Grab products/services by downloading the Grab application to your device.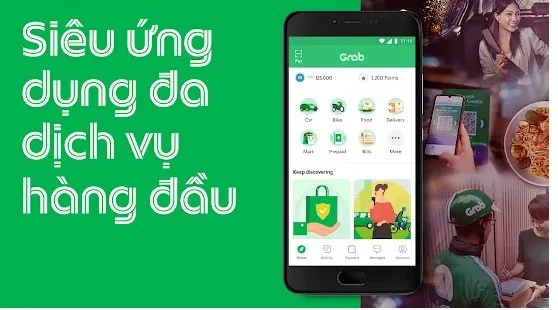 Smartphones/digital technology products seem to have become an indispensable item in this day and age, so distributing services through applications/digital technology platforms is a wise move for the company. ty.
In addition, customers can easily encounter Grab drivers in areas such as shopping centers, big city areas, office areas, industrial parks and airports. This is where the majority of customers with high travel needs gather, making it easy for Grab to attract and encourage customers to use its services.
Grab also carefully reviewed its historical passenger statistics, finding the routes, departure points, and destinations with the most ride-hailing customers. From there, the company will notify and suggest drivers to move to the main passenger area. This will increase the rate of vehicle orders, reduce the rate of cancellations, save travel time for drivers and increase customer satisfaction, thereby increasing profits for the company.
4. Grab's Marketing Strategy on Mixed Promotion (Promotion)
Regarding Grab's marketing strategy of mixed promotion (Promotion), Grab focuses on implementing creative advertising campaigns and taking advantage of social media marketing to attract customers and increase brand recognition. signal.
Read more:  What are the 4Cs in Marketing & 4 steps to apply the 4C Marketing model effectively
Marketing campaign 
Implementing creative advertising campaigns is one of Grab's effective marketing strategies to attract customers.
Because Grab's target audience is mainly young people, the company focuses on creative marketing campaigns that are close to customers. Take the brand's Star Wars campaign, for example. The campaign is a great collaboration between Grab and Walt Disney Southeast Asia to promote the movie "Star Wars: The Last Jedi" – a movie loved by many young people. This has helped Grab connect   more closely with its target customers .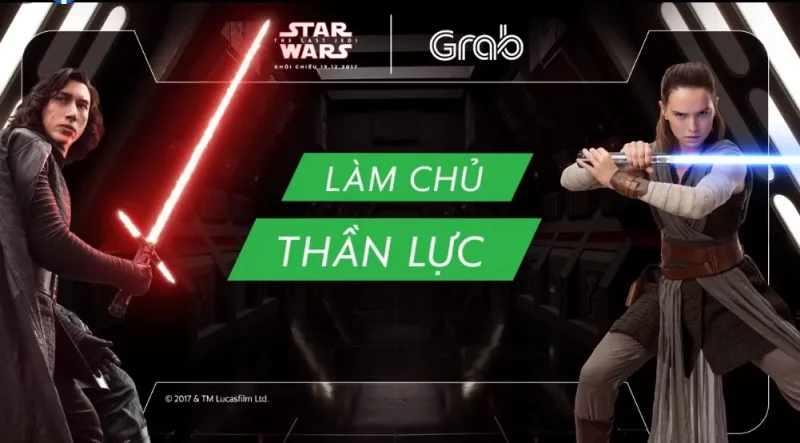 Besides, Grab's Tet season campaign: "Tet is full" is also an effective Marketing strategy of Grab. The advertising TVC in this Grab campaign is based on true stories and conveys humane messages. From then on, Grab wishes to become a close companion in the lives of Vietnamese people. This campaign has soothed drivers as well as Grab customers in the face of a difficult year amid the complicated developments of the Covid-19 epidemic.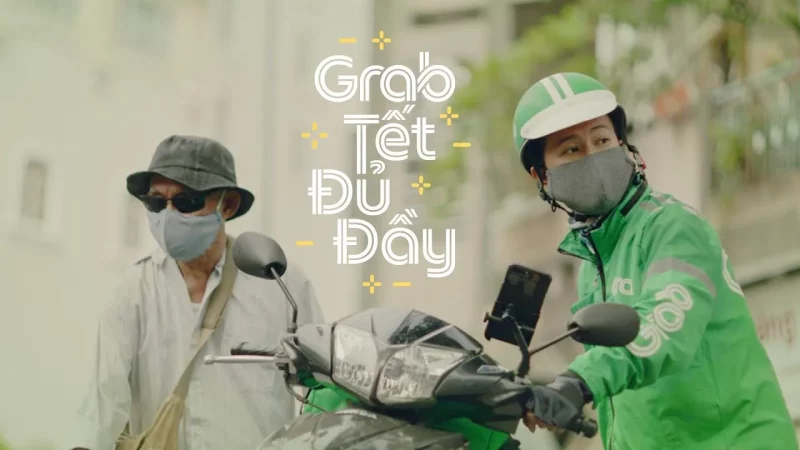 Taking advantage of  social media marketing  is also a Marketing strategy of Grab.
Grab uses social media platforms such as Facebook, Youtube and Twitter to capture target market audiences, increasing Grab's brand awareness through shared posts. This not only helps increase sales but also affects customers' emotions and perceptions through images and sounds.
For example, Grab has created a hashtag community for consumers to share and interact, talk about their experiences with Grab, and encourage constructive feedback to improve service quality.
Besides, Grab also understands the trends of young people on social networks.
The campaign "Grab Continuous Deal – Whatever you need" is one of the campaigns launched around September 2020, which is also the time when the Vietnamese Rap program began to take a priority position in the hearts of the audience. When each broadcast episode of Rap Viet explodes with new elements and is eagerly awaited by a large audience every week, all images of judges or contestants on the show are famous names. regularly posted on social networking sites.
Understanding the popularity of Vietnamese Rap on social networks, Grab and Rapper Suboi – the first female rapper of Vietnamese rap – collaborated together in this campaign. This is truly an explosive campaign at the right time because it brings a message that is effectively exploited from the needs and habits of the young generation – the generation that likes to do what they like, strongly expressing themselves. his personality. Taking advantage of the heat that Rap shows are being discussed frequently, Grab quickly caught up with the trend and launched a really right campaign.
Summary
From Grab's success, we can see that Grab's Marketing strategies are strategies worth learning. Market understanding, always putting customers at the center and smart marketing strategy according to the 4P model help this business quickly gain a competitive advantage in the countries where Grab first steps in.