The national stationery brand that is familiar to many students – students – Thien Long has recently completely changed in a new campaign. Abandoning the legendary blue and white colors and replacing them with trendy pastel colors in the new collection of office products, the brand wishes to convey the message "Thien Long is a luggage for Gen Z to be free ' wake-up atmosphere ".
Background
In the context of vibrant office business again, in 2022, Thien Long Group will enter a new growth rate. Holding more than 60% of the domestic market share of pens, Thien Long sets a goal for 2022 to continue to break through and accelerate to affirm its pioneering mark and establish its No. 1 position in the stationery market.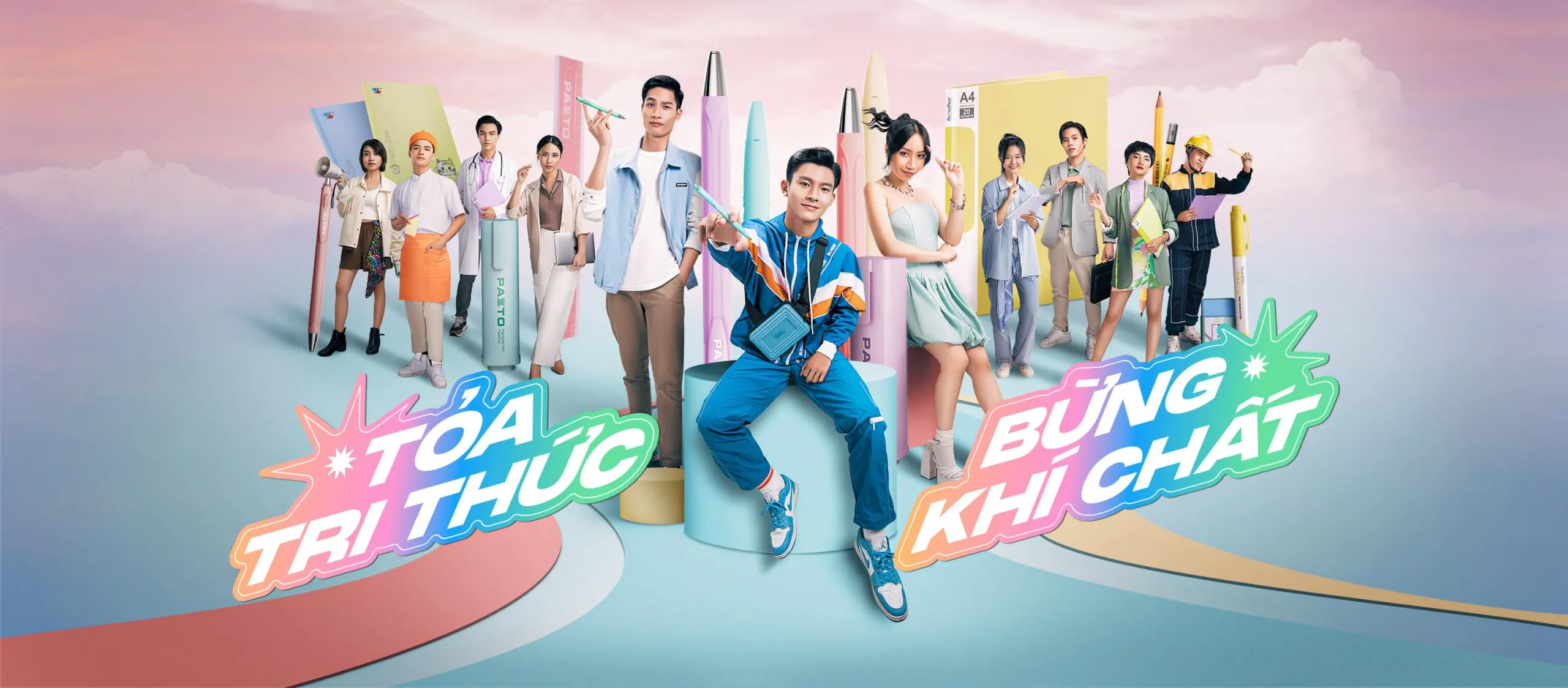 Being associated with a mature, knowledgeable and trustworthy brand image, Thien Long was forced to transform itself to be more in line with the trends of the times, to be able to conquer the target group of Gen Z customers.
Nowadays, pens are being indirectly competed by digital devices such as smartphones, tablets & laptops; Therefore, to attract young people, the brand needs to focus more on design and color selection.
Target
For the first time in 40 years, the "national stationery" brand decided to "change new clothes":
Through the new Pastel product range, Thien Long wants to reposition the brand, thereby establishing a youthful and trendy image with Gen Z.

At the same time, the brand also wants to increase brand awareness, love and sales during the "peak" season at the beginning of the new school year.
Insight
Gen Z – a vibrant, talented generation with its own personality and color. They prefer modern products and "catch up" with current trends. For them, stationery is not only a close friend, but also an "accessory" for them to express their personality as well as their own imprint. To be able to conquer the knowledge of the times, Gen Z requires more features in a pen – it has to be a multitasking and trendy pen.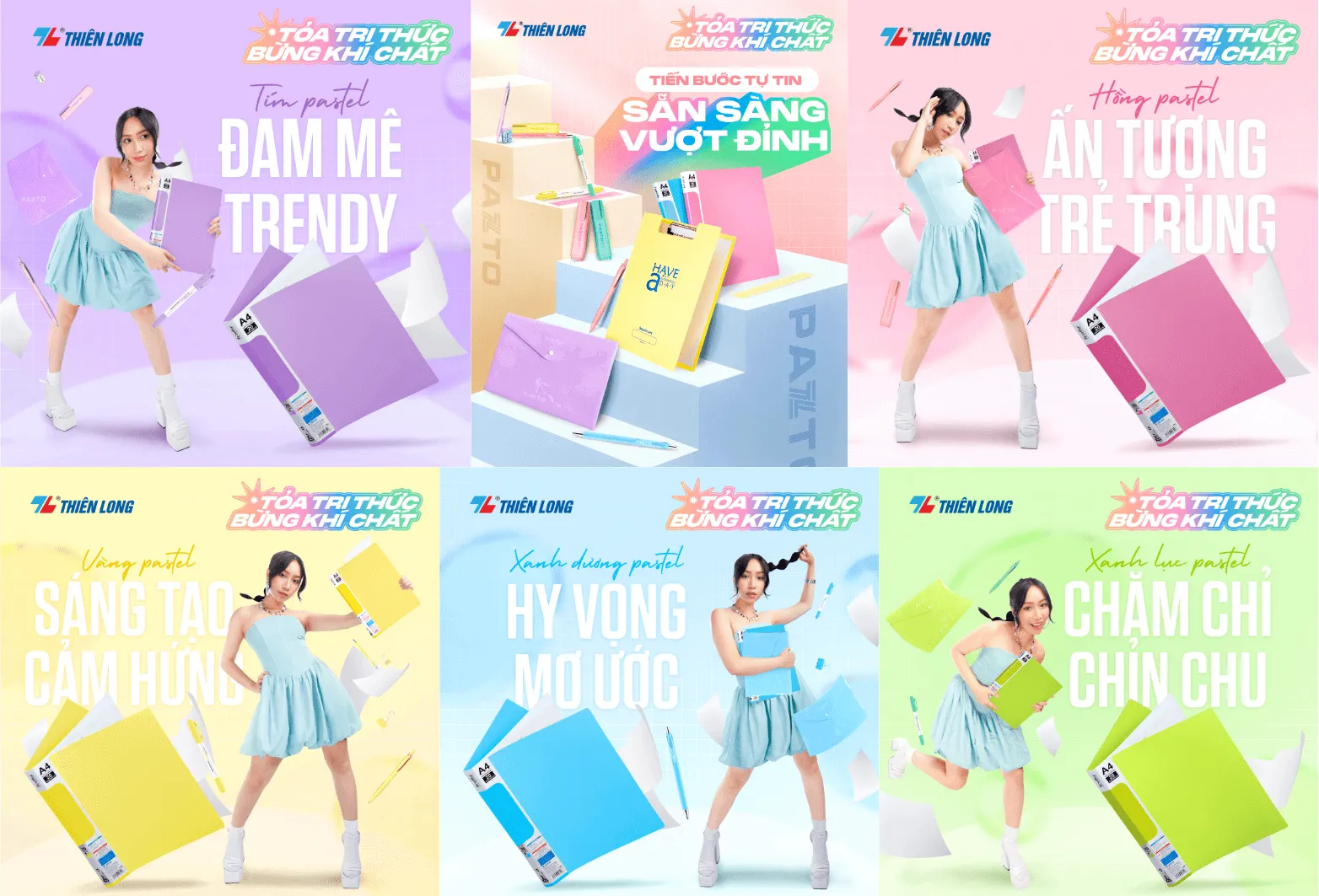 According to studies and surveys from Thien Long, pastel is a trend color not only in the field of fashion or interior but also can be applied right in lifestyle products and stationery. That is also the reason why the brand decided to "change clothes" for its pen and stationery products.
The label has launched the "Pazto" product set with a youthful design, eye-catching pastel colors to be able to accompany Gen Z to "radiate knowledge and aura", encouraging young people to live bravely and confidently. value yourself and keep moving forward.
Key Message
COURT OF KNOWLEDGE – BURNING CHARACTERISTICS
Creative ideas
Still based on the familiar image of Thien Long as knowledge, but this time Thien Long offers a new aspect, a new perspective that is more suitable for the insight  of  Gen Z. Young people today just have enough knowledge to do it. good in the field they pursue, and at the same time, it is those knowledge that are the source of strength to blow up the personality temperament full of its own identity. In that journey, Thien Long is not only a tool but will be a companion and support young people "Shining knowledge – Blasting temperament".
The big idea of ​​the campaign is expressed through TVC with the special appearance of 2 prominent Gen Z faces, player Tuan Tai and singer My Anh, through PR articles, KOL interviews about experiences. and their views on intellectual and temperamental narratives, thereby fostering social discussion.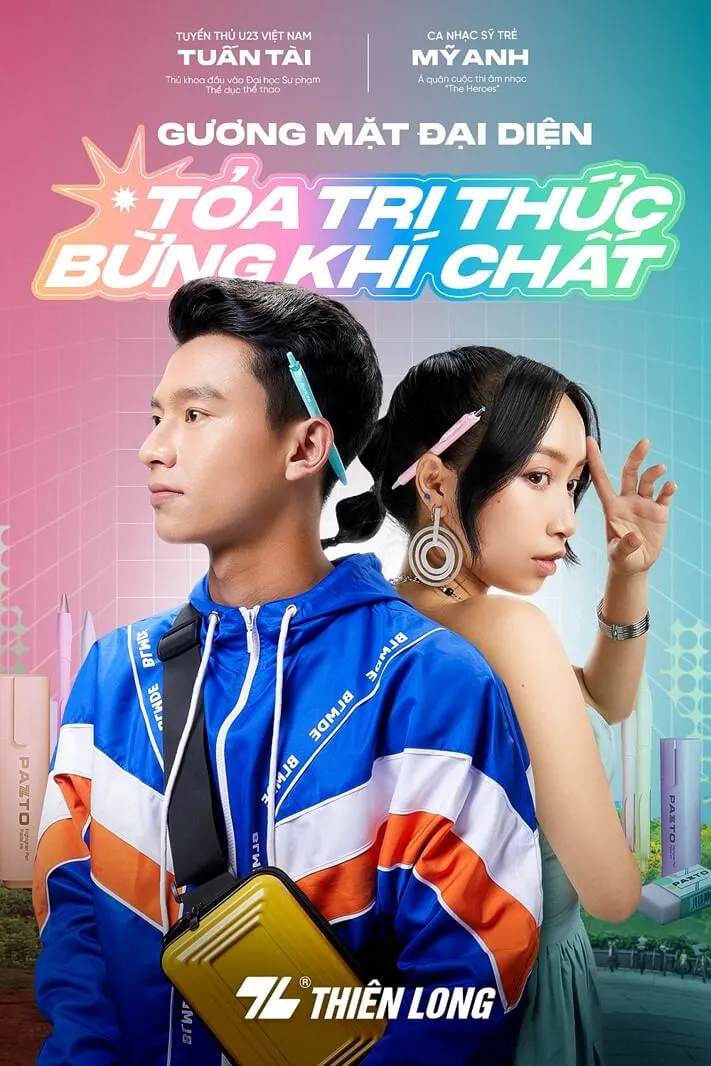 The image of the journey to success, the current temperament of KOL is thanks to the knowledge base, in that journey of pursuing knowledge, there is the appearance of Thien Long products.
Communication strategy
Thien Long's brand repositioning campaign "Shining knowledge – Blasting temperament" is a 360-degree marketing and communication campaign, including activities above the line and below the line (from online to offline).
TVC advertising

Series of PR articles and social media posts

Combined with  

KOC

Series of events "Shine knowledge – Energize"
Time: From August 2022 to December 2022
Execution activities
TVC advertising
Thien Long's first step in promoting a new image to gen Z is to launch the Pazto collection including: Ball Gel Pen, Highlighter Pen, Eraser/Eger, Ruler, Storage Cover & Fiber Pen in 5 colors. bold pastel Gen Z: purple, pink, turquoise, green, yellow.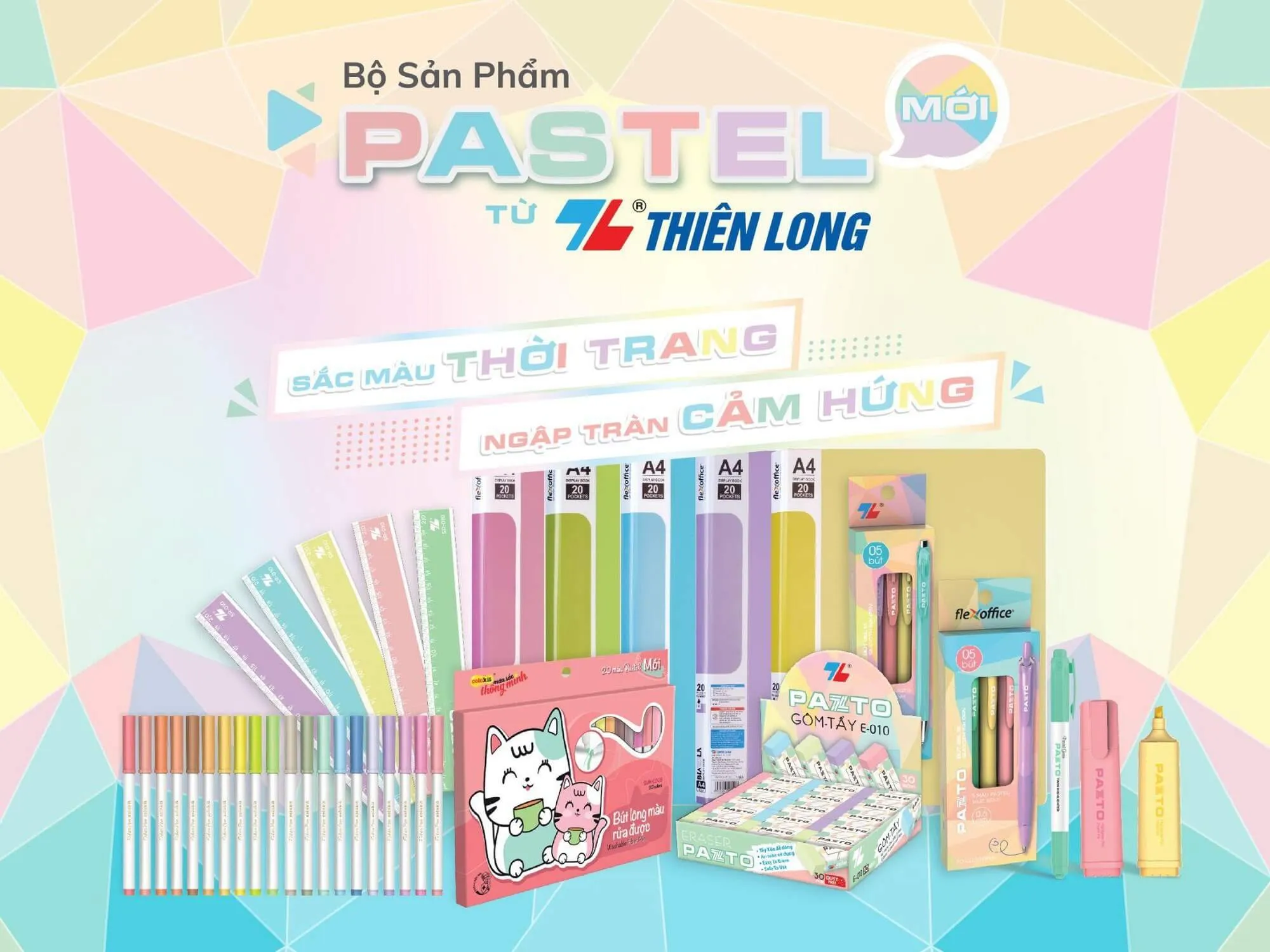 An explosive start with the combination of two  brand ambassadors  – representing the outstanding Gen Z through  TVC  : footballer Tuan Tai and singer My Anh. Right after its debut, TVC has received countless positive feedbacks from young people.
TVC appeared on LCDs in busy buildings/commercial centers since August 29, and has won the hearts of Gen Z young people because of Thien Long's new change.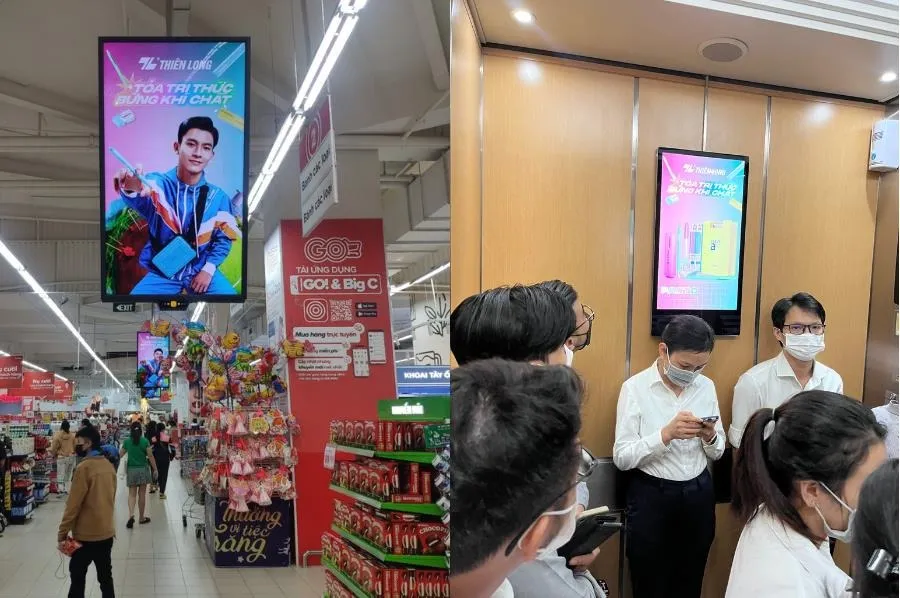 TVC's "Behind The Sense" video series "Blessing knowledge – Radiating temperament" aired on TikTok also went viral.
Followed by a series of  multi-format PR  articles (Quiz, Interview, Photo Quote…) and social media posts to spread complete and engaging information about the campaign, creating lively discussions about knowledge. consciousness and temperament among young people. Accordingly, this card needs to ensure NEW, UNIQUE and INSPIRATION elements to be able to really "touch" the right target audience.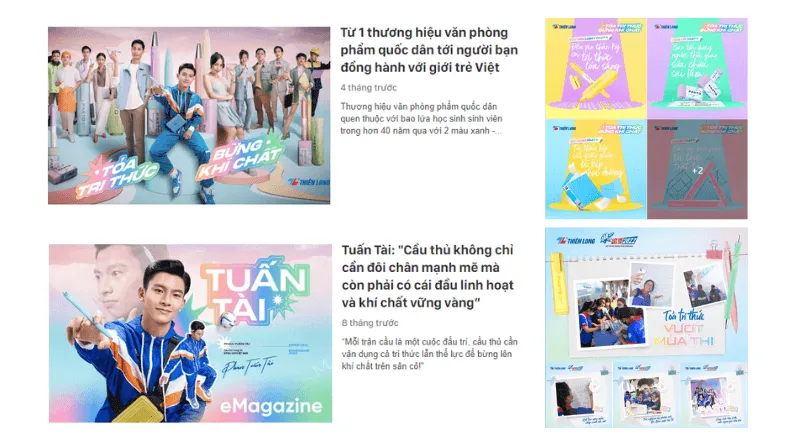 Moreover, during the campaign period, Thien Long also introduced to consumers a new set of cool pastel color products through the promotion program "Welcome knowledge – Win quality gifts" with great prize value. up to nearly 3 billion VND so far.
Combined with KOC
To demonstrate its transformation more clearly, Thien Long also collaborated with KOC friends to review the products in the new Pastel collection. Reviews posted on multi-platforms (TikTok, YouTube…) are completely consistent with the current shopping habits of Gen Z.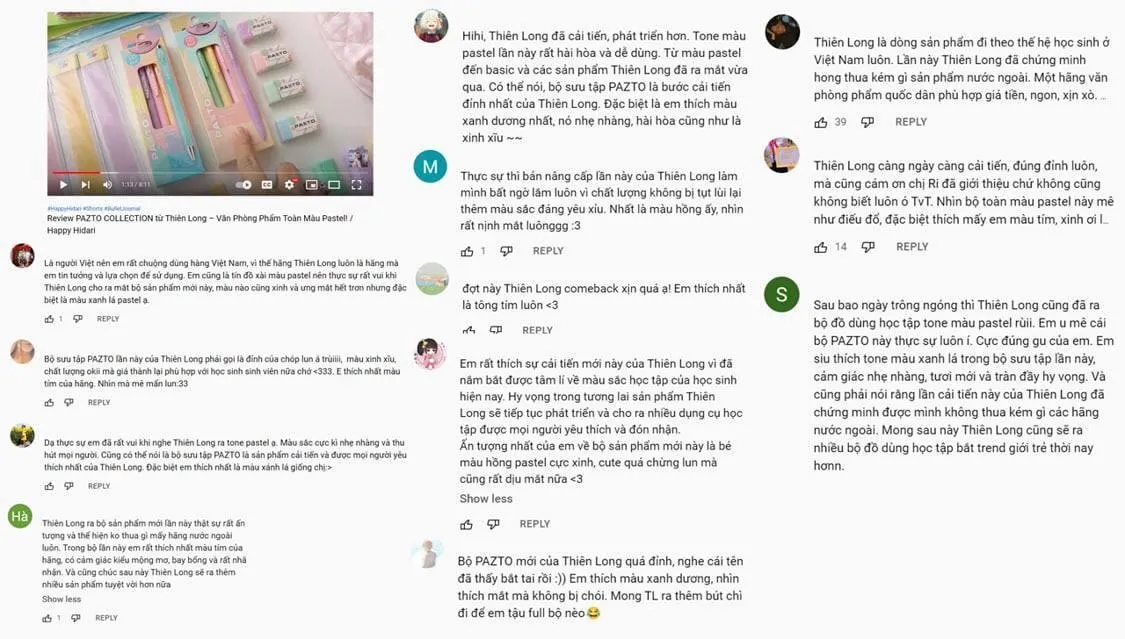 Series of events "Shine knowledge – Energize"
In addition, Gen Z students had the opportunity to experience Thien Long's new pastel-colored products and learn more about the message "Blessing knowledge – Radiating temperament" through the series of events "Shine knowledge – Energize". quality" at attractive locations:
– August 7-8 at GigaMall, City. Ho Chi Minh City with more than 5,000 participants
– September 8-9 at Hong Bang International University with more than 1,000 participants
– On October 8, 22, Ho Chi Minh City University of Technology. Ho Chi Minh City with more than 2,000 participants
– October 7 – 9: Hanoi Book Fair with more than 2,000 participants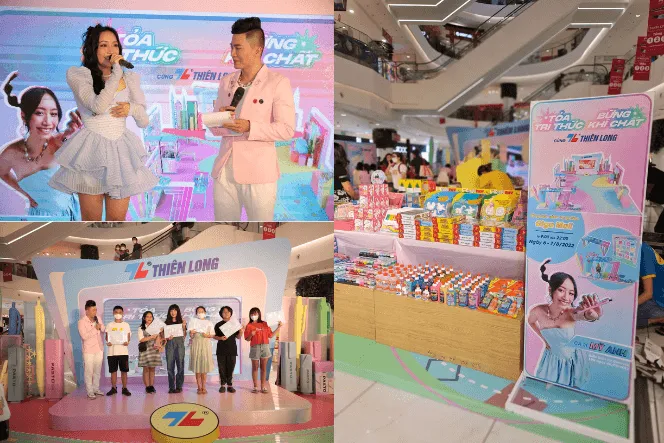 The series of activities at the point of sale with POSMs on display with games also attracted a large number of customers to participate and buy products.
Result
The successful campaign "Shine knowledge – Brighten the temperament" has brought Thien Long from a traditional national stationery brand to a modern and youthful Gen Z companion with impressive results:
Nearly 100k views for 12 PR articles, the Emagazine series alone reached more than 50k views

Exceeded sales by 20% compared to expectations

Over 65 million TVC views on multiple platforms: 39 million views on Youtube, 26 million views on Tiktok and over 10 million views on Facebook.

More than 10,000 people participated in the series of events "Shining knowledge – Radiating temperament"
Conclude
After the success of the campaign, Thien Long said: The airline will seriously consider re-launching the campaign "Shining knowledge – Sparking temperament" in the back-to-school season of 2023 and the following years to affirm the current Thien Long imprint. modern, young, always ready to accompany generations of students – students with close, meaningful and impressive programs. This is a campaign that perfectly combines offline and online activities, the campaign has resonated and once again affirms the position for the brand "Thien Long – National brand of stationery".
"Thien Long believes that the young Vietnamese generation with colorful personalities, a Tri-Quality generation that chooses to combine the power of Knowledge and Temperament, is ready to cross all limits, break through potential, write different things, affirming the value of our time: Knowledge is a solid foundation for personal temperament to shine brightly."