Let's learn about  thegioididong's Marketing strategy through the article below.
Overview of Mobile World Joint Stock Company
According to  Wikipedia , Mobile World Joint Stock Company, English name Mobile World JSC, is a retail corporation in Vietnam with the main business of retailing mobile phones, digital devices and consumer electronics. . According to EMPEA research, statistics on mobile phone retail market share in Vietnam in 2014, Mobile World currently accounts for 25% and is the largest enterprise in its field.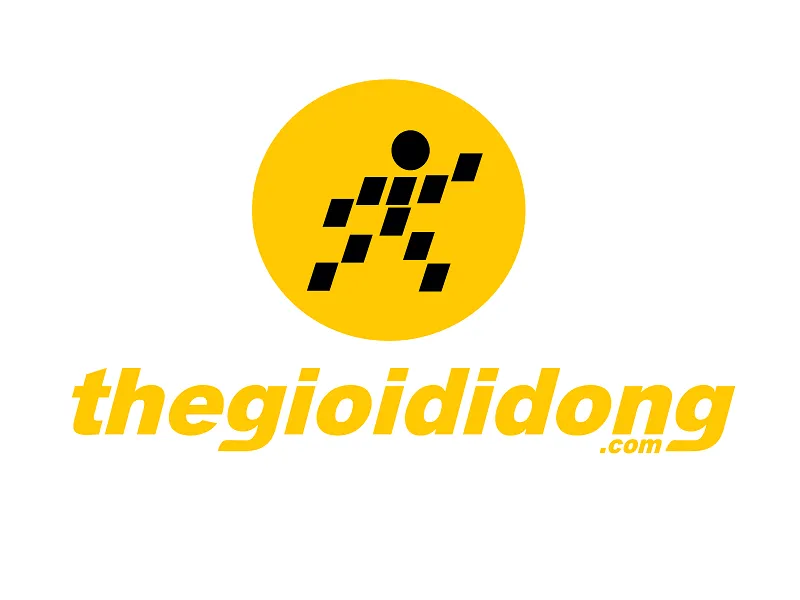 In 2018, Mobile World reached the top 100 largest retailers in Asia – Pacific. In addition to the thegioididong.com mobile phone store chain, Mobile World Joint Stock Company also owns the Dien May Xanh and Tran Anh electronics store chains and the Bach Hoa Xanh food supermarket chain.
When established in March 2004, Mobile World chose a primitive e-commerce model with a website introducing product information and 3 small stores on Hoang Van Thu Street, Ho Chi Minh City to deliver products. pandemic. In October 2004, the company changed its business model, invested in a large retail store on Nguyen Dinh Chieu Street and began to make a profit. By March 2006, Mobile World had a total of 4 stores in Ho Chi Minh City.
In 2007, the company succeeded in calling for investment capital from Mekong Capital and grew rapidly in scale, reaching 40 stores in 2009.
At the end of 2010, Mobile World expanded its business to consumer electronics with the brand Dienmay.com (now changed to Dienmayxanh.com).
By the end of 2012, Mobile World had a total of 220 stores in Vietnam.
In May 2013, Mobile World received investment from Robert A. Willett – former CEO of BestBuy International and CDH Electric Bee Limited company.
In 2017, Mobile World Joint Stock Company conducted a merger and acquisition of Tran Anh electronics retail system. In October 2018, the merger was completed. A total of 34 Tran Anh supermarkets will have their names removed and replaced with the Dien May Xanh sign. Tran Anh's website has also been redirected to dienmayxanh.com.
March 2018. Mobile World acquired 40% of the capital of Phuc An Khang pharmaceutical chain. Then changed its name to An Khang Pharmacy.
December 2018. Mobile World closed the Vuivui e-commerce site.
As of November 2017, Mobile World Company has opened 668 new supermarkets, with 117 thegioididong.com supermarkets, 351 Dien May Xanh supermarkets and 200 Bach Hoa Xanh supermarkets. This result brings the company's total number of operating supermarkets to 1,923 supermarkets, an increase of more than 50% compared to the beginning of the year. Also in 11 months of 2017, the system's revenue reached nearly 59,000 billion VND.
By 2018, the total number of stores had reached 2,160 stores, present in all 63 provinces and cities.
The company has built a distinctive consultative sales style thanks to a team of professional staff and a website www.thegioididong.com that serves as a mobile handbook and an e-commerce channel. leading university in Vietnam.
Currently, the average number of phones sold at thegioididong.com is about 300,000 phones/month, accounting for about 15% of the genuine phone market share in the country. This is a potential sales channel and an effective tool to help customers in remote areas buy a satisfactory product when they cannot see the product directly.
www.thegioididong.com is the largest e-commerce website in Vietnam with more than 1,200,000 visits per day, providing detailed information on prices and technical features of more than 500 phone models and 200 phone models. laptops of all official brands in Vietnam.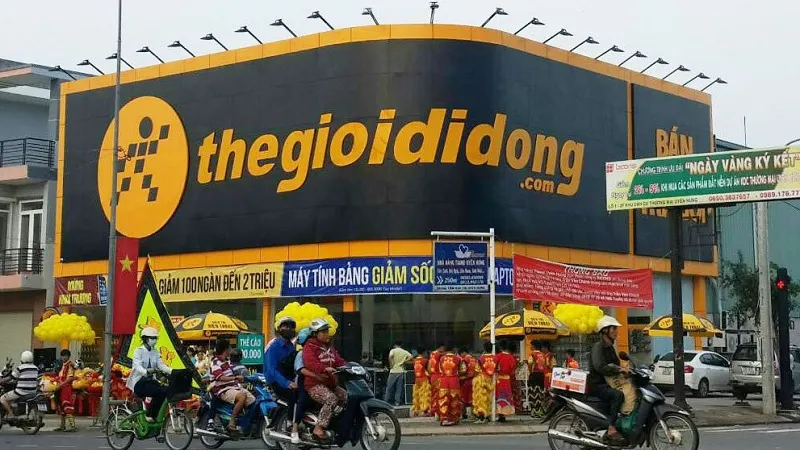 Analyze 3 Marketing strategies of thegioididong
Mobile World and its website  www.thegioididong.com  have achieved great success, becoming one of the brands that buy, sell and repair devices related to mobile phones, digital devices and other fields. The most famous e-commerce related field in Vietnam.
To achieve these successes, Mobile World has deployed effective marketing strategies, focusing on using content marketing and SEO optimization. So what is Mobile World's Marketing strategy? How has this brand built its marketing strategy?
Thegioididong's Marketing Strategy on SEO optimization 
An effective marketing strategy is SEO optimization.
SEO is the abbreviation for Search Engine Optimization. SEO includes a set of actions and methods to improve the display ranking of a website on search engine results pages, thereby increasing organic traffic to the website.
Unlike PPC (appearing on search pages for a fee), the purpose of SEO is to bring the website to the highest search position on search engines naturally (without paying).
SEO is a highly effective and cost-effective digital marketing channel   , but it takes a lot of time and effort for a website to display in top positions on search engines and bring in organic searches. for website.
So what is thegioididong's Marketing strategy regarding SEO?
First, with great potential in information technology, they have built a content management system (CMS) with basic SEO standards to help the content production team easily do well. Standardize SEO for your articles and focus on content production.
Next, they built a team specializing in producing large SEO-standard content to continuously test and find types of content that attract users' interest in smartphones.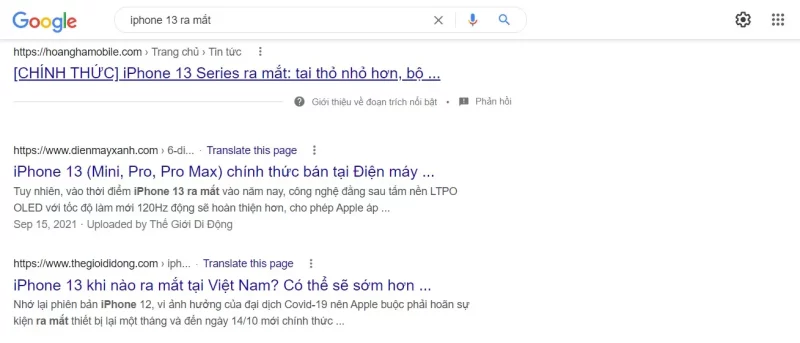 One of the most successful types of content created by this team is the 24h Technology column (Technology News). Here users can easily find the latest information about devices and without as much discomfort as a pure sales page.
Finally, they integrated comment and content review features into the page so users can share their opinions and views about smartphones similar to a technology forum.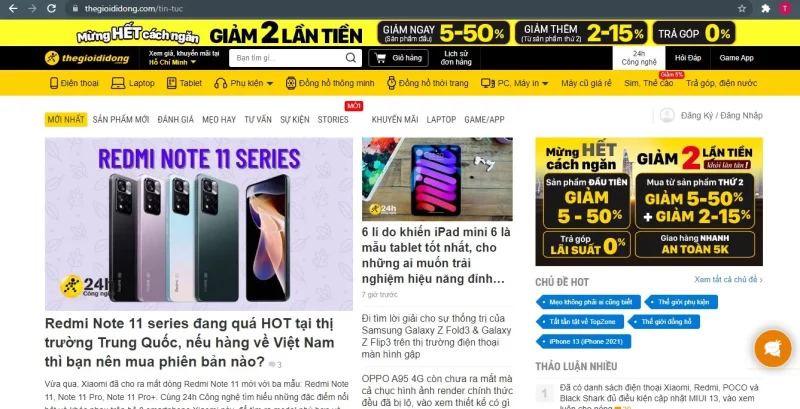 With its effective Marketing strategy, in just 3 years (2013-2016), the traffic to thegioididong.com website and especially the News section has increased to more than 1 million per month.
Download  the overall SEO plan now  to be as successful as Mobile World
Thegioididong's Marketing Strategy on optimizing the customer journey
Customer journey, also known as "Customer Journey", is the entire experience that a customer has with an organization (business). It includes all customer interactions across all channels, devices and touch points throughout every stage of the customer lifecycle – from product awareness, service, company until becoming a loyal customer of the business.
There are 2 ways to divide stages in the customer journey:
Method 1: Divide by purchasing stages
Before purchasing
Awareness of need.
Consider the problem and research and learn about solutions.
Decide on a solution.
Purchase:
Payment, receipt of goods
Use
After purchase
Comments & reviews.
Recommend to others.
Method 2: Divide by customer behavior:
Awareness of the problem.
Interested in the solution.
Consideration on solution type, supplier, price…
Decision to buy (Decision)
After-sale support (Service)
Buy back, share, introduce (Loyalty)
These two division methods have similarities, businesses choose the division method that best suits the customer's characteristics and purchasing behavior and is easiest to understand.
>>Read more :  What is Customer Journey  & 10 steps to build an effective Customer Journey Map
For thegioididong's Marketing strategy, this brand has optimized the customer journey to bring the most positive experience to customers as follows:
Pre-purchase stage : Thegioididong's website is one of the websites that brings the best experience. Fast, simple and convenient. A special point is that thegiidiong website follows a consultation model instead of online sales thanks to the feature of comparing any product lines. This is customer understanding. For customers to pay for a smartphone, they need to consider features, fashion, technology and need advice.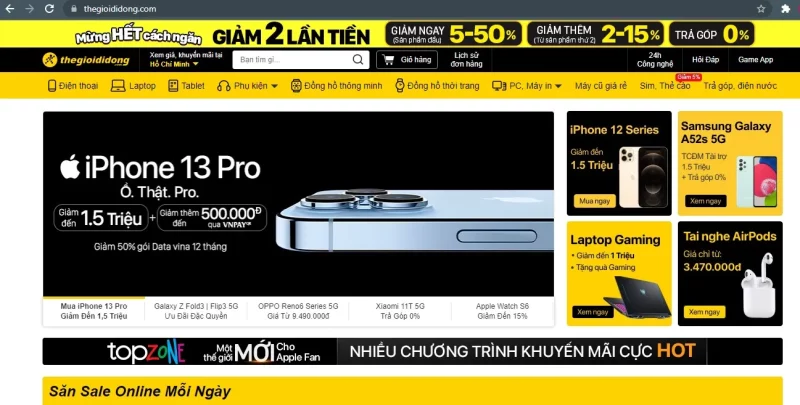 Purchase stage : Thanks to the consulting process of the previous stage as well as product experience at stores. Customers can easily make choices. On the other hand, thanks to the strong coverage of the offline store system, Mobile World's CES (Customer Effort Score) index reached almost the highest level compared to all businesses in Vietnam.
Post-purchase phase : When the phone arrives at the Call Center, the system will show the entire history so that the Consultant can support as much as possible. Or the warranty process is carried out at any store of the Mobile World system.
The mobile world allows employees in each department at "touchpoints" on the customer journey to understand that customer's context; At the same time, hold information for more strict management.
By optimizing the customer journey, Mobile World has succeeded in attracting customers, increasing user experience and delivering a  positive customer experience . 
Thegioididong's Marketing Strategy on implementing advertising and promotion programs
Mobile World also regularly launches attractive promotions to attract customers.
An outstanding promotional program of this brand includes incentives when buying iPhones at Mobile World. This offer is for those who buy any new iPhone at Mobile World and will immediately receive an extremely special Purchase voucher worth 100,000 VND, applicable when purchasing scratch cards or game cards.
Besides, Mobile World also deploys outdoor TVC advertising campaigns. Mobile World's media campaign chose to deploy on two outdoor Led screens at Artemis Shopping Center (No. 3 Le Trong Tan) and at the intersection of Le Van Luong and Hoang Dao Thuy, these are two locations with many Great advantage in communication.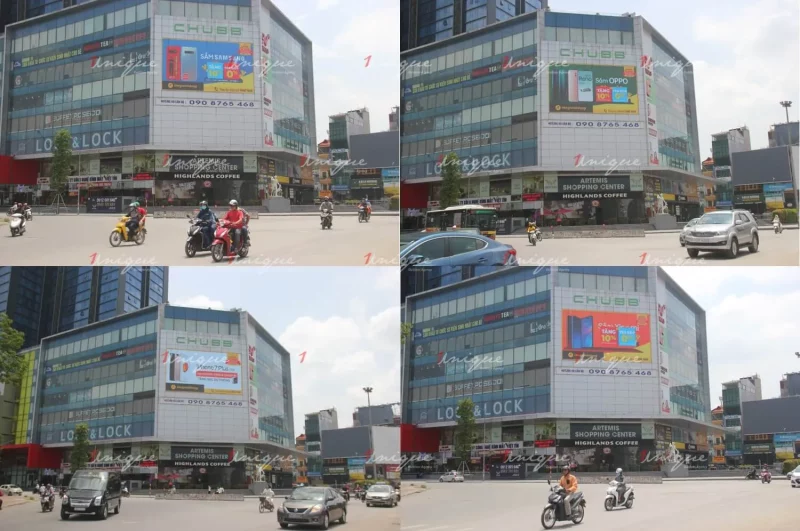 TVC is designed as an animation to highlight and emphasize the advertising message, with vibrant and eye-catching colors to attract the attention of passersby.
Summary
Mobile World is one of the most famous brands in Vietnam. To achieve current success, Mobile World has deployed 3 effective marketing strategies such as:
SEO optimization
Focus on the customer journey
Implement attractive advertising and promotion programs
Mobile World's Marketing Strategy is always worth learning and analyzing.
Refer to some other useful articles:
Detailed analysis of Starbucks' Marketing strategy