Shopee has become one of the most famous e-commerce platforms in Vietnam and Southeast Asia. To achieve this success, Shopee has implemented effective and learnable marketing strategies. Let's learn and analyze Shopee's Marketing strategies in the article below.
1. Overview of Shopee
According to  Wikipedia , Shopee is an online shopping application and e-commerce trading platform headquartered in Singapore, owned by Sea Ltd (formerly Garena), founded in 2009 by Forrest Li.
Shopee was first introduced in Singapore in 2015, and is currently available in the following countries: Singapore; Malaysia; Thailand; Taiwan; Indonesia; Vietnam; Philippines; Brazil; Mexico; Colombia; Chile and Poland.
In 2015, Shopee was launched in Singapore with the orientation of being an e-commerce platform developed mainly on mobile devices, operating as a social network to serve the buying and selling needs of users anytime, anywhere. . Integrating operations, delivery and payment support systems, Shopee is an intermediary that makes online shopping easier and safer for both buyers and sellers.
In Vietnam, Shopee Vietnam's initial model is C2C Marketplace – an intermediary in the buying and selling process between individuals. However, currently Shopee Vietnam has become a hybrid model when it also includes B2C (business to consumer). Sellers on Shopee need to pay a number of fees such as payment fees, fixed fees, and service fees. Since its appearance, Shopee has achieved outstanding growth. According to the 2022 E-Commerce Industry Metric report, Shopee is currently the most popular e-commerce platform in Vietnam, accounting for nearly 73% of total sales on 4 platforms, equivalent to 91 trillion.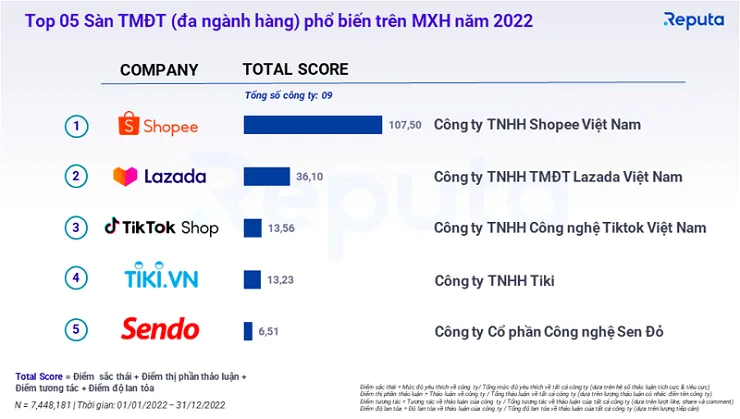 From the Shopee application, users can access many different stores/platforms to find services and products that suit their needs. Some main booths/platforms include:
Shopee Mall: Shopee Mall is a booth with genuine products from reputable brands and sellers in the market such as Samsung, Xiaomi, Oppo, Pampers, Maybelline, Rohto, Unilever,… Therefore, Customers can completely feel secure when choosing to buy products on Shopee Mall.

Shopee Premium: Special booth for high-end brands selected exclusively from Shopee.

Shopee Supermarket: Shopee Supermarket helps consumers order food items more conveniently and with quick delivery from sellers.

Shopee Food: Online food ordering and delivery platform from Shopee

Booths specializing in TechZone electronics, beauty, fashion, card refills & services, international goods…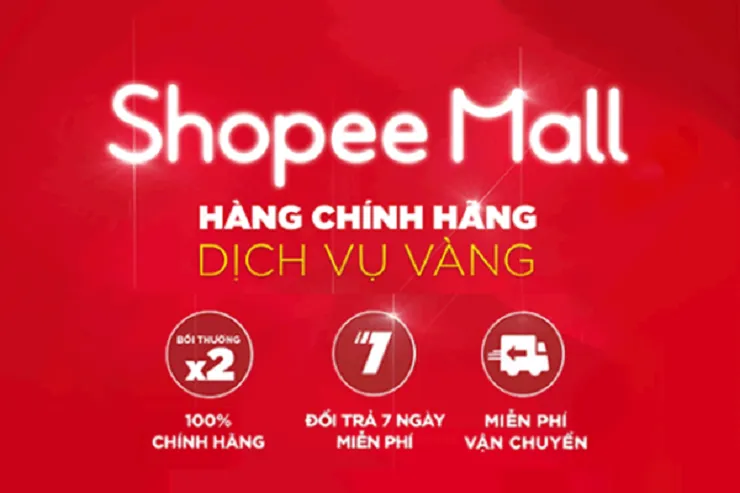 Some notable highlights of the Shopee app include:
Built for mobile: The Shopee user interface is built for mobile, giving users a fast and highly intuitive mobile shopping experience.

Shopee Live Chat: Users can engage in real-time conversations through Shopee's built-in feature – real-time messaging capabilities.

Shopee Guarantee: Shopee Guarantee protects users by holding payment until the order is received.

Integrated logistics/shipping system: Shopee partners with leading logistics companies for an integrated in logistics system application. Users can easily choose their preferred logistics provider after placing an order.

The application is free for all users.

Available for free download on the App Store and Google Play.
1.1 Customers and target market
The main customers that Shopee targets are people between the ages of 18 and 35, have an active lifestyle, are proficient in using online applications, care a lot about price and love convenience. Shopee's main operating market is in Southeast Asia. This is also an area where customers have high demand for online shopping.
1.2 Competitors
Although dominating the Vietnamese market, Shopee still faces many competitors. Two strong competitors with huge support and investment from large corporations are Lazada and Tiki.
Besides, even though it was only recently launched, Tiktok shop has shown itself to be a formidable competitor when it achieved a revenue in one month equivalent to 80% of Lazada's revenue in the same period and 4 times the revenue of Tiki. , as reported by Metric. In addition, a number of other domestic e-commerce platforms are also participating in the "game" for market share including Sendo, Chotot…
Analyzing Shopee's Canvas model

The most complete and detailed analysis of Shopee's PEST model in 2023
2. Analyze Shopee's SWOT matrix
The SWOT matrix is ​​often used to evaluate a company's internal and external environment, thereby establishing appropriate marketing and business strategies. The four main elements in this matrix are strengths (S-Strengths), weaknesses (W-Weaknesses), opportunities (O-Opportunities) and threats (T-Threats). The table below provides a summary analysis of Shopee's SWOT matrix:
Strength

Weakness

Taking the leading position on the most popular and most visited e-commerce platform in Vietnam and Southeast Asia.

Present in many countries around the world

Has a solid financial and technological foundation from the parent company in Singapore, Sea Group

Diverse products, flexible payment and shipping methods

Have successful and effective marketing strategies

Sustainable Development.

Fraud and deception during the buying and selling process on e-commerce platforms. Although Shopee has introduced guaranteed policies to limit it, it still cannot completely eliminate it.

App overload during major events has many discount codes and benefits for customers.

Opportunity

Challenge

Expand your business scale as the e-commerce market gradually replaces and dominates the traditional market.

Business development when the logistics system and logistics infrastructure in Vietnam are being invested and developed.

This is a business field that the government prioritizes and encourages development.

Develop many new services by taking advantage of existing advantages with a diverse supply chain and increasingly perfect order processing.

Security: This is a challenge that every technology company like Shopee needs to pay attention to.

Competitors: Shopee is dealing with many strong competitors such as Lazada, Tiki, Tiktok shop, Sendo, Chotot…

The economic crisis affects consumer purchasing power.

Negative feedback from customers: These negative feedback can directly affect Shopee's brand image before new customers. This also affects brand value.
3. Analyze Shopee's Marketing Mix model
Shopee's Marketing Strategy is one of the important factors that help this brand achieve its current success.  So how has Shopee implemented  its Marketing Mix strategy? Let's analyze the 4 P factors: Product, Price, Place and Promotion in Shopee's mixed marketing model below.
3.1 Shopee's Marketing Strategy for Products
Regarding Shopee's marketing strategy for products, this e-commerce platform focuses on research and development activities to increase the quality of its products.
Mr. Pine Kyaw, Director of Shopee Vietnam, soon identified that mobile commerce would be an inevitable trend as mobile application technologies develop, smartphones increasingly have larger screens, better security mode… In addition, social networking sites such as Facebook, Twitter, Pinterest… have also added "like", "buy", etc. buttons as a way to encourage users to shop more. more, more comfortable when they are surfing the Internet.
Shopee's Research and Development team also realized that users are spending more time on smartphones and are getting used to "touch" operations to view and shop. Smartphones have become a tool as well as a mobile environment that transmits information to consumers more quickly than on fixed devices such as personal computers.
When it started operating, Shopee only had a mobile version before adding a computer version like today. However, according to data that the company self-published, 95% of orders Shopee serves are made via mobile platforms. Thus, Shopee is the first e-commerce platform in Vietnam to own an e-commerce platform with both mobile app and online website versions, leading the e-commerce trend on mobile platforms (M-Commerce & Mobile Commerce).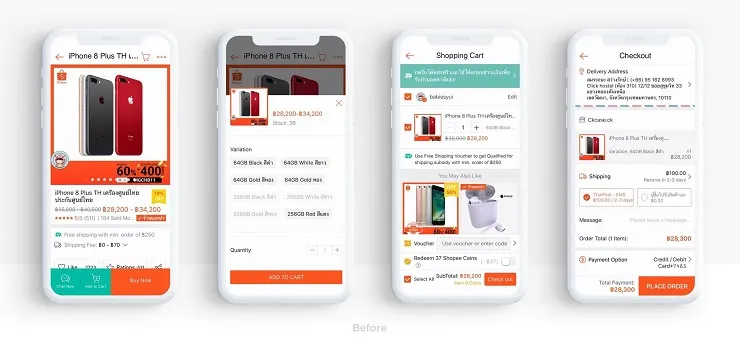 In addition to the basic features that every other e-commerce platform provides such as Shopee Mall (where 100% genuine products are provided), Flash Sale (promotional offers, limited quantity according to time frame), all categories Product categories, top-up cards and services, partner incentives, etc. Shopee also provides features that only on Shopee can users experience, including:
Shopee Live and Shopee Chat
Shopee is the first e-commerce platform to launch both chat features (Shopee Chat) and live-streaming features (Shopee Live).
Customer care via Chat is one of the important factors that helps increase sellers' sales, in addition to building a loyal customer base and reducing exchange/return rates. Furthermore, Shopee Chat has a unique bidding tool only available at Shopee.
The livestream sales model is not new in the world. Originating from Western countries, livestream has become a sales trend chosen by businesses and e-commerce platforms.
Launched to users in early 2019, Shopee Live is one of the features that Shopee believes is in line with the company's direction when it comes to making mobile shopping experiences with Shopee very fast and intuitive. Shopee Live has achieved impressive numbers from the user community with more than 200 million views across the region to date.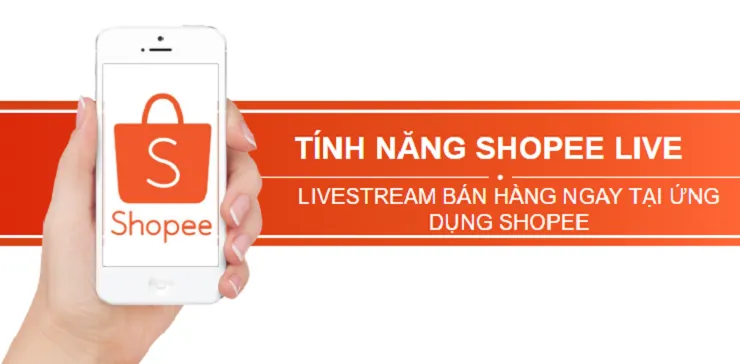 Shopee Feed
Users across the region have the opportunity to enjoy a highly social shopping experience through the Shopee Feed feature in the first quarter of 2020. Shopee Feed provides social features for users such as creating content to interact with friends, shoppers and sellers on the Shopee shopping app.
Shopee Feed is a platform on the Shopee application that helps sellers share brands and products with the Shopee community through articles with intuitive, attractive content. Buyers can view products through images or videos, easily access the product page by clicking on the image, get Shop vouchers, search for products by hashtag, see reviews from other buyers…
Thanks to Shopee Feed, Shopee is getting closer and closer to the goal of perfecting its e-commerce platform. Not only is it an online shopping application, Shopee is also a social network – where buyers, sellers and even Brand ambassadors are connected and interactive.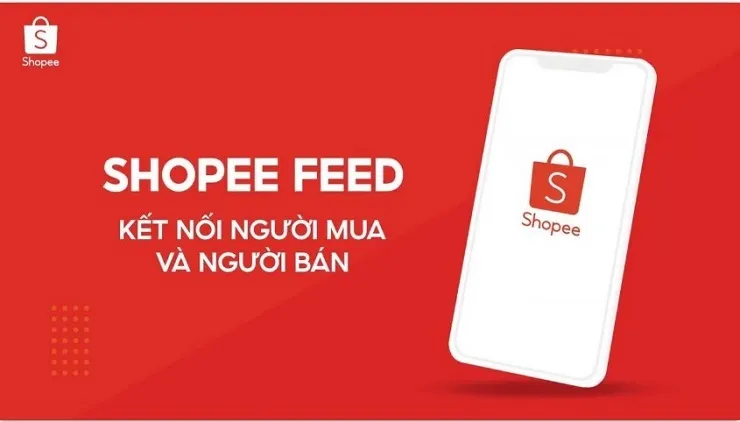 3.2 Shopee's Marketing Strategy on Price
Regarding Shopee's marketing strategy regarding price (Price), Shopee has  priced the product  according to a competitive pricing strategy.
Competitive product pricing is a pricing method that utilizes competitors' prices for the same, similar product as the basis for pricing. This pricing strategy focuses on information from the market rather than the cost of production (cost-based pricing) and the value of the product (value-based pricing).
>> Read more about popular product pricing strategies in Marketing in the article:  10 popular product pricing strategies in marketing
In the case of Shopee, the company understands that with today's extremely fierce competition, in addition to providing customers with a smart, easy-to-use platform that is suitable for their habits, a competitive strategy is also important. Price is very important.
Shopee has encouraged business owners to choose to cooperate with them with preferential prices when they are members of the company. In addition, Shopee also helps with shipping prices and freeship codes to increase customers' purchasing power when using their app.
3.3 Shopee's Marketing Strategy regarding distribution system (Place)
When analyzing Shopee's Marketing strategy regarding the shipping system, Shopee found that shipping fees are still a big barrier for both shoppers and sellers when switching from traditional purchases to online purchases.
Shopee's analysis shows that goods available in the website's warehouse will be more effective for buyers but cause problems for sellers. Sellers who want faster deliveries must get their products to every warehouse. If you only send products to warehouses in big cities, local deliveries will be slower. Letting sellers be completely proactive in completing orders instead of depending on website warehouses is a way to help reduce costs for sellers.
Not only that, Shopee also wants to capture the rural market share that competitors "ignore". Mr. Tran Tuan Anh, Director of Operations and Finance of Shopee Co., Ltd. said: "If customers in the city buy small but high-value orders, customers in the province spend less on each item but buy more. more so the value is not much different."
Shopee's answer to the shipping problem is that Shopee "shakes hands" with both international and domestic shipping units; such as Vietnam Post, Viettel Post, Fast delivery, economical delivery, J&T express and Grab Express…
This cooperation has helped Shopee save time and costs in building its own shipping unit, and at the same time take advantage of the existing system of partners specializing in shipping and a huge number of warehouses spread across the country. wide from South to North, from urban to rural areas.
Most importantly, thanks to multilateral cooperation, Shopee quickly eliminates shipping barriers, meeting all needs: economical shipping for small orders, fast shipping in 2 hours with Grab Express, Receive goods within 4 hours, 24 hours,… combine many forms of payment such as payment with Shopee Pay, buy now and pay later with SPayLater, pay on delivery,…
3.4 Shopee's Marketing Strategy on Mixed Promotion (Promotion)
Shopee's marketing strategy for mixed promotion is to deploy advertising campaigns and promotions.
Marketing campaign 
Trend-catching TVC advertising campaigns are one of Shopee's effective marketing strategies for mixed promotion.
One of Shopee's most famous and resonant campaigns is the TVC advertisement: "Baby Shark" with the participation of singer Bao Anh and famous goalkeeper Tien Dung.
The factor that made this campaign successful is because Shopee applied a perfect general formula: the song Baby Shark.
This song was originally a viral children's song, but now Shopee cleverly incorporated its brand into it. Choosing a children's song is also a smart decision: children's music is often short, catchy and easy to memorize, a perfect formula for viral campaigns.
Along with that, the name Shopee repeated throughout the song also increases brand awareness and makes consumers easily think of Shopee every time they hear the song's melody.
After the campaign, according to data from Google Trends, within just 1 month after this ad appeared in Vietnam, the keyword "Shopee advertising" was searched 3 times more often. This is a campaign that helps Shopee promote its brand effectively.
Promotions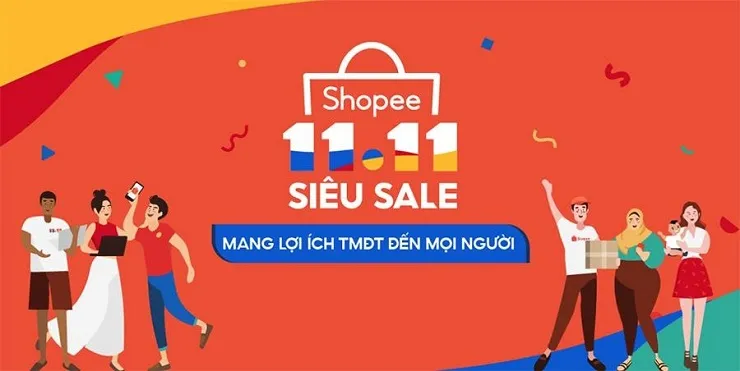 On these super sale days, customers often remember Shopee and use this e-commerce platform to shop and "hunt for sales". Besides, big promotion days often have days that coincide with the month so customers will find it easier to remember.
These Shopee promotions have attracted both sellers and buyers. Sellers have the opportunity to stimulate demand and attract buyers to make purchases as well as buyers have the opportunity to buy the item they need with many accompanying benefits.
4. Outstanding Marketing strategies of Shopee
Shopee is a brand with strong communication activities with many successful marketing campaigns. Shopee's communication campaigns often keep up with trends, are concise, short, easy to impress and reach users.
4.1 Take advantage of Influencer Marketing 
Shopee's first Marketing strategy must include taking advantage of Influencer Marketing.
Influencer Marketing is one form of marketing through social networks. Influencer Marketing takes advantage of influencers on major social networking sites such as Facebook, Youtube, Instagram to influence consumers' purchasing decisions as well as to advertise businesses' products/services.
Influencer Marketing will focus on identifying individuals who have influence over potential customer groups and orienting marketing activities around those influencers.
Through Influencer Marketing campaigns, businesses will send advertising messages to customers and convince customers to use their products/services by taking advantage of the reputation and influence of Influencers. Through the campaign, Influencers will also be paid a commission according to the agreement.
>> Read more details about Influencer Marketing in the article :  What is Influencer Marketing? Role & 5 steps to implement Influencer Marketing
Regarding Shopee's Influencer Marketing strategy, in Vietnam, understanding consumer trends that are often influenced by celebrities, Shopee invites different celebrities to represent campaigns from music, movies to sports. sports, … to reach as many people as possible.
Specifically, when realizing that young customers account for 30% of the Vietnamese market, Shopee decided to choose Son Tung, Tien Dung and Bao Anh, all star faces that young people pay special attention to as role models. representative face.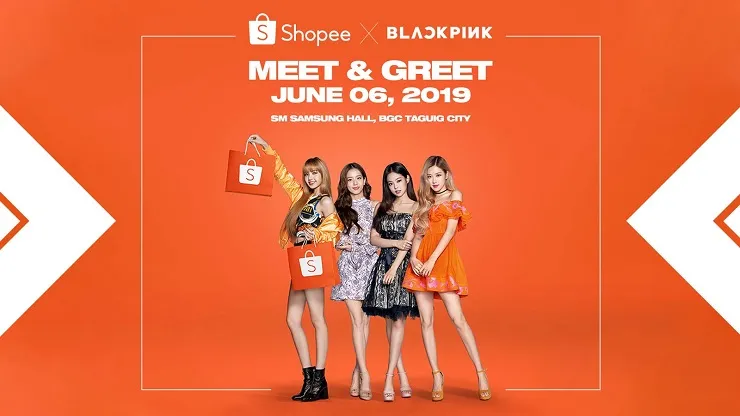 In addition, Shopee also invests in inviting top Korean stars and music groups such as BLACKPINK and NCT to be their representative faces in their product and brand promotion campaigns.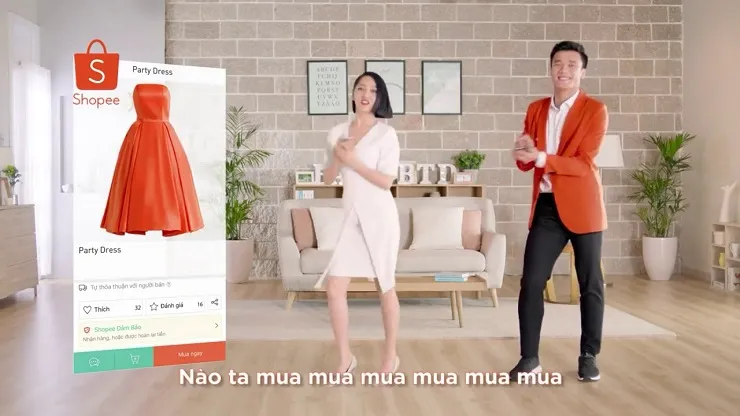 Therefore, Shopee easily expands its market widely and reaches many customers, especially young customers.
4.2 TVC advertising catches the trend
Using TVC advertising to catch trends is also an effective Marketing strategy of Shopee.
Taking advantage of the heat of the trend and its existing influence, Shopee has launched extremely successful "trend-catching" advertising TVCs. No need to try to attract attention but can still spread widely and attract users in the most natural way.
Some of Shopee's hottest "trend-catching" TVC ads include: The TVC advertising the "December 12th birthday celebration" event with the hit song "DDU-DU DDU-DU" by Blackpink. Or a TVC that is considered a big hit for Shopee throughout Southeast Asia is the combination of Bui Tien Dung, Bao Anh with the stormy song Baby Shark,…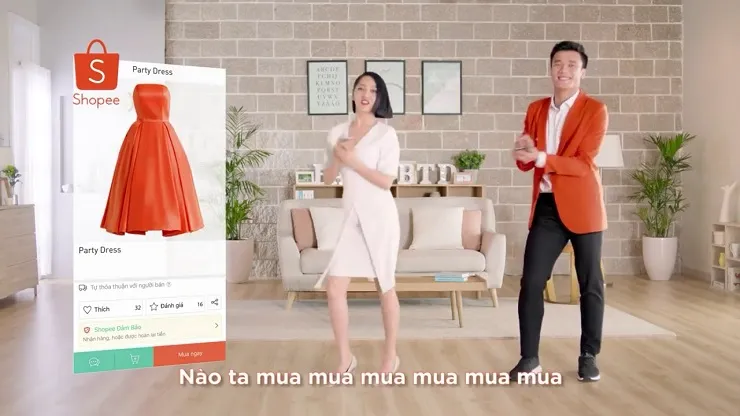 Besides, Shopee's short, funny and catchy slogan: "Like shopping, surf shopee" is also a factor that attracts customers. The concise nature of Shopee's slogans is also shown through the lyrics in the brand's TVC advertisements. This is also considered a message that Shopee wants to send to its customers.
4.3 Localized Shopee marketing strategy
Shopee actively localizes and customizes applications to meet each market's needs. Instead of one app for all users, Shopee has separate apps for each market it participates in.
To ensure the application is capable of serving all different countries, Shopee hires local employees who are knowledgeable about the country's culture and customs. Shopee also partners with local banks and logistics partners in each country to ensure a smooth and efficient shopping and delivery experience.
4.4 Free shipping program
This is considered a Marketing strategy of Shopee that brings remarkable results. Through several surveys, Shopee found that shipping fees are a relatively big barrier for both buyers and sellers when switching from traditional to online shopping.
Understanding that, Shopee has embarked on building a professional and reliable delivery system. At the same time, this brand also emphasizes free or reduced shipping costs in its product advertising campaigns.
4.5 Shopee multi-channel social network marketing strategy
From the first step of penetrating the Vietnamese e-commerce market, Shopee recognized the development potential of social network channels and chose social networks as the main environment to implement marketing strategies. To date, Shopee has deployed marketing strategies on all popular social networking platforms in Vietnam such as Facebook, YouTube, Zalo, Instagram and Tiktok.
For example, through advertising activities on YouTube, Shopee aims to convey media messages to reach and attract potential customers. Shopee adds its ads to YouTuber videos and displays advertising posters on YouTube's interface. Shopee advertisements are often in the form of songs with melodies and performed by celebrities.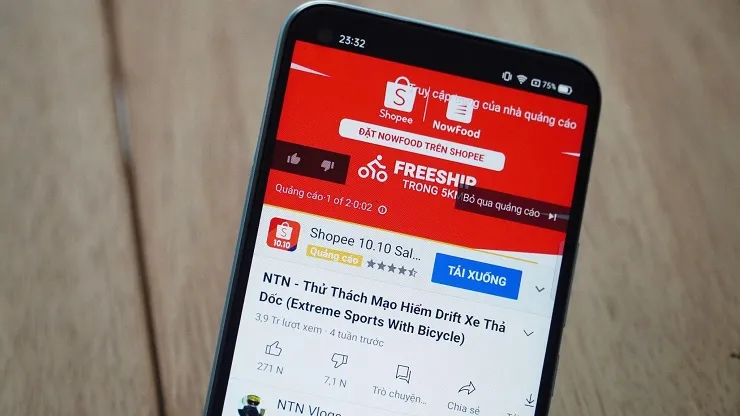 Or on Facebook, in addition to the Fanpage, Shopee also creates public groups to reach customers interested in shopping.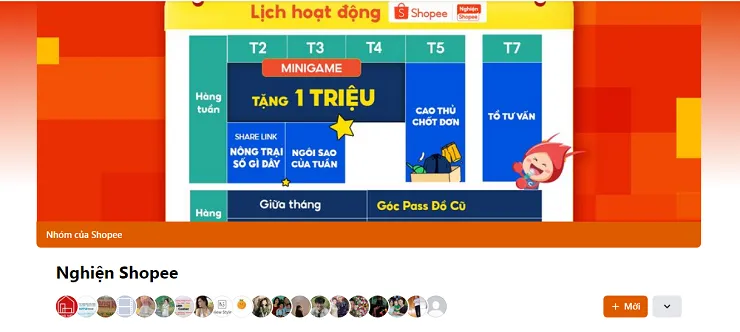 In addition, Shopee also implements reward-hunting programs through entertainment games such as Shopee Farm, What's the Number, Animal Picker… to increase interaction, time spent using the application and frequency of use. of the user.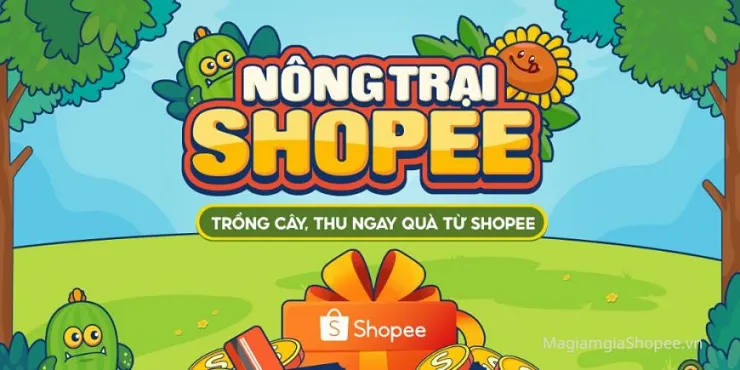 These activities attract a lot of participation from members who love shopping. The two most popular games on Shopee alone attracted 28 million hours of play within the framework of the December 12 event in Southeast Asia, according to a Shopee representative on Zing.vn.
5. Experience and lessons from Shopee's marketing strategy
The way Shopee deploys marketing campaigns as well as how this platform quickly rose to the leading position in the region is a typical example of success that many businesses can learn from. Some commendable points of Shopee that businesses should refer to:
Using advanced technology: Shopee always applies advanced technology to create new products and services, improving user experience.

Focus on users: Shopee understands its potential customers very well and always focuses on solving their needs and desires.

Utilize resources effectively and reasonably: Although Shopee's Marketing campaigns cost a lot of money, they also bring resounding success thanks to their intelligence and trendiness.

Create groundbreaking viral hits: Viral advertisements or slogans play an important role for the brand to penetrate the minds of customers.

Use value cards: Discount voucher cards or free shipping can attract customers and help customers make faster shopping decisions.
Summary
Shopee has become one of the most famous e-commerce platforms in Vietnam and Southeast Asia. To achieve this success, Shopee has implemented effective marketing strategies such as:
Take advantage of Influencer Marketing

TVC advertising catches the trend

Free shipping program

Localization strategy

Multi-channel social network marketing strategy
Shopee's Marketing Strategy is always worth learning and analyzing.