Flexo printing can use many different inks, depending on the needs and printing materials. There are five types of inks that can be commonly used in Flexo printing as follows.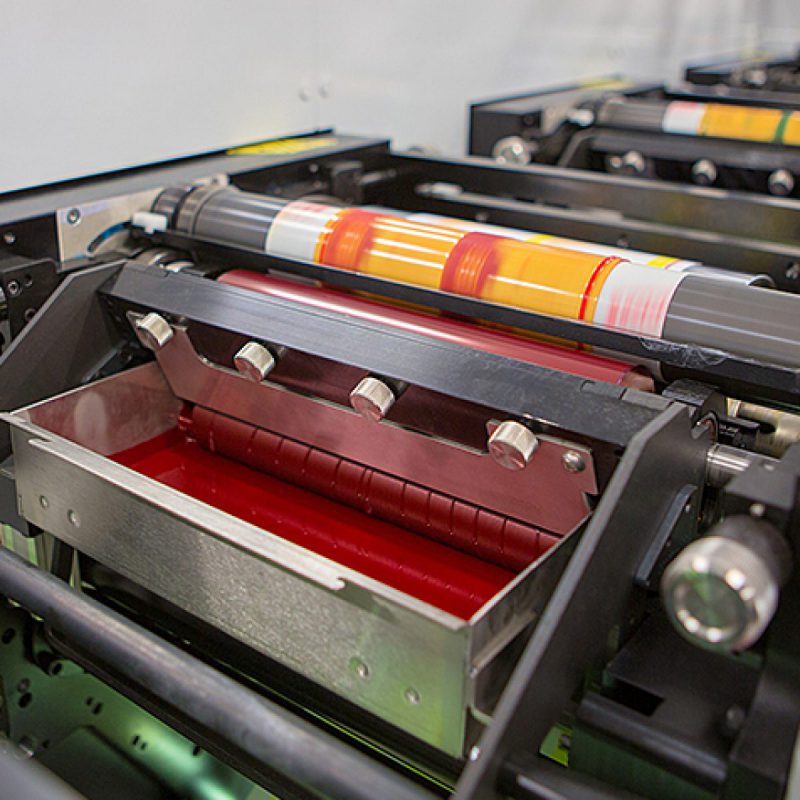 Solvent-based Flexo inks (or dye inks)
These are usually pigment inks that contain dye, but they do not use water. Instead, they use cheaper volatile organic compounds such as alcohols or acetates with a common ratio of 80-90% alcohol and 10-20% acetate.
Solvent ink is waterproof, anti-ultraviolet, bright colors, good durability in all conditions. However, because of their inorganic ingredients, they are quite toxic and volatile (volatile inorganic substances), they are commonly used to print the shopping bags commonly found in fashion stores.
Water-based Flexo Ink
The main ingredients are water, pigments with additives such as defoamers and agents to help with drying and adhesion. This type of ink when printing creates a thin layer on the surface of the printed material, which is soft and does not cause a feeling of dryness. It can be self-drying under normal conditions, completely dry after 24 hours of printing.
Water-based ink  can penetrate the surface of the printed material, so the color is quite durable. However, it is prone to volatilization when exposed to sunlight and heat. Therefore, the actual water-based color printing fades quickly. To keep the color longer, a polymer coating can be applied on the surface of the printed material.
With Flexo printing technology, water-based inks are often used to print sacks, cartons, paper bags, labels, decals, etc., products that do not require too high a color fastness and image.
Immediately refer to Flexo printing technology
Oil-based Flexo ink
Oil-based printing ink  is a type of ink prepared from petroleum, they have a strong oil smell, so they can be recognized immediately. This type of ink is long-lasting and durable, but the price is higher than water-based ink. Therefore, if you don't really need to store your prints for long, then water-based inks are more cost-effective. Besides, this ink is quite toxic, so it is often used to print books, labels and labels on the outside of products, avoiding harm to human health.
All inks used in Flexo printing are in a liquid state so that the batches can easily and quickly capture and transfer ink to other surfaces. However, water-based inks are most commonly used in printing factories because of their low cost, good ink permeability, and sharp printing colors on paper. They are used to print cartons, sacks, plastic bags, .. bags and boxes for shopping.
Flexo UV and Electron Beam (EB) ink
To put it simply, this is the type of ink used for printers that have a UV fusing system or an EB lamp. This ink print only dries when dried with the lamps mentioned above. This type of ink is light oil based, so the print quality is good, color fastness, good color adhesion. However, the price is higher than other inks, so only when you really need to print quickly and the print is beautiful, you should choose.
UV ink and EB electron beam ink are often used to print on hard-to-print, non-absorbent surfaces such as plastic or glass, print books requiring beautiful images, print warranty stamps, etc. However, ink UV is used more because it is cheaper and the cost of fusing lamps is also lower than that of EB lamps and inks.