Currently on the market, there are mainly two types of ink used for color inkjet printers: Dye UV ink and Pigment UV ink. So what are the characteristics of Dye UV ink and how is it applied?
1. What is Dye UV Ink?
Currently on the market, there are mainly 2 types of ink used for color inkjet printers: Dye UV ink and  Pigment UV ink .
Dye UV ink belongs to the  water-based ink system  including 6 colors: B, C, M, Y, LC, LM. Enhanced with UV for color fastness against UV rays.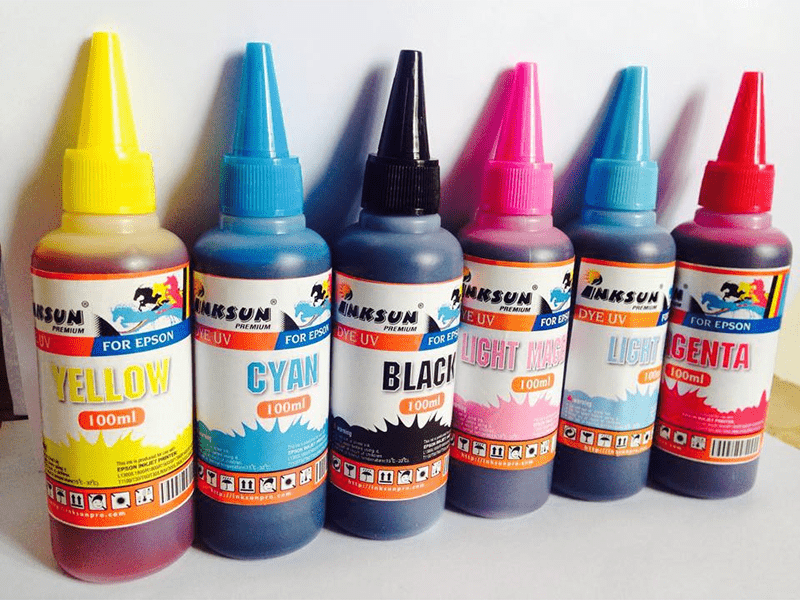 2. Characteristics of Dye UV ink
Dye based inks tend to be cheap and water soluble, which explains why dye inks are more likely to smear. Normal dye inks (Dye inks) take longer to dry and the result can be smudged prints if water splashes on, for example.
So the advantage of dye inks is that it gives a brighter, more vivid color because different optical compounds are added to dye the ink and enhance the color. However, these compounds, such as dyes, have low fastness to light or to UV light, especially since dye-based inks are usually spread much thinner than surface color inks. face.
While dye ink has its drawbacks, advances in ink development have improved the fade resistance of Dye inks. Major brands like HP, Fuji, and Epson have improved the fade resistance of dye inks based on their technologies, almost matching the quality of pigments.
3. Advantages of Dye UV ink
It is cheap and very popular in the market.

Printed colors are bright and vibrant.

Does not smudge in water, does not fade.

Especially printable on Couche paper (A popular cheap paper for Offset printers). This is considered the perfect solution for high-storage documents and images.
4. Disadvantages of Dye UV ink
Prints using Dye UV ink are easy to smudge when exposed to water, and take a long time to dry after printing on paper.

Prints using Dye UV ink are prone to discolouration when exposed to strong light such as sunlight.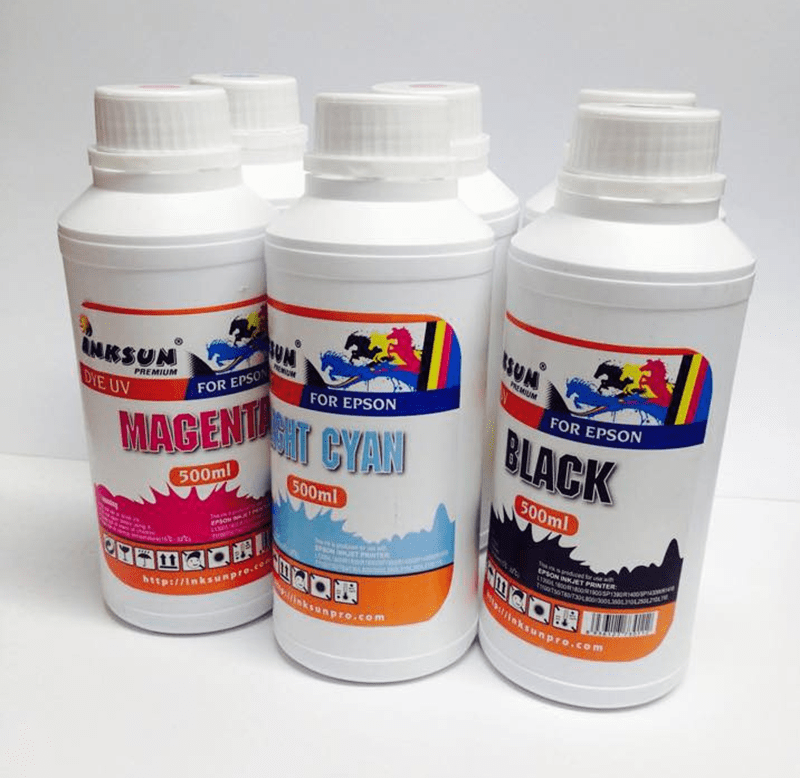 5. Compatibility
Dye UV ink is compatible with all Epson nozzles from 4 colors to 6 colors.
Dye ink is not suitable for outdoor printing. Dye UV ink is used for Epson printers such as: T50, T60, P50, T11, T13, SX125, C88, R1390, R1400, A1430, …
6. Dye UV ink preservation
Store in a cool, dry place between 15-35ºC, away from direct light or sudden temperature changes.
Dye UV is bottled with capacity: 1 liter, 500ml, 100ml.
7. Application of Dye UV ink
UV printing ink can be used for  Offset printing technology ,  flexographic printing  to print products such as:
Print image: Korea, card, portrait, travel photo, souvenir.

Print visit cards, print leaflets, advertisements, documents, print menus, print catalogs, print drawings, print warranty cards

Print CD labels, cover discs, ultrasound images.

Printing paper labels (7 color labels, broken decal stamps, warranty stamps, QC stamps …), printing plastic labels, printing silver stamps…
Dye UV ink compared with ordinary dye ink, it features anti-ultraviolet, anti-ozone and weather-resistant high which is mainly revealed on the performance of UV resistance and Ozone resistance aspects of aging .
Printing results on media that will always be exposed to sunlight and air to varying degrees have shown very good color fastness compared to other dye inks.