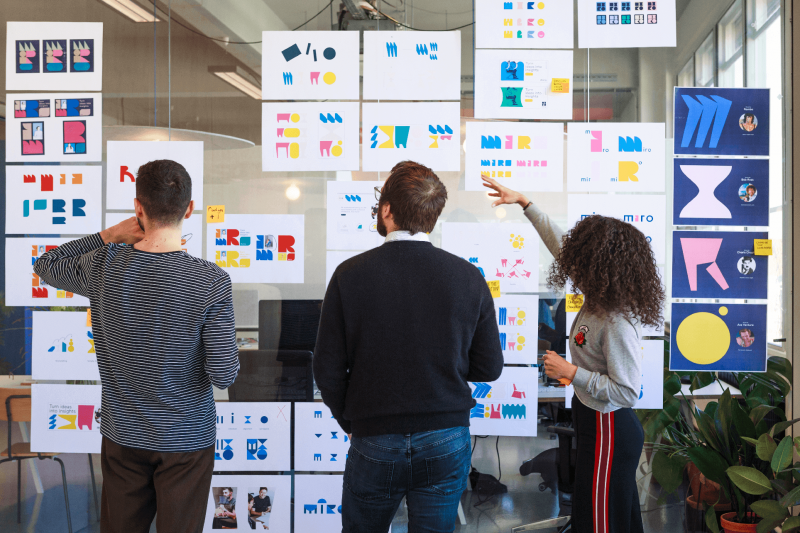 A quality brand identity cannot be obtained overnight. You can't just pick a few colors and then randomly pair them with a logo.
You need to execute the designs strategically, to build an identity that embodies the brand's core values ​​and supports its future growth.
This construction process requires deep thinking, a team with good design and communication skills, and they must understand "who you are", "what you do" and "you want to bring your brand to life". with the world".
It's not an easy job, but it's one of the most important parts of any brand. So if you're going to build a Brand Identity, do it the right way. What parts should it include? How to get started? Who should participate? 
>>> What is Brand Identity? Why do businesses need brand identity?
Do not worry. You can absolutely do this process effectively with the right instructions, and that's why we're here. We've broken down everything you need to do in simple steps, including great tips and a handy set of tools to help you along the way. Follow this guide and you'll have a beautiful, functional brand identity that will set you apart from your competition, connect with the right people, and tell your brand story. through each content you create.
Let's get started.
Brand Identity – What is brand identity?
Is the brand logo? Is the palette (pallete)? Is the design style? Brand Identity includes all of these elements – and more.
Branding expert at Malu Design defines Brand Identity as "The external expression of a brand, including trademarks, names, marketing communications and visuals" . For us, brand identity is the totality of how the public looks at a brand, how they perceive and communicate with the brand. 
However, when talking about brand identity, people often think of visual identity first . Therefore, this article focuses mainly on this content.
Why do businesses need a brand identity?
A good brand identity does not mean beautiful packaging; It's about communicating your brand story effectively. Design is a powerful tool that can transform the way people interact with your brand in three ways. 
Make a difference 

: How can you stand out in a crowded market? Your brand identity will be extremely important in solving this problem. Whether you want your products to stand out on the shelf, or you want your ads to stand out on Facebook, the secret to success is presenting them in a consistent, cohesive manner. 

Engagement 

: The more effectively you communicate your brand, the easier it is for people to interact with you and, ultimately, become your loyal advocates (or customers). 

Connectivity: 

Everything you create reflects your brand. Therefore, if you want to create a cohesive, consistent brand experience, you need a consistent, cohesive identity. From the website, to social media accounts and even to sales brochures, presenting a strong, consistent identity is key to enhancing the brand experience for customers. 
Some brands elevate their identity to an artistic level (think Apple ,  LEGO or  Levi's ). Some other brands bring the brand to market as a walk (think Warby Parker or Casper ). Others have difficulty because they do not know who they are or do not know how to communicate that information effectively with the public. (The truth is that too many brands fall into this category.)
And whatever your situation, one thing's for sure: if your brand wants to compete and succeed, building a strong brand identity is a must.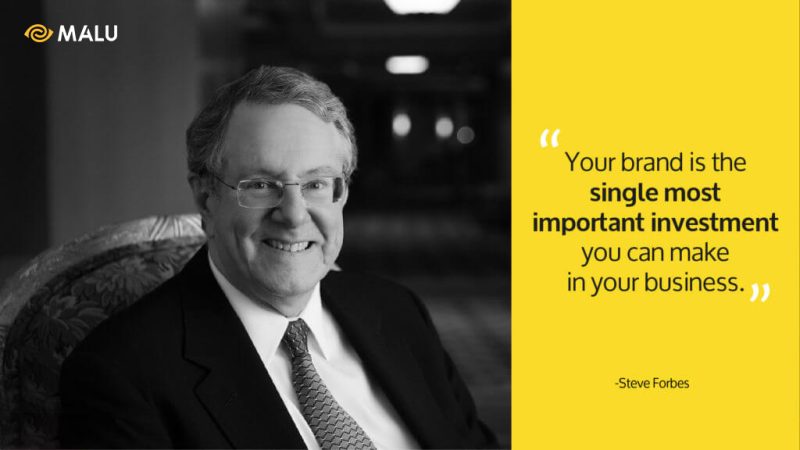 "Brand is the most important investment for a business" – Steve Forbes
What does the brand identity kit include?
When you create a brand identity, you are essentially creating a toolbox of visual elements to help you communicate effectively with the public. This "box" can be simple or sophisticated with all kinds of tools, it all depends on the needs of the brand.
Any brand needs a basic identity, consisting of three core elements: 
Logo

Color palette – Color palette

Typography – The art of typography
If you need to produce more types of content, you can also design additional elements to represent your brand across multiple media, including:
Photography – Photographs

Illustration – Illustration

Iconography – Icons

Data visualization – Data visualization
The good news is that you don't have to design everything at once. If you don't have a lot of resources (or don't know what your future needs are), start with logos, color palettes, and typography. You can build the following additional elements as needed. 

Elements that make up a professional brand identity
Having a brand identity on paper doesn't mean your identity is good or effective. Even with the essentials designed, you may not achieve your long-term goals.
A good brand identity needs to work for everyone, including the people inside the company (e.g. salespeople, marketing staff, etc.) and those who will interact with it (e.g.: client). 
To be truly successful, you need to build a brand identity…
Differentiation 

: Stand out from the competition and grab everyone's attention.

Memorable 

: Make a visual impression. (Think of Apple: The image of the half-eaten apple is so memorable that they only put the logo, not the name, on the products.)

Scalability: 

Can grow with the brand.

Versatile 

: Can be used for many purposes (web, print, etc.). 

Consistency 

: Each part complements the other. 

Ease of use 

: Intuitive and clear for designers to use.
If you design an identity that doesn't impress your target audience or doesn't truly reflect your brand, you'll be wasting a lot of effort growing your brand.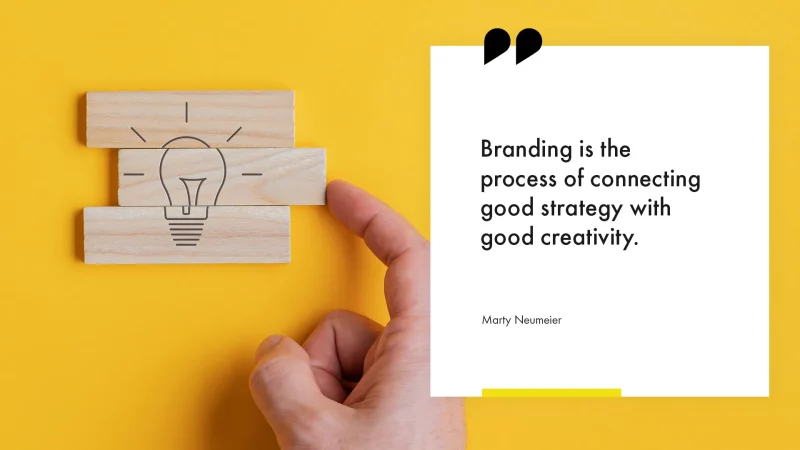 How to build brand awareness:
To make it clear to you, we've broken down the process into 10 steps to help you get from A to Z. These steps are listed in a specific order, as the different elements of the identity are all built up. based on other factors. Whether you're building a new identity from scratch or starting a rebrand, follow this sequence to design a strong identity and lead the way to success.
Before start

Download our free Brand Identity Toolkit , which includes tools, templates, and checklists to help you easily build your brand identity.
Step 1: Understand your background
Before you get into the steps we detail here, understand that design isn't the first thing you need to do; actually that's the last thing. A brand is like a house; it should be built on a solid foundation.
First, you need to know who you – the brand – are: What is your personality? What interests you? What is your job? How do you talk about what you do? These are the core elements of your brand that your visual identity will convey. Without these foundational elements, it will be difficult to design an identity that tells your brand's story.
Instruct
Before continuing, let's clarify:  
Core Value – Core Values: 

Includes the core principles of the brand (namely purpose, vision, mission and values, …). If you don't already have these, check out 

our guide to finding your Core Value

 .

Brand Name – 

If you don't have one yet, learn 

how to name a brand

 . Note: It is not possible to design a logo without a name.

Brand Essence – Brand Essence: 

This is the voice, tone and personality of the brand. Check out our guide to finding your brand's 

voice 

and 

personality

 if you need more clarity on these. 

Messaging – Message: 

Clarify 

your tagline 

, 

value proposition 

, and 

messaging pillars 

to ensure your visual identity communicates the right story.
Also, you need to know why you are going through this process. If you are starting from scratch, obviously you have to go step by step. But if you're rebranding, make sure everyone on the team understands the problems with the existing identity and what you hope to achieve with the new identity. (If needed, here are 10 reasons to consider whether you need a new brand identity .)
Step 2: Evaluate the current identifier
Good branding means good communication. To ensure that the output image matches your brand values, reflects your brand personality, and conveys your brand story, you need a deep understanding of your brand. 
Therefore, you should start with brand assessment to understand:
Current status of brand identity

How to tailor that brand identity to your goals in the future.
By thoroughly re-evaluating your brand, you can get the information you need to build an identity that accurately conveys your brand. 
Instruct
Use our Toolkit Brand Assessment Template and follow the instructions to evaluate your existing brand identity . There's a lot to discuss in determining the direction you want to go in the future, but this template is the first step to making sure you're on the right track. 
Step 3: Evaluate your competitors
Building a brand identity is about making a difference: making your brand stand out, relevant and unique. Therefore, it is extremely important to identify your competitors and compare your images with those of your competitors.
Through competitor assessment, you can compare your brand to individual competitors as well as to the market as a whole, and this can yield surprising and useful information. 
Example: We once did competitor research for a brand and found that all of their competitors used 4 identical colors. This isn't inherently unusual, as many industries tend to use the same visual elements (Netflix and YouTube both use red), but it presents a great opportunity to differentiate.
Fun fact: Video platform Twitch made headlines when it launched with an all-purple branding back in 2011 – when its competitors often used dark blues and reds. This colorway immediately became a hallmark of Twitch's brand (now a billion-dollar company). 
Stories like the one above explain why it's so important to evaluate your opponents.
Instruct
Use the Competitor Evaluation Form in the Toolkit to evaluate your top 5 competitors.  
As you do this, pay special attention to similarities if any in visual elements, trends, industry-specific themes, brand personalities, and more between your competitors.
Step 4: Go into the design
After thoroughly evaluating both your current identity and those of your competitors, it's time to get your design team on the right track. 
Design is very subjective. The same color may feel energetic and powerful for one person, but may also be perceived differently by another. Even the words you use to describe your own brand can be interpreted differently by members of your team. 
At this stage, you are not yet ready to design; You first need to have conversations with your team to achieve a common vision for building brand identity. 
What is the main brand feature that you want to show through your visual identity? 

What kind of visual elements exhibit these characteristics? 

How do you want the public to feel when they "see" your brand? 
Note: Hold a meeting with the people involved with the brand, define the way forward, and make sure everyone in the meeting understands. 
Instruct
Use the Brand Identity Exercise in the Toolkit to help your team identify the key features you want to convey through your brand identity.
Step 5: Write a Brand Summary
After completing the steps above, you have all the information you need to go into the design. Start with a Brief that details the information needed to ensure team members are on the same page on ideas and create an identity that aligns with brand goals.  
Instruct
Use our Brand Summary template. 
Step 6: Logo Design
Brand identity can be thought of as a complex design system. Each element in that system affects the others, but it all starts with your logo. A strong logo captures the essence of your brand and helps you make your mark (both literal and figurative) in the marketplace.
Instruct
Of course you can go for the classic style and sketch in black and white on paper. But make sure you use a strong enough core image to get the message across without the aid of color. Let's start with basic shapes and additional images for logo inspiration. Check out our detailed logo design tutorial  for creative inspiration.
Example: Below are versions of our logo for UCI Applied Innovation, from a black and white sketch to a fully rendered version.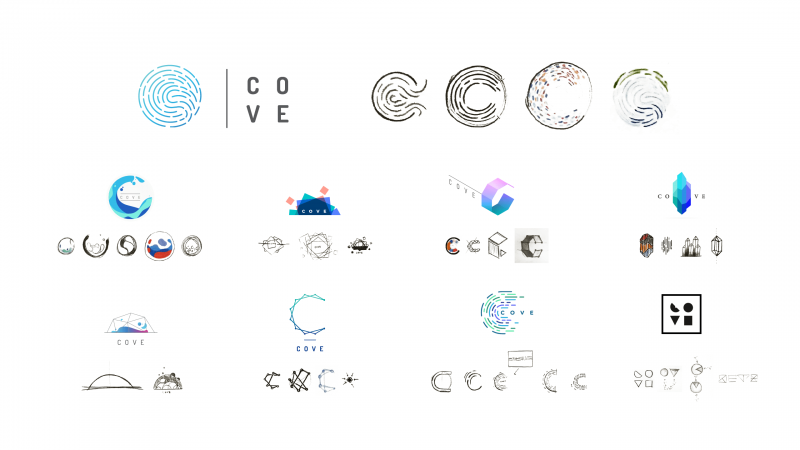 And the final result: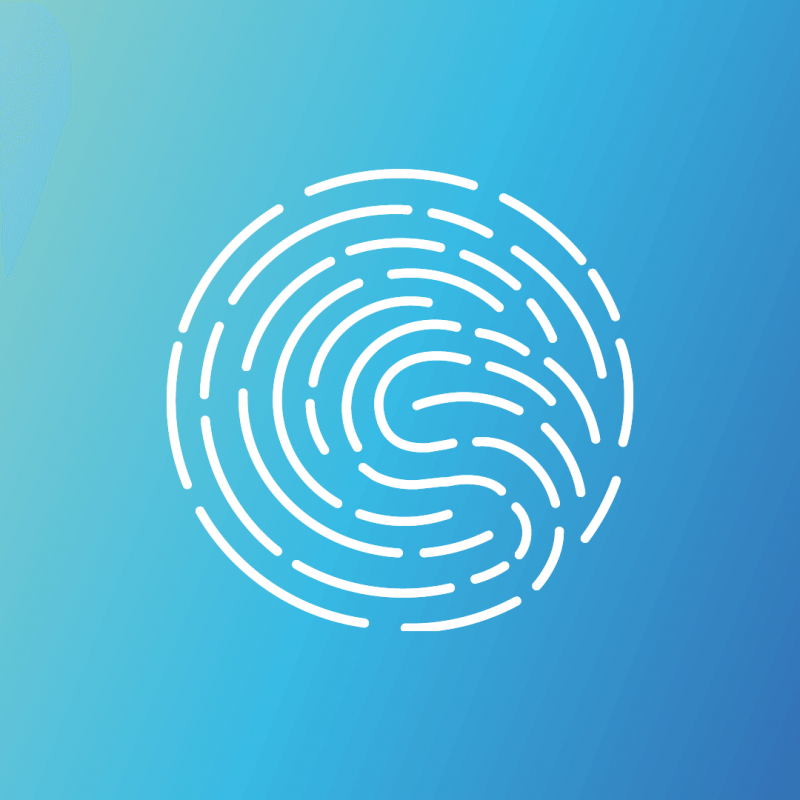 Step 7: Choose a palette
Once you have the logo, the next step is to explore the color palette for the brand. Color is a great tool to differentiate your brand from your competitors, but understand that colors can also evoke strong emotions, so choose them wisely. careful. 
Instruct
A good color palette needs to have clarity and flexibility, to be able to give the designer creative space without overdoing it. The palette should include
1 main color

2 primary colors

3-5 additional colors

2 accent colors
See more branding tips with our  guide .
For example, Sweet Mission's packaging color treatment provides product identity uniformity.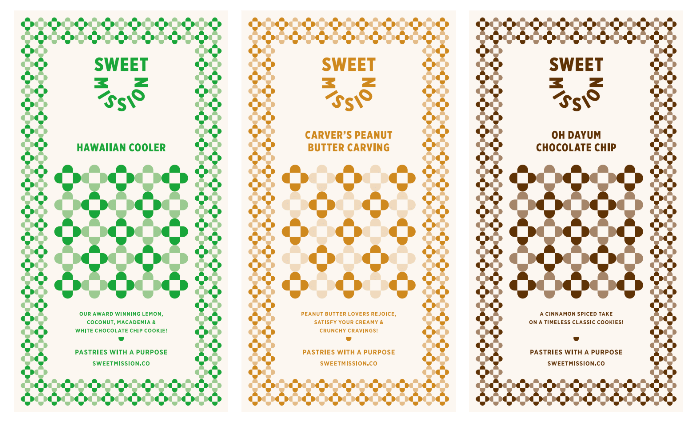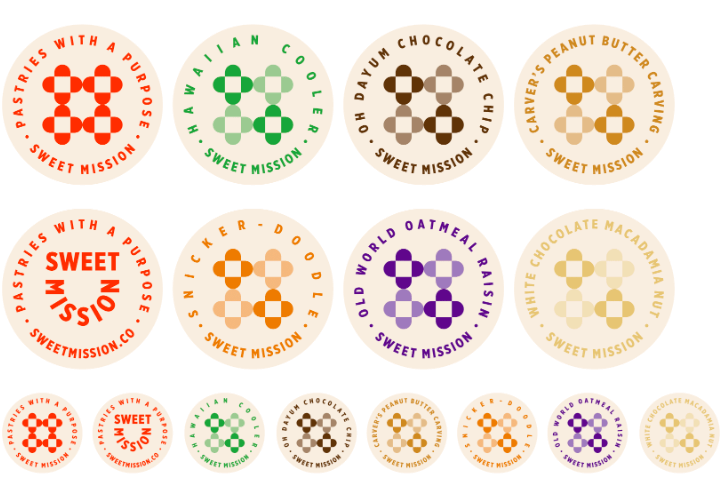 Step 8: Choose Typography – Text Art
Every visual element in your identity needs to be consistent, and therefore each element ties together. Typography is no exception, it needs to show alignment with your logo.
Instruct
Each stage of the design process presents its own challenges, but typography can be extremely difficult, especially if a brand is following trends that are hot but can become outdated very quickly. serif vs non-serif)
For simplicity, limit to 2-3 typefaces (typefaces) maximum, including primary and secondary typefaces to use for specific purposes such as content typeface, UI typeface (user interface) , etc… 
Example: The Code from the Visage brand identity regulates the use of typefaces.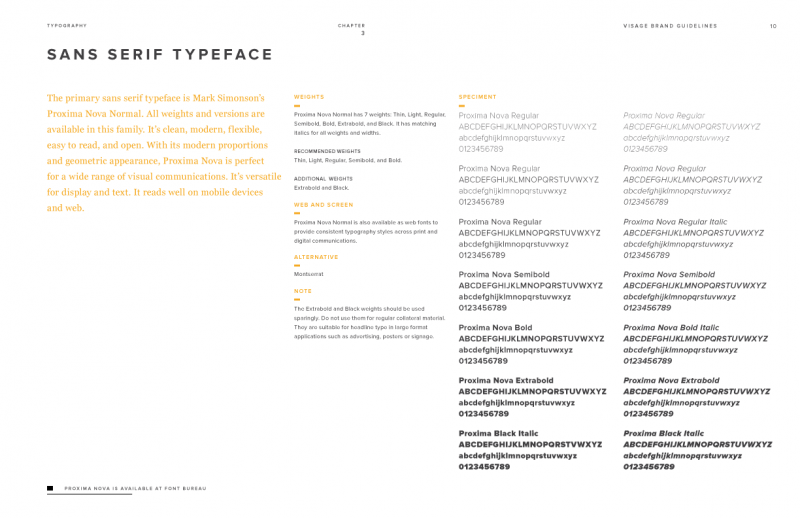 Step 9: Design additional elements
Each brand's needs are different, so it's up to your brand to design a comprehensive identity. Consider future brand needs. If you're planning on experimenting with different types of content, make sure you include visual elements for that content in your identity. 
Image 
Images play a huge role in brand identity, from product images to advertising. It is important to be clear about the types of images (and image processing methods) that are and are not suitable for the brand.
Example: The Visual Guidelines from the Visage brand identity include detailed instructions on the use of filters and accompanying typography.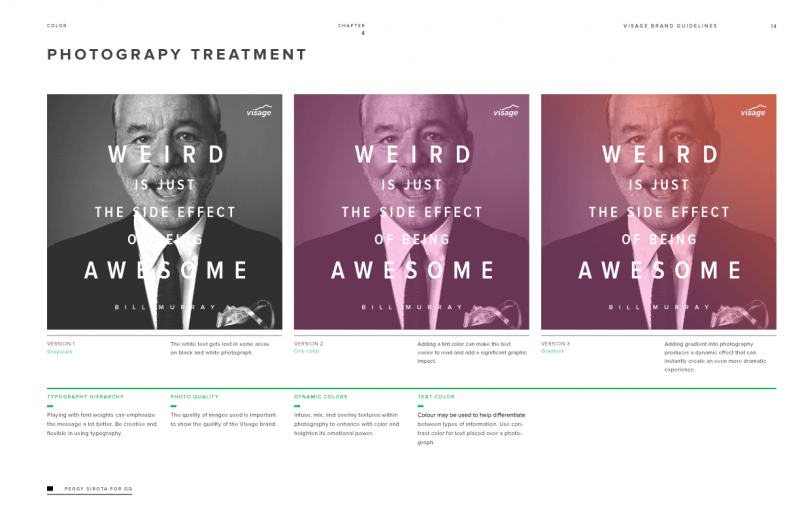 Illustration
When it comes to illustrations, consistency is of the utmost importance. Don't overuse illustrations or use too many illustration styles. Instead, think about how your illustration can blend well with other visual elements.
For example, the Civ.works brand identity has a simple and easy-to-understand illustration style.
Icon
A good icon set is not only creative, but also highly functional. It depends on your product or service, as well as the industry and media (e.g. display on website vs display for print).
Example: Iconic guides from the Avaler e Health brand identity help brands communicate more effectively.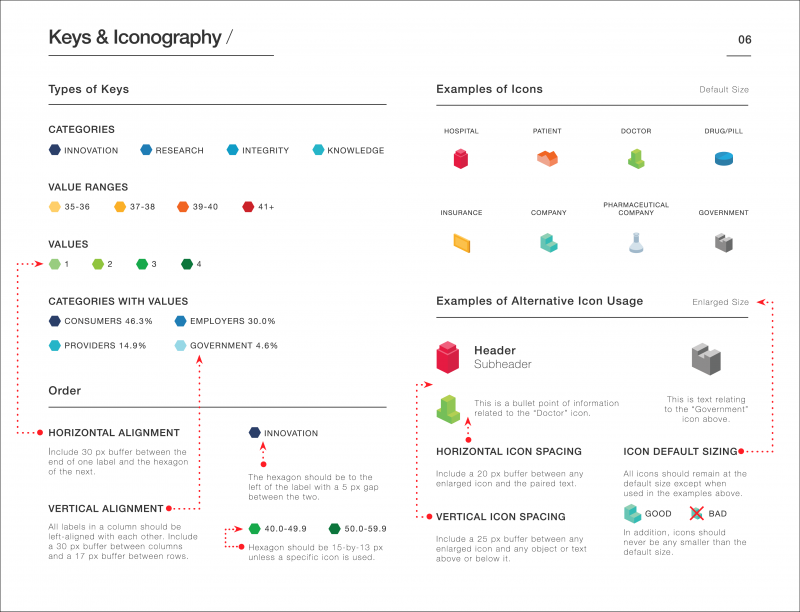 Data visualization
Beyond aesthetics, data must be designed to be easy to view and understand. Therefore, data visualization needs to follow several methods. Learn how to design the most popular tables with our Data Visualization Guide , and check out 25 tips to improve your data visualization.
For example, detailed design guidelines, like spacing between bars, make data easier to view.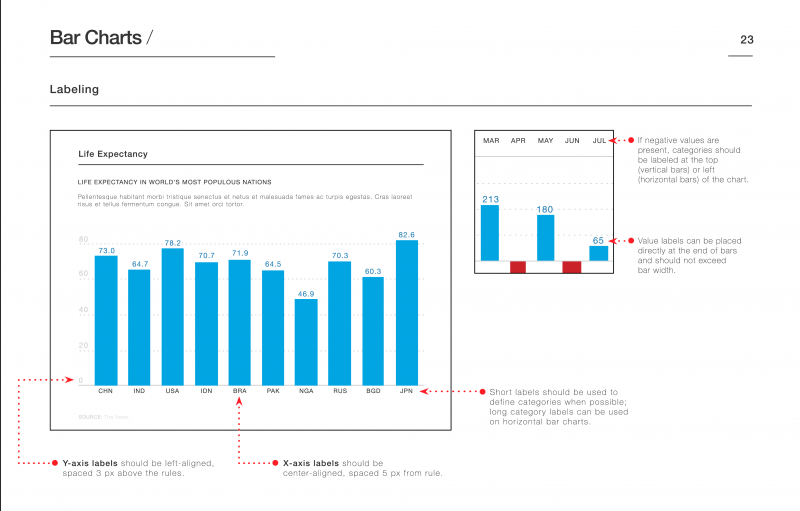 Step 10: Building Brand Guidelines
A bad brand identity is not as bad as a good one that is not used properly. Brand Code is a savior for such cases – if created properly
Instruct
Set clear guidelines for every part of your brand identity, including examples and use cases for print, website, video, and interactive elements where applicable. Add in the facts and information needed to help your designer embody the right brand identity in their designs. 
Once completed, distribute the code to the team and update it regularly.
For example, the Avalere Health brand code has a handy TOC for easy access to information.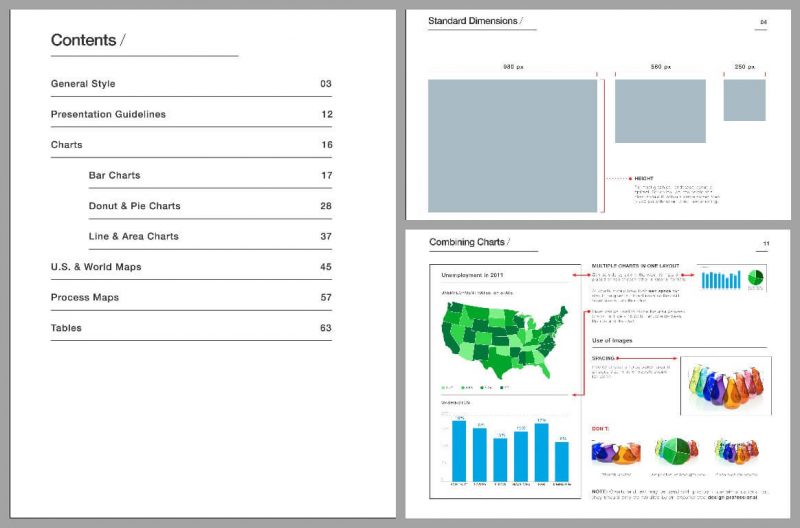 Step 11: 
Register trademark copyright
The final step in the process of designing a brand identity is the registration of copyrights for publications. This will help protect your brand before the Law and avoid the risk of plagiarism, impersonation, etc.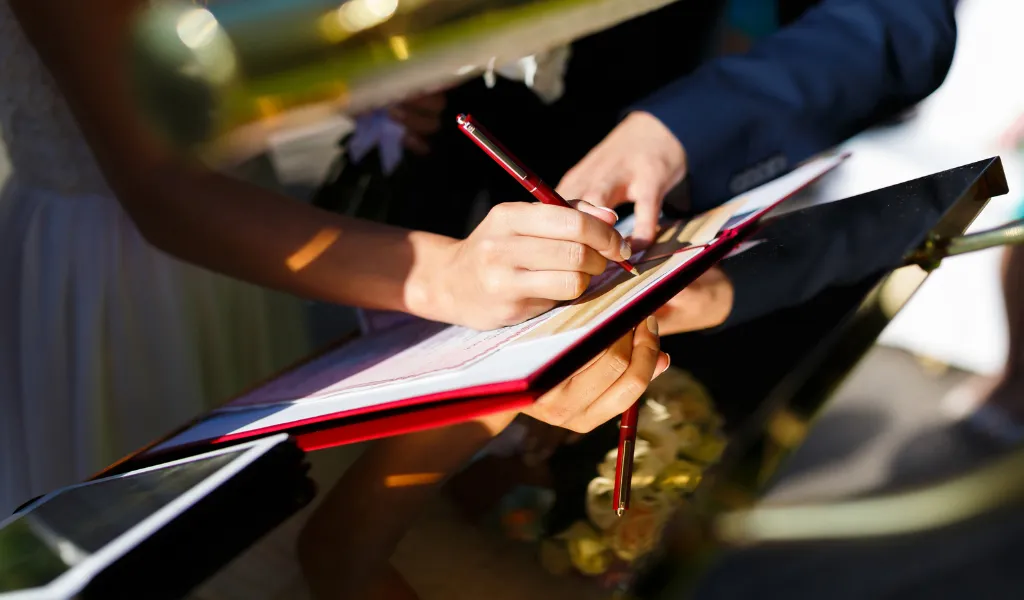 How to use brand identity
Again, consistency is key to building a strong brand identity. However, you can't just post your new brand identity and expect people to know how to use it right away. Designate a dispatcher to answer any and all questions regarding the use of identifiers; and implement a brand identity quality control system at every touch point. You should also…
Find brand identity mistakes to avoid at each stage.

See our 5 tips for effective implementation.

Follow these tips to ensure all your content has high brand awareness going forward. 
And if you're feeling overwhelmed or don't have the resources to do the branding yourself, get expert help. We look forward to helping you get your brand on the right track.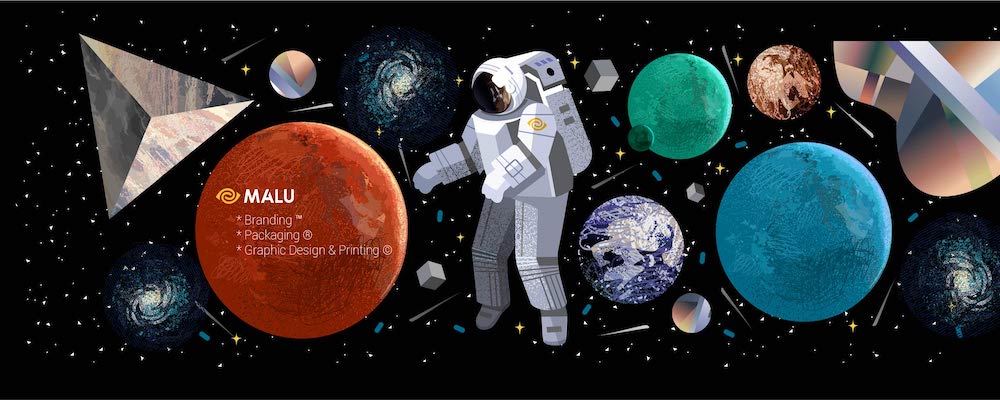 If you are looking for a reputable and experienced unit to be able to design a professional and impressive logo and  brand identity system , then please contact us immediately by phone. 0988 622 991, or leave your information and requirements, Malu Design 's consulting department  will contact you right away to answer all your questions!
————————
Malu Design – Branding Identity Agency
Hotline: 0988 622 991