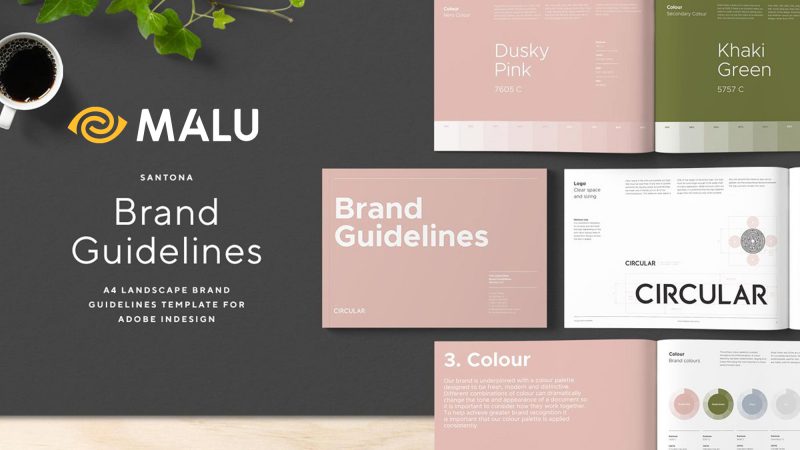 You have spent too much time and money creating messages, logos, websites, marketing products for your business. But almost among those products, there is a lack of unity throughout the identity of your brand, causing waste and ineffective communication.
That lack of alignment happens because your business is lacking a professional brand guidelines .
In order for a brand to become recognizable and easy to remember, it is imperative that the brand shows the same logo, font, color, image on every touch point with customers. When they see those elements enough, the brand will enter their memory in the most natural and unintentional way.
Building a consistent brand requires a brand handbook. Brand guidelines will help designers, marketers, developers, managers, and even the packaging department, internal staff consistently present an image and vision of the brand in front of customers. Find out more with Malu Design .
Brand guideline – What is a brand guide?
Brand guidelines – brand manuals, also known as brand standards, are a collection of design elements, the "look-and-feel" of a brand's image.
Brand Guideline  is a guide and regulation on the use of elements involved in brand promotion in media publications, to help designers, linguists or anyone else. Using brand elements such as logos to implement packaging, design equipment, websites, stationery, uniforms and products for proper marketing campaigns.

This is a guide presented in a book structure that shows how your brand works and how the different elements of your brand interact together to form your brand identity . brand
Why do businesses need brand guidelines?
Once you understand the elements that can appear in brand guidelines, you may wonder why your business needs them.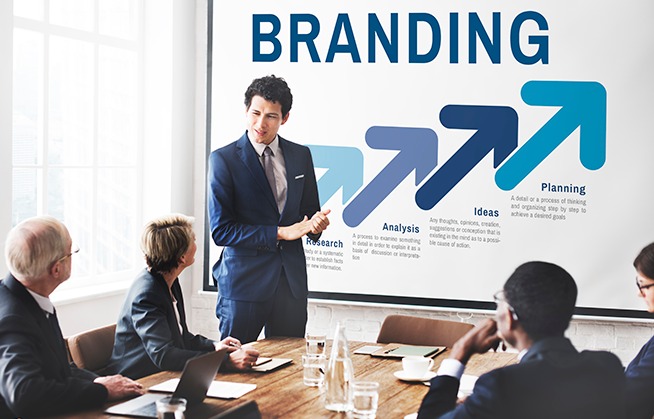 Here are a few reasons why you should recognize the importance of brand guidelines for brands:
1 – A complete story of the brand
Before diving into the technical aspects of the guide, the first role the Brand Guideline plays is to provide a complete overview of the brand to stakeholders from senior management to senior management. packaging printing staff.
Brand Guideline helps them get an overview of the brand. It is information about the following issues:
Brand essence

 (this is the core point that sets the business, organization apart and its relevance to the target audience)

Brand Mission

 (a general promise that guides the actions, attitudes, and interactions of brand assets)

Brand positioning

 (clearly identifying the target audience and their special needs as well as the ability of the business to meet the reasons why the business or organization can fulfill the mission of providing the product. there.)
2 – Brand consistency
For a brand to work effectively, it needs to be consistent.
If logo users change the logo's brand colors to match media items, the logo will no longer be recognized as belonging to your business' brand by customers, partners, more consumers.
Except in some cases where there is a clear purpose to change (and only use in certain campaigns)
The Black and White color version of the Logo is still commonly used to represent a light or dark background
A guide that sets out specific rules for identity elements will not limit their creativity, on the contrary, it is the same stylistic guidelines that will help you keep the identity seamless. , uniform and recognizable.
With brand guidelines, you can always ensure that your brand elements are designed, used correctly, effectively and professionally.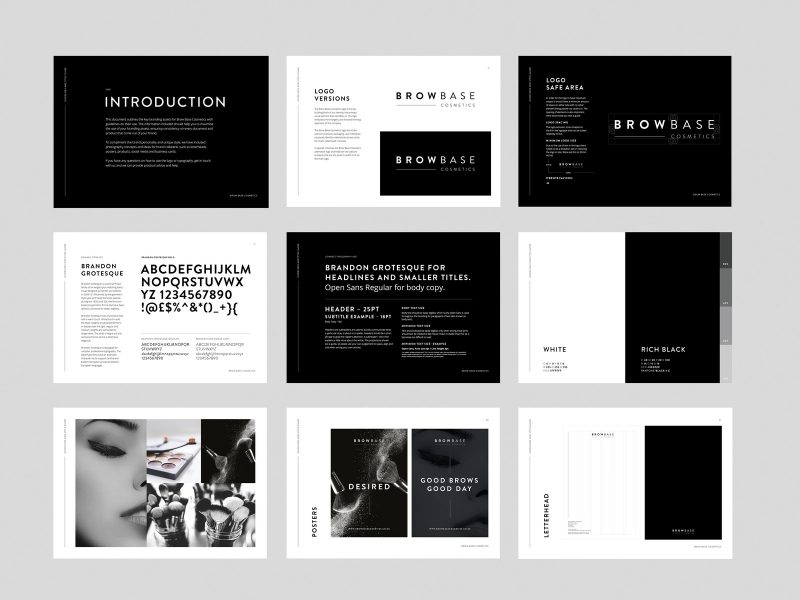 3 – Provide tools to measure standards and rules for brand identity
Brand guidelines will not only provide color palettes and logo versions, they will set out the specifics and standards by which identity elements are to be used.
This guide will also point out what you shouldn't apply to identifier elements. The basics of the space needed around a logo are just as important as knowing when to use a logo and when to use a wordmark.
In addition, this guide also helps communicators understand what elements to emphasize and how to use that element to create communication messages. Overall, this guide focuses on brand consistency, and guides stakeholders in the right direction.
4 – Save time
Indeed, thanks to this guide, designers save a lot of time on alignment, searching for normative information for their design products.
Furthermore, if those searches don't return the right results, it can be damaging, affecting the overall consistency of the brand.
In addition, the built-in perspective templates of brand guidelines also help save orientation time as well as time for basic designs later. New designs are about creating new items that have not yet appeared in the perspective.
You also need to take into account the case that when recruiting new employees for the business, it takes a lot of time for them to learn all the elements of the company, to help them work more smoothly and accurately without you having to answer. Plus when they have questions, brand guidelines are a powerful tool.
Only circulated internally, but why are Brand Guidelines so important in communication?
For new hires, no  Brand Guidelines  is like taking you into the woods but without providing a compass or a map. They cannot fully understand the brand 100% if they only learn through the Website or social networking sites and even the employees in the company cannot spend hours explaining the entire brand identity design . At this point, Brand Guidelines will do all this for you.
Save time

Efficient division of work

Ensure the business operating apparatus is unified

Limiting conflicts in communication

Increase brand awareness
It can be seen that the Brand Guidelines do not directly affect consumers, but it is an important "snail" in the operating system of a business. Each individual in the company must ensure a clear understanding of the brand in order to promote good results.
What does the Brand guideline structure include?
No two brand guidelines will be the same, but there are some common characteristics that brand  guidelines  often have:
1. Business overview
Mission statement is one of the values ​​that need to be built in the first stage of any business. And it is these mission statements that affect not only the business strategy, but also the brand development strategy of the business.
The mission statement will be the core value for every element of the brand to follow as a clear direction, to achieve a specific purpose.
The mission statement will guide:
Content on the blog

Advertising content

Pictures show
2. Logo and usage
Logo  is also known as the "face" of the brand and is the thing customers come into contact with the most. A beautiful logo is not enough, meaningful, story and capable of "living" in the market for a long time is what is of interest in the brand design process.
It is not necessary to only use a single logo, but you can flexibly change the shape and color to suit the purpose of use, creating a new and exciting feeling for consumers.
3. Color standard table
The color standard table will specify the group of business colors used for their brand design. These colors will be used for each purpose, each specific marketing content.
For example, these first 2 colors are for logo representation, the next 2 colors will support the design of your website or blog. And maybe 2 to 3 other gradient colors based on the main color will be the choice for print marketing publications.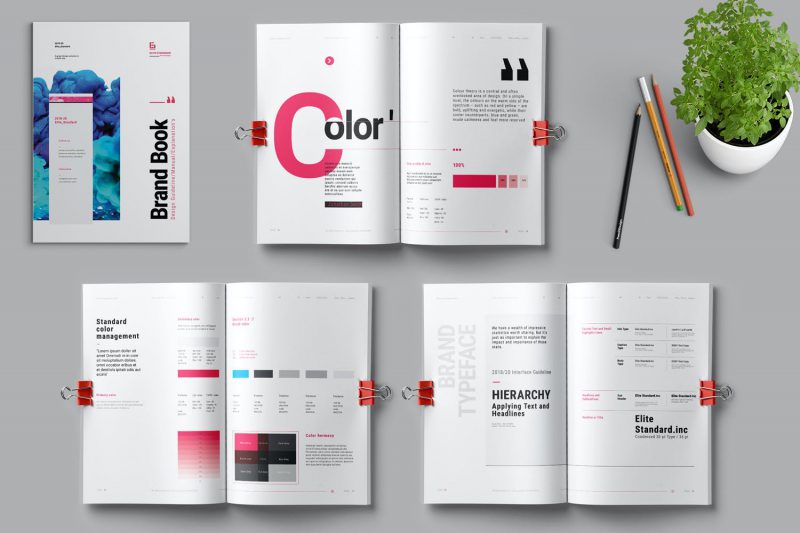 No matter what color you use, make sure you specify the specifics of each color. These parameters are recorded in the brand manual, which will help the users to choose the exact colors in terms of brightness, contrast, gloss, gradient, etc. that the designer has built for the brand. .
Color standards will guide:
Website design

Print advertising

Event Publications
4. Typography
Typography is also one of the important elements of a brand manual. But you need to understand, it is not the font you use for the brand's logo.
Typography is a great directional font for blog or website design, advertising content design, or even for media taglines.
5. 
Visual Identity –
 Shaping the visual style
What is the dominant color in the image? What does the image emphasize? Using animation or real images is the right purpose of the brand? The image orientation will answer all these internal questions, provide the correct brand design system, and achieve the wishes of both the brand and the customer.
For example, Coca Cola's visual identity is reminiscent of the color and taste of the brand when customers see this series of images.
Visual orientation in brand design helps your employees to be creative but still within the framework, creating excitement at work as well as achieving efficiency in the communication process.
6. Tone & Voice
To design a brand that convinces customers, the most important thing is that you have to stand from their perspective, in general, have a voice and be in tune in the use of words.
If your target audience is dynamic young people, use a cheerful, positive tone, close words like in spoken language. But the audience is middle-aged people, needing a lot of knowledge, which requires the brand to have a mature tone, create trust, provide useful information from quoting foreign documents or scientific research. learn… .
Setting up a dictionary that includes words to encourage use and words to avoid is also a good idea to help employees no longer have difficulty in conveying content.
21 Brand Guide Templates – Beautiful Brand Guideline
As you can see, the purpose of brand manuals is to shape and maintain the stability of the brand influences in the business, which, when combined, create high recognition.
Here are 21 Great Brand Handbook Examples You Can't Miss
#1. Medium
Medium focuses on presenting two elements of typography and color in this brand guide.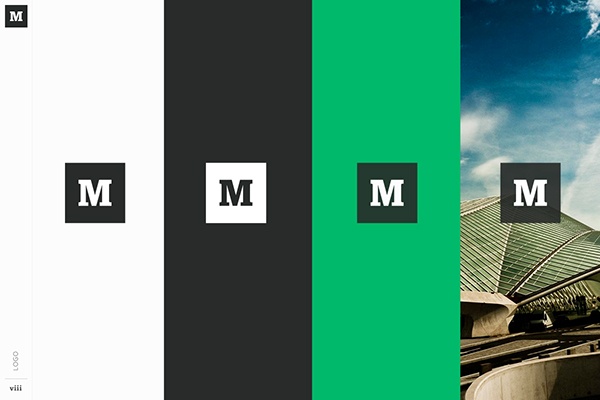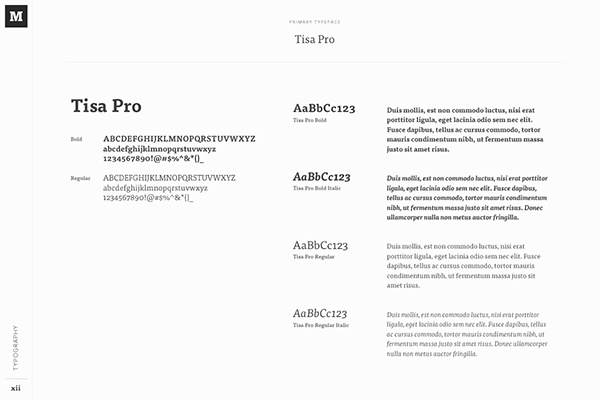 See the full Medium branding guide here
#2. Wolf Circus Jewelry
Wolf Circus Jewelry is an extremely famous jewelry brand, therefore, the appearance of the products is the most important factor. This brand guide is the perfect guide to your mission statement, product details, typeface, logo formats, color palette, and other promotional guidelines.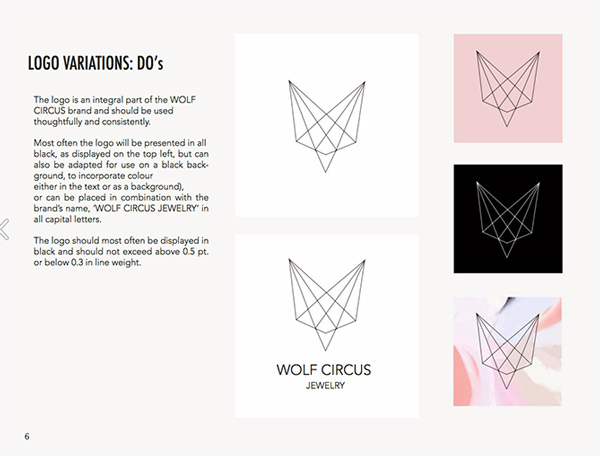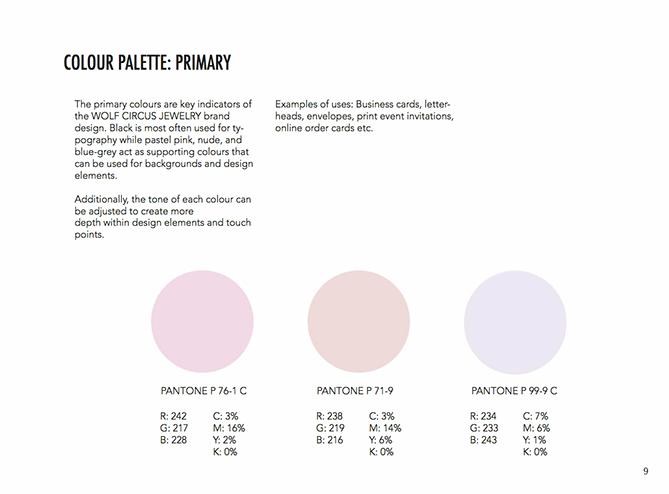 See the complete Wolf Circus Jewelry brand handbook here .
#3. Eye
A great example of  a nice brand guideline template , with details on how to use typography and color gradients all listed.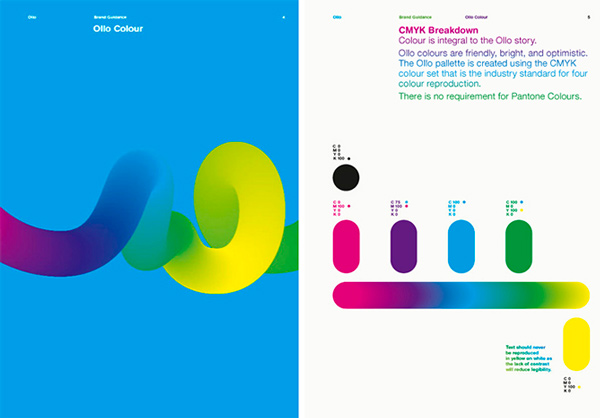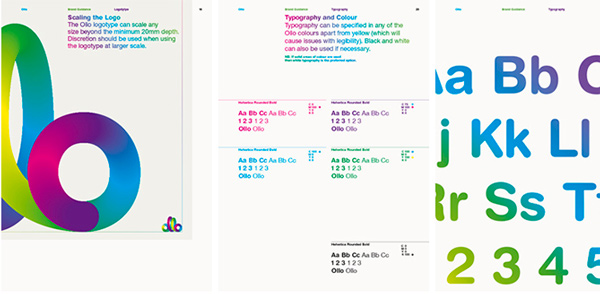 See Ollo's complete branding guide here .
#4. Skype
A world famous bygone video calling platform. Skype after being restructured, focused its focus on the product features associated with the logo's applications.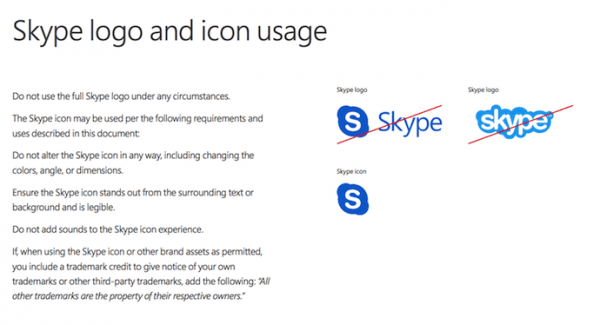 See the full Skype branding handbook here .
#5. Barre & Soul
Barre & Soul's brand handbook template  again includes different logo formats, logo spacing, sub-logos, complementary images, and 5 colors used in the identity.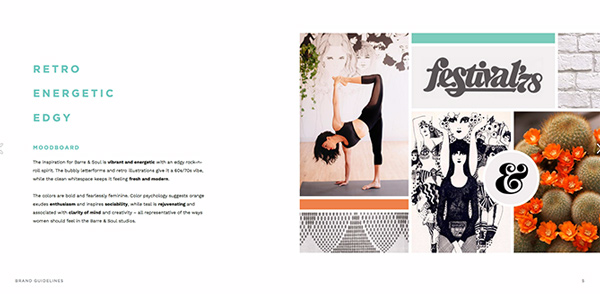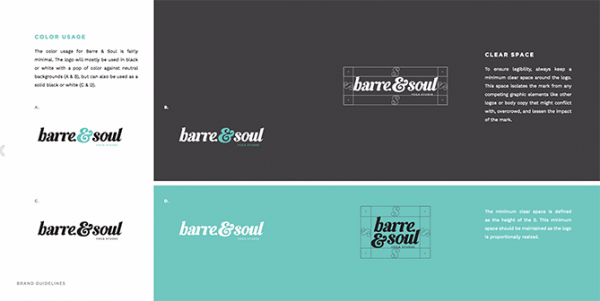 See the complete Barre & Soul brand handbook here .
#6. Spotify
This Spotify Brand Guideline focuses mainly on describing the brand's logo variations, while also allowing you to download the original logo file for use.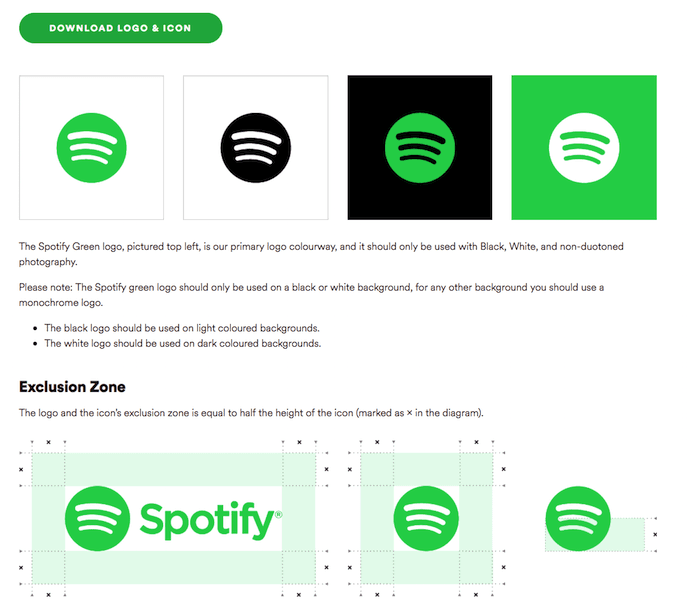 See the full Spotify branding guide  here .
#7. Jamie Oliver
Jamie Oliver has an incredibly detailed brand handbook, with extensive color palettes to accompany each product shown.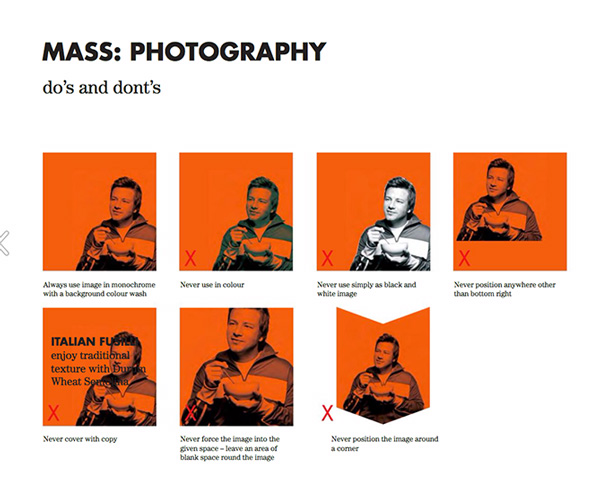 See Jamie Oliver's complete branding guide here .
#8. Herb Kitchen
Herbal Kitchen details both the color palette and accompanying textures in their brand guide. Thanks to this principle, it is possible to know exactly how the logo will appear in a particular case.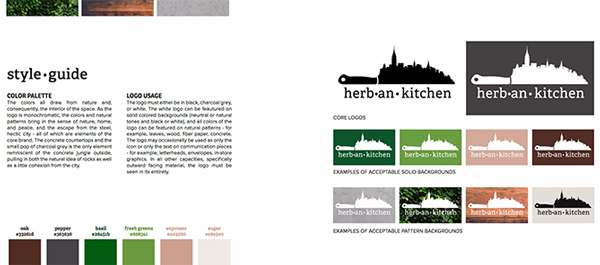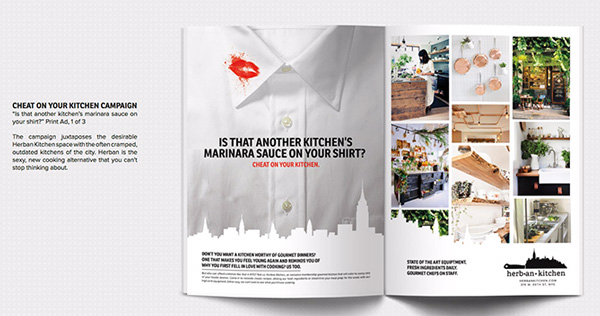 See the complete Herbal Kitchen brand handbook here .
#9. Urban Outfitters
A brand guideline book of the extremely famous fashion brand – Urban Outfitters.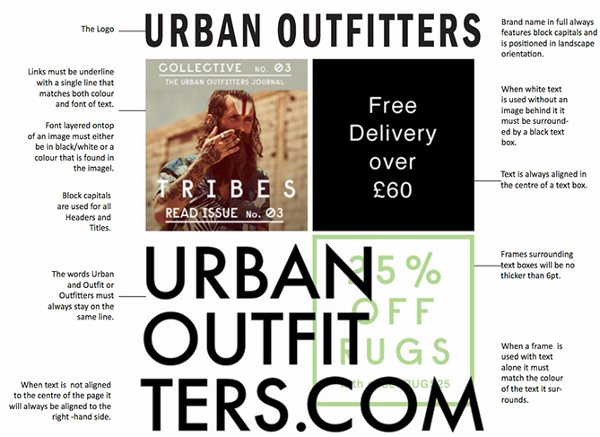 See the full Urban Outfitters brand handbook  here .
#10. Love to Ride
Love to Ride, a bicycle manufacturing company, details the visuals in this guide. There are a total of 9 different color codes and loads of extra logo details and use of images.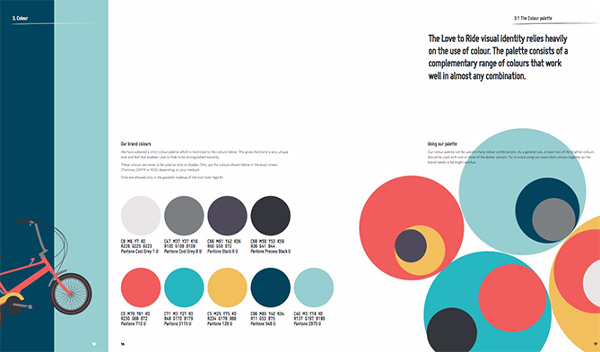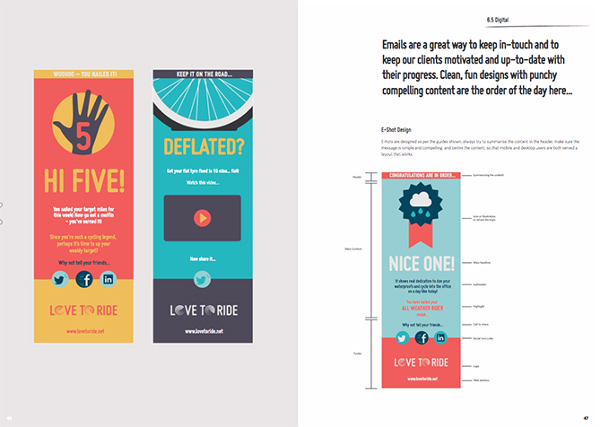 See the full Love to Ride branding guide here .
#11. Barbican
Barbican, a major art center in the Kingdom of England, focuses on simplicity and typeface display in its brand guidelines.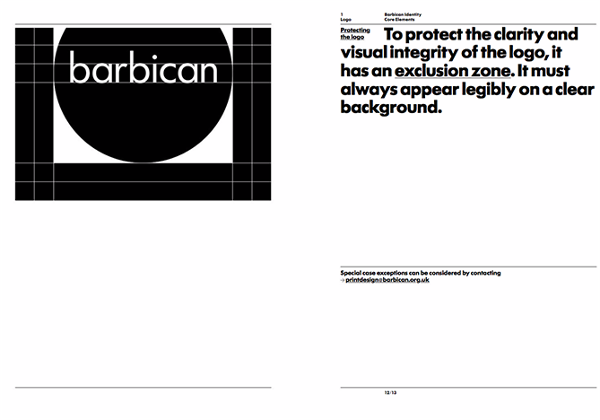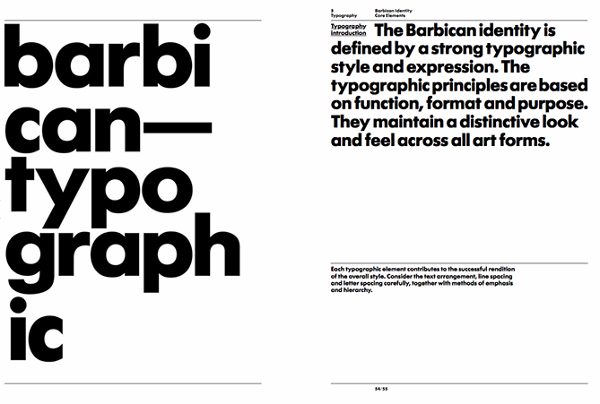 See the complete Barbican brand handbook here .
#12. I Love New York
In addition to the famous T-shirt, I Love New York also has its own complete brand guide. Start from introducing the mission, vision, mission, target audience and appropriate tone of voice. And finally, the positions to place the logo accordingly.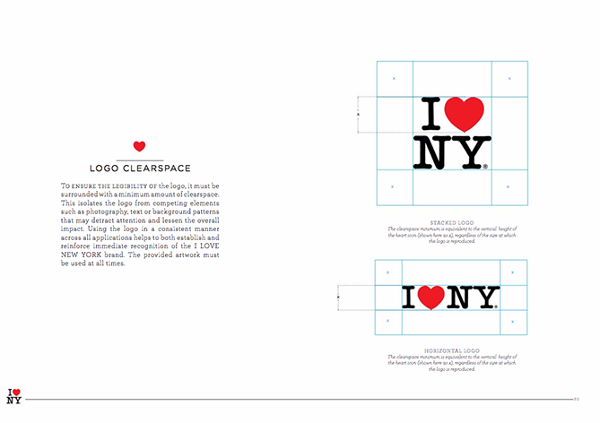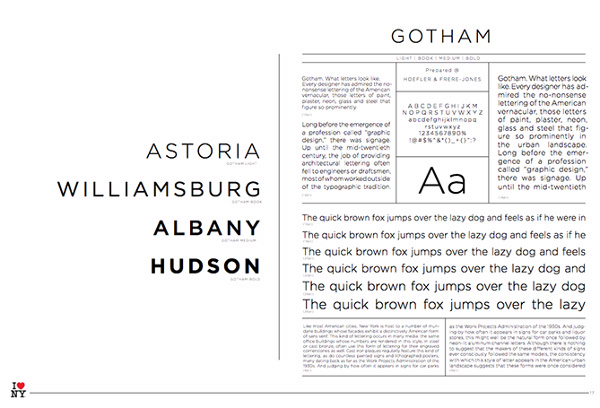 See the full I Love New York branding guide here .
#13. Cisco
A separate font designed with the brand name "CiscoSans" – this is a great brand guideline for your reference because of the simplicity and sophistication it brings.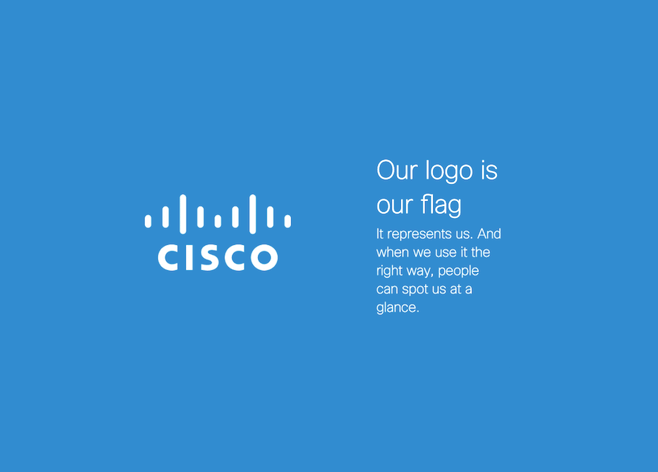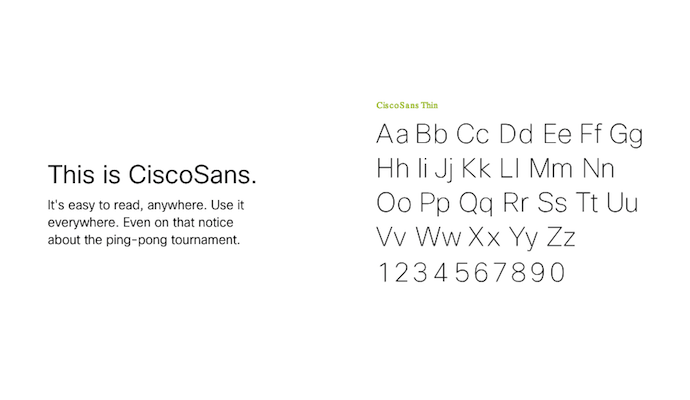 See the full Cisco brand handbook here .
#14. University of the Arts Helsinki
The University of the Arts Helsinki brand guide is more of a brand creation album than a traditional marketing publication. Including animation effects and variations of the logo in many cases.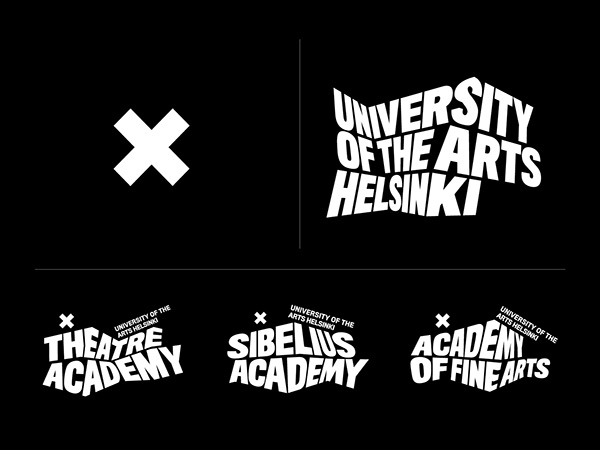 See the full University of the Arts Helsinki brand handbook here .
#15. NORTH
NJORD's minimalist brand guide provides everything you need on both digital and print platforms.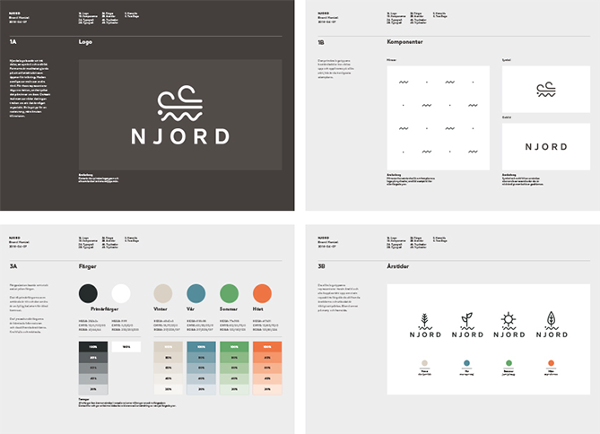 See the complete NJORD brand handbook here .
#16. Cultural space
A set of colorful brand guidelines of the famous cultural center in Argentina.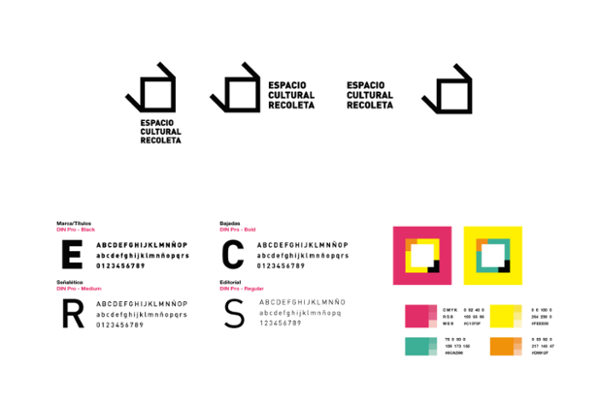 See the full Espacio Cultural brand handbook here .
#17. Alienware
This brand guide is divided by Alienware into four distinct basic sections: voice, design, visuals, and partners. Also an example of a great brand guideline we can all learn from.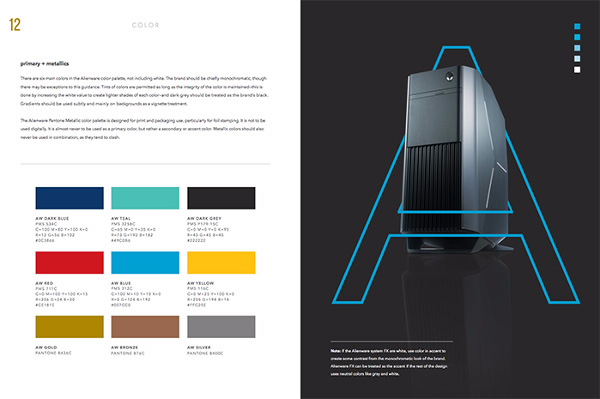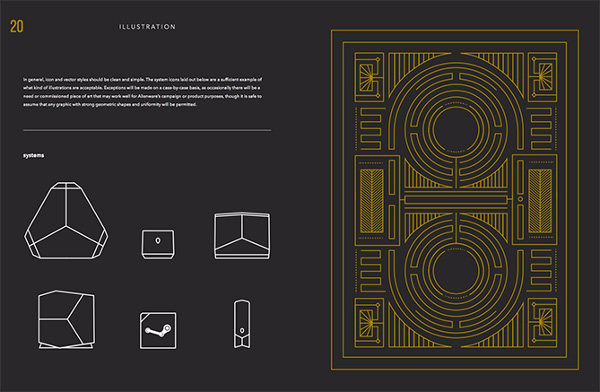 See the complete Alienware branding handbook here .
#18. Netflix
Netflix focuses mainly on depicting the logo, applying basic rules of spacing, size and placement, as well as choosing a classic red color code for its logo.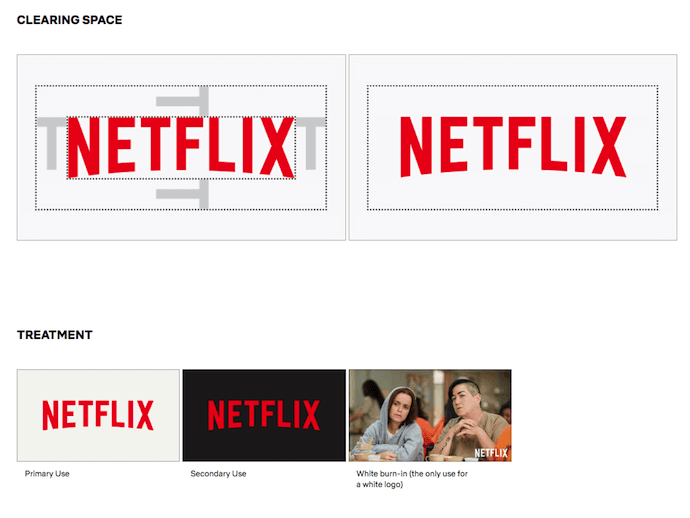 See the full Netflix branding guide here .
#19. Scrimshaw Coffee
Featuring 5 different colors, this branding guide focuses mainly on showing variations of the logo in many specific cases.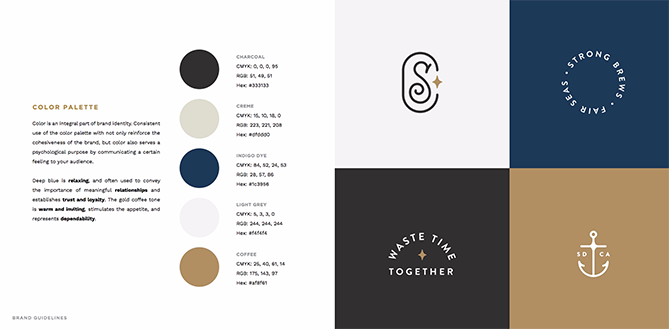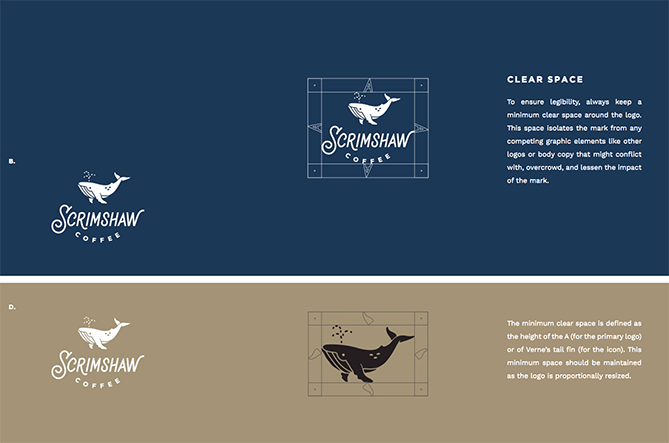 See the complete Scrimshaw Coffee brand handbook here .
#20. NASA
Brand guidelines detail how to use NASA's brand image.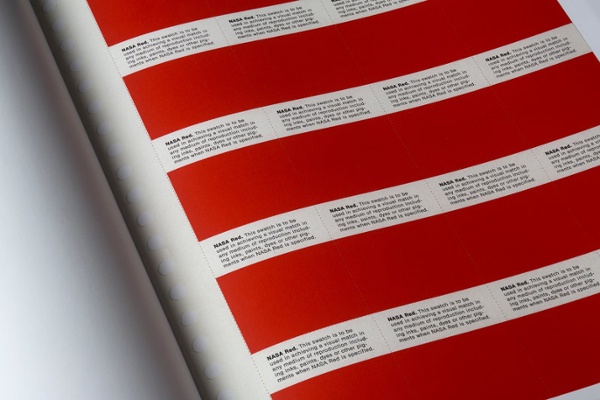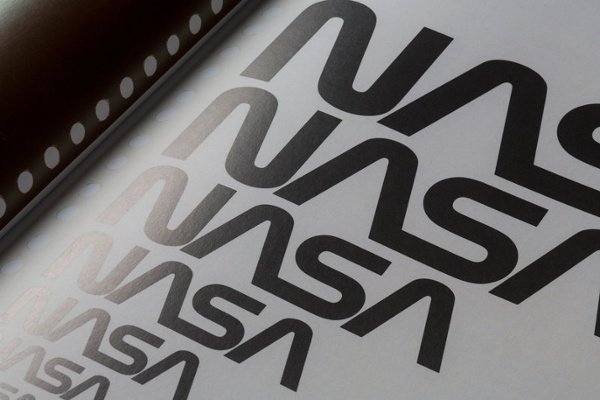 See the full NASA branding handbook here .
#21. New York City Transit Authority
As a traffic management agency in New York City, but still owns an extremely detailed brand manual.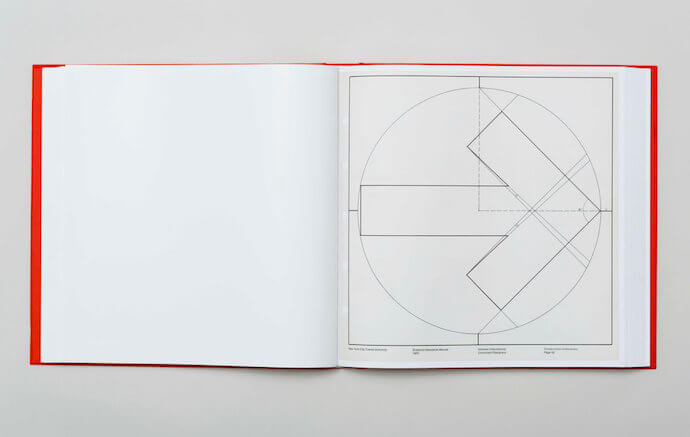 See the complete New York City Transit Authority branding guide here .
Now that you know what a brand handbook is, what are your next steps? If you need to create brand assets such as logos, brand identity, why not let Malu Design do it for you?
If you're ready to begin your branding journey, stick to your brand ethos. Brand identity is only one piece of the puzzle. Without awareness, you will have a hard time finding success.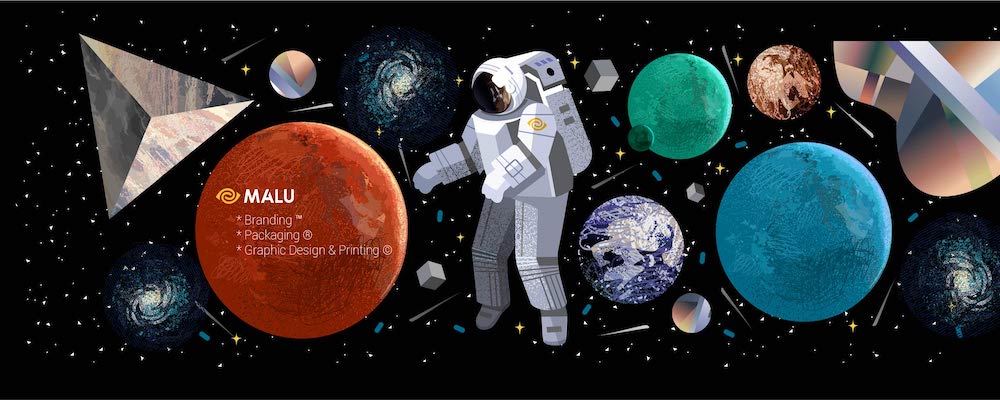 If you are looking for a reputable and experienced unit to be able to design a professional and impressive logo and  brand identity system , then please contact us immediately by phone. 0988 622 991, or leave your information and requirements, Malu Design 's consulting department  will contact you right away to answer all your questions!
————————
Malu Design – Branding Identity Agency
Hotline: 0988 622 991