Today social networks in general and Facebook in particular are extremely popular and growing everywhere. Thanks to the development of technology, business people have an extremely large online market.
One of the most effective ways to sell on Facebook is to join groups to have the opportunity to advertise, exchange and consume products. Currently on Facebook there are thousands of Groups for you with business blood. But how to find an effective Group, with a large number of members, with high interaction and suitable for the product that we are trading, is still a difficult step.
Capturing the common psychology of young entrepreneurs, this article we will provide you with  extremely HOT and EFFECTIVE  Facebook sales groups ,  hoping to help you make more suitable choices. suitable for yourself.
Refer to related articles:
–  Guide to Selling Online From AZ
–  Getting Rich from Effective Online Business
–  9 Top Selling Books
– 40 Super Profitable Online Business Ideas
1. Groups selling fashion products on Facebook
This is a collection of extremely popular buying and selling channels of people all over the country, especially of women who love and are passionate about beauty. All are Groups with 50,000 members or more, so the interaction is huge. The items for sale are mainly fashion clothes, in addition to  cosmetics ,   jewelry accessories , …
>>>  10 Tips for a successful clothing business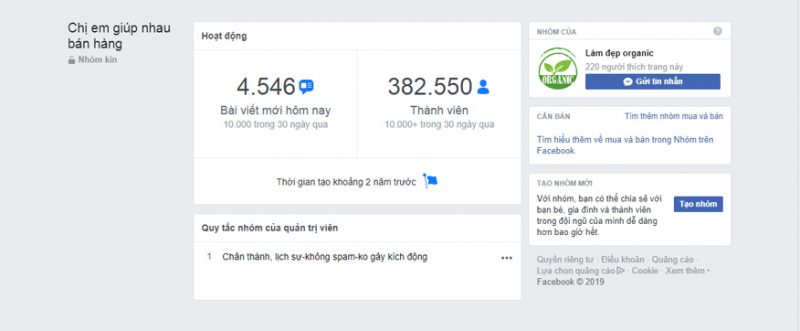 Most of the products are accepted for wholesale and retail, so this is also a source of quite rich and diverse goods.
Because of the careful management from the administrators, about the quality, customers can be completely assured because if there is a case where any shop owner sells low-quality goods, frauds, etc., they will be denounced and immediately excluded from the group, ensuring that the Group is all the most prestigious shops.
2. Facebook Groups that specialize in selling food online
If you are a fan of junk food, there is no reason to ignore quality groups like these. These are the groups that are said to be the most attractive on Facebook because the group is filled with posts about food with an extremely diverse and delicious menu.

Although there are not as many members as other groups, usually only 20,000 members or more, but not because of that, the decline in interaction can even be strong and limit the number of followers. virtual. However, this form of online food trading is still usually concentrated in big cities and provinces, where the population is densely populated and has a stable income.
You can refer to the groups that specialize in selling food online below.
>>>  12 Snack business ideas, selling junk food
3. Groups for liquidation sales on Facebook
Please refer to the Groups below because you can buy everything at the cheapest price or sell at a good price with all items from fashion, phones, home appliances, etc. Items are liquidated, so buyers can easily exchange the most reasonable price.
In addition, sellers also have the opportunity to liquidate unnecessary items or liquidate inventory or liquidate the entire store.
4. Group online markets of provinces on Facebook
It is convenient and useful by the introduction of Online Market Groups in most provinces and cities across the country today. Most of these are  online sales sites on Facebook  that have 100,000 or more members with hundreds of posts being posted every day.
Creating a larger, easier and more convenient shopping space than ever on Facebook among people in the same Province. This is also a place to exchange, make friends and connect more people, not only buying and selling, but also sharing job opportunities, recruitment information is also regularly posted.

Here are some of the best performing Groups we've surveyed.
5. Student Market Group – selling cheap goods
The Student Market Group is  an effective Facebook sales group , which is appreciated for its strong interaction, posts with a very high number of likes and comments by a strong student force. Young people today are inherently fond of online shopping and are quick to technology, so shop owners also love this environment.

One thing to note, because selling to the main audience is students, the products must be diverse with affordable prices to attract many customers.
6. Other Facebook Groups are diverse and highly interactive
Here are some other types of groups that do not focus mainly on any item or object, very wide in scope. There are many new posts every minute, so if you post here, you should regularly comment to let your post be pushed up, have the opportunity to reach more customers.
Above is a summary of  extremely hot sales groups on Facebook  that ensure to bring you an extremely large quality online market. However, in order for your product and brand to be widely developed and attract customers, you need to pay attention to the content of the post and the attached introductory images so that it is very quality and elaborate.

In addition, to increase interaction with all customers, you can also organize minigames, shocking sales or livestream to introduce new products to build a more diverse and lively business form. Online business through Group sales is a stable solution that you should implement, especially suitable for those who have individual businesses, small models, do not have enough capital to invest in advertising and website design. private sale.
So as long as you work hard to post and increase interaction with people along with a quality product to gain credibility with customers, the online communities will share and introduce others to the product. Your Business.
Refer to other articles on  business knowledge and  marketing  at  Malu .  's  Blog