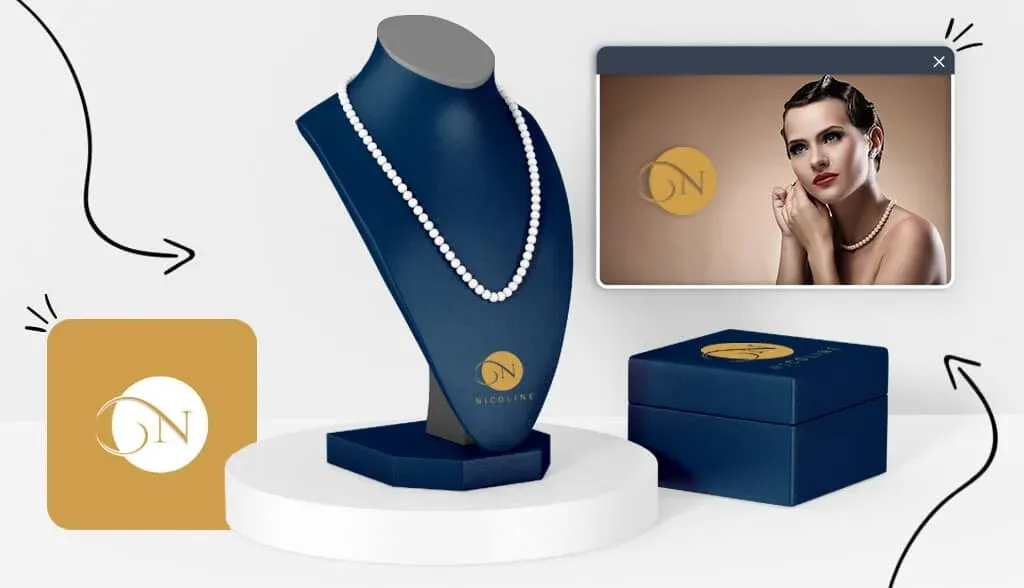 Your jewelry logo should look as polished as the merchandise you sell. Like any statement piece, your logo is a symbol that reflects the best qualities of your business. It lets your target audience know that your business is professional, your merchandise is top quality, and that you're the place to go for all their jewelry needs.
Whether you handcraft wire-wrapped jewelry or specialize in ethically sourced sustainable products, you must differentiate your business from the competition with a striking jewelry logo. .
Check out the logo designs below to get some inspiration and logo ideas from top jewelry brands.
Artistic jewelry logo
As an artist, you'll appreciate these examples of artistic icon selection, custom fonts, and character traits.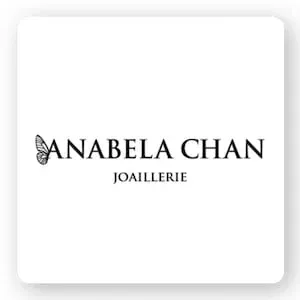 Anabela Chan is the world's first high-end jewelry brand to champion lab-grown gems with exceptional craftsmanship. Her stunning creations are worn and loved by celebrities like Beyonce, Rihanna, Lady Gaga, J.Lo, Taylor Swift and even members of the Royal Family. Therefore, the logo of the elite jeweler should be a delicate outline of butterfly wings. Subtle and unobtrusive, yet impressive enough to attract a loyal following.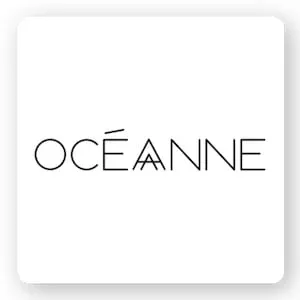 What makes Oceanne's logo memorable is the cleverly designed font and letter 'A'. A modern minimalist handcrafted jeweler, French designer Anne Harrill handcrafted each piece with love and care. By applying minimalist design method , the logo offers a clean aesthetic that highlights these attributes and more.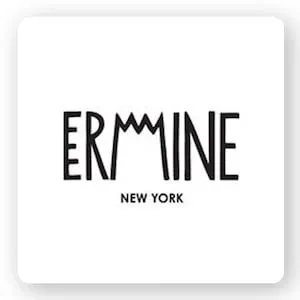 Ermine's striking logo fulfills their promise to create unique pieces of jewelry. This brand is the brainchild of 2 visual artists who love to combine their fashion and artistic experiences to create limited edition pieces naturally inspired by the elements. that they choose to work with. The letter 'M' seems to be in the shape of a crown while the letter 'E' shows their creativity in their work.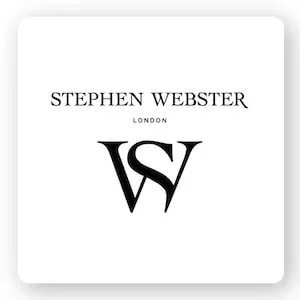 Stephen Webster's logo is the ultimate in sophistication and simplicity. The logo design encourages you to explore the collection of creative jewelry and luxury art. By interweaving the designer's initials, the result is a subtle logo that captures the essence of the brand succinctly.
Use Colors
The color you choose to order used in my logo has important meaning. Take a look at how different jewelry businesses use specific colors in their logos to represent their brand.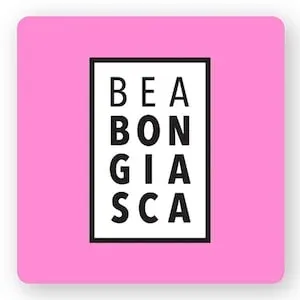 Many jewelry brands tend to stick with a minimalist color palette to create a modern and sophisticated feel. But Bea Bongiasca's bubble-pink logo is an invitation to explore the exciting side of jewelry design. Symbolic pink for femininity, vivacity and strength, that's what Bea Bongiasca wants to show.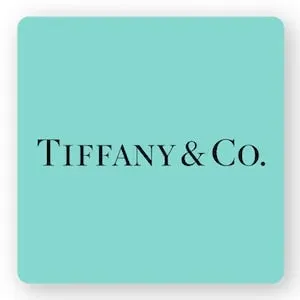 No color is as strongly associated with a brand as Tiffany blue. The iconic robin's egg blue has been registered trademark by Tiffany & Co. since 1998. And in 2001, it became a custom color created specifically for Tiffany and not publicly available. Colors are instantly recognized as relevant to the brand, which is ultimately the main goal of your logo.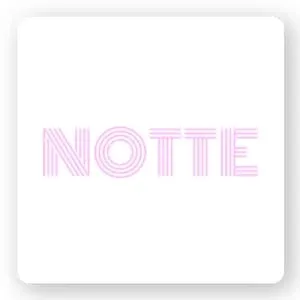 NOTTE's owner, Jessica Tse, aims to make jewelry fun while at the same time igniting happiness through her jewel-by-jewel designs. According to the website, NOTTE jewelry is born out of late-night ideas and spontaneous outbursts of inspiration. With an aesthetic that combines an interesting mix of New York quirky with Italian daydreams, NOTTE's carefree logo captures the brand perfectly.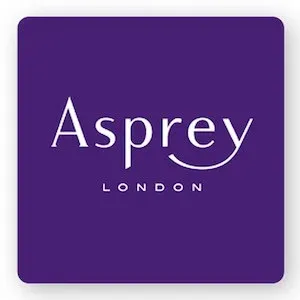 Purple is a color that can steal attention in any room. Expressing attributes like luxury, wealth, power, and even a bit of mystery, purple is a powerful color for jewelry logos. Iconic British luxury brand Asprey uses only the rarest and finest gemstones. Each Asprey piece is handcrafted by world-renowned master jewelers. Naturally, their purple logo is quite fitting.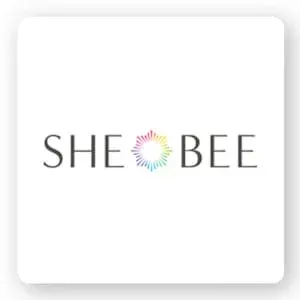 Why choose one color when your logo can shine like a diamond with all of them? While logo color palette best practices are to use only 1 to 2 colors (up to 3), Shebee proves that sometimes rules are meant to be broken.
Symbol selection
Icons are meant to highlight—not overwhelm—the overall design of the logo. Here are some of the best examples of jewelry logo icons.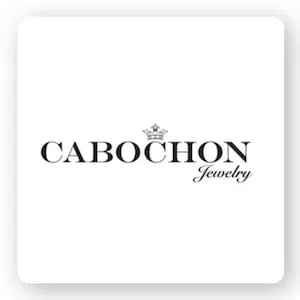 When it comes to luxury brands like Cabochon Jewelry, the crown symbol is well-suited to depict a picture of wealth and power. The intricate yet subtle crown symbol sits on top of the 'C' to accentuate the overall logo design.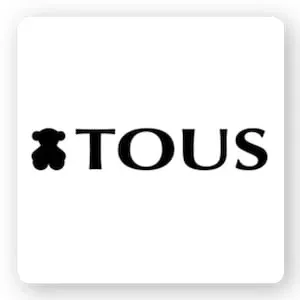 It is important to choose a logo that is not overused or clichéd to differentiate your business from the competition. Find a logo that says something unique about your brand. Take it from Tous, who chose a bear for their symbol.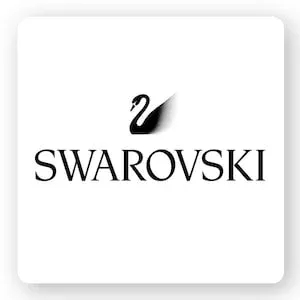 Swarovski is an iconic brand known for creating high-end jewelry and sculptures. The instantly recognizable Swarovski Swan has been used as the brand's emblem since 1988. The elegant swan is an example of simple and timeless elegance. It is welcoming while also maintaining a look of wealth and luxury.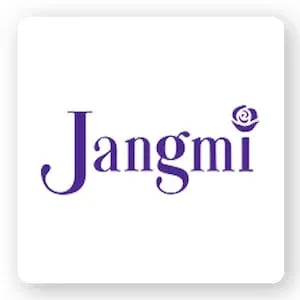 Specializing in diamond engagement rings, wedding rings and other mementos for loved ones, Jangmi is recognized as a trusted and beloved jewelry store. Due to their expertise in love and relationships, a simple rose bud symbol blooming over the letter 'i' is a lovely accent to the overall logo.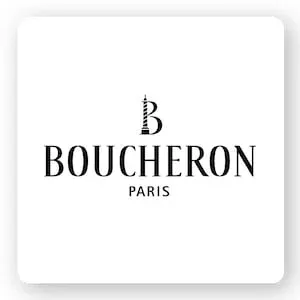 Founded in 1858, France's jewelry dynasty lives on to this day with innovative, modern pieces crafted from the finest gemstones and 18-karat gold. Boucheron is a timeless mainstay in the world of high jewelry and will remain so for many years to come. So, only a tall swirly column of the logo symbol is correct.
Wordmark jewelry logo
Wordmarks is a text-based logo that does not include images or images. Here are examples of wordmark jewelry logos.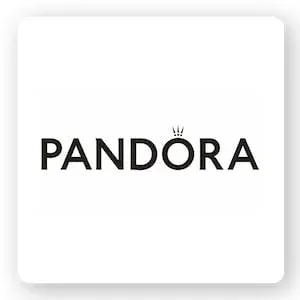 Wordmark logos help increase brand recognition and are often timeless because they are timeless and versatile. Just grab it from Pandora, the beloved jewelry brand, to prove that taking off your clothes doesn't have to be boring!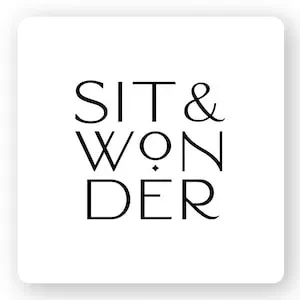 Wordmark logos such as Sit & Wonder show that you don't need some design elements to make the logo stand out. This particular logo is memorable for its simplicity and whimsical font, placement and layout.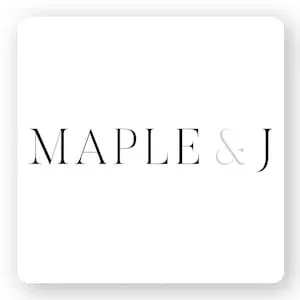 Wordmark logos often use design techniques like kerning (space between individual letters or characters) to make a statement. Maple logo & J has a higher kerning which causes the letters to be further apart. This strikes a balance in design and is visually pleasing.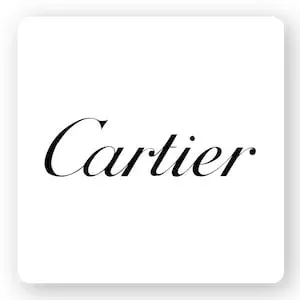 If you offer high-end jewelry like Cartier, consider using a script font to convey elegance and sophistication. Script fonts appear timeless and sophisticated, which is exactly what Cartier wants to show.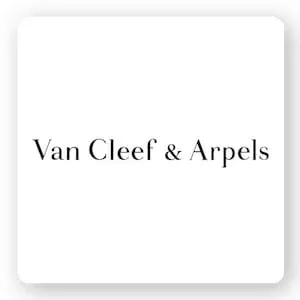 If you want a more conservative jewelry logo design, a serif font is the best choice. Serif fonts are popular with brands that want to present an elegant, sophisticated brand. Logos like Van Cleef & Arpels uses serif fonts to present an atmosphere of tradition and reliability.
Handwritten jewelry logo
Handwritten logo becomes fashionable and stylish. Let's look at some examples for inspiration.

Hueb's logo uses handwritten fonts as a way to add humanity and flair to their design. As a unique high-end jewelry brand, Hueb's mission is to deliver passion and purpose. A handwritten font is the best choice to convey this message home.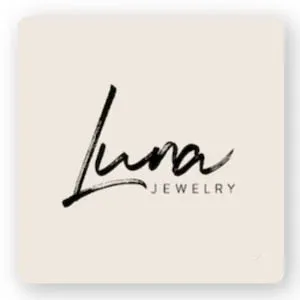 The lovely and memorable thing about Luna Jewelry's logo is that it looks like a brush signature written with a hand-drawn stroke. It expresses a sense of craft and art in a way that other fonts can't.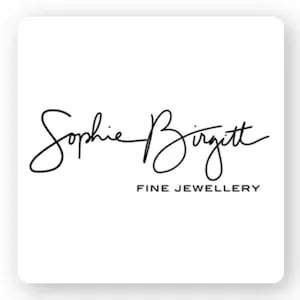 Designer Sophie Birgitt combines refined and feminine aesthetics with strength and sharpness to create gorgeous, distinct pieces of jewelry. Each piece is an original work of art handcrafted in Birgitt's studio. Her brand's signature logo is testament to her devotion to her craft and art.
For you
As you've seen, a strong logo communicates your brand's message and attributes, and sets you apart from your competitors. I hope you have been inspired to create your own jewelry logo. Note designs that capture your interest and spark creative ideas. When you're ready to create your jewelry logo, you can head over to our logo maker to get started.