Walmart has built a reputation as an affordable retailer. Today, the Walmart logo is one of the most instantly recognizable images in branding. It is simple and effective, symbolizing great value and strong community ties. 
So, how did the Walmart logo evolve from its days as a small-town discount store into the retail giant it is today? Read on to find out.
A Brief History of Walmart
In the 1950s, Sam Walton opened a 5-cent store in downtown Bentonville, Arkansas (you can stop by the Walmart Museum if you've ever been in the area). Inspired by the success of 5&10, Walton opened the first Walmart in 1962 in Rogers, Arkansas. 
In its early years, Walmart focused on rural areas to avoid competition with retail giants like Sears and Kmart. By focusing on customer attention, low costs, and an efficient distribution network, Walmart became the largest retailer in the US in 1990. By 2001, Walmart's total sales had surpassed that of Walmart. Exxon Mobil and is ranked as the largest corporation in the world. 
Sam Walton was awarded the Presidential Medal of Freedom by President George HW Bush in 1992 for his commitment to helping individuals, businesses, and countries succeed. In Walton's acceptance speech, he expressed what would become the driving purpose of the company. He said: "If we work together, we will reduce the cost of living for everyone…we will give the world a chance to see what it is like to save and have a better life. " That theme has been woven into every logo design in Walmart's years of development. 
The Walmart logo has gone through several redesigns over the years. While nothing has changed too much, there are some notable differences between the first logo and the current logo.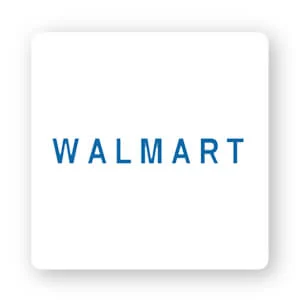 The first Walmart logo was a simple design, without bells and whistles. In its early years, Walmart did not include a logo and used only a single color scheme. Instead, they use the company name written in a sans-serif blue font.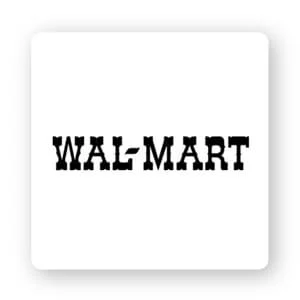 Sticking with rural roots, Walmart's new logo is a bit Western. Another notable difference other than the Frontier font is the dash separating the words "Wal" and "Mart". Walmart has struggled for years on whether to hyphenate the company name in its logo or leave it as a single word. Here, they tried splitting 2. You may also notice that the blue color scheme has been replaced by plain black.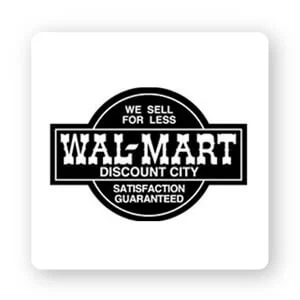 Walmart kept the Frontier font and placed it in an iconic-style logo from 1968 to 1991. This version included two taglines: "We Sell For Less" and "Satisfaction Guaranteed." It also included a "Discount City" sub-name, which they later removed.
An icon is an interesting choice for Walmart. As one of the oldest forms of logos,  iconic logos  are a great way to show the traditional roots of a business. During this time, Walmart was expanding rapidly, so they could have used the iconic logo to remind their original target audience (rural America) that they hadn't forgotten about them.  
The 1981 logo overhaul removed everything on the logo except the company name. The original sans-serif font is back, though this time it's bolder with very little space between letters. Unlike the original 62's logo, they use brown as opposed to blue to hint at their rustic origins. 
The most notable change in the 1992 logo was that the hyphen between "Wal" and "Mart" was changed to a star. The font remains pretty much the same, just can be stretched out a bit more to give the logo more space. Also, they decided to go back to blue. Blue is the color chosen by many businesses because it symbolizes professionalism, intelligence and modernity.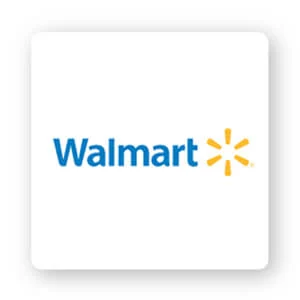 Walmart's last major redesign saw a lot of big changes. First, they changed the font so that all letters except "W" were lowercase and the space between "Wal" and "Mart" completely disappeared. Second, they reduced the dark blue tone to a lighter shade, giving it a more youthful look. 
Third, the star that served as the hyphen has previously been turned into an abstract spark at the end of the logo. Yellow spark has become so well known that when it is used alone, such as on apps and websites, it is instantly recognizable. Sparks symbolize innovation, inspiration and leadership. 
Walmart's logo has come a long way since the company was founded in 1962. After years of relying solely on their name, Walmart added the spark icon and never looked back. Spark adds something special to Walmart's identity that was previously lacking, doesn't it? Today, Walmart's logo is young, creative, and simple while still managing to be unique and memorable