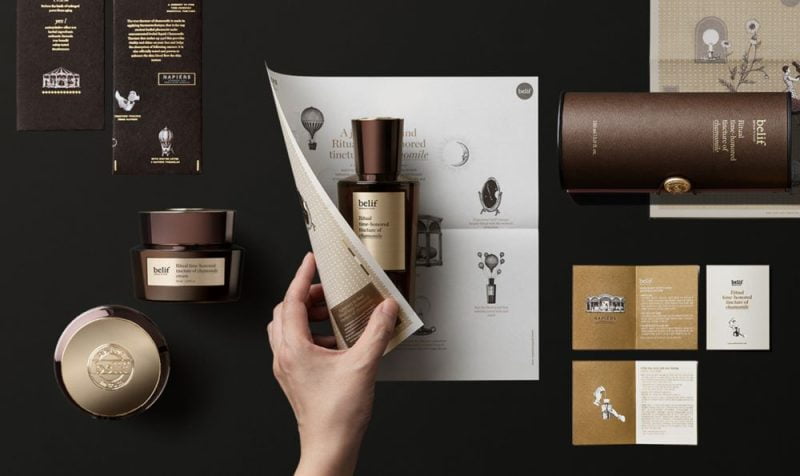 Corporate gifts are considered "messages" that businesses send to partners, customers, employees and the public. Malu would like to share general information about corporate gifts so that customers can use gifts reasonably and for the right purposes to achieve the highest communication efficiency.
1. What is a corporate gift?
Corporate gift is a phrase used a lot in businesses and companies in recent years; especially on Tet holidays, holidays, anniversaries, signing a contract, etc. This is considered one of the important activities of the business. Why are corporate gifts so important?
Business gifts  are gifts used by businesses to give to partners, customers who are individuals or organizations that have a relationship with the business in order to express their gratitude and deep gratitude. to them for always trusting, accompanying and using the products and services of their business.
Businesses can print and engrave logos on gifts for the purpose of impressing customers and building relationships, making them remember them when making purchasing decisions.
2. Meaning of corporate gifts
2.1. Maintain and improve cooperative relationship
The deep meaning of  business gifts  helps maintain and improve business and trade relationships. Through gifts that show sincerity and concern of businesses for partners, employees, etc.
2.2. Promote corporate image
In addition, corporate gifts are also an extremely clever form of marketing to help introduce business images, advertise, communicate and improve business reputation. In order for the company to build its image, reputation, identity and brand awareness, the gifts are carefully selected and designed to bear the company's own imprint, ensuring practicality and usefulness. applicable to the recipient.
2.3. Attract more new potential customers
Each gift recipient is a media representative of the Enterprise. They introduce the business to the market naturally, and the business does not spend any advertising costs. The crowd effect will help the business's gratitude gift-giving activities to increase efficiency.
The more widely the gift is distributed, the greater the interest of new customers in the product and the business as a whole.
2.4. Reduce advertising costs for businesses
Promoting brands, products and services of businesses all have to spend a lot of money on communication activities, events, etc. Instead of investing a large amount of money for communication channels, advertising through television, social networks, newspapers, leaflets, etc., the use of corporate gifts can bring better results.
2.5. Affirm the level of the business
Corporate gifts depict the portrait, showing the growth and success of the business. Therefore, corporate gifts designed and given to certain groups and individuals must be consistent with the corporate culture tradition, business class and be useful to users.
Through gifts, it will make an impression and build the image of the business in the eyes of the recipient and the public. Affirming brand class is a great effect of corporate gifts.
3. Gift recipients
3.1. Business Partners 
A business partnership, also known as a business partner, is a working relationship between two or more individuals or organizations, jointly building, participating, and sharing a type of activity towards common interests. This relationship is bound by a contract with clear terms of responsibilities and rights of the parties involved.
A business partner of an enterprise can be one or more entities:
Main supplier

Intermediaries (such as franchise stores or agents, etc.)

Additional service providers

They can also be current and potential strategic partners
3.2. Staff
An employee of an enterprise / company is an employee who has full working age (at least 18 years of age) and is healthy enough to enter into labor relations, enter into a contract with an employer, be entitled to exercise their rights and obligations as prescribed by law and the company.
To encourage employee morale, businesses often use gifts to show their interest and acknowledge their contribution to the development of the business.
3.3. Loyal customers
Loyal customers are those who are loyal to the company's products and brand. This is considered an extremely important object for businesses.
The American research institute Gartner Group published a survey confirming that: "20% of current customers can bring 80% of future revenue of the business". Instead of spending most of the time focusing on finding new customers, businesses should invest in building and maintaining relationships with loyal customers to keep them with them. One of the most effective methods to do this is using corporate gifts on special occasions: foundation days, birthdays, holidays, Tet, etc.
4. Business gifts
4.1. Premium gifts
A type of  business gift  sent to business partners or close customers to highlight the luxury, as well as the value of the gift. High-class gifts will create a professional image in the eyes of customers through dedicated, thoughtful and sophisticated customer service. At the same time, it shows the respect that businesses always give to partners, towards a long-term and sustainable cooperation relationship between the two parties.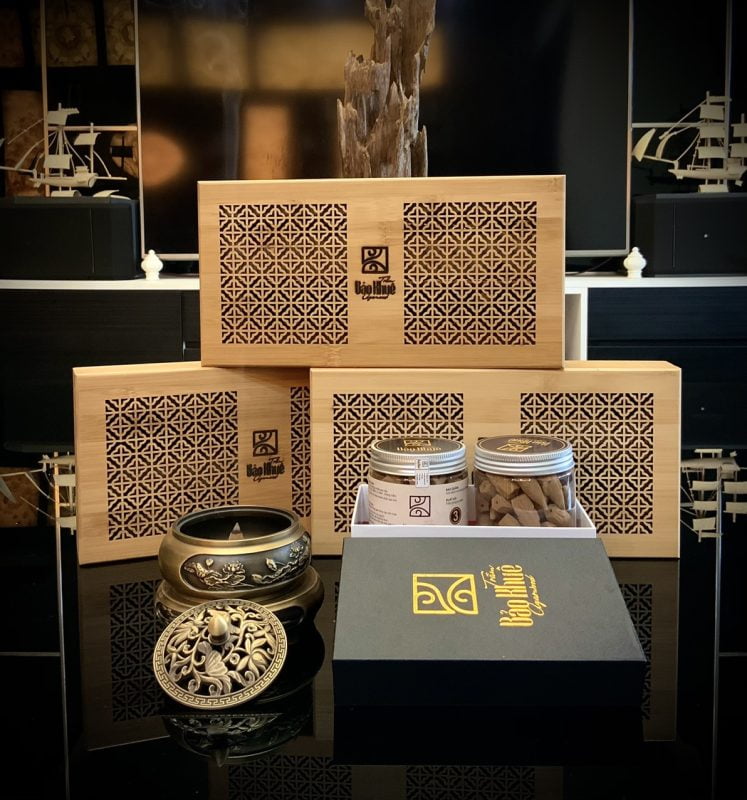 In business gifts, high-end gifts are often given to long-term partners, VIP guests (special customers, bringing great revenue and profits to businesses) in important events, holidays, Tet, year-end, etc. Depending on the gift-giving event, the importance and location of the gift recipient, businesses can choose an appropriate gift.
Malu suggests some high-class gifts such as: high-class gemstone jewelry, high-class handmade ceramic vases, gold statues, precious stones, etc.
4.2. Office Gifts
Office gifts are deeply meaningful gifts for businesses in general, and office workers in particular. Office gifts are advertising directly to users and are one of the most popular and chosen types of gifts. Coming to Malu, you will have a wide choice of unique and practical office gift products such as notebooks, pens, books, ..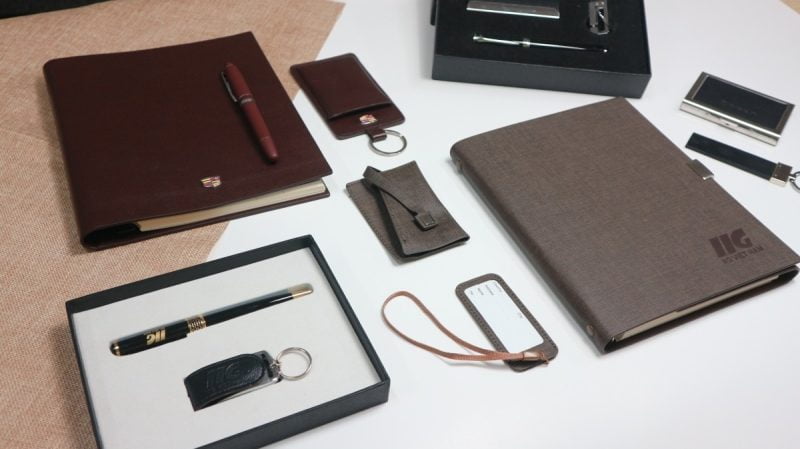 4.3. Gifts of Gratitude
Gratitude gifts are gifts given to customers, partners, company employees with the purpose of saying thank you, because they are the life source of the company. Businesses can stand firmly in the market, reap achievements and build a reputation thanks to the above objects.
Usually, gifts for this occasion are typically company-specific gifts with logos and anniversary numbers attached. Malu suggests some gratitude gifts such as: trophy, leather name card box, signing pen, notebook, .. laser engraving business name, anniversary number.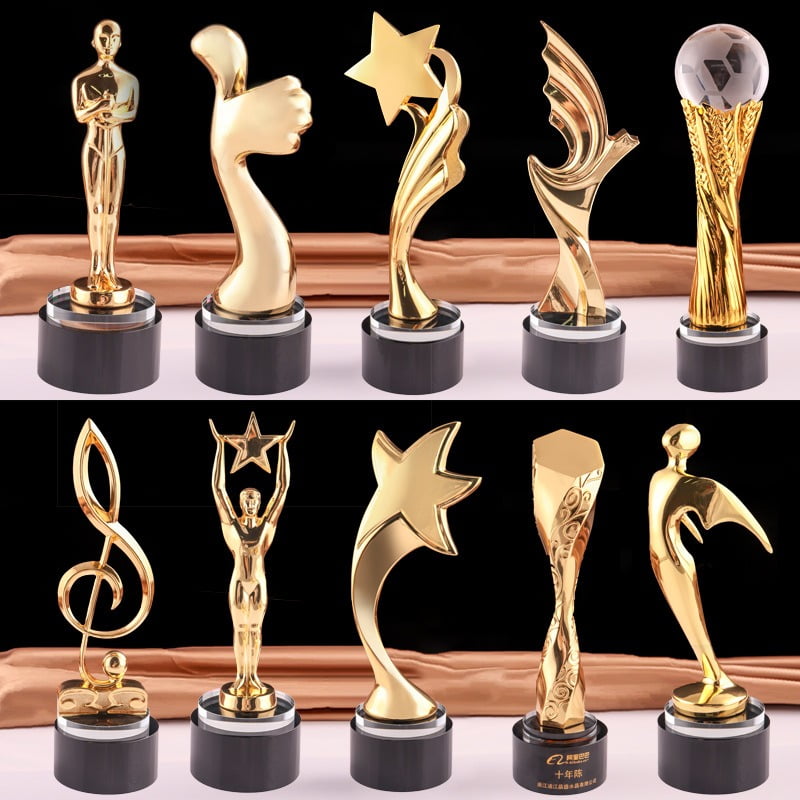 4.4. Souvenir
Souvenirs  are gifts that are often given to each other on an anniversary or a special day. Souvenirs are small but bring great meaning. It can be said that souvenirs are useful items to bond and tighten relationships. This is exactly why you should choose souvenirs as business gifts.
Malu would like to introduce high-class souvenir gifts such as: gilded feng shui statues, paintings, gold-engraved display plates, ..
4.5. Technology gifts
Technology gifts are usually smart and modern designed products, which are technologically applied and highly practical. Technology gifts are valuable and appreciated gifts, bring great benefits, are effective tools to maintain relationships, build brand images and gain customer loyalty. . Especially thanks to its compactness and convenience, it is chosen by many businesses to print their logo on it and as a gift product.
Malu can introduce to the company / enterprise a number of technology gifts such as: Adapter, USB, headset, speaker, power bank… are gifts with high applicability.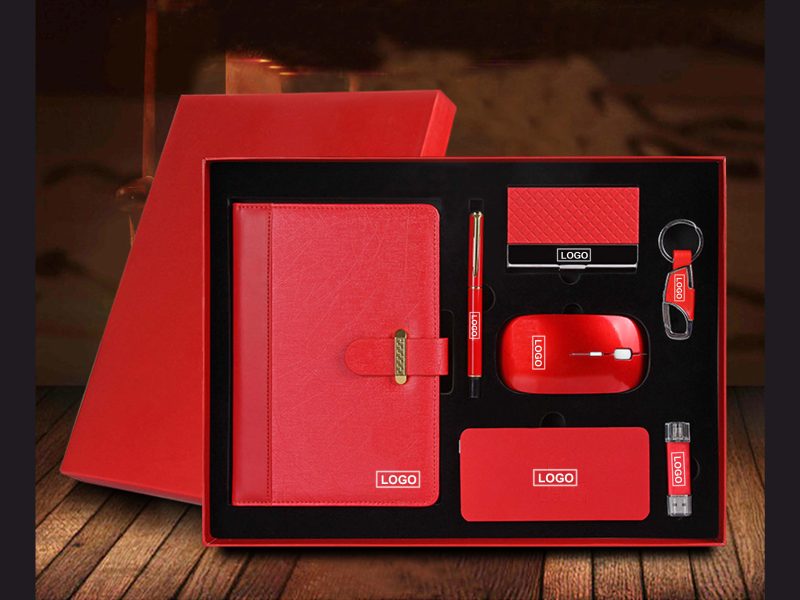 4.6. Fresh flower gifts
Fresh flower gifts are spiritual gifts suitable for all events: birthdays, product introductions, seminars, grand openings, anniversaries, etc. With unique designs and unique colors, each The flower pattern will be a meaningful message that the corporate giver wants to send to the recipient, showing the sophistication, thoughtfulness and respect and concern for the recipient. At the same time, it will act as a decorative accessory to make the space more beautiful and solemn. Depending on the purpose and a number of different factors, you will have many choices of flowers to send to your business.
Some fresh flower gifts Malu suggests you consider suitable for each event such as: Lucky flowers, Unicorn colors, Firework flower baskets, fresh flower baskets…
4.7. Garment gifts
Garment gifts are also practical gifts for users, businesses can give to company employees, customers through events, promotional activities or customer gratitude. Each garment gift is a harmonious combination of color elements, uniform in materials, liberal in lines, showing the giver's concern for the recipient.
Garment gifts can be helmets, backpacks, t-shirts, jackets … with company logo or message you want to send, contributing to building company image and promoting brand.
4.8. Consumer & Household Gifts
Consumer & household gifts are gifts that are frequently used by recipients, through daily activities, the recipients will always remember the brand and corporate image. This gives the printed business's brand the opportunity to go everywhere and contact potential customers in the future.
Malu introduces a number of gifts such as: teapot set, bowl set, fork set, etc.
5. Events using corporate gifts
5.1. Anniversary of founding the company
Company Anniversary (or company birthday) marks an important historical milestone, an opportunity for businesses to summarize what has been achieved and look forward to the future. Birthday gifts are gifts that businesses send to customers, partners and even their employees instead of thanks and gratitude for their contributions in the past time. Through gifts, businesses can convey their messages, create sympathy, express their desire for long-term cooperation, as well as promote their brands to increase the number of loyal customers.
Some gifts on the occasion of the establishment of the company such as: Tea set, vase, cup, … high quality printed with logo, company name and number of anniversary years.
5.2. Opening new representative office / branch
Opening a Branch / Representative Office is an important event marking a new turning point on the business path. Gift giving must be carefully selected with the meaning to wish good luck, good luck and feng shui… Depending on the field, industry, hobby, gender, age, the giver needs to choose the gift he likes. fit.
Malu suggests some suitable gifts on the occasion of branch/representative office opening: Shelves/baskets of fresh flowers to celebrate the opening, feng shui mascots, feng shui paintings, etc.
5.3. Celebrating the partnership
In business, partners play a very important role, who have stood shoulder to shoulder, stood by and helped the business during difficult or development times. Giving gifts on the occasion of the anniversary of cooperation strengthens the sustainable relationship, instead of thanking and deeply grateful to them.
5.4. Customer Gratitude
Giving customer gratitude gifts  is an opportunity for businesses to express their deep concern for customers and promote the effectiveness of the campaign to spread the brand to consumers. These customers are the companions of the business on each different journey and the selection of gifts must also be suitable for each customer (loyal customers, VIP customers, VVIP customers…). This can be seen as an opportunity to retain customers and have the opportunity to interact with many new potential customers through the introduction of existing customers.
5.5. Events, congresses
Event and congress organization is the organization of seminars, conferences, press conferences, exhibitions, festivals in the fields of society, commerce, business, … for the purpose of promoting media messages. to the public. Therefore, the gifts given to guests when attending the event will create motivation to motivate guests to attend and increase the effect of the event and congress.
5.6. End of the year
The end of the year is a great opportunity for businesses to give gifts, thereby expressing their gratitude to customers, partners, and employees, instead of thanking them for the past year. Malu suggests some gifts on the occasion of the year-end such as tea cups, calligraphy paintings, fortune tree pots, gold paintings, ..
5.7. Tet
Some businesses often combine year-end gifts and Tet gifts together to save costs. However, in order to affirm the name and professionalism with partners, increase trust and continue to maintain positive business relationships with important partners, enterprises should consider separating the above two things to express themselves. enterprise level. Malu recommends dividing two gifts on two different occasions, each with a special meaning and appropriate for the situation.
5.8. Brand promotional gifts
Branded promotional gifts are products used to promote business images in marketing campaigns. Through promotional gifts, businesses can introduce their brand, create a good impression on users, and stay deeply in the minds of customers. This is an important step in helping to increase sales.
6. Corporate gift templates
6.1. Golden gift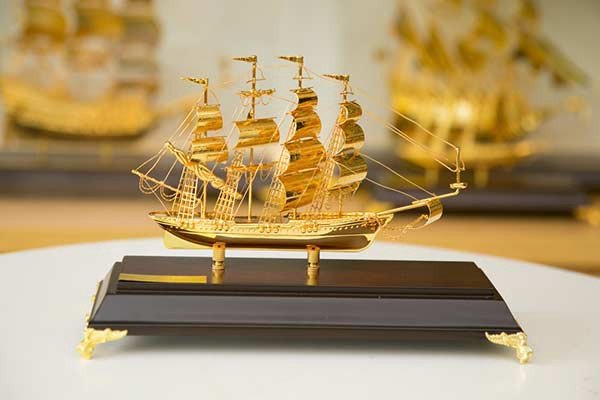 Gold has always been considered an item of great value, representing power and prosperity. Today, many businesses use  gold gifts  to show respect for their partners, and to tighten long-term cooperative relationships.
Malu introduces a number of gold gifts such as: Gold-plated paintings, Gold-plated vases, gold-plated statues, ..
6.2. Crystal gifts
Crystal represents luxury and nobility, so it is widely used to create consumer goods, jewelry, gifts, etc. Crystal gifts are used in the following cases: Conference gifts, gifts for partners, customers, year-end gifts, holidays…
Coming to Malu, customers will feel the sophistication and perfection of each crystal gift product. Some samples of crystal gifts such as: crystal tabletop gifts, wine glasses, crystal roses…
6.3. Glass gifts
In feng shui, "glass" represents prosperity, abundance, and meaning. Therefore, glass gifts are also used by many businesses on important occasions. Malu would like to introduce some high-class glass gifts: wine glasses set, decorative flower vases, drinking glasses set, etc.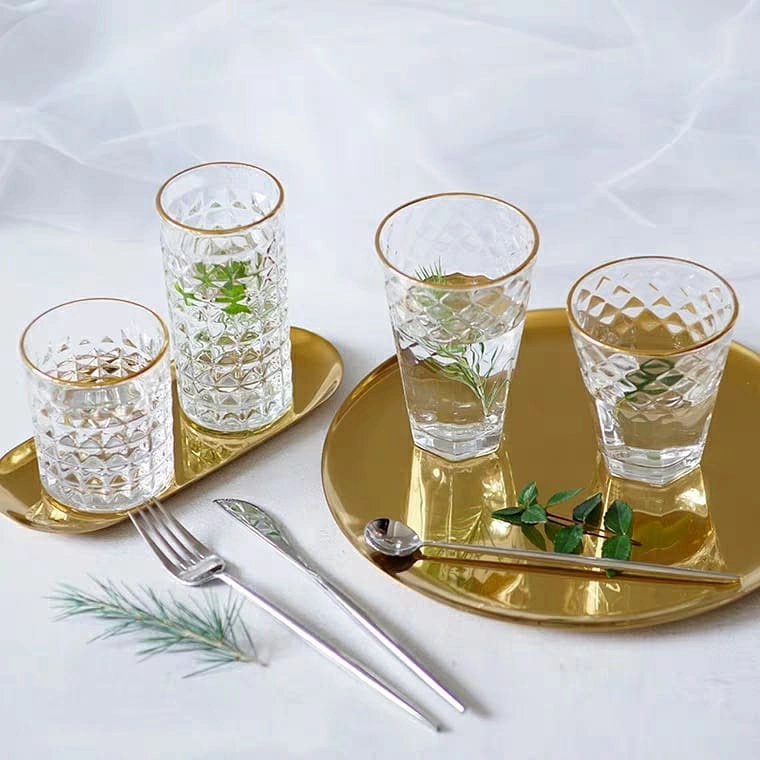 6.4. Feng shui gifts
Currently, many businesses use  feng shui gifts , because businesses believe that feng shui gifts not only help beautify the space but also can bring good luck, good luck, help work, the recipient's life is more and more convenient.
Feng shui gifts often depict mascots, feng shui images with auspicious meanings. For example, the statue of Pi Xiu, the 3-legged toad, the Buddha statue, the Tam Da Phuc Loc Tho statue or the lines of paintings "Successful Code", "Swiss smoothly" … are made from many different materials such as wood, plating. gold, gems…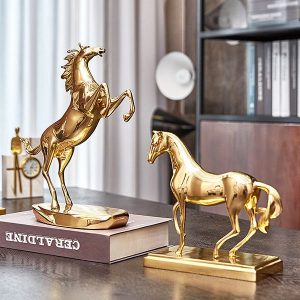 6.5. Wooden gifts
Wooden gifts are chosen by many businesses because these are gifts that have a long time to use, are meaningful, and are environmentally friendly. At the same time, you can promote your business through engraving your logo and brand name on the gift.
Some samples of Malu wooden gifts introduced such as: Statues, paintings, sets of wine bottles (various types of wine), decorative vases, etc.
7. Note when giving gifts
7.1. Plan a gift giving
Step 1: Set up a budget for business gifts
The responsible department must estimate and plan an appropriate budget for gift giving.
Eg:
Customer's gift budget

Supplier gift budget

 Delivery budget
When creating a reasonable gift budget, know how much it will cost. That's a way for you to build a template, to avoid spending in excess of the set limit.
For effective gift giving with a suitable budget, it is necessary to carefully classify each gift giving object to ensure that the gift is suitable and highly effective. For example, customers can give mid-range gifts, VIP customers, and long-term partners…
Step 2: Plan time to prepare and implement
The purpose of this is to be proactive in financial resources and goods, to anticipate unexpected situations and promptly handle them.
Step 3: List the recipients and recipients of gifts
Why list out the entire list of customers, employees, and partners receiving gifts? When we make a gift list, we will confirm who the specific gift recipient is, thereby allocating the appropriate cost to each customer.
For example: VVIP customers, VIP customers, loyal customers, important partners, normal cooperation partners…
Step 4: Find a reputable business gift supplier
When you have listed the entire business spending budget. The last important job is to find a reputable and experienced gift supplier.
Malu is a leading reputable supplier in the field of corporate gifts. Products are diverse in design, size, product quality with competitive prices, helping businesses find the most suitable gift.
7.2. Mistakes when giving gifts
7.2.1 No careful preparation, disrespectful attitude towards the recipient
The gift is important, but the attitude of giving the gift is even more important to show respect, care and consideration for the recipient.
If you give gifts to customers, partners, employees with an indifferent attitude, the recipient will feel hurt, uncomfortable… and will adversely affect the company's image and the consequences behind. .
7.2.2 Gifts that do not match the recipient's preferences
A valuable gift is not a favorite gift, a meaningful gift and the most effective message must be a gift that is suitable for the recipient's circumstances, situations, requirements and preferences. This is the smartest way to win hearts, keep relationships, and at the same time an opportunity to promote your company's products, so it is necessary to choose the right gift for the recipient.
7.2.3 Poor quality gifts
Gift material is extremely important, because it determines the value and quality of the gift. If the material of the gift is too poor, such as easily damaged, fades, .. makes the recipient unsatisfied, inadvertently negatively affects the reputation, brand class and image of the company.
7.2.4 Misidentification of gift purposes
Gifts must have a clear purpose and message expressing the giver's sincerity, thoughts and aspirations, if only superficial gifts are chosen, the recipient will feel uninterested. That has a bad effect and can damage your company's business.
7.2.5 The gift does not match the recipient's meaning and situation
Each gift will represent a different meaning, if not carefully studied will lead to negative feedback. For example, when giving a gift to open a company or establish a company, you should choose bright, red flower shelves, do not choose meaningful flowers, sad colors.
7.2.6 Uneven distribution of gifts
For example: Year-end is the occasion when the company  gives gifts to employees . Each company has many different departments: marketing, finance and accounting, supply – import and export, human resources, …
If the person in charge of gifts is biased, giving gifts with a difference in value not only makes the recipient unhappy but also causes internal friction, affects the company, slows down production, leads to to deliver products to customers on time, which may pose risks to the company's commercial contracts.
7.2.7 Failure to properly calculate order time
The department in charge must accurately track the time of the order. Avoid the situation of a large order quantity with too little time, missing before and after, leading to uneven gift-receiving time, affecting the image and professionalism of the company.
8. Summary
Those who are looking for  quality corporate gifts at reasonable prices, Malu is a great choice. Malu is a leading reputable supplier in the field of business gifts with products of various designs, sizes, high quality, and reasonable prices, helping businesses find the most suitable gift.