Liquid ink is a type of ink used for inkjet printers. This type of ink gives good print quality, so it is very popular and used in many fields.
1. What is liquid ink?
Liquid ink  can be water-based or oil-based, specialized for use in inkjet printers, the ink is stored in a liquid bottle. Inkjet ink used in small office printers usually has 4 main colors: C, M, Y, K. For industrial printers, the number of ink colors is more (from 4 to 12 colors). .
When the printer runs, ink is pumped through small nozzles at the print head, from which it is sprayed onto the paper into small dots, creating images or text according to human requirements.
In addition to inkjet printers, liquid ink is also used for offset, flexographic and digital printing machines. Therefore, this ink is used for offset decal printing, roll decal printing, photo printing, poster printing, standee printing, etc.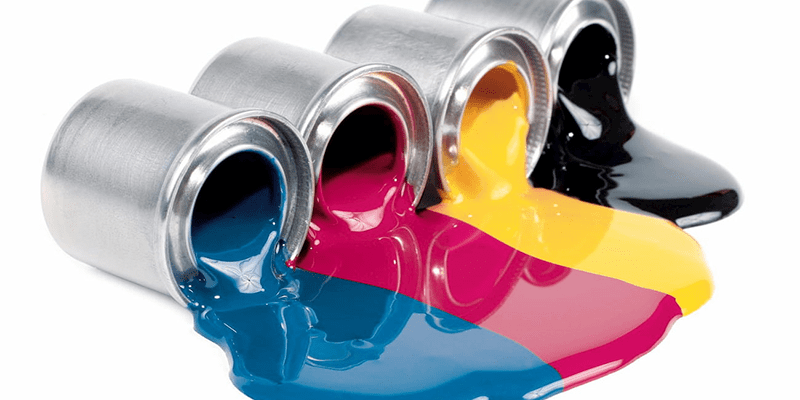 2. Liquid ink classification
Liquid printing inks are classified as follows:
Dye ink: Basic water-based ink, fast-drying beautiful color ink, cheap but easy to fade when soaked in water or under strong light.

UV Dye Ink

 : Water-based ink is similar to regular Dye ink but does not fade under strong light.

Pigment ink: Oil-based ink, this ink gives deep colors, prints do not fade when dropped in water, but still fade when exposed to sunlight.

Pigment UV ink

 : Oil-based ink, has the same properties as pigment ink, but adds color fastness under strong light, does not fade in the sun.

Thermal transfer ink: The color will transfer from the print to the object in contact with it under the effect of heat. Often used to print images on clothes, decorative items such as porcelain cups, glass …
3. Characteristics of liquid ink
The advantage of liquid ink is the good print quality and low cost. However, due to the method of preparation, these inks suffer from 2 defects: one is that they often smudge; The second is colorfast and often fades over time.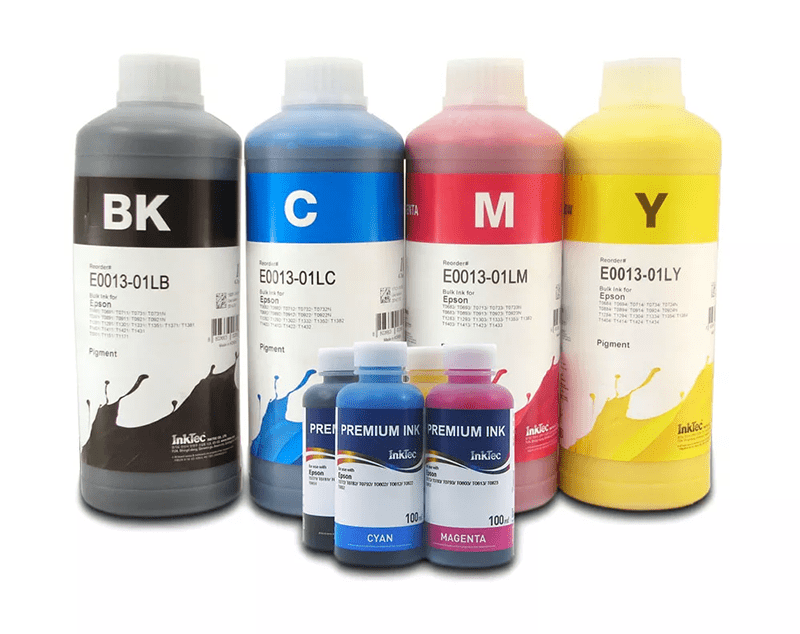 The easiest way to solve this problem is to use the right type of paper. The paper material for inkjet printing is specially made to be impervious to water, thus forcing the ink to dry on the surface of the paper and resulting in sharper images.
For the second issue, you need to consider a retention-quality ink that is formulated with a fade-resistant pigment and uses a non-aqueous solution to make the ink water-resistant. In addition, there are paper materials specially designed to resist yellowing and degradation for storage. These materials are often sold with expensive and high-quality photo printers.
Learn more about today's popular printing papers  here .
4. Introduction of some liquid ink
Ink Dye
Dye ink includes 2 types: Normal Dye ink and UV Dye ink.
Regular Dye ink: beautiful color, cheap price, does not harden the wiring of the external ink tank (also known as the continuous ink delivery system). However, printing is not durable, quickly fades, and smudges when it meets water.

UV Dye ink: has the same advantages as regular Dye ink, but has improved color fastness of prints, less water smearing, and longer color retention in light. If we press or laminate the print, it can be stored for many years. However, it only improves compared to the normal dye ink line, but has not completely overcome the color fastness.
Pigment ink for Couche paper printing
6-color Pigment ink belongs to the latest line of ink, can print on many different paper materials. Especially used a lot on  Couche paper , the paper used a lot in offset printing.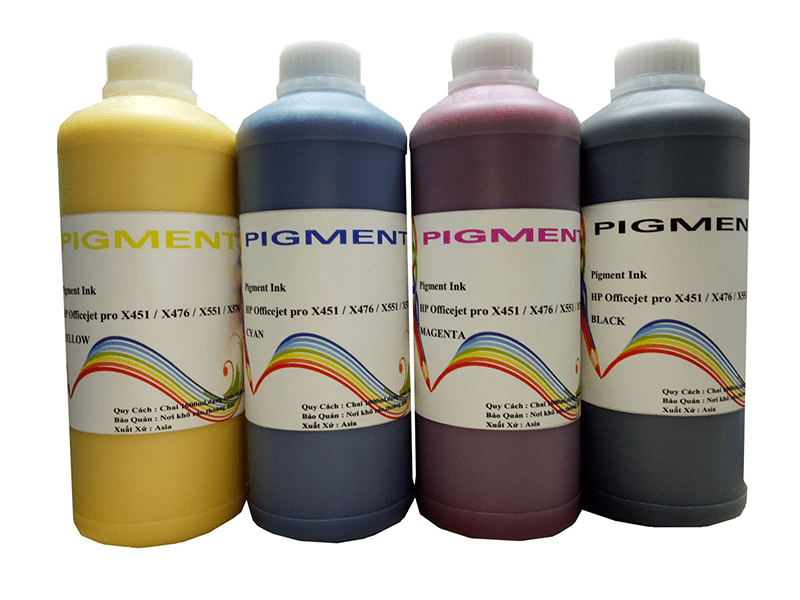 This ink is durable, does not bleed when it meets water, has beautiful colors, is easy to use, does not need to be heated when printing as well as special color management software like other compatible inks.
DURABrite ink
DURABrite inks not only produce sharp, durable prints on a wide variety of media, but they also deliver rich colors with finer details in bright or matte.
Prints on extra-thin paper, as well as newsprint, coated or uncoated paper, are of the same quality as laser printing. With recycled paper, this ink also gives the same high quality.
However, DURABrite inks are picky about printing materials, are less resistant to wet environments, and quickly fade by ozone in the air.
UltraChrome ink
UltraChrome ink can print on a variety of materials with high water resistance, better color fastness than conventional dye photo inks (up to 75 years).
Besides, there are some other common liquid inks such as Dura Epson ink, Eco Solvent ink,  Sublimation ink .
Please learn more