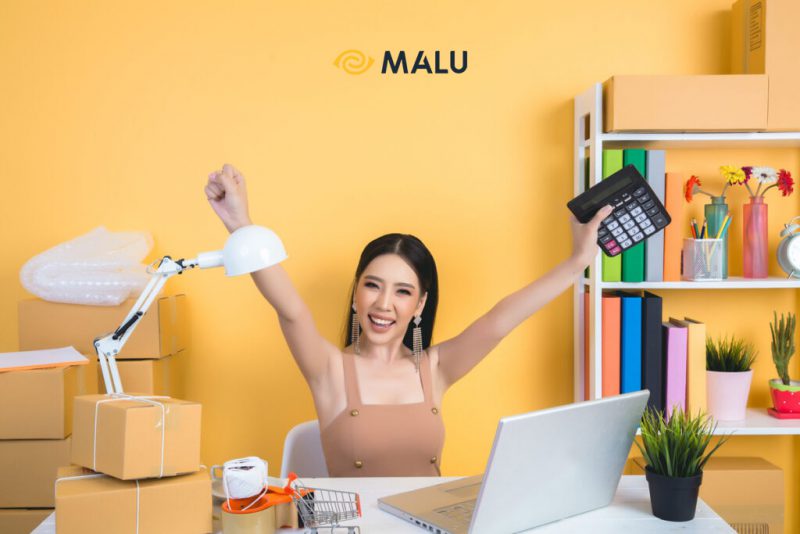 Selling online  is not a strange trend in the 4.0 startup era. However,  how to sell online  effectively? What is the best channel to sell online? Need to focus on a few channels or spread across all channels to be effective? What are the advantages and disadvantages of each different online sales channel? Surely these are questions that a lot of shop owners ask.
In this article, we will share with you our  online sales experience,  help you learn specifically about popular online sales channels, analyze their advantages and limitations to help you make better decisions. Choose and start the best for your business.
>>> Discover more articles about online business:
–  Get rich from effective online business
– 40 Online Business Ideas
Online Sales Channel On Facebook
With nearly 60 million users in Vietnam as of April 2018, it can be said that Facebook is no longer just a social network to connect people, but it has become a fertile ground for online sales to earn extra income with  customers  . individuals, small and medium enterprises, and even a potential market for large enterprises.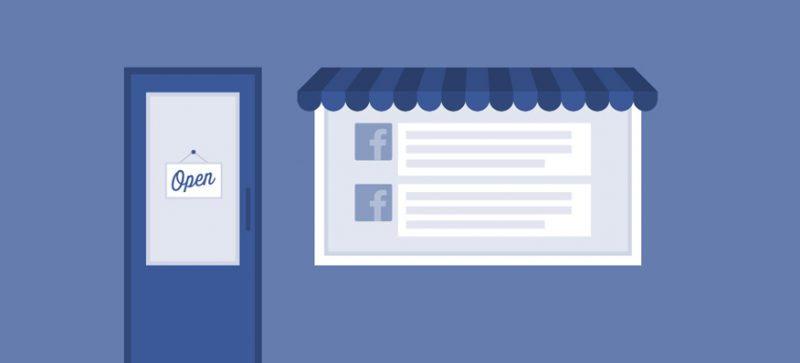 For a beginner, you can completely use your personal page to post content about the products you are trading.
But to become more professional, gain customer trust, and run ads to reach more new customers, you should set up a Fanpage for your online sales. Here, I will guide you specifically how to set up a Fanpage, build appropriate content and help you get the most effective sales channel.
1. Instructions for setting up a facebook fanpage to sell online
First of all, setting up a facebook fanpage is not difficult, Facebook has provided very good and optimal support for each specific needs of every business. Here are the simple steps to help you set up an online sales fanpage easily.
Step 1: Log in to your Facebook Fanpage account
You log in to your personal account, at the inverted triangle icon and choose to create a Page (As shown in the picture). Or you can also visit the address:  https://www.facebook.com/pages/create/
#Go to create a page with a personal account
#Or directly access facebook's Page creation website
Step 2: Choose the right category for your product and brand.
Name your Fanpage. Should put a name similar to your existing brand to create synchronization, if it overlaps, think of another name close to it and should be special to remind and users can distinguish the brand. your brand easily.
You should choose carefully the name for your fanpage, because when you reach 200 likes, there is no chance to change the name anymore. In addition, keep the names short, easy to remember, easy to read according to the rule "Product Type + Shop Name". The example here is "Venus coffee". Where Venus is your brand name, coffee is the type of product you sell.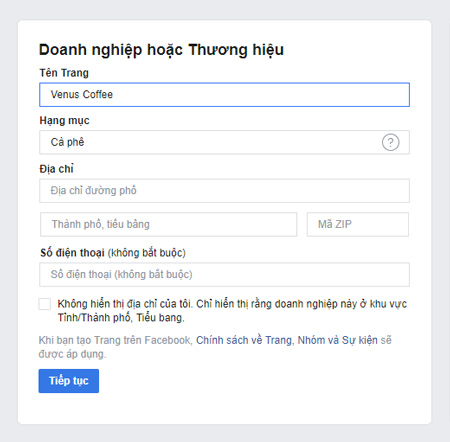 If only for Infinity, there are thousands of shops out there, no one can know what business you are in. Naming according to the above formula also makes it easier for customers to find your business
Next, select Get Started.
Step 3: Fill in the information required by Facebook.
You should fill in more information about the website you own (if any) to increase its credibility,
To edit or add business information, you click "About" in the left column, the lower corner of the Profile Photo. There you can edit information by adding complete, detailed and specific information about your business activities such as: Address, Email, Website, working hours.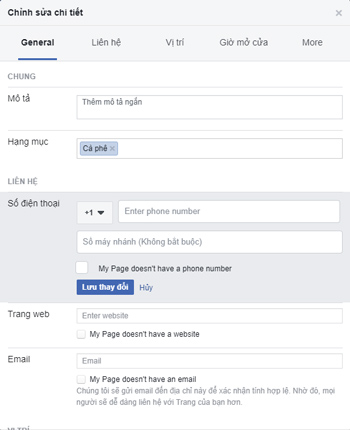 The more details you add, the more it will help users find and contact you, as well as help your fanpage to be at the top when searching.
Then select Save Info.
Step 4: Optimize your Facebook Fanpage:
After completing the steps above, you can optimize your Facebook fanpage by:
Add cover photo for Facebook fan page.

Add a description for your fanpage (description of your business).

Add phone number.

Opening hours and other additional business information.

Next, go to the Settings section (at the top of the page) and set up the basic necessary settings for a sales fanpage.
Enable reviews:
By going to: Settings – General – Reviews. This feature you should have in your sales fanpage so that users (customers who have purchased) can rate your service. It serves as a primer for subsequent customers to make purchasing decisions easier.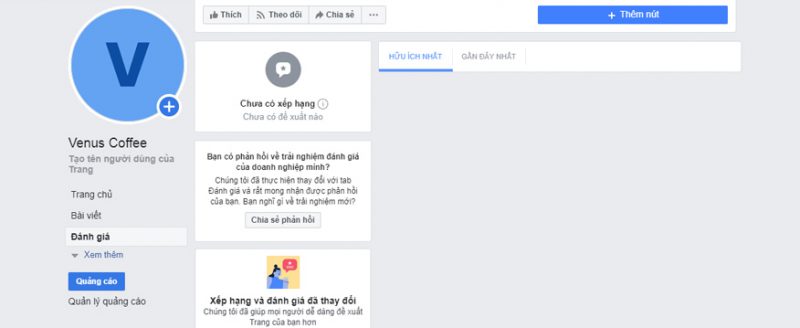 You can ask your friends to vote 5 stars and evaluate realistically. Or you can also look to other fanpages for reviews and will rate them again. It was a very nice and fair exchange.
Set up automatic messages:
Set up messaging so anyone can message your page. You should also set up automatic messages to be able to reply to customers and create sympathy for them. Go to Settings – Messaging – Send quick replies to anyone who messages the Page – Turn it on and fill in the text of the message.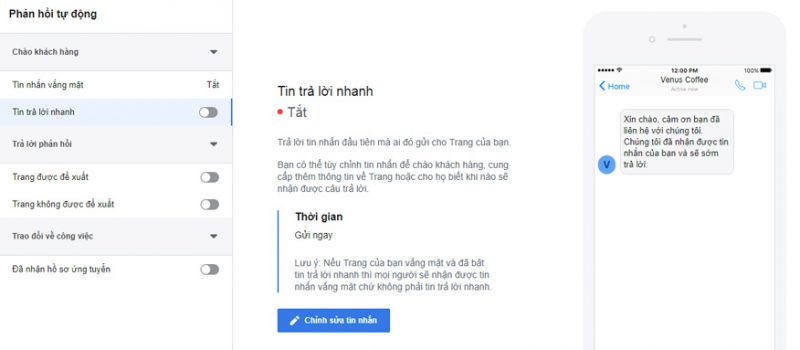 This is a way to let customers know that fanpage is interactive and enthusiastic with customers even when you are not online.
In the content input section, you should encourage guests to leave information so that you can directly call as soon as you are online and advise them as quickly as possible.
2. Instructions for building content on Facebook fanpage:
To impress customers, make customers believe in your products, help them choose goods and sell online more easily.
Of course, you need to plan to build and develop content on your Fanpage. There are a few ways to build professional content:
>>>  Everything you need to know about Content Marketing
1. What to post on Fanpage?
Look at competitor pages or pages larger than yours that sell similar products. I am 90% sure that you will see a lot of Fanpages posting topics that have nothing to do with the Page.
This way of posting theoretically helps you keep your reach and engagement with users. However, they do not increase your revenue.

Facebook users are like you, they hate spam. A good marketer will have to make them remember and find themselves with the page. Therefore, you should only post content related to your product, customer psychology in general and your audience in particular.
No one follows a clothing store just to read jokes. Please post relevant content.
2. Post related content on fanpage
To keep your Fanpage index and engagement good, post "neighborhood content fields".
Please choose relevant topics as mentioned above. Provide customers with new information and knowledge about products, expand their knowledge and create credibility. For example, signs to identify real and fake goods, product comparison, use advice, new ways of preservation, etc.
3. Create an environment for customers to talk about your product:
Remember that you are selling on social media, so create a lot of content in the form of questions. Encourage users to share product-related topics, discuss products.

And put the user at the center of the interaction. "Interaction" is the difference between a sales environment through a social network compared to an advertisement page on a website or newspaper.
4. How much content is reasonable?
According to Socialbakers.com, brand websites should publish one to three posts. Small websites should post about 12 posts. But if you are a customer, do you like a store that is constantly updated with new and diverse products? Sure we have.
So, if you have goods, please post them up for users to refer to. Just the frequency is not so much that 20 minutes a post to become spam is okay.
5. Post as album:
It's scary if you go to a sales Fanpage and all products are in pictures scattered throughout the timeline. Facebook does not have a function to search for photos by keyword like the website. It would take you more than 30 minutes to find product photos from a year ago if the Fanpage updated the items individually. This is annoying and inconvenient.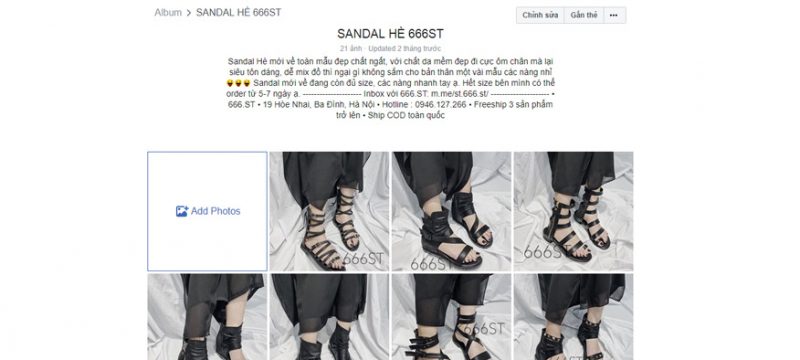 Example: If you sell jeans, you will make an album "Jeans". If it is a new dress, it will be placed in the Album "December". You just need to post groups of similar products in an album, your customers will be much more convenient in shopping.
6. Never neglect posting customer feedback:
The benefits of posting customer feedback are enormous. In addition to increasing the credibility of your business. These feedback also help stimulate the membrane's guests.
It's like using crowd psychology, giving people a sense of security because someone has tried it before. In addition, posting feedback also makes your business customer-friendly.
3. Instructions for running Facebook ads:
As I introduced above, there are many methods to create unique content for your fanpage as well as increase the selling effect for a Fanpage.
However, in order to reach the deepest set of customers and save the most time, most people now use Facebook Ads (Facebook ads).
Online Sales Channel On Website
In the above section, I have introduced you to the benefits of selling on Facebook. However, many people liken selling on social networks and forums to wandering around selling goods on crowded streets. Until one day, you want to build a website like opening a store, you may be late because your competitors are already ahead of you.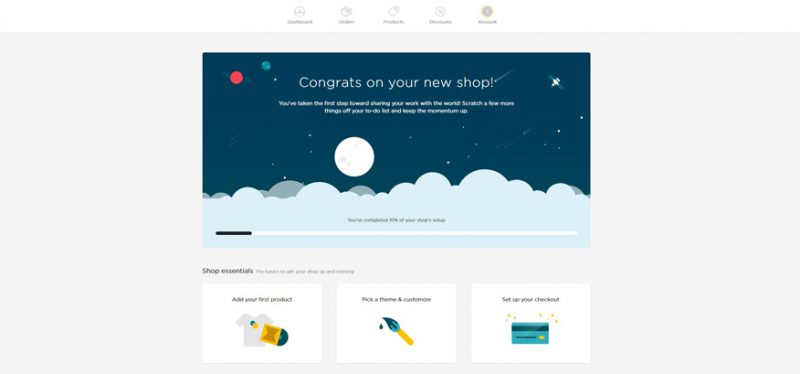 So hurry up, because building a website and selling online on it has many benefits.
1. The benefits of building a website:
Websites are prioritized to show up in search results
Google also always prioritizes showing results for SEO-standard websites that have quality content for users rather than classified ads of equivalent quality.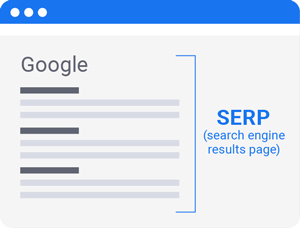 It's like you would never recommend your loved one to buy an expensive IPHONE from a street vendor.
Website can easily increase the credibility and image of the business
There are many customers or your partners will not be able to visit the business in person, they only have a way to rely on the website and the information on it provided by you. Therefore, the power of the website cannot be underestimated.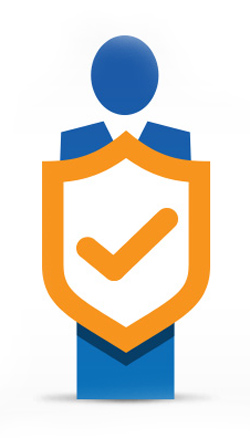 Show on it useful information and create an attractive "Profile" for customers or partners. Not only should you have a website, but you also need to have a beautiful website that highlights the full stature of your brand.
Website helps customers shop more
One thing's for sure, you can't put all the products on your website up for sale and sell a lot. But the website can help you do that, it's the place where you can sell all your products in the most sparkling way.
However, do not despise the classifieds, it will be effective in leading customers to your sales website. (Ads are like "storks").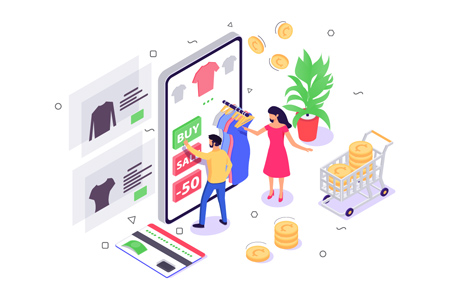 From the classifieds will attract customers to your website. There they are free to "roam around" from item to item, product to product to compare and analyze each product to suit their needs. And sure, they will miss you and appreciate you more, maybe that will help you sell more products.
Such are the great benefits of a website, but how to get a website?
2. Basic steps to create an online sales website
Step 1: Register a domain name
The domain name is the website address every time someone visits your website. In Vietnam, for domain names like .com, .net, .org, .vn, .com.vn… you have to register at domain name resellers and have to pay activation fee and annual maintenance fee .

Domain
You can register domain names at major domain name providers in Vietnam such as: Mat Bao, PA Vietnam… You just need to call and they will guide you to register a domain name for yourself. In addition, if you do not want to pay fees, you will get very bad domain names, which are .tk domain names. For example hoctot.tk, vemaybay.tk.
Step 2: Create Hosting
Hosting is the place to host your website, Hosting needs to be registered at the network providers that provide domain names. You can contact hosting providers such as Mat Bao, PA Vietnam… Like domain names, to register for hosting, you just need to call the above centers and will be supported and consulted.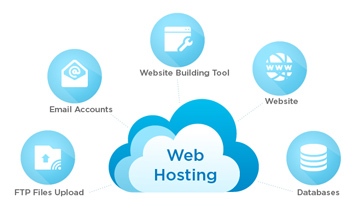 If your budget does not have the conditions to buy a hosting package, you can register to use free hosting. But the feature of free hosting is slow access, limited number of visitors. If you do a long-term website, you should sign up for a hosting package because the price of hosting is also quite cheap, only need 300k / 1 year to be able to use hosting.
Step 3: Install the website:
To have a beautiful website and all the functions you want, you must understand the programming languages ​​​​to write a website. As for those who do not know about programming languages, they can use an open source code like joomla, WordPress… to create a website.
In this article, I will show you how to create a website with WordPress because when using wordpress, you can create a website quickly and importantly, easily to TOP in google search.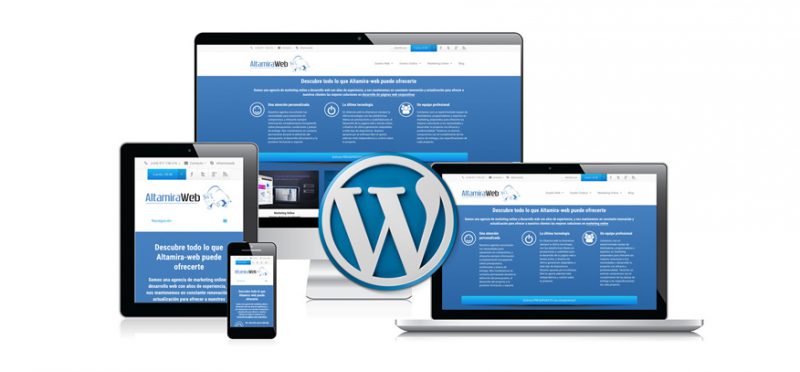 First you download the wordpress kit here:  https://vi.wordpress.org/  (Vietnamese version) or:  https://wordpress.org/download/  (English version). You should use the English version because the English version will be constantly updated and supported for more.
After downloading the wordpress package, proceed to install wordpress on the hosting that was initially registered. Then proceed to use the functions of wordpress to create a website of your own.
3. Search engine optimization – SEO for online sales keywords
Already have a website, but how does your site appear on Google and all other search engines? How to get a large amount of free internet traffic – from which you can get a large number of customers and increase sales?
This is where you need to focus on search engine optimization – it is a profitable and long-lasting investment for a business that helps not only improve online sales but also build brand image. good brand for you.
What is SEO?
SEO (Search Engine Optimization) ie "Search Engine Optimization" is a set of methods, techniques, tactics … of Marketing and Internet Technology to improve the ranking of a website on the search results pages. results of the most popular search engines, Google.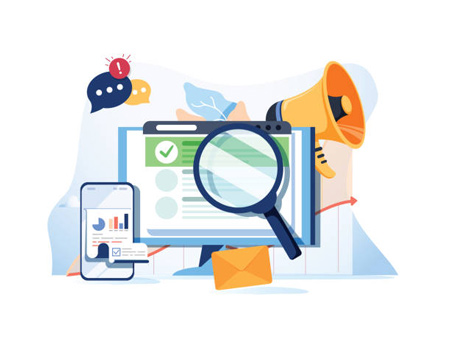 These methods include the following tasks: website optimization (impacting the HTML source code, structure, layout and website content including text, images, video or other multimedia on the web that users see or interact with) workable). Build useful links inside the website (Internal links) or from reputable external sites (Inbound links) so that search engines choose the most suitable website to serve searchers on the Internet.
How to make your website appear at the top of the first list on Google?
Getting your product listing website to appear in the first list of Google search results is a combination of many factors. Here are the most important factors that affect the search engine algorithms to help your website reach the top:
There are many links to your website from other websites.

Exclusive website content, no duplicates

Trusted website

The age of the domain name

Website structure and other elements
Knowing the factors to evaluate your website and help your website rank, you will understand how to push it to the top of the search engines.
#first. Natural links – natural backlinks
When a website has a link to your website is a way to help your website is a search engine optimization in the most effective way.

To place natural backlinks, there are two ways:
– Choose good websites and find a way to put backlinks to your website
– Create one or several websites and link naturally to your website.
#2. Content:
Content is the information and messages that your website brings. As a salesperson, you must have a lot of experience and knowledge about your business – use that to build a blog, share that information with customers instead of just spending all time for sales.
This not only improves the quality of your website but also makes customers more interested in your brand and trust your products.
#3. Domain lifespan:
The longer the domain name is used, the easier it is to prioritize visibility, search engines tend to push these websites to the top position.
#4. Website structure and optimization
Google's search engines will easily discover your website if you have a reasonable website structure. So, optimize the categories and sub-categories so that users can easily find the information and products they need on your website.
>>> Learn more about search engine optimization at:  SEO Guide
Selling Online On E-Commerce Sites (Lazada, Shopee, Sendo, …)
In addition to selling online on the two channels that Malu just mentioned above, today the online business on e-commerce sites is growing strongly and becoming a trend.
These are  famous online sales websites,  chosen not only by retail shops but also by companies and businesses to increase their online sales and order volume.
Popular e-commerce sites
In Vietnam, there are currently many different e-commerce channels with many policies and incentives, operating in many areas of focus with many different customer segments such as Lazada, Tiki, Shopee, Adayroi…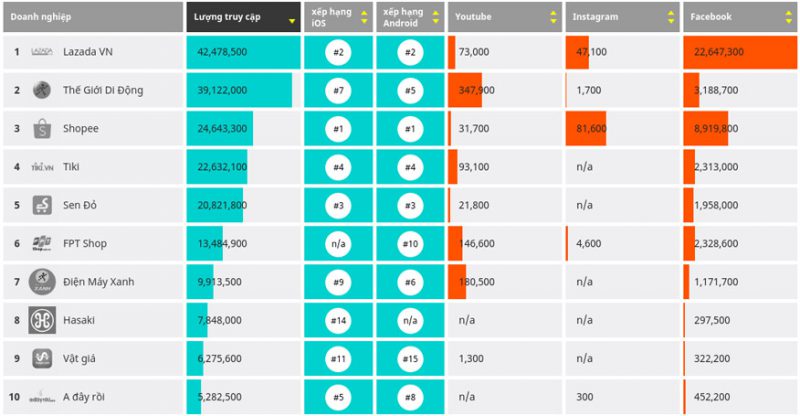 It can be seen that e-commerce has become a trend in recent years and will continue to maintain its strength for many more years to come.
Experience selling online on e-commerce channels
Online sales on   these e-commerce sites all have the same form of product posting, separate store management for each shop / business. To be able to operate your business most effectively on any e-commerce site, you need to equip yourself with experience and skills before starting a business.
Here are some e-commerce sites that might be useful to you.
1. Comply with the policies and regulations of each e-commerce site
Each e-commerce site has policies and regulations for both online sellers and online shoppers.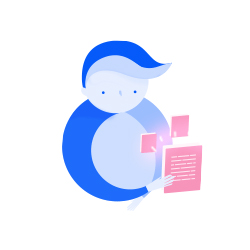 As a shop owner on this e-commerce exchange, you not only need to respect the policies of each unit but also learn the basic regulations (for buyers and sellers) to can handle and handle situations arising in the transaction process.
2. Customer management data should be managed separately instead of just depending on the platform system:
On e-commerce sites, there is a system to store sales information and transaction history. However, you should not rely too much on the information available on it. Please have your own storage and recording facilities and software for your shop for easy comparison and comparison, in case of unforeseen circumstances later.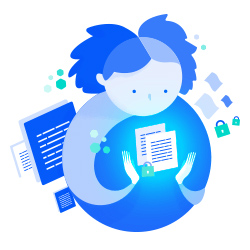 In addition, the information of public delivery orders, the amount of money received, customer feedback … is also the basis for e-commerce sites to evaluate, pay and decide the credibility of the shops on the floor. transaction. Therefore, careful management and monitoring will help your sales activities be professional and easier to expand.
3. Should process orders quickly within 24h
Most of the psychology of online shoppers tend to make decisions quite quickly, but they also change their minds very often. In addition, the process of canceling orders on e-commerce sites is also extremely fast.
Therefore, when you receive an order, you should process it quickly, including the following steps: call to confirm with the customer – package – send to the shipping unit. These should be done within 24 hours of receiving the order. And customers also have a comfortable psychology, a better buying experience when they don't have to wait too long to receive the goods.
4. Package the goods beautifully and carefully
Packaging is the first factor affecting the customer experience for your item. Not only eye-catching, but also packaging to limit damage during transportation, so you should pack your goods. by carton box, shockproof with bubble foam to ensure that the goods are carefully protected, minimizing the risk of broken or damaged goods.
Evaluating and choosing the right channel in addition to your product needs to consider many factors: online sales policy, support services, sales discounts, tools to support product promotion, support shipping support, other discounts, ….
Below we will provide a few pros and cons of prominent e-commerce products, making it easier for you to make your choices:
Advantages and disadvantages of major e-commerce channels:
1. Lazada
One of the first e-commerce platforms in Vietnam. LAZADA entered the Vietnamese market in 2012. This is considered as one of the first e-commerce platforms in Vietnam, belonging to Alibaba Group – Asia's leading e-commerce group.
>>>  Detailed Instructions For Selling On Lazada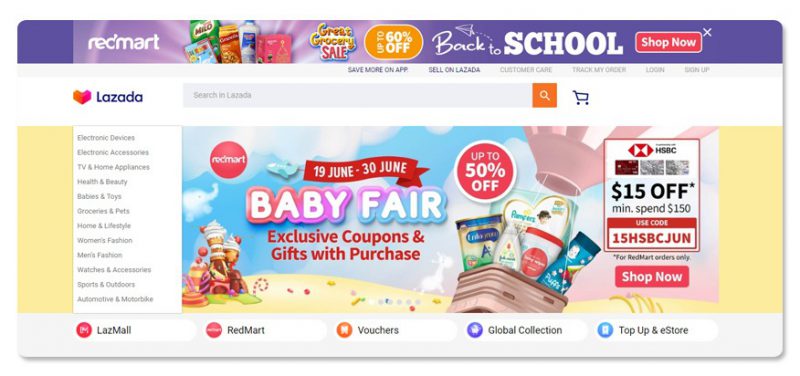 Advantage:
The oldest and leading e-commerce platform in Vietnam with a large number of shops.

Attractive commission level, 5% for electronic products, 10% for fashion products, 8% for other products.

Opening an online store is simple and completely free.

Confidentiality of customer information is good, attentive service attitude.

Lazada owns a reliable Consumer Protection Policy. Products on lazada must have clear origin, new and original. The customer has the right to return the product. The number of product postings is not limited.

Customer data control mode for simple shops, system arrangement.
Defect:
Costs such as discount, pick-up costs, and shipping costs are quite large.

Expected long delivery time is 2-8 days from time of order.

Focusing heavily on the buyer's experience, sellers are quite passive, completely dependent on Lazada.

Although many Lazada products have reduced prices, the prices are still higher than in many other exchanges.
2. Shopee
One of the e-commerce platforms with a large market share in Vietnam market. SHOPEE has just entered the Vietnamese market in the second half of 2016, up to now, it has been operating for nearly 2 years.
However, Shopee is currently one of the e-commerce platforms with a large market share in the Vietnamese market. According to shopee announced, by March 2018, Shopee had more than 800,000 sellers.
>>>  Detailed Instructions For Selling On Shopee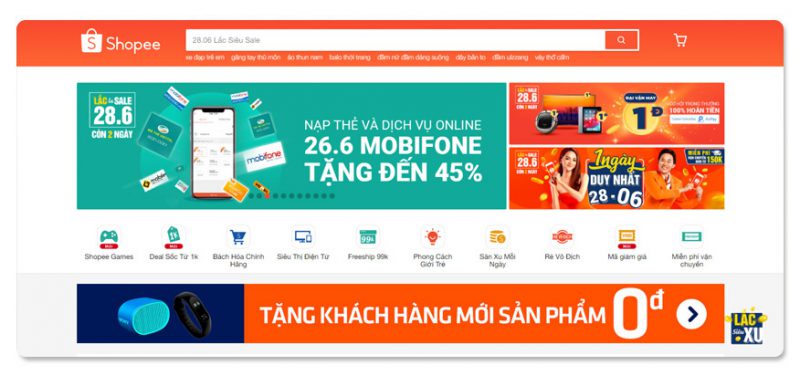 Advantage:
If you open a store, you can reach a huge number of customers on Shopee

Registering to sell on Shopee is easy and fast.

Simple sales process.

Shops on Shopee are completely free of fees or commissions.

Shipping policy for sellers is extremely preferential, because shoppe is associated with major shipping companies, delivery time is relatively fast 1 – 4 days for inner city orders.

Regularly apply promotions and attractive price subsidies for sellers.

Easy return policy with seller protection.

Create interaction between customers and sellers thanks to the "live chat" feature.
Defect:
Because the number of sellers on Shopee is large, the level of competition is high

Fake and fake goods are mixed, difficult to distinguish. The widespread dumping situation makes it difficult for sellers.

For orders that are not eligible for shipping fee support, the price is quite high.
3. Being
Sendo – an e-commerce site under the auspices of FPT. This is an e-commerce site under the auspices of FPT. Currently, there are about 80,000 booths and 3,000,000 products. Prominent categories such as men's, women's, mother and baby's fashion,  technology accessories , home appliances, food, cosmetics, etc.
>>>  Sendo Business Guide From A To Z
Advantage:
Is an e-commerce platform that creates prestige with buyers thanks to the sponsorship of FPT.

The fashion and non-tech sectors develop very strongly.

Good customer information security.

For shop owners who have a website, they can easily synchronize products from the website to the store, and the shops can manage sales quickly.

Customers can easily exchange products according to the allowed regulations.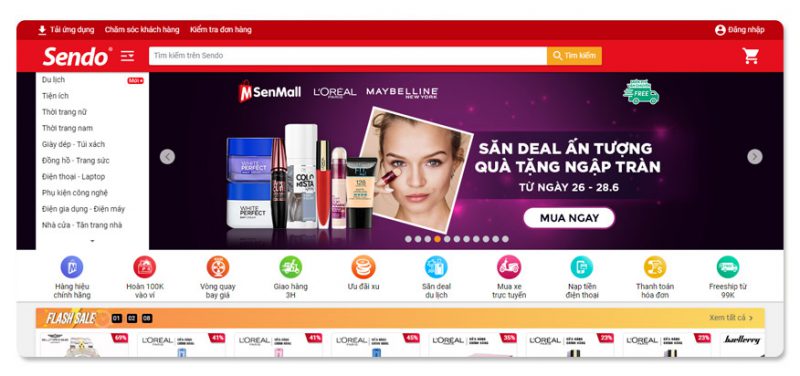 Defect:
The online stores opened on Sendo are completely free, but Sendo sells marketing packages when using these packages is not necessarily effective.

The management mechanism of online sellers is not good, so there are fake and poor quality goods that are quite mixed.

The buyer management mechanism is not tight, so there are many virtual orders.

High delivery fees, little support, and delivery times are also not guaranteed.

Limited customer interaction.
Above are some general analysis of Online sales channels, hopefully this information will help you in your upcoming business.
Check out other great articles on  business knowledge  at Malu  's  Blog