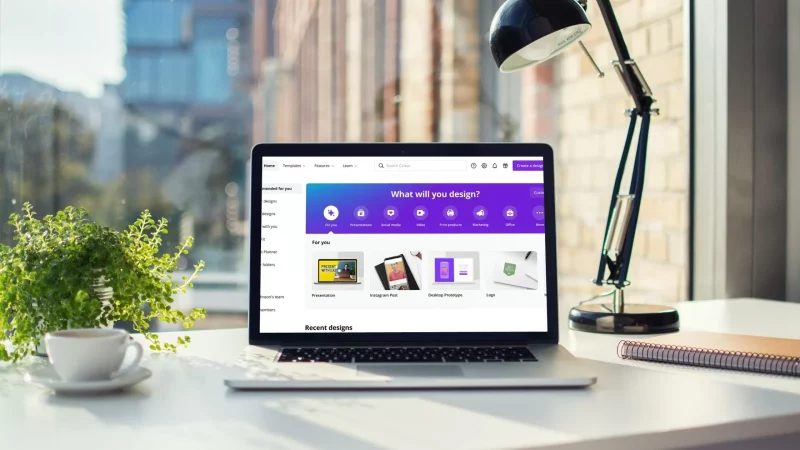 From 2020, Canva is increasingly popular and becomes a free online graphic design tool for all users from professionals and beginners. If you are a design enthusiast but still do not know what Canva is, do not ignore this article by Malu Design.
What is Canva?
Canva  is an   online graphic design software  that helps everyone realize design ideas without the need for specialized software such as Photoshop, AI, etc. Canva provides users with a huge data warehouse. huge, including free and premium.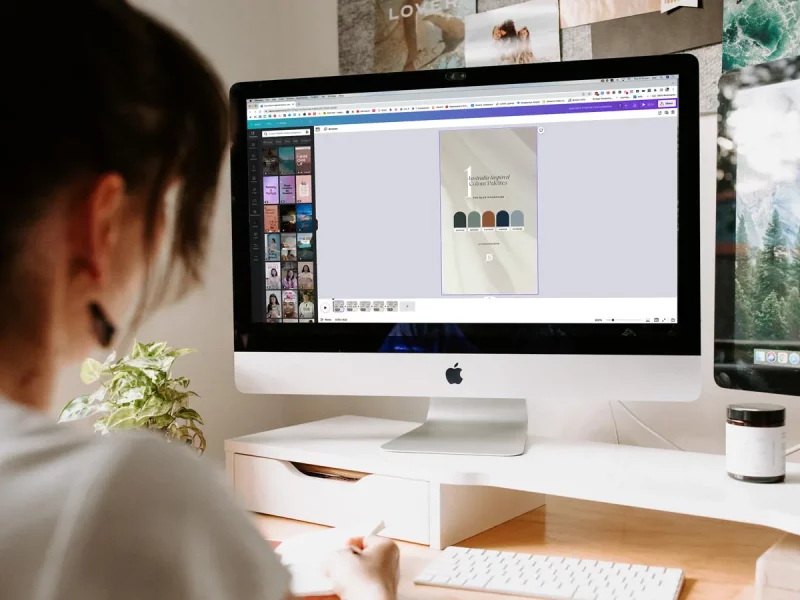 In addition, users are also provided with a series of available designs divided by categories such as: Poster , CV,  Logo , poster, Video, Facebook post, Instagram post, presentation, …
This design app was built and developed by Melanie Perkins. Until 2013, Canva software was officially launched and is considered a brilliantly successful startup of Australia.
The design interface of Canva software is also very simple, so it only takes a few hours to get used to, anyone can manipulate it fluently. Products after designing and editing, you can download them to your computer in many different file formats such as: JPG, PNG, PDF, GIF, MP4, …
>> See more:  What is the graphic design industry? Salary and job opportunities
Advantages of Canva
Canva does not require users to have too many skills, but everything is simplified. With Canva software, you can create your own beautiful, quality design products for study or work purposes. This software possesses outstanding advantages such as:
Templates are available
Canva software provides users with an extremely diverse and rich template system available. Includes posters, banners, presentations, CVs, posters, invitations, logos,  infographics , flyers, social media posts, and more. Just choose your favorite design or create a custom size. Edit and change the information to have your own design right away.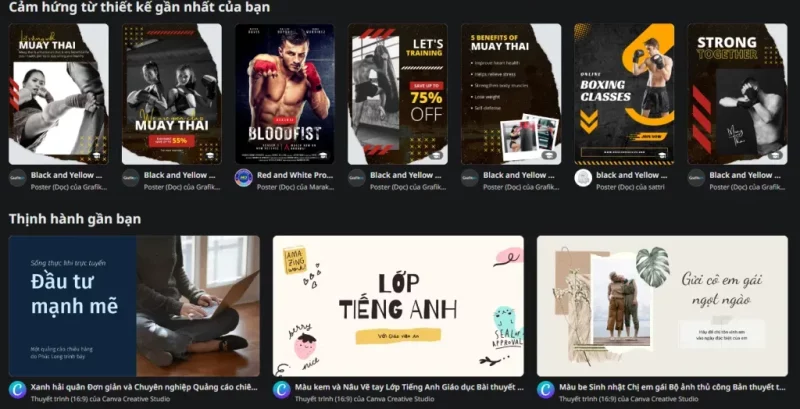 Simple disign
As a design support software for amateurs and professionals, Canva's visual design features are very simple.
Intuitive working interface.
Operations are easy by dragging and dropping.
Canva can work on the website  and also on the phone.
To design, you just need to upload images to the application and then use the features of editing colors, fonts, photo collages, inserting icons, etc. to be able to create beautiful and quality products in no time. short. Canva software is known by users as " national online design software ".
Diverse video features
Canva software not only helps you create 2D designs, but also helps you create beautiful, professional videos with a wide selection of animations. Specifically, you can add video to your designs to create professional presentations or create professional, colorful motion videos. Several video formats can be created on Canva such as Facebook videos, Youtube videos, slideshow videos, short videos, etc.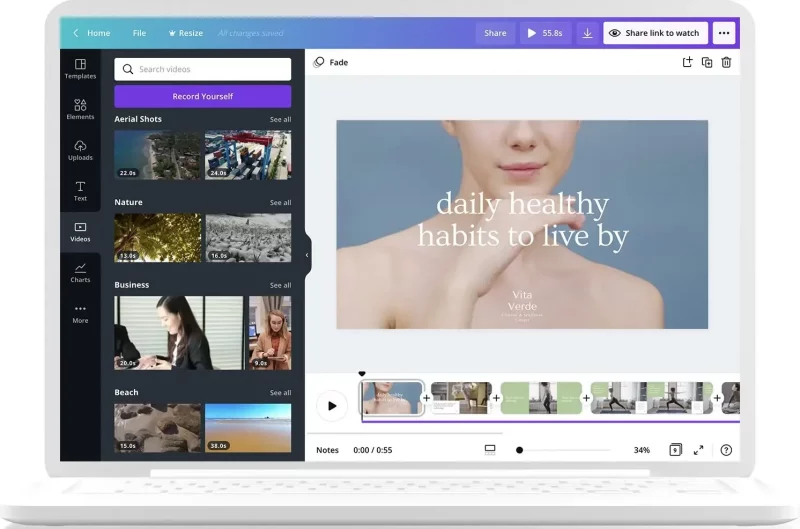 500 different font types
With over 500 different types of fonts on Canva, you have the option to insert descriptive paragraphs/sentences for images or for the title of your design. In addition to owning a diverse font store on Canva software, you also get support for many text effects, font combinations or eye-catching animations.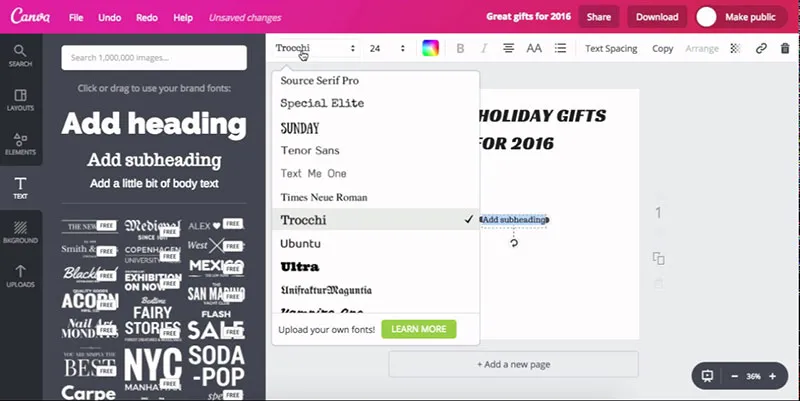 In addition, you can also upload your own brand font set to Canva to use and diversify the font stock in your design account.
Large library warehouse
Canva has millions of free photos/videos for you to use and create beautiful designs. Our image store includes graphics, animations, photos, etc. The video store includes videos available on the system or integrated with videos from YouTube, etc. Canva's library is constantly growing more and more every day from different sources. creators.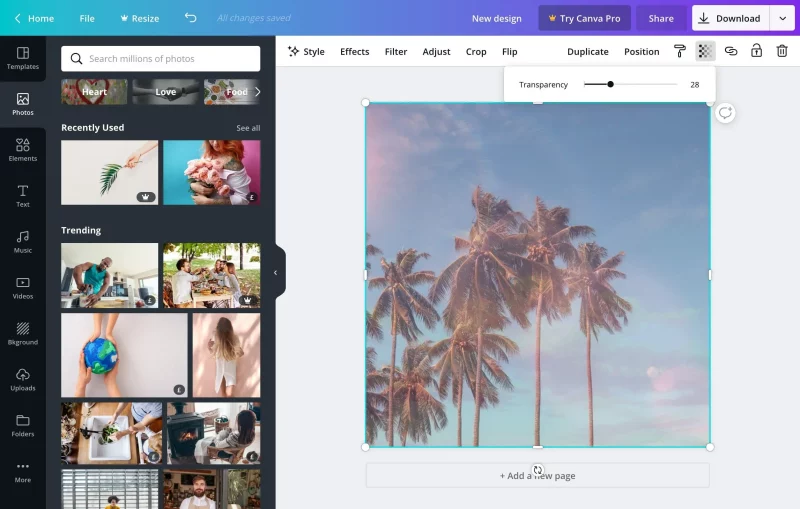 Design sharing is easy
Canva allows users to share their designs on social networking sites such as Facebook, Pinterest, Instagram, etc. This is a useful feature that makes it convenient for users to move images and work documents. easily to other platforms without fear of product design quality changes.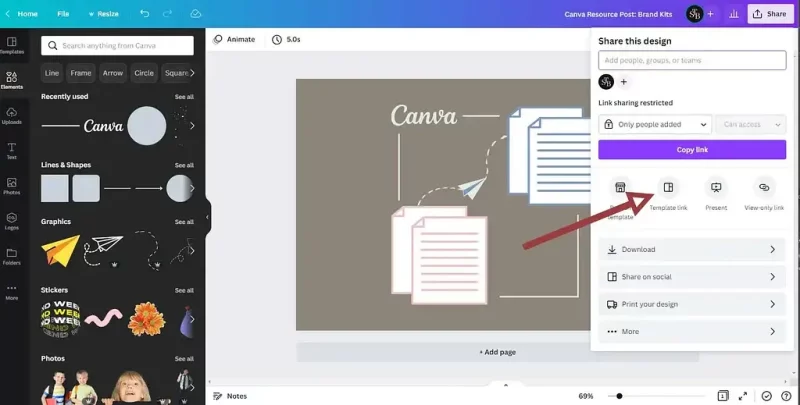 Not only that, Canva also allows users to share designs with others with just an email address. From there, everyone can view and edit the design together easily and simply.
Basic Canva User Guide
After having a good understanding of the Canva design application as well as the advantages of this software. Let's learn about the steps of using Canva with Malu Design.
Step 1: Create a Canva account
First you need to create your own Canva account with an email address. You can sign up for an account on the official canva.com website or download the Canva app to your device. Specifically:
You sign up for Canva by using your Email address or by your Google, Facebook account.
Then, you enter the basic information in the account registration box and select  Sign in .
Next, you choose the form in which you will use Canva: Large Company, Small Business, Teacher, Student, Personal,… and provide the information required by the system.
The last step is to choose a free or paid form to use and complete the Canva account registration steps very quickly.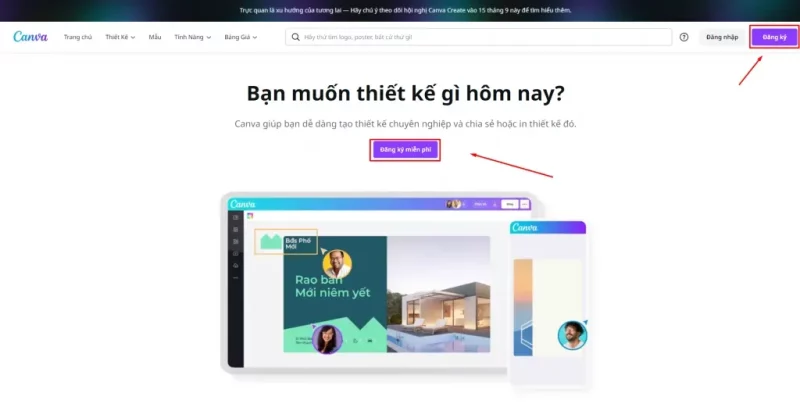 Step 2: Choose the design that best suits your needs
After owning a Canva account, you proceed to choose the design you like from the suggestions on Canva's homepage or come up with your own design ideas by clicking Create Design located in the right corner as shown in the image  below  . below.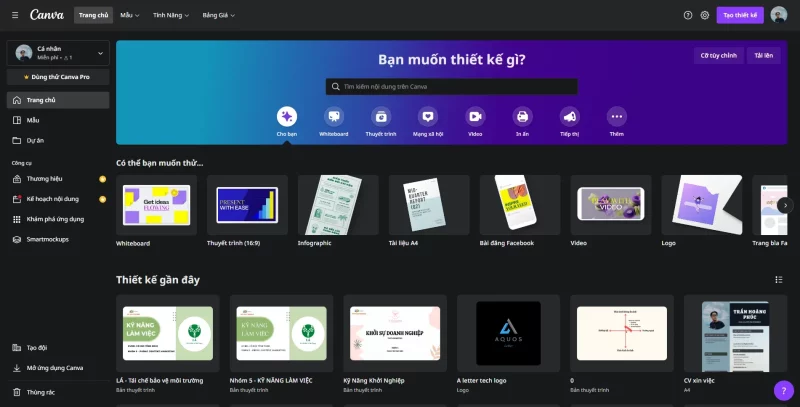 If you choose the available designs, Canva will suggest you many beautiful designs in different formats such as: Social Posts, Presentations, Logos, graphics, posters, CVs, etc. From the templates available, you will search and choose the one designed to suit your needs.
The designs that Canva suggests will be extremely diverse and eye-catching with subtle colors, creative layouts, etc. And the content will be attractively varied. Based on these designs, you can also develop your own creative ideas.
Step 3: Add extra elements to complete the design
Once you have a design idea, the next step you need to take is to finalize your design using several elements such as:
Upload images to Canva to use for your brand.
Insert frames to insert components or create 3D designs.
Change the color of design elements such as background color, font color, color of other decorative details, etc.
In addition, you can insert stickers, videos, charts, add music, and more.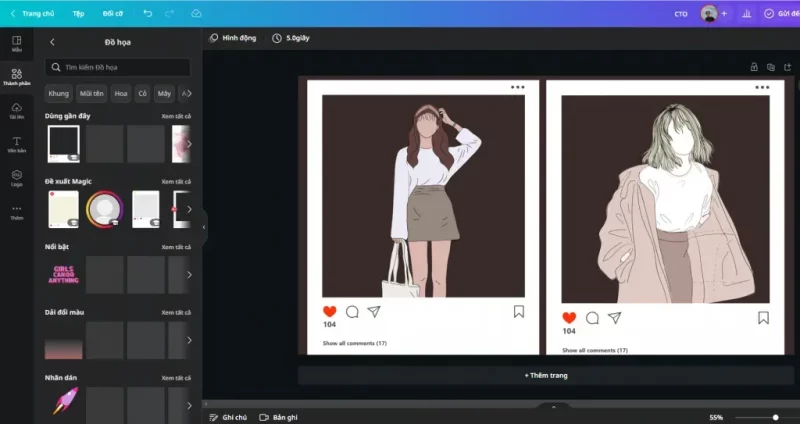 Canva owns a huge data warehouse, so you can freely explore the unique elements contained in this software. From there you can develop your design skills and make your own designs. Especially, on special occasions like Christmas, New Year, etc. Canva also suggests designs that match the user's search trends.
Step 4: Download or share the design
After you have completed your design, you proceed to choose one of the following 3 options:
Design sharing.
Print design.
Download your designs in a variety of formats.
So you have your own design in hand.
>> See more: What is a designer? What do designers do?
Frequently asked questions
What not to do on Canva?
With all Canva license agreements, you are prohibited from doing the following:
– You may not use images available in the software as part of your branding or logo design.
– You cannot remove any embedded copyright notices from hosted images.
Is it possible to monetize finished products on Canva?
Frequently asked questions
Epilogue
The above is the basic information to help you know what Canva software is as well as the advantages and basic steps to use Canva. Hope the above sharing will be useful to you and help you to create many beautiful and professional design products for study and work.