Roadshow is one of the very familiar communication methods, often deployed by brands in campaigns to launch new products, promote brands or during Tet holidays, special events…
So what is roadshow advertising  ? What are the advantages of roadshow advertising? Soon, let's also  find  out in the article below with complete information about this type of advertising!
What is Roadshow? What is the purpose of the Roadshow organization?
Roadshow is understood as  an event  held on the street, (usually a day or half day event) in many cities, with the goal of reaching customers in different locations. The purpose of roadshows is to raise brand awareness and promote products. Roadshows are a great way to spread information in a live, interactive form and reach different groups of customers.
Typically, a roadshow series includes speakers, panel discussions, product launches, demonstrations, and networking opportunities. As the event grows, it often evolves into a user conference or summit.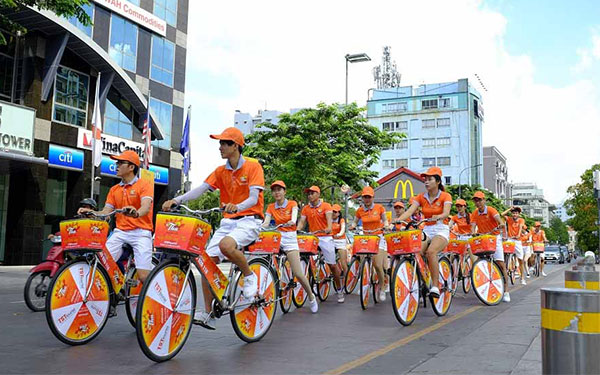 What is OOH? Will OOH still be the prevailing advertising trend in 2022?
Roadshows are popular in Vietnam
Car roadshow
A car roadshow simply means sticking  a banner  on the body of a car, using the car as a mobile billboard. The special thing here is that not only one, but a whole row of cars running through major streets attracts the attention of passersby. There are different types of cars applied depending on the size of the event.
– With Roadshow advertising 4 seats, 7 seats: Advertising decals are pasted on 4 car doors. Usually convoys will have 10 or more cars.
– Advertising roadshow luxury 45-seat car: Banner covers the entire outside of the trunk, forming a giant mobile advertisement on the street. You should advertise 3-5 cars or more.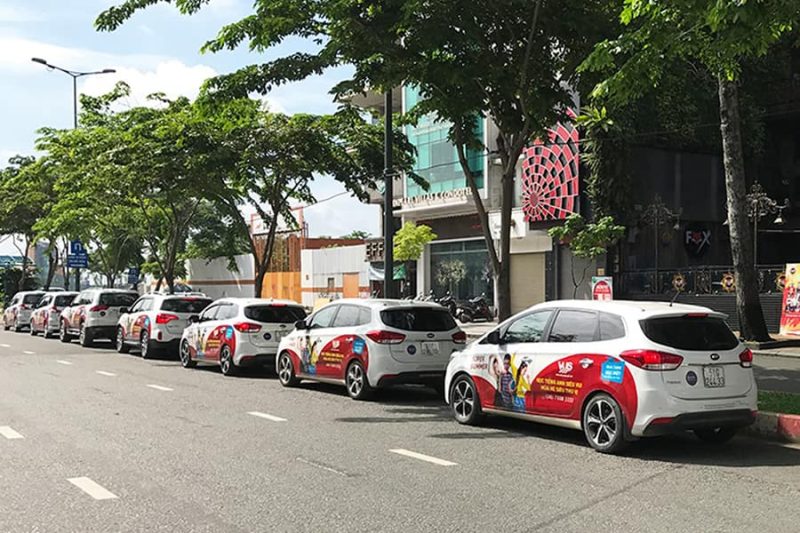 Bike roadshow
Bike roadshows usually run in groups around a certain area, for example around the city, around the lake, … On each bike there is a flag,  logo , banner , Hashtag, signboard, … or corresponding vehicle shape design. with the brand and product image that the business is aiming for. When organizing a roadshow, it can be divided into several teams, each team has about 20 people, led by a team leader in charge of incident response, …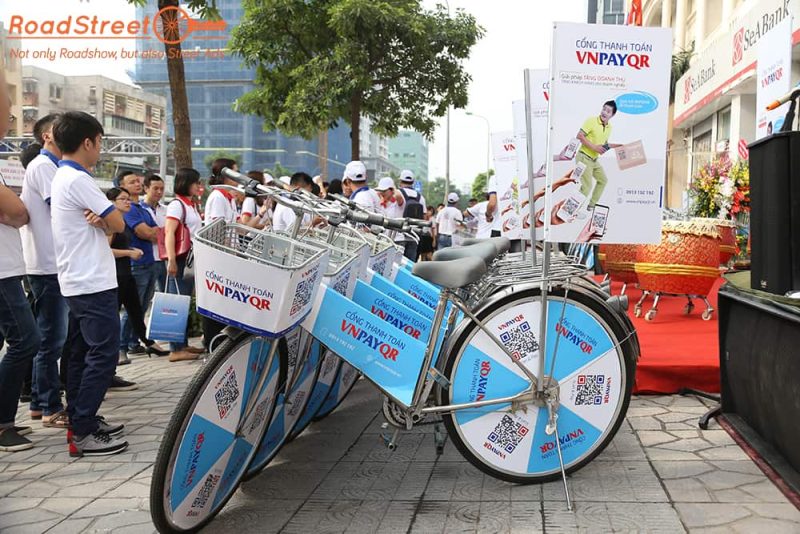 Motorcycle roadshow
Motorcycle roadshow is more convenient than bicycle because of faster travel speed, so it will be suitable for events that need to go farther, over a long period of time and at many locations. Similar to bicycles, each vehicle will be flags, logos, banners, hashtags, signs, …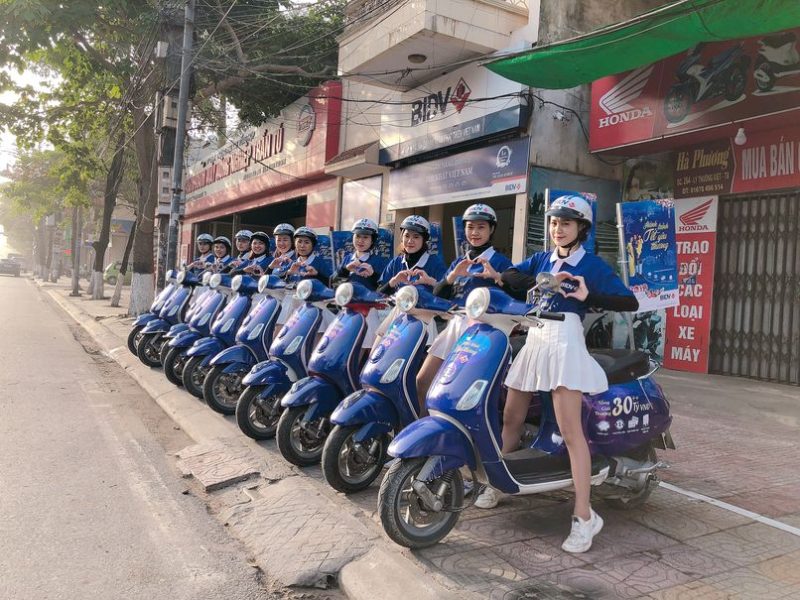 Roadshow walking
Walking roadshow, also known as Human Billboards, during the event, each person will hold a sign, wear advertising clothes,  distribute leaflets , introduce products and samples, etc. Roadshow walking conveys messages directly to customers through mascot or customer interaction activities.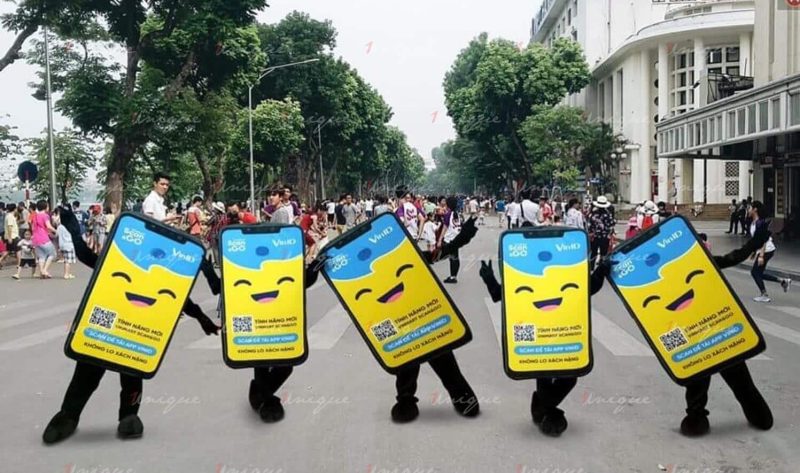 Truck roadshow
Truck roadshow is another form of car roadshow, Roadshow ads by trucks are glued to the side of the vehicle, forming a unique advertising box. In addition, many roadshow trucks use LED signboards mounted on the trunks of the vehicles, which help the advertisement stand out even in the dark.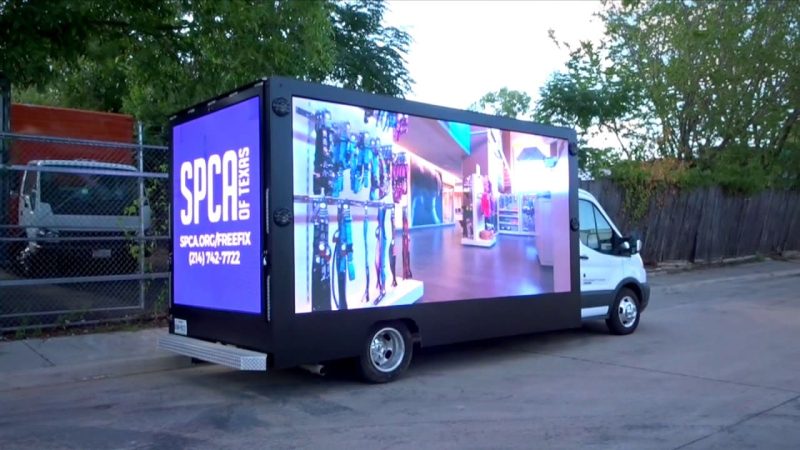 Cyclo roadshow
Almost cyclo is only used in big cities and tourist destinations such as Hanoi, Hue, Ho Chi Minh City, etc. Cyclo is not a commonly used means of transport but is preferred by foreign tourists. preferred when coming to Vietnam. This can be one of the points that brings an impressive, unique point and attracts  potential customers .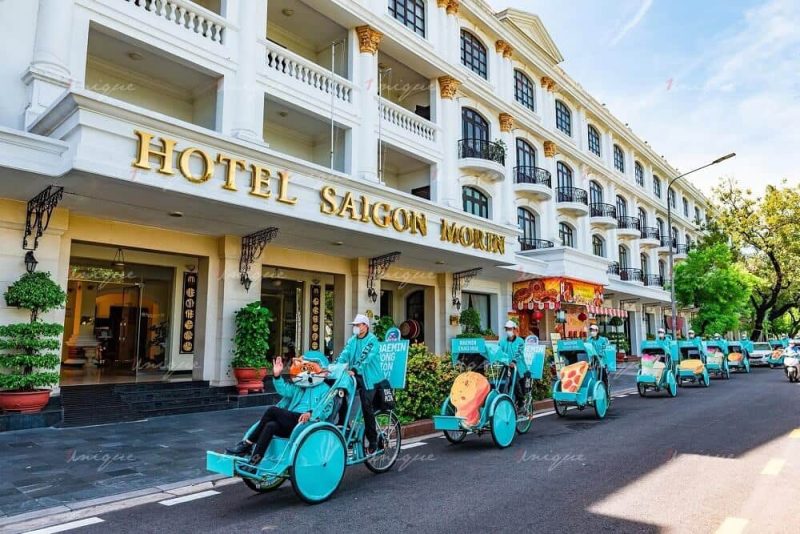 Creative roadshow
Whatever the event card, the idea is always the most important. Unique and creative organization ideas will take Roadshows to the next level. One of the implementations is to change the appearance of the performance, you can mount 3D mockups on the car or change the Roadshow content to be new and more interesting.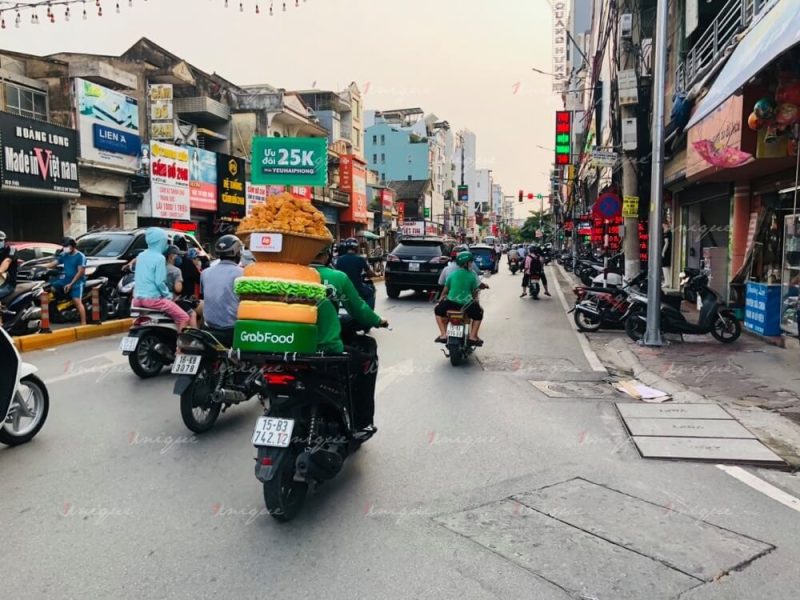 Advantages and disadvantages of running advertising roadshows
Advantage 
Roadshow is one of the popular organization ways to help businesses market their products to new customers or increase sales. Roadshow is suitable for all types of products, highly effective and strategic popular with Marketers. In addition, because Roadshow is highly flexible, it can be held at any time of the year. Especially, if successfully organized, through the vibrant atmosphere created by this type of Marketing, the company's image will come closer to everyone.
Defect
However, organizing a successful Roadshow requires a detailed plan in many steps such as means, manpower, reasonable route, etc. Besides, the cost of organizing a Roadshow is also quite expensive and dependent. much depends on the weather. In particular, Roadshow organizers need to pay close attention to traffic safety laws to avoid accidents and law violations. Therefore, not every company or business can organize a creative roadshow and attract the target audience.
Example of a brand running an advertising roadshow
Roadshow Vinfast
Surely Vinfas cvt is a car brand that is not too strange to Vietnamese people. Vinfast belongs to Vingroup, founded by Mr. Pham Nhat Vuong. Some pictures of Vinfast Roadshow with the theme: driving experience with Vinfast.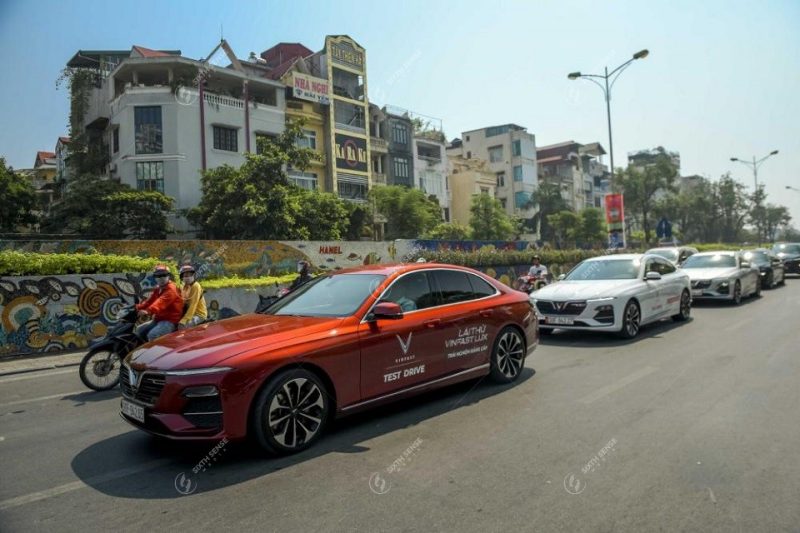 Roadshow MB Bank
MB Bank and military bank also have Roadshows to promote the bank's image. With the desire to bring more experiences to customers and introduce new images in the eyes of the public.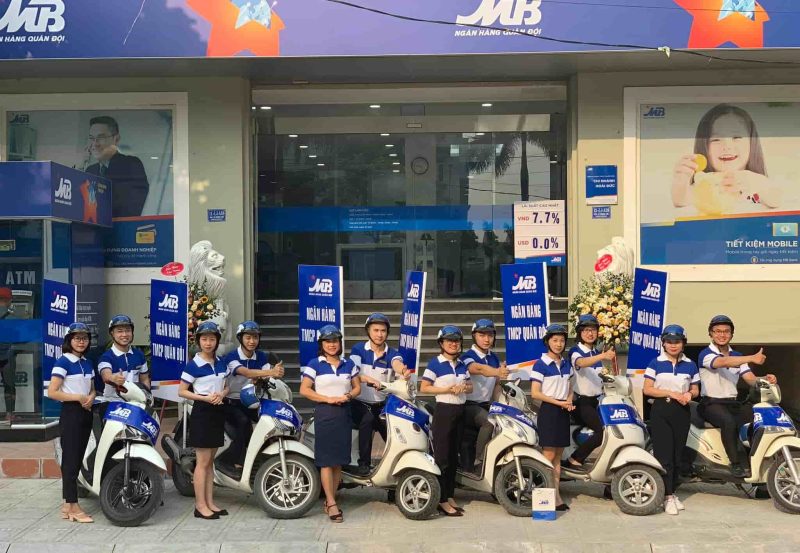 Roadshow ACB
Asia Commercial Bank ACB organizes Roadshows that are not as large and monumental as other brands, but create a uniform and thorough corporate image.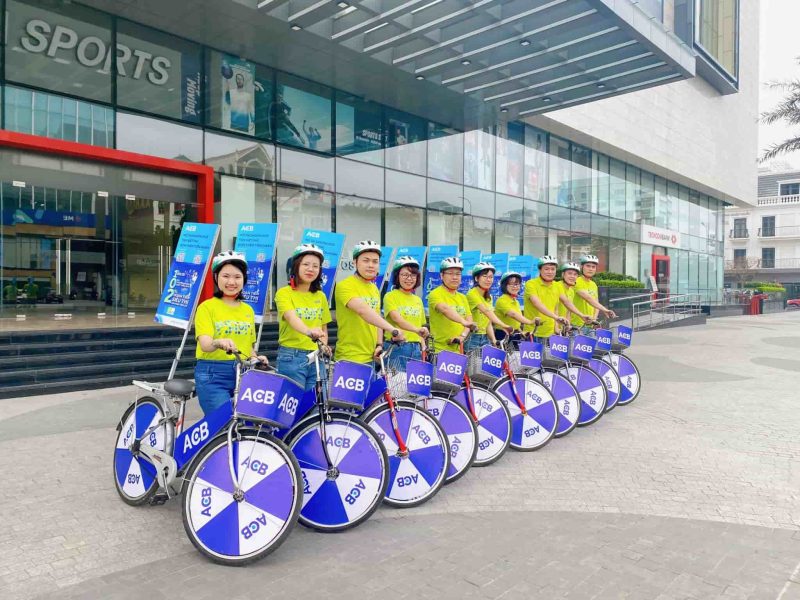 Roadshow BAEMIN
Baemin  is a food ordering app brand from Korea. With a youthful style and cute fat cat symbol, Baemin's Roadshow also brings a unique and joyful atmosphere.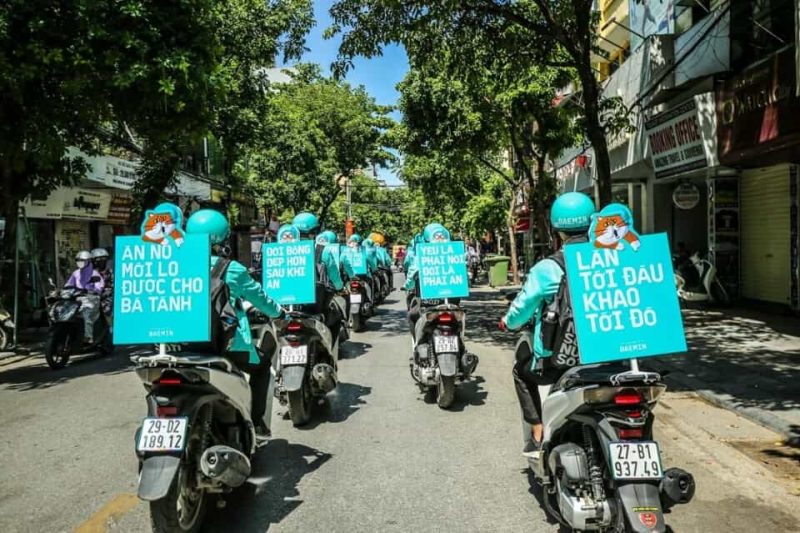 Roadshow GrabFood
Grabfood is Baemin's competitor, besides product promotion campaigns, Grabfood also has Roadshows about the community. These roadshows help enhance the image of Grabfood brand in the eyes of the public.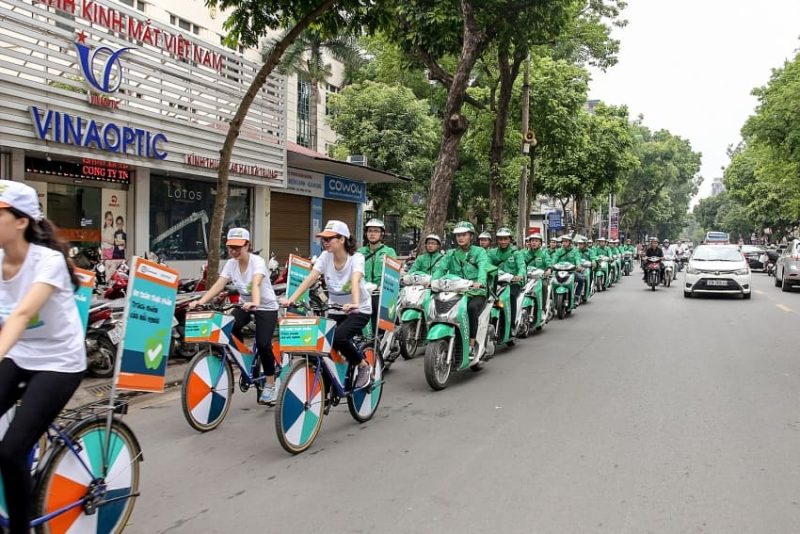 How to organize Roadshow?
Research before holding Roadshow
Answer some of the following questions before you want to embark on a Roadshow:
– Who is your main audience for the roadshow event?
– What will your audience receive when attending the event?
– What kind of topics and content would be best for them?
Which cities and locations will attract the right attendees?
–  What is the main business goal  of your business?
Here are some recommended ways to gather these insights.
– Review previous event data.
– Send surveys to ask for customer opinions.
– Conduct site research.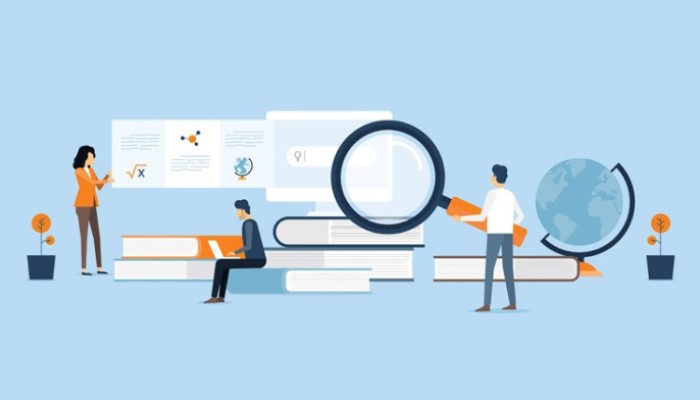 Set overarching goals
The next important step is to set general goals for the roadshow. Clearly state the main objective of the campaign. Are you hoping to expand the brand into different regions? Or do you want to penetrate other groups of people that were previously difficult to attract?
Form some general goals that you want to achieve and make sure to document them when planning other parts of the event. Also, make sure the goals you are setting follow from the SMART model
Roadshow theme
Choosing the right roadshow theme brings a consistent Roadshow and creates a career.
To identify topics and topics that are most relevant to your target audience, dig deeper into your event data:
Which roadshow attracts the most attendees?
– The speaker with the most engagement in attendance.
– Roadshow has the most registrations.
– Roadshow has the most attendees.
– Feedback Roadshow before.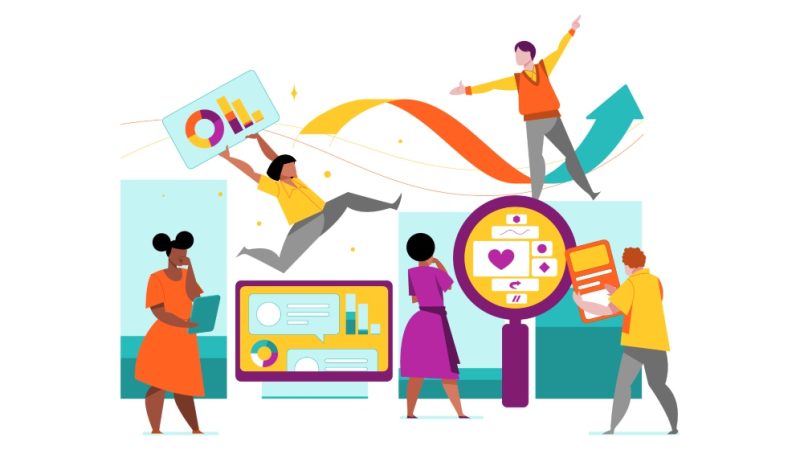 Choose a location
Now the goals and theme of the event have been formulated. The next important part of the planning phase is to strategize the roadshow route. The place you choose to host your event will largely influence the success of the event. Choose the right venue for your target audience, keeping in mind that everything needs to be really relevant to the attendees.
Apply for a license to organize
Organizing Roadshow will affect traffic and related to many state regulations. So you should do paperwork with the Department of Culture, Sports and Tourism for permission to do so.
– Place of settlement: Department of Culture, Sports and Tourism
– Dossier of application for a roadshow license includes:
+ Application for a license to advertise
+ Copy of Business Registration Certificate
+ Copies of documents proving the conformity of goods with standards and specifications
+ Samples of advertisements for products printed in color with signatures and stamps Advertisement of goods and services in the medical and agricultural fields must have specific papers.
+ Advertising of goods and services on billboards, signs and banners must be approved by the Department of Construction.
– Number of documents: 01 set
– Time limit for settlement: 5 days from the date of receiving complete and valid dossiers.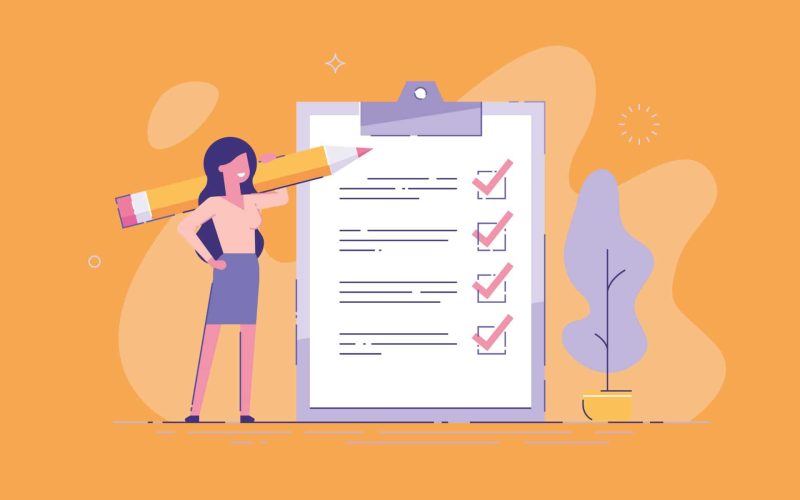 Roadshow Communication 
The event objectives, logistics, content and documentation procedures have been completed, the final step is to promote the roadshow. Take advantage of all marketing channels to achieve the best communication effect.
You can apply many forms of communication such as videos, memes, emails, etc. on multiple channels, add hashtags to create a unified campaign. Remarketing to  people who have attended previous events is also a great way to build loyal customers.
Measure Roadshow
You promoted a roadshow event and discovered that it was well attended by a large number of people. But how do you know if your event is really a success? Back to your event goals, use metrics to measure the success of your event sequence.
Example: If your goal is brand awareness, then ticket sales, social mentions, and visits are the metrics you need to look at. If your goal is revenue, event sponsorship and ticket sales could be your key metrics.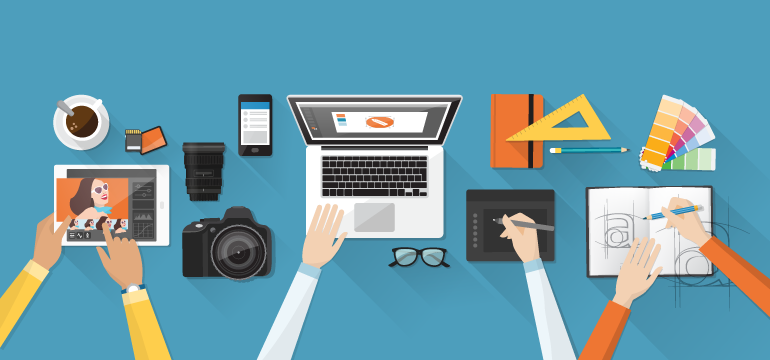 Conclude
Roadshow is an event that requires a lot of costs and complicated procedures, but undeniably, it is effective in promoting products and brands. However, you need to understand the target audience well and prepare carefully so that the event does not "fall down the river". Hopefully this article has helped you understand what a Roadshow is and how to organize an event effectively. Wishing you a successful Roadshow!