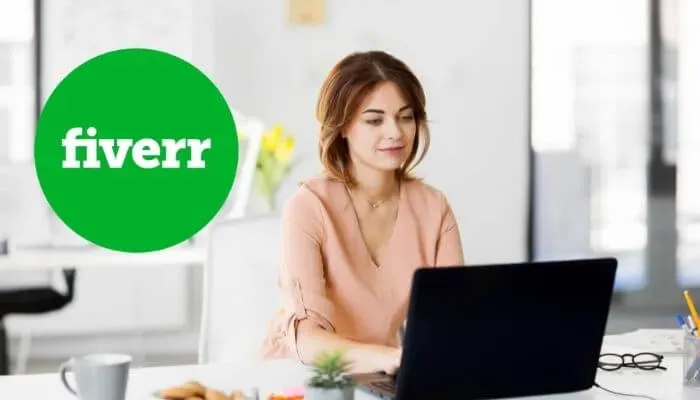 The 8-hour day office job is too boring, you want to become a freelancer to not be limited in time and still have an income. If you don't know which platform to make money on, then Fiverr is the perfect choice for you. So what is Fiverr? And how to make money on Fiverr? Let's find out with Malu Design in the article below.
What is Fiverr?
Fiverr  is an  intermediary online platform  that creates a connection between buyers and sellers. Fiverr is currently Network Freelancer, also known as a job market for freelancers around the world.
Helping individuals, businesses and  freelancers  exchange their products and services through buying and selling.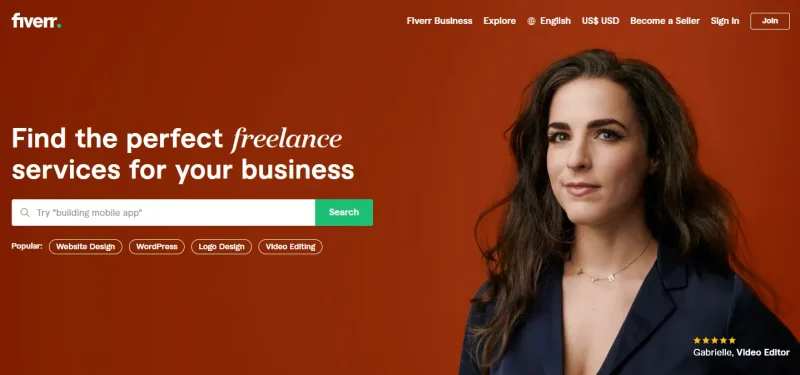 Most of the fields that need personnel in the market today are available on Fiverr. Founded in 2010, with strong growth over more than a decade, Fiverr is currently a platform that brings job opportunities to users.
Fields on Fiverr
Fiverr is just an intermediary platform similar to today's popular shopping e-commerce platforms such as:  Shopee , Tiki , Lazada , .. But instead of selling products, Fiverr sells services and jobs.
Regardless of the industry that is active in the market, it is possible to be featured on the Fiverr platform and posted at different prices depending on the service that the recipient can do. However, they all start at $5.
Some of the prominent areas used by many people on this platform include:
Digital Marketing

 : Including 

marketing- 

  related jobs such as 

 Social media

 , 

 SEO

 , 

 SEM 

 or 

 email marketing

 , etc.

Graphic design

 :

  Work related to graphic design such as 

 designing logos

 ,

 banners

 ,

 visiting cards

 ,

 brand identity

 , …

Writing and Translation: 

 Includes work in the field of writing and translation.

Programming and Tech: 

 The field of programming and technology includes jobs such as application programming, web programming, IT support, etc.

Video and Animation: 

 Making animated movies, making promotional videos, animated banners, …

Fun and Lifestyle: 

 Jobs related to art and lifestyle,…

Music and Audio:

  Quickly create audio files, music clips for different purposes, …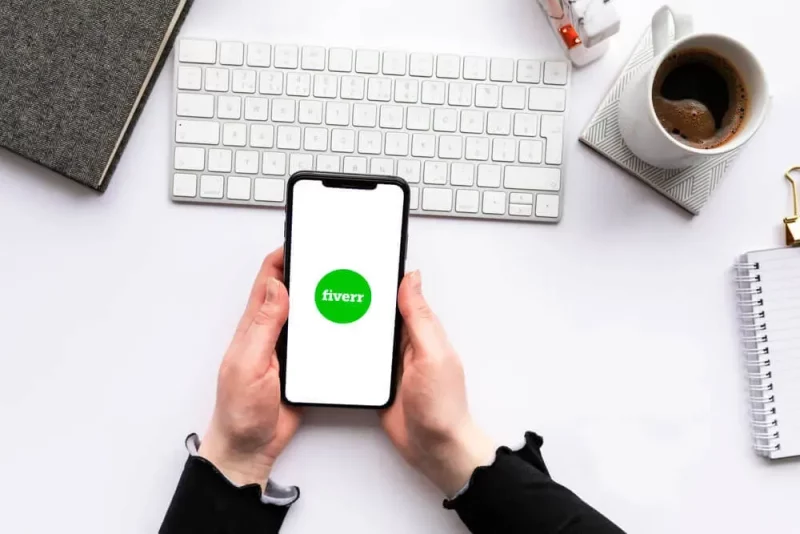 This is only a very small part of the service system on Fiverr, in addition to many other attractive money-making services, as long as there are buyers, there will be sellers.
The technology market is growing, making money online without capital is becoming more and more popular. Please refer to the article:  Get started right away with ways to create passive income , the article will help you earn passive income without spending capital in your spare time.
How to create a Fiverr account
Before you start making money on Fiverr, the first thing you need to do is sign up for an account on the platform. To have a Fiverr account, you can follow these steps in turn:
Step 1: 

 Visit Fiverr's homepage.

Step 2:

  Register an account in 4 ways: Email, Facebook, Google and Apple account (if any).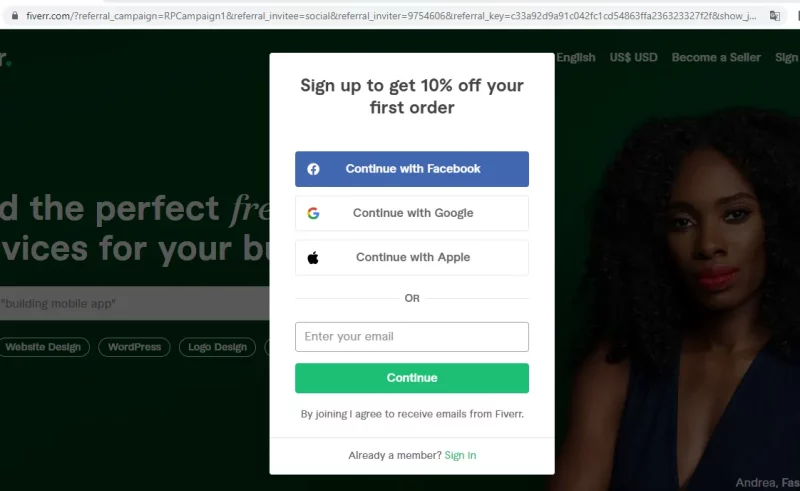 Step 3:  Enter the username and password you want to use, then click  "Join" .
Note : Password must be 8 characters or more, contain both capital letters and numbers.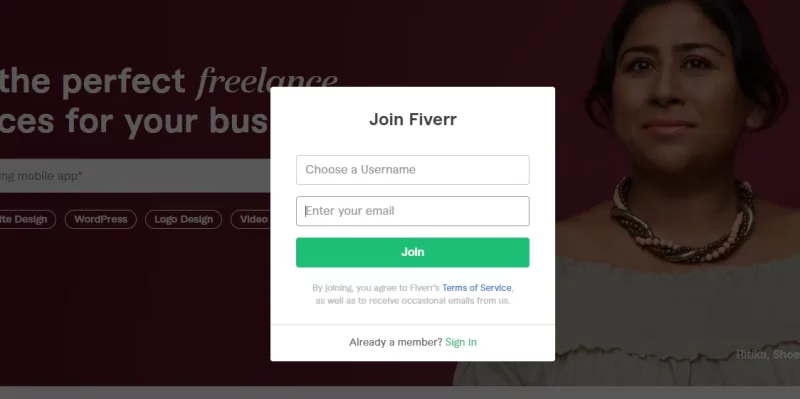 Step 4:

  Fiverr will send you an email. Please open this email, click the  

"Activate Your Account"

 button   to activate the account.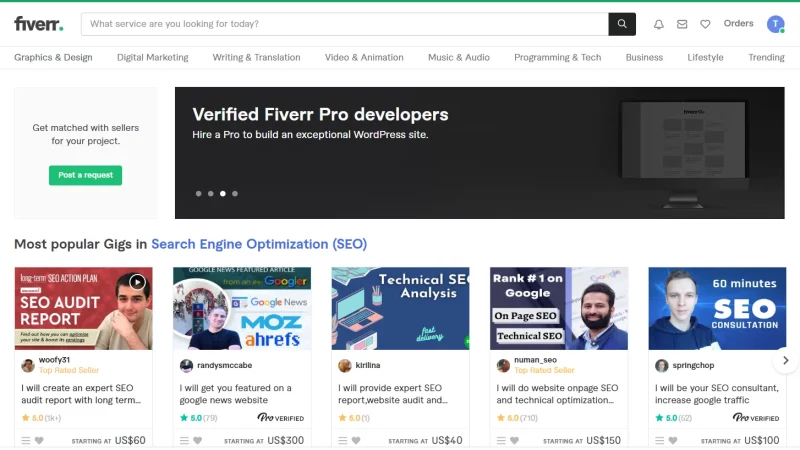 Thus, your account has been activated successfully. To check, go back to Fiverr's homepage, you'll see a blue message at the top of the page.
What is Gig on Fiverr?
First, let's take a quick look at the term  Gig  on Fiverr. What is Giga?
Gig  is a term on Fiverr that refers to a place for you to sell your services in a certain field. For example, if you are working in the field of writing content for the website. You can post a gig about your field. And this Gig will show up on Fiverr's search page.
And when there is any customer looking for services in the field you are doing. Your gig will show up on Fiverr's search page. And of course, if your gig stands out and catches the attention of customers. They will view and proceed to order services through your gig.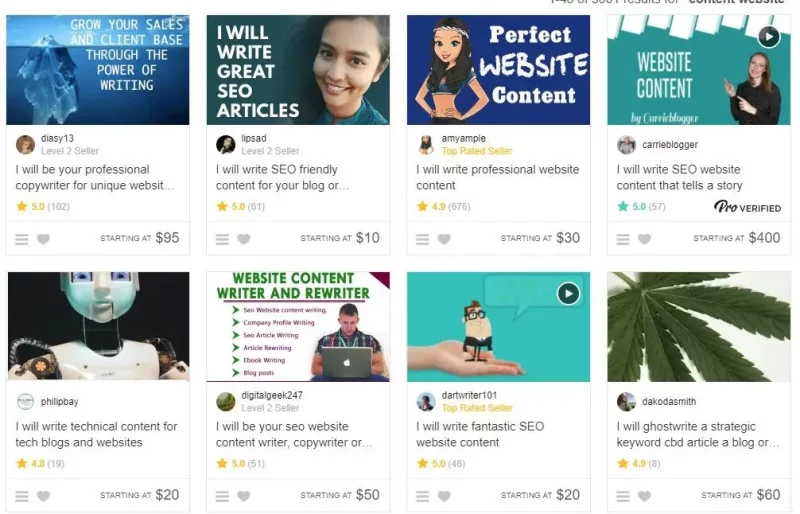 Above is an example image of how gig shows up on your Fiverr search. Creating a gig and setting up a gig is not a difficult job. But to optimize it well, that's another matter. It's hard not to know how to create gigs effectively. However, don't worry. Follow the steps that Fiverr Viet suggests in this article on how to create gigs on Fiverr.
What to prepare?
Creating Gig is one of the extremely important parts that in this Fiverr Gig Tutorial article I want to mention. Make gig creation easy and convenient. You need to prepare a few things before creating a gig. Listed below:
Prepare yourself a title for the gig. For this job, I think nothing is more helpful than this article on  

how to best optimize your gig title

 . Please refer to this article and choose for yourself a gig title that is suitable and best.

You need to prepare the images, videos or PDF files of the finished product. Or short videos, aim to upload it on your gig to grab the attention of your customers. Details of this section. I will say it right away with the content  

#fill in the necessary information of the gig

Because currently Fiverr supports us with two types of Pricing (price list) when creating gigs. So you need to determine which one you should choose for your gig. There are two types which are one pack and three pack. What are the pros and cons. You can take a look at  

the comparison between 1 package and 3 packages 

 to better understand.
Note when creating Gig to not be rejected
Before going into the main content in the guide to creating gigs on Fiverr. A few notes before creating a gig to avoid being rejected by Fiverr when posting your gig.
For the product images you post to the gig. Do not take from others or in any other place to post. This will risk getting your gig rejected.

In the description of the gig, do not include any links. Because the exchange of links and entice customers from Fiverr to work outside. Is violating their terms.

Should accurately describe your service. Describe what you can do. Don't show off until the customer with the same request as the gig you say can't be done. This can very easily lead to order cancellations, affecting other metrics for your fiverr account.

Should leave a line to contact me if you need any help. Or need to discuss in more detail the work you need. The purpose of this is to encourage customers to contact you if they have any other work in your field. But that's beyond what your gig offers.
Instructions to create Gig on Fiverr
Once you're all set, let's get started with the Fiverr gig creation guide. Here's a guide I've broken down into four steps. So that you can easily follow and apply successfully.
Choose the type of Gig to post your services for sale
The first part of the Fiverr gig creation guide that you need to choose from. As I mentioned above. Choosing the type of gig with one package or three packages is one of the necessary steps before creating a gig. Because, it can boost your gig and make more money later.
Currently, Fiverr supports sellers to create gigs with two basic package types. Is gig includes only one package and gig includes three packages. As follows:
Gig a pack
That is when you create gig. Your Gig only has a single pricing plan. For example, your gig does a content writing service for a 500 word website with a cost of 5$, for example. Below is a picture of the one-price gig package that when you create the gig. You need to set it up.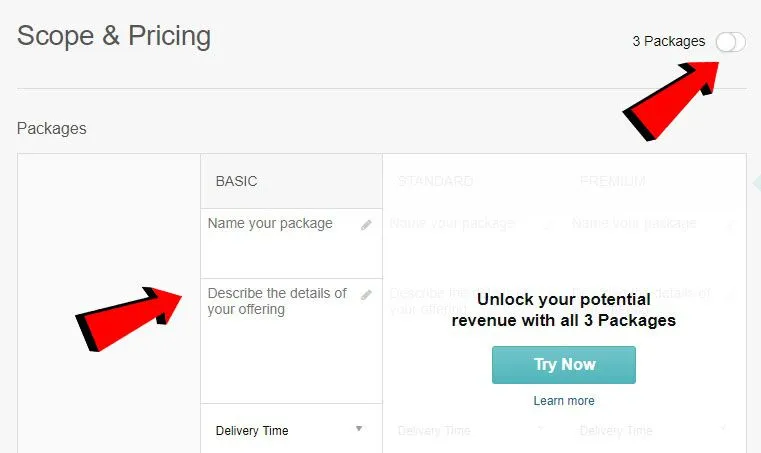 For this one-price gig package. Not that there is no way to make more money from it. You can set up multiple  Gig Extras  to unlock more services. From there can make more money with your service gig.
Gig three packs
That is, when you create a gig, you will need to set up for three plans. You can split the price plans into a basic plan, a standard plan, and an advanced plan. And of course in every such package. Prices and costs will have to be different and incremental. Here is an example image of a three-pack gig.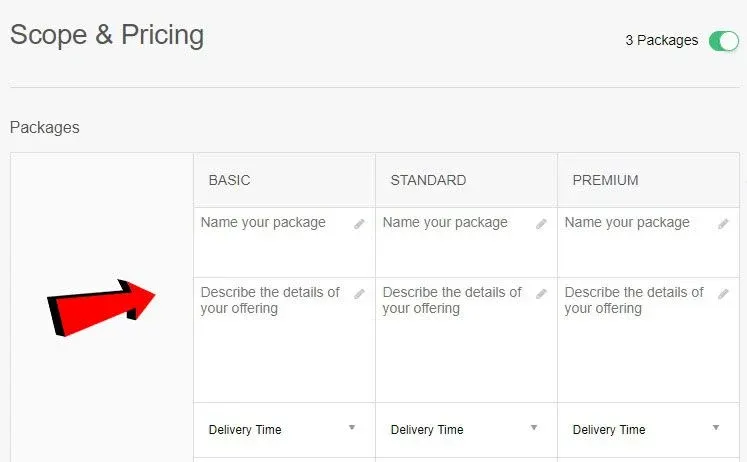 Your job is to set up all the packages in terms of cost, completion time and details of the packages.
Create your Gig
To proceed with creating  a Gig , you need to make sure you are in the   merchant Dashboard area. To find out if you are there or not. Take a look at the image below.

If you're in the Buyers area  , just look at the top right of the page. And select " Switch to Selling " to enter the seller's area.
Here you will see a list of sections. You find and select " Gigs " to enter your service gig creation area.

Next you will be redirected to another page. Here, you find and select " CREATE A NEW GIG " to create a new gig.

You will now be redirected to the region to set up your service gig.
Fill in the necessary information of Gig
In the gig setup area, you need to complete a few sections before posting the gig and wait for Fiverr to confirm it. Those steps include the following:
Overview –> Pricing –> Description & FAQ –> Requirements –> Gallery –> Publish
Overview
This is the area for you to set up the title and SEO title for your gig, tags, select Categories, and more.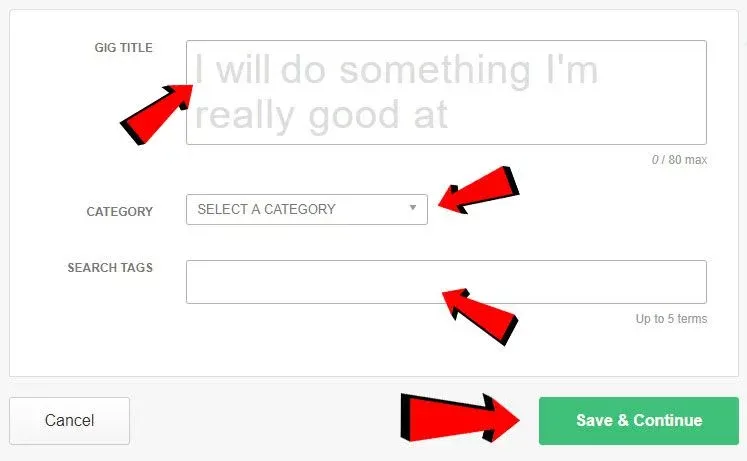 For this item, it is very important to create a gig. Because it is one of the factors that makes your gig appear on the first page of search or not. So don't be in a hurry to do this part.
For Gig's title: by default Fiverr will have the phrase I Will in full. So when you title your gig. You have to pay attention to how to properly title it. For example, " I Will  convert image to vector " for example.
After you have set up all the information, select " Save & Continue"  to continue setting up other parts.
Pricing
Here's how to set up your gig's cost information. Depending on how you choose gig one package or three gig gig as I mentioned above. Which is based on suggestions from  Fiverr  that set up.
For  the one-gig package , you can fill in the gig's information like what you will do in this gig, how much it will cost, how many days it will take to complete.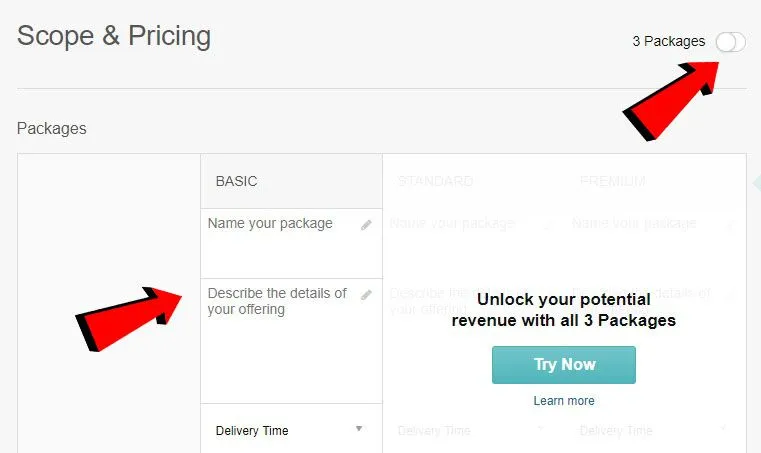 And for more money from the one-gig plan. There is nothing better than adding extra service packs. As will complete the order in one day is an extra 10$. Or write more optimized content for standard SEO articles, you need an extra $ 10, for example….
For a three-gig plan, you need to determine what services your gig can provide. And split the packages into 3 different packages.
As the basic package is to do the basic work. An example of writing website content. 500 words for 5$

The standard package is to write website content with 1000 words for 10$

And the premium package is to write website content with more than 1000 words and optimize SEO for it, which costs $ 30, for example.
That's how you separate out the options for each of the different packages that this Fiverr gig building guide wants to cover more clearly with you.
Description & FAQ
Is one of the important parts in the guide to creating gigs on Fiverr that Tien wants to mention. Here's the description for your gig. You should probably do this yourself. But one thing to keep in mind is to provide to your customers. The most accurate information about the service you provide to them. And don't forget,  optimize the keyword  you chose it for in the first place.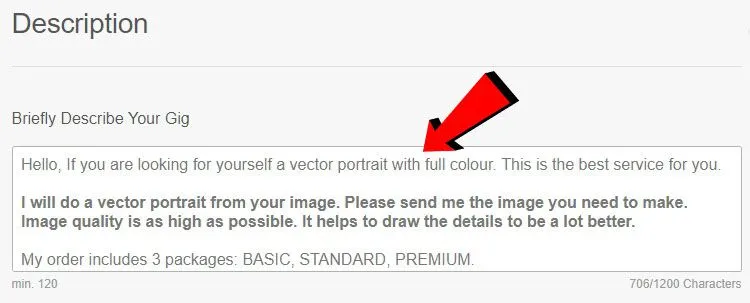 For the FAQ section, put yourself as a customer and ask the questions yourself. And add answers to those questions. This helps customers understand better. What they need to do and how to make it possible for you to have everything to fulfill their request.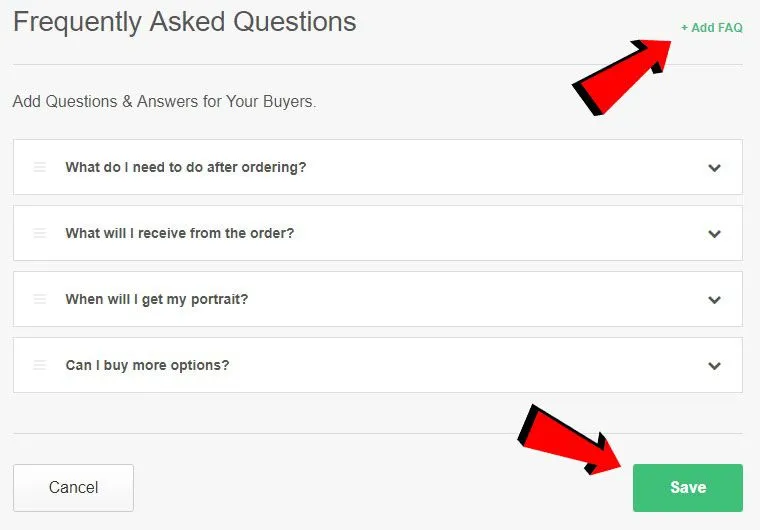 You can add various questions by selecting " + Add FAQ ". Once all done, select " Save " to continue to the next step.
Requirements
In this section, you can choose from several requirements for your gig. That is, you are asking the customer to do something. Like providing documentation, pictures or files, etc. so that you can fulfill their request.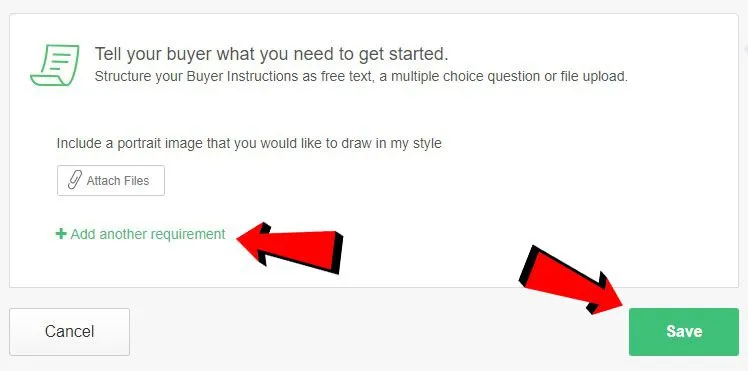 You can add different types of requirements by selecting " + Add another requirement ". Then select " Save " to save and move on to the next step.
Gallery
This is quite an important part. You can post to your gig the product images that you have done before. It's like a way for you to display your portfolio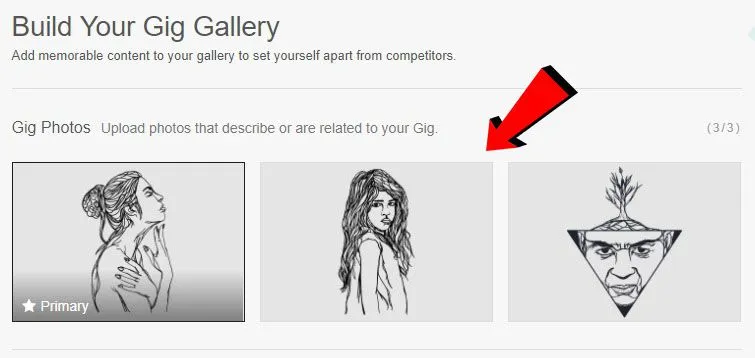 Currently, Fiverr supports you to upload 3 images per gig in .JPG/.PNG format. file in .PDF format or a video with a size of only 50MB and a duration of 75s.
If you have them all, post them all. Otherwise, at the very least, you need to prepare yourself the images to post. But have to post it, otherwise I think you won't be able to get your gig confirmed. For it to work. Finally, you choose " Save "
Thus, the guide to creating gigs on Fiverr here is considered complete.
Sign Gig and wait for confirmation
After you have completed the Gallery setup for your service gig. At this point, your gig setup is complete. Your job is to wait for Fiverr to review. This may take a few hours. Or as slow as possible from 1 to 2 days. However, in my experience, if your images, products do not violate any terms. Then your gig is confirmed from Fiverr very quickly.
Refer to 14 effective ways to make money on Fiverr
After understanding what Fiverr is, Malu Design invites readers to refer to some of the popular ways to generate income on Fiverr today.
1. Manage Facebook, Instagram channels
Tasks to do when managing a Facebook and Instagram channel include: Posting, replying to comments or inboxes, answering all customer questions.
This is one of the easiest jobs but can make you money fast and has a lot of businesses asking for it. With each post you can earn 5 USD or each monthly post package will be paid from 20 to 30 USD.
2. Write content
If you like writing, want to practice more English writing skills, then choose this job. Depending on the business field, each company will have different writing needs such as: Writing on  websites , blogs, writing PR articles, product reviews, emails, etc.
Depending on the length and service provided, you can charge from 5 to 20 USD. If you have the ability to create languages, a day you can earn 100 USD is very simple.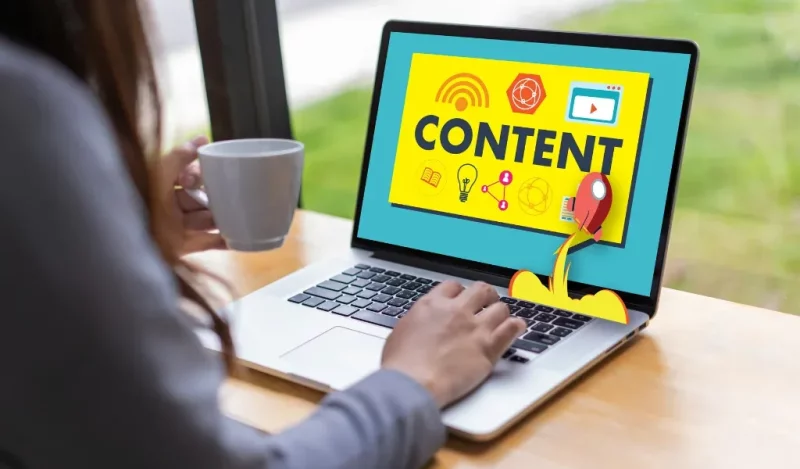 3. Video with hand-drawn content
This work will be implemented in the form of visual design that moves according to voice, which is also one of the most popular ways to make money on Fiverr.
There are many software that support this job, such as Videoscribe, to avoid costs, look for full crack versions on the Internet. With each video you create, you can earn from 20 USD or more.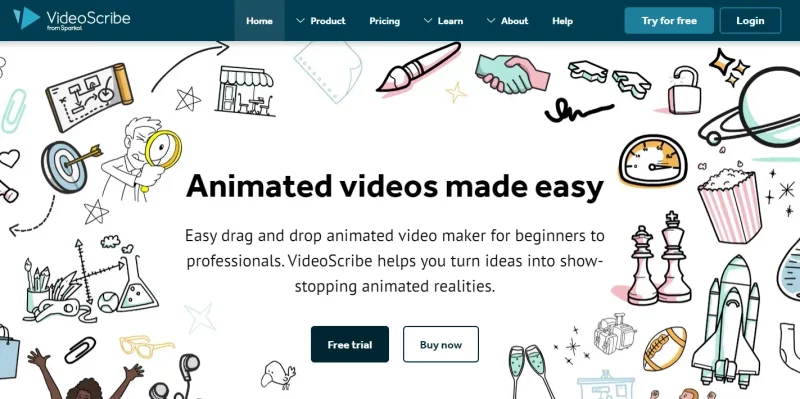 4. Write a blog comment
This job is very easy, anyone can do it and is chosen by many freelancers in the Fiverr Vietnam market. You just need to write a comment on the blog owner's website like you write a product review on Shopee to receive 200 coins.
Please read the content of the article carefully and write the most honest comments, do not use the same sentences for many posts. Comments should be longer than two lines and must contain the main keyword of the blog post. You will be paid 5 USD for 10 comments.
5. Visual design that requires no graphic skills
You can use the Canva tool to do the job if you don't know how to use professional graphic design tools such as Photoshop, Corel or Illustrator.

Just learn how to master this tool, then start creating a custom image, so be sure to let your client know that you're using Canva to design. This is a great tool for those who don't have any knowledge about graphics.
Service quotes are subject to experience, but if you're just starting out, you'll be paid $5 per image.
6. Video dubbing
If you have standard English or Vietnamese pronunciation and have an attractive, easy-to-listen voice, the dubbing job will be very suitable for you. In the market, there are many video producers or Youtubers who are recruiting people to voice their videos.
When starting out you can charge from 5 USD for 200 words, if you already have a stable customer base, you can increase the price.
7. Translation work
This is a job that requires you to know many different languages ​​such as: English, Japanese, Korean, Chinese, German, French, etc.
If you have good language skills, this will be the job that makes you the most money on Fiverr.
As simple as translating Vietnamese into English or vice versa, you have already earned 5 USD for the first time.
8. Make powerpoint files, presentation slides
This is a very simple job that when you are a college student always have to do, just proficiently use Powerpoint or Google slides.
You just need to apply that skill to design a presentation file using powerpoint to make money simply on Fiverr. With each slide you will also be paid from 5 to 10 USD depending on the customer's request.
You can refer to slidescarnival for completely free and beautiful templates that help you easily get the job done and get paid more.
9. Remove background for photos
A lot of people just want to remove a simple photo background but don't know the design, you will be the service provider to help them do this effectively. The remove.bg site can be used to remove the desired font in less than 30 seconds.
With 20 to 30 images to remove the background, you will earn 5 USD. Rest assured that on the Fiverr platform there will be no shortage of customers for you.
10. Make an introductory clip for the video (demo, trailer)
Similar to how studios make trailers to introduce upcoming movies. It sounds a bit complicated, but you just need to know how to edit videos and be proficient in Premiere Pro software to be able to get this job.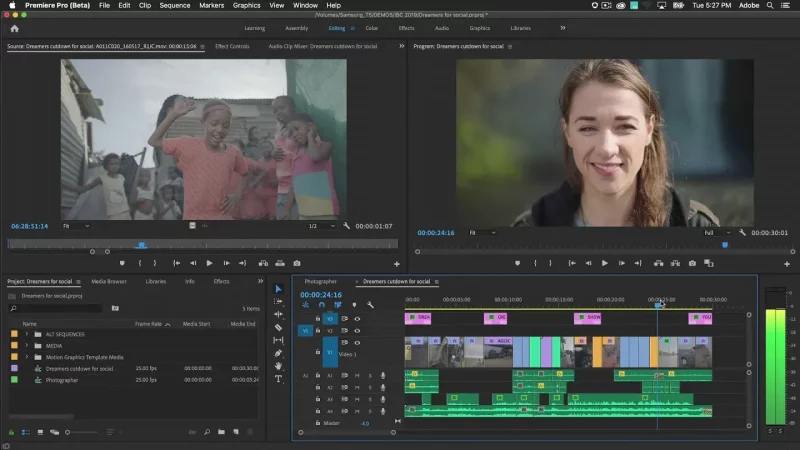 With Premiere Pro software you can easily create an intro video in your own style. Make sure that these videos all have fonts, background music, images, etc. that match the needs of the customer.
If you have experience, for each gig you can sell for 15 USD.
11. Make captions for videos
This is the image you often see in many foreign films with Vietnamese subtitles below. Now you just need to do the same, but with shorter videos, you can earn 5 USD easily.
You can do this job quickly with only 15 minutes by uploading the video that needs to be subtitled on the Youtube channel. Then select Subtitle in the left toolbar, on the Subtitle video page, select the 3 dots and click download to finish.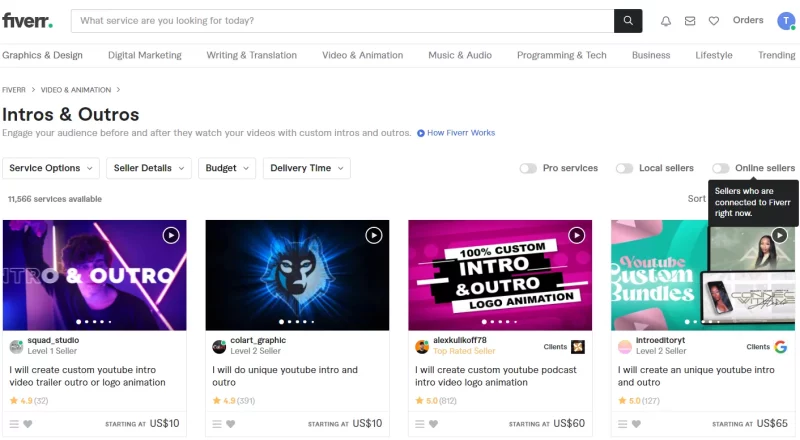 12. Name the company, business
For companies that are about to be established, they need a unique, creative name but must bring meaning.
This is the least time consuming of the jobs deployed on Fiverr, and also very popular. When you come up with a good name for them, you get paid between 5 and 10 USD.
To name a company that is good and meaningful, Malu Design has shared an article about 10 good and impressive company names .
13. Play an online game
The job sounds simple, but it is a job that appears densely on Fiverr. It's like watching a live video of the league game on Youtube or Facebook.
Now instead of watching, you will be playing live and there are many people willing to pay for you to do this.
The online games that most people use today include: League of Legends, Valorant, Minecraft, Axie Infinity, …
There is a small requirement that you must know English to easily communicate between players and also help practice English communication effectively. Play again and earn 5 USD for every hour played.
14. Retouch (edit) photos
Most of the clients requesting this job are female and active in the beauty industry. You just need to perform simple Retouch such as: Remove acne, remove blemishes, remove wrinkles, beautify the photo.
The demand for this service is great because women always want all of their pictures to look beautiful and sparkling.
Frequently asked questions
Epilogue
Through this article, it will help you better understand what the Fiverr platform is. With the 14 ways to make money mentioned above, you can earn extra income in your spare time. In addition, you can also refer to some articles on how to make money online by Malu Design.